It is not too often that I use the word perfect. But yesterday's cookie exchange was magical, delicious, lovely and well….perfect! During this busy holiday season, I love the idea of making just one type of cookie and receiving a variety of delicious cookies in return. Here is A Perfect Cookie Exchange.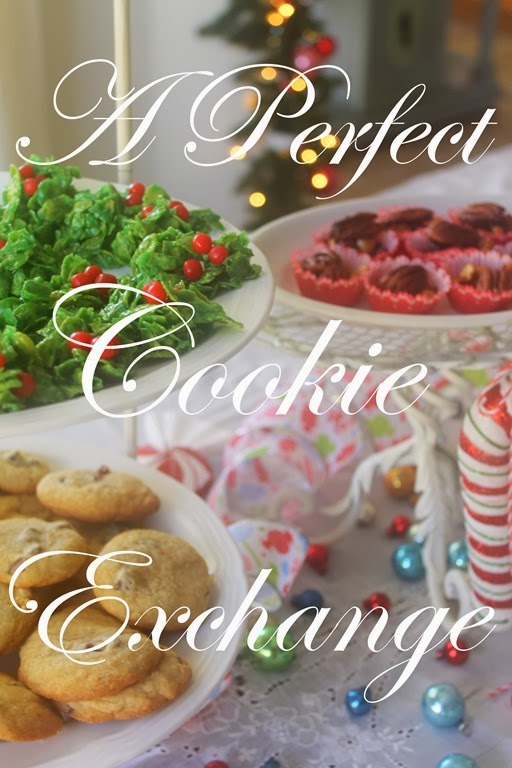 A Perfect Cookie Exchange
An online invitation was sent out a few weeks prior to the event. The turn out was fantastic.
Nametags
On the entryway table, I had nametags waiting for all the guests. In a large group, I think this is a nice touch and makes guests feel special and welcome.
As per my usual fashion, I had a bit of fun with the names. Can you sense the holiday theme?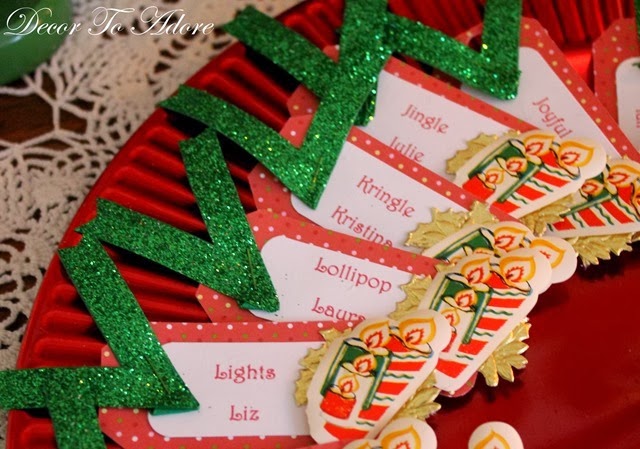 My table was groaning under the weight of all the sugar. Each guest needed to bring approximately 3 dozen of just one type of cookie, candy or savory delight.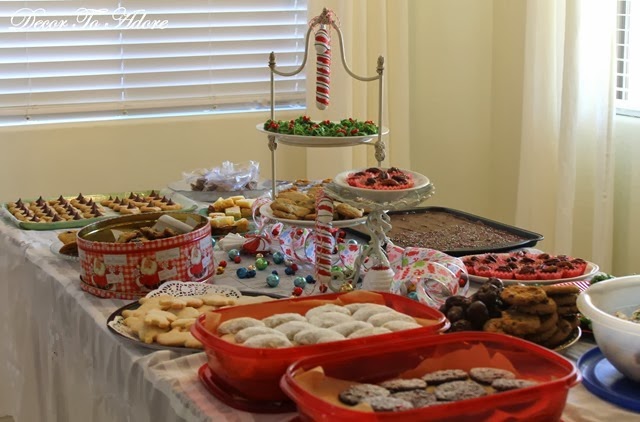 As the hostess, I made Nestle Toll House cookies, Holly Cookies, and Spiced Nuts.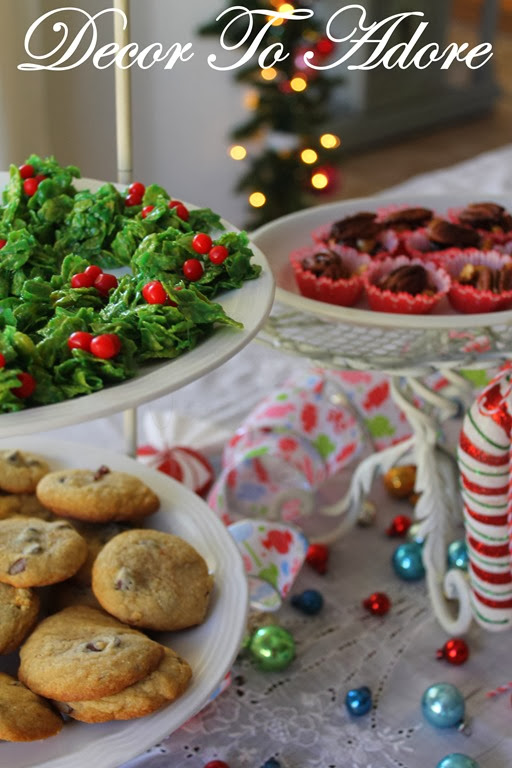 Holly Cookies
The Holly cookies are really easy to make and have just 5 simple ingredients.
3 tablespoons butter or margarine
2 teaspoons of green food dye
4 cups of miniature marshmallows
6 cups of cornflakes
Candy red hots for garnish
You simply melt the butter on low to medium heat and then add the green food dye and mix well. Then add in the marshmallows, stirring until they are melted.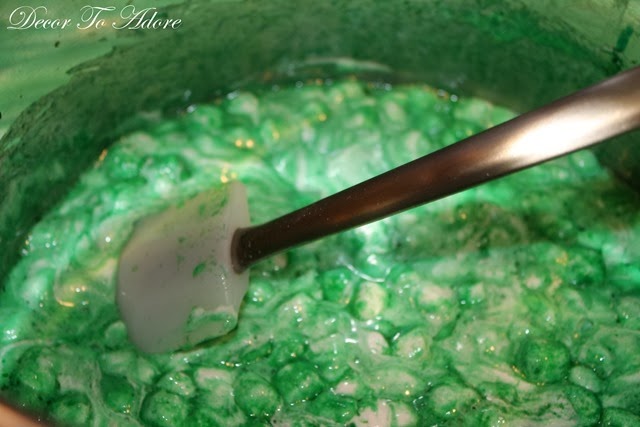 Add the cornflakes and coat the cereal evenly with the marshmallow mixture.
Create holly leaf shapes on wax paper and have a handy assistant add the red-hot candy garnish for "berries".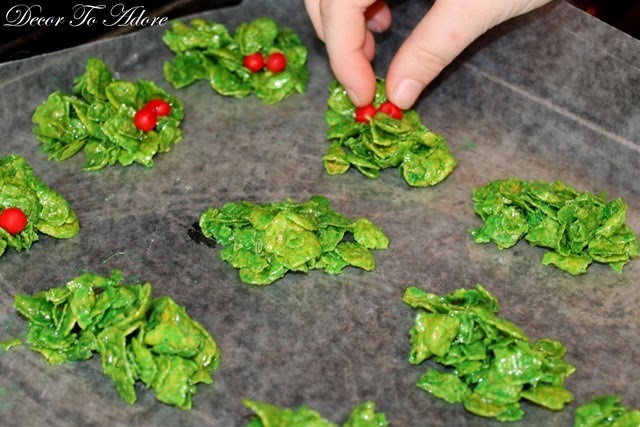 Let cool and enjoy!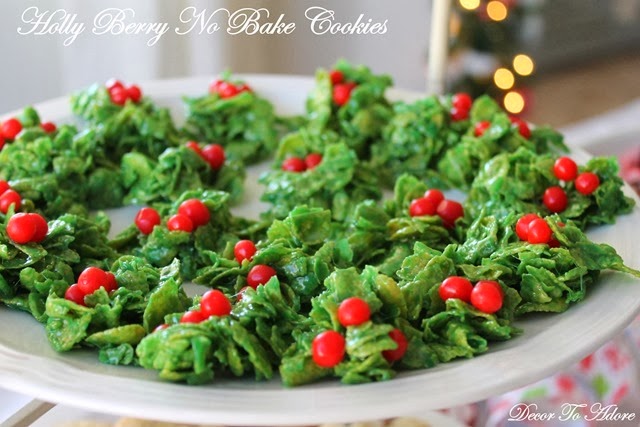 Spiced Nuts
The spiced nuts also just take mere minutes to make.
1 large egg white
1/4 cup of sugar
1 teaspoon of cinnamon
1 teaspoon of sea salt (regular salt can also be used)
1/2 teaspoon of cumin
Use 1/2 teaspoon of red cayenne pepper
1/2 teaspoon of chili powder
2 1/2 cups of unsalted nuts, such as walnuts, cashew, pecan, almond or peanut
1 cup of dried cranberries
Mix the egg white with the sugar and spices, add the nuts and berries and evenly coat. Line a cookie tray with parchment paper and add a single layer of nuts. Cook in a 300-degree oven for 15-20 minutes until golden brown.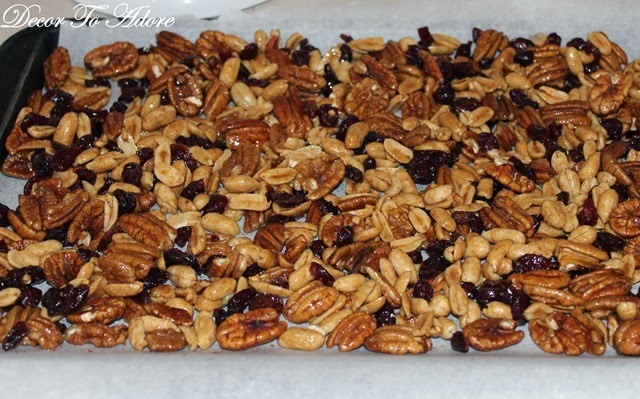 Let cool then store in an airtight container or place in nut cups for instant enjoyment.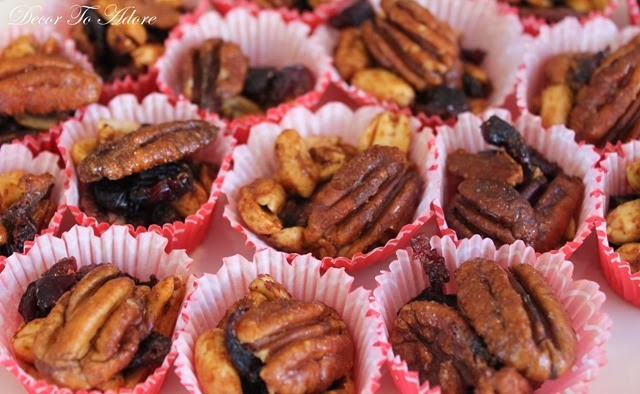 Treats Brought By Guests
There were so many delicious offerings such as oatmeal cookies and chocolate covered peanut butter balls.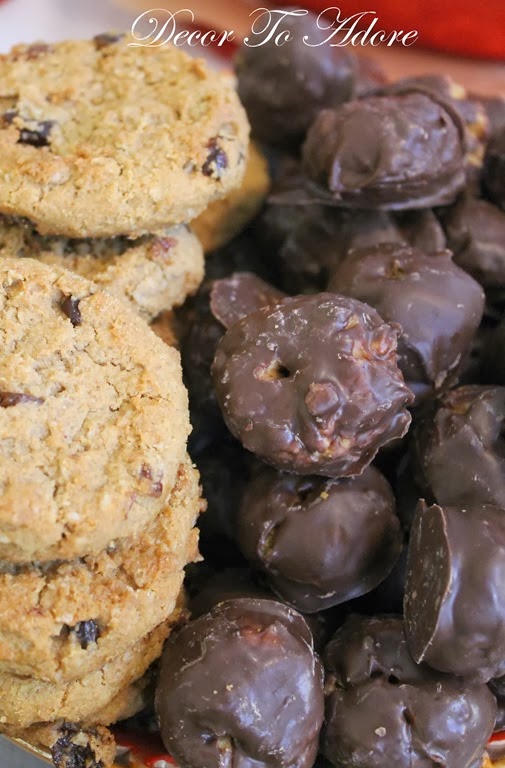 Peanut Butter blossoms which are Mr. Décor's favorite.
Yummy pumpkin muffins were amazingly weight watchers offering.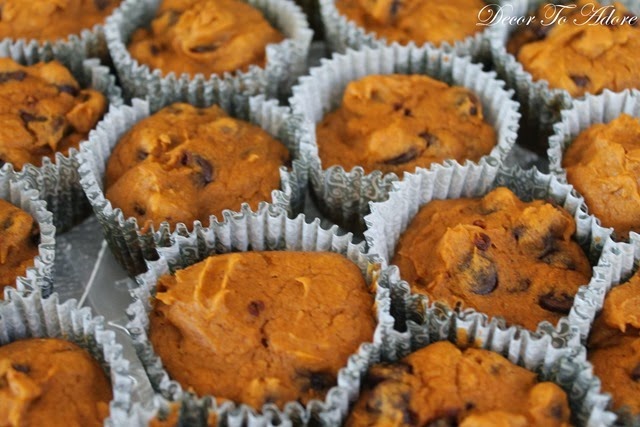 Recipe Cards
Miss Julie was so clever and brought recipe cards. They were so cute!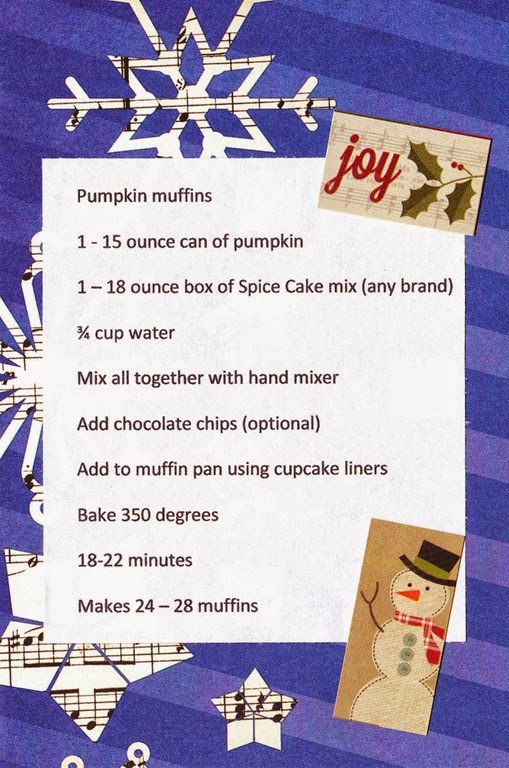 Party Favor
As a parting gift, I took simple clear glass ornaments and filled them with various vintage buttons and topped them with a bit of antique lace. A simple tag was tied on with, what else… bakers twine.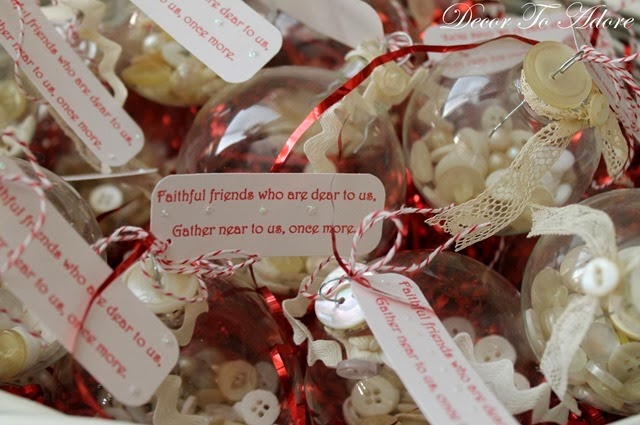 Take A Group Photo
Of course to have a perfect cookie exchange you have to have perfect guests. My apologies for those who had already left or had not yet arrived when this image was taken by my dear Sweet Guy.
From left to right top row:
My dear friend Kristina, the wonderfully crafty Meri, lovely Phyllis, effervescent Marci, delightful Marty, and treasured Ceekay.
Left to right bottom row:
Myself, my daughter, the Fashionista~ who this party could not have happened without all her help, beautiful Sierra, glowing Louise, and winner of the most festive attire, Jenny.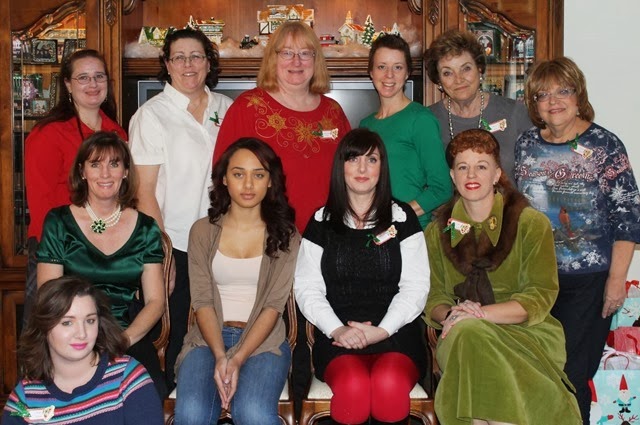 Tomorrow I will share more party vignettes and easy holiday crafts are coming!
Laura