Normal Rockwell created a series of of four paintings that were inspired by Franklin. D. Roosevelt's January 6, 1941 State of the Union Address in which he spoke of Four Freedom's. The artwork was intended to promote patriotism in the time of war. The painting most easily recognizable, and now an iconic symbol of our American Thanksgiving, is "Freedom of Want". It was published to instant acclaim in the March 6, 1943 issue of the Saturday Evening Post.
While some critics dismiss Mr. Rockwell as a mere advertising painter I encourage you to take a moment to look beyond the familiarity of the piece and truly absorb how Mr. Rockwell amazingly used the element of color in the form of white on white which is extremely difficult to master as it requires a detailed use of shading. The faces of the family members are so realistic that one can almost forget that this is a painting.
The painting now resides at the Norman Rockwell Museum in Stockbridge, Massachusetts.
Of course some of you will want to know what the other three paintings were in the series.
Freedom of Speech,  1943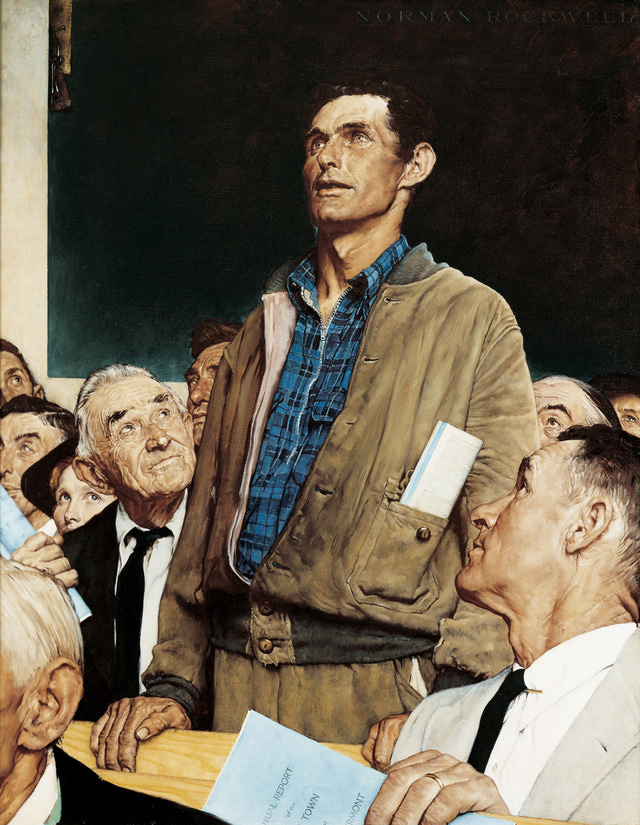 Freedom From Fear, 1943
Freedom To Worship, 1943
We are indeed truly blessed to live in a country where we are afforded such freedoms. My hope is that you are spending this day surrounded by those you love.
Happy Thanksgiving!
Laura