Sweet Boy is officially back in school! With summer vacation over let the DIY delights commence!
Did anyone even remember that I was working on the Fashionista's bathroom?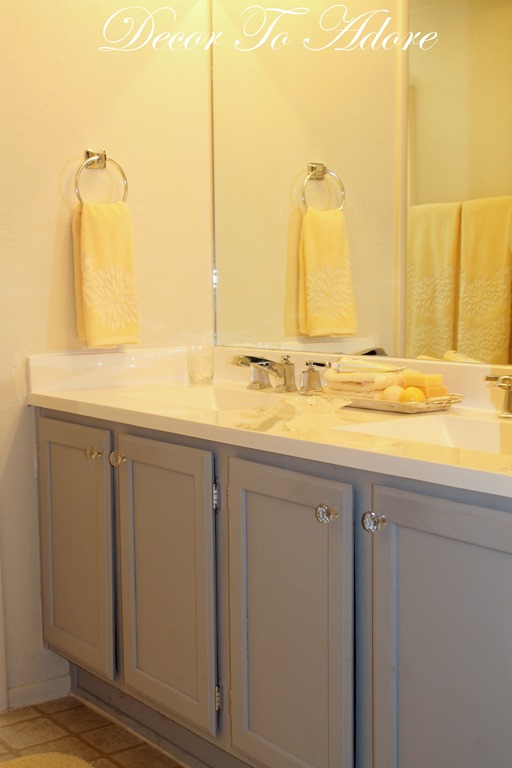 I don't blame you if you forgot. After all I began the project back in March. If you remember there were all sorts of setbacks. But basically this was the "BEFORE". Brown yucky cabinets, old faucets, a nasty vanity top…you get the idea.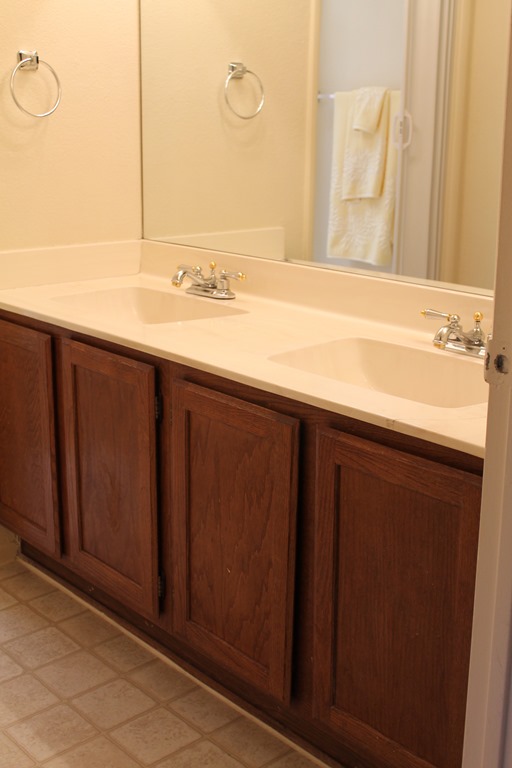 TA DA!
I had talked about painting the cabinets

HERE

. They are Annie Sloan Paris Grey. I still need to add one more coat of wax, but that isn't something that will show up in pictures. 🙂 The glass knobs were found at Hobby Lobby at 50 % off.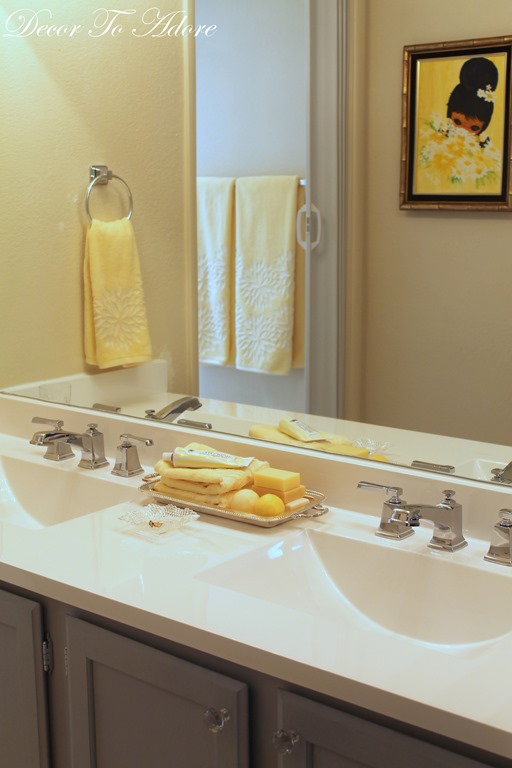 Let's talk about artwork. Two things my daughter LOVES is velvet and daisies. She was born in April which the flower is the daisy. We were looking for art that would fit in with the yellow, grey and white color palette. If you remember, Sarah Richardson's bathroom was our inspiration. Sort of a delicious country meets modern design.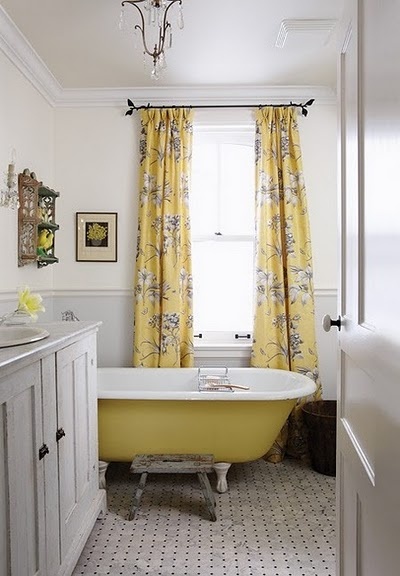 I think a touch of black in a room makes things elegant. We spied this little daisy loving girl in a gold and black velvet frame at an estate sale for $4. The Fashionista loved her 60's era bouffant hairdo so she came home with us.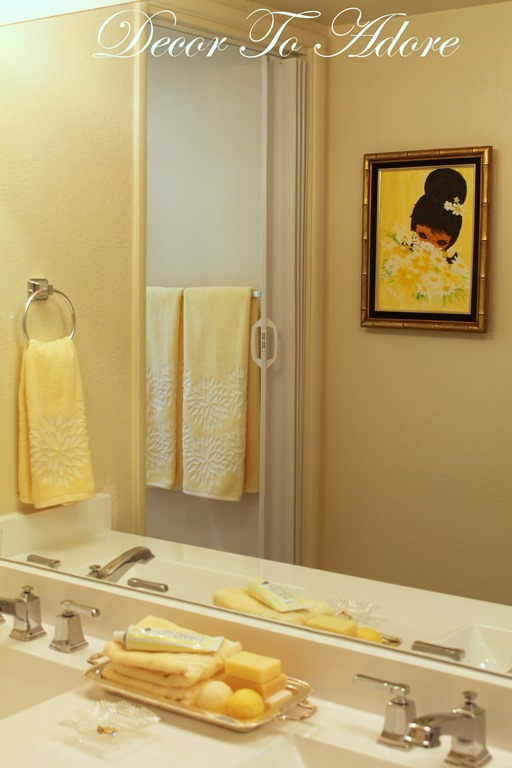 Here's a closer peek of her. It's not great art, but my girl loves her and that is what matters when you select art.
Did you know that the Daisy Girl has a secret?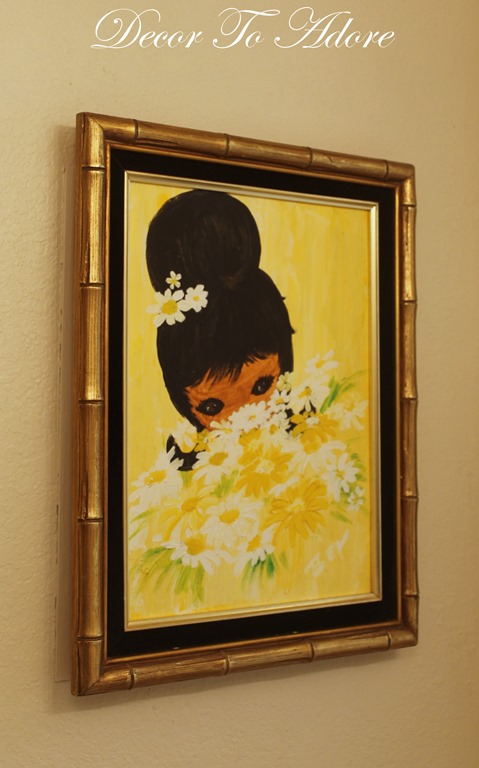 She covers the big ugly electric box that some yahoo decided to put right in the middle of the bathroom wall. Boo to bad design!


This biggest update was the vanity sinks and faucets.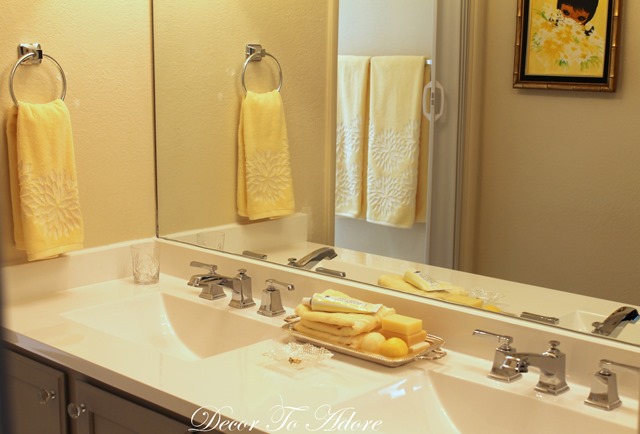 They were a dated, gross  mess. If you remember the close up of the sink looked like this: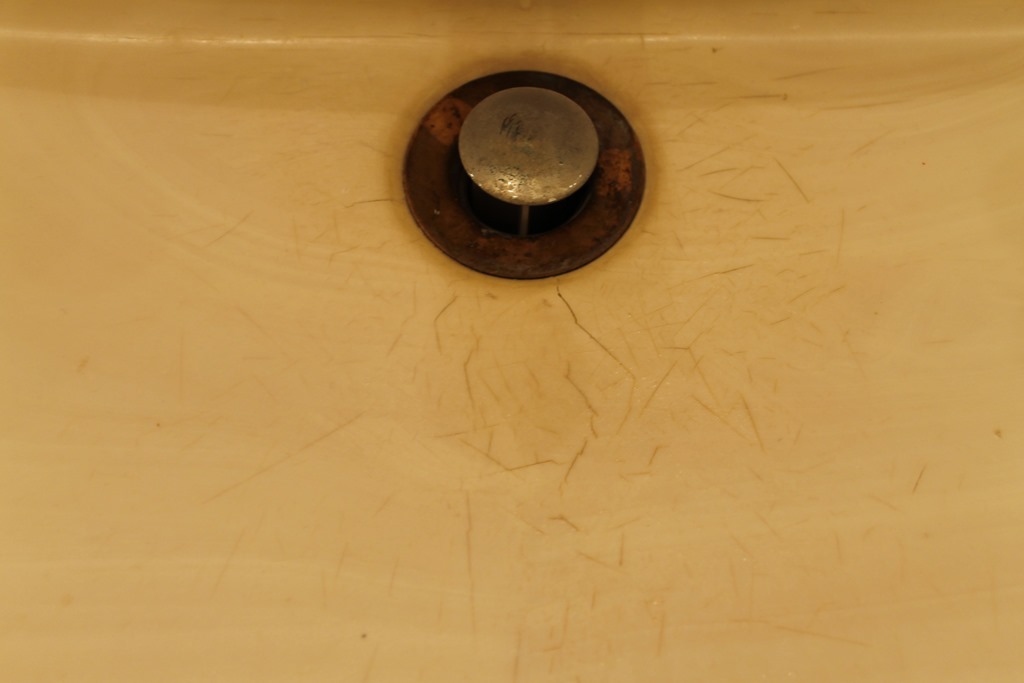 Eww and double yuck!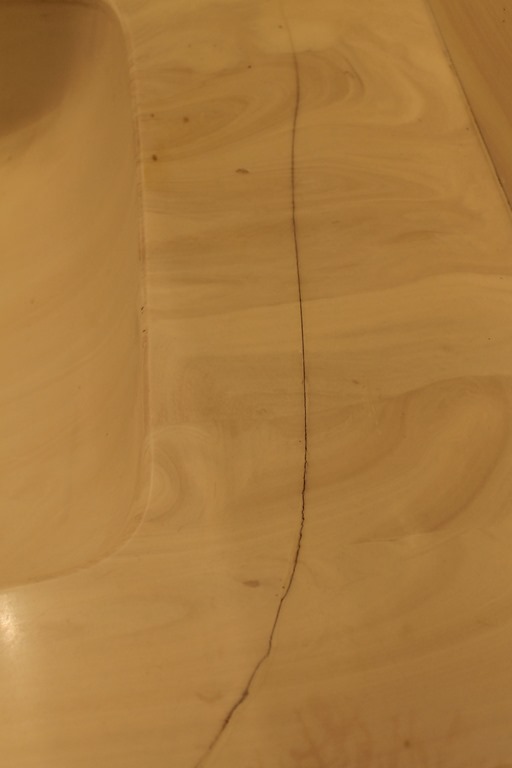 I really shopped around for options. The entire process almost deserves its own post. Given that the condo was built in the early 80's I could not just buy an "off the shelf" sink vanity. It was a custom size. You know what that means~ $$$. I checked out granite, engineered stone, and laminate. In the end we went with a cultured marble vanity top by St. Paul in white. It took 15 days to be delivered. 
Taking out the old vanity was no picnic. It required major pulling and prodding.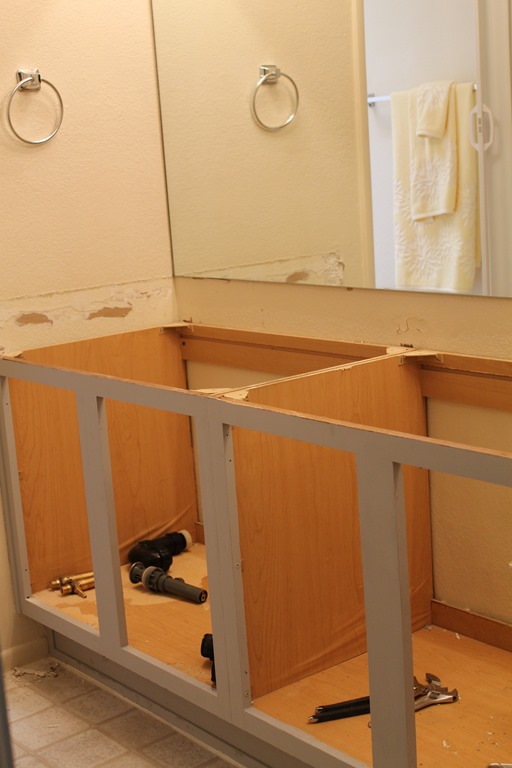 That blasted vanity was so wedged in there! Like most old homes the walls were not completely straight so some of the drywall ended up walking off with that old vanity. Patch job straight ahead!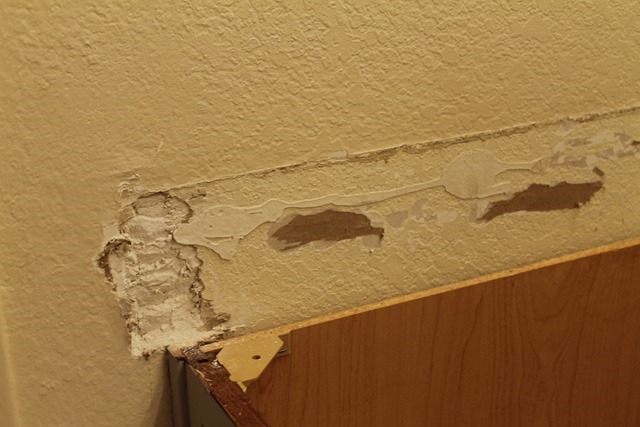 The new vanity wasn't exactly light and it had to be hauled upstairs.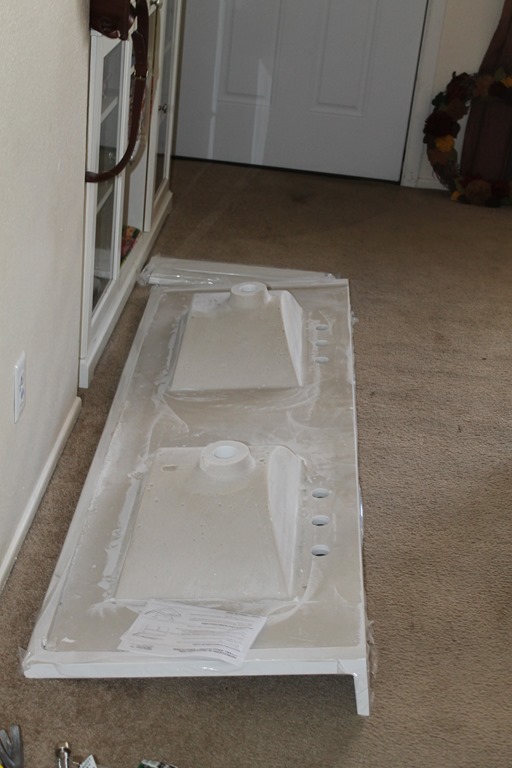 Finally the heavens parted and angels began singing.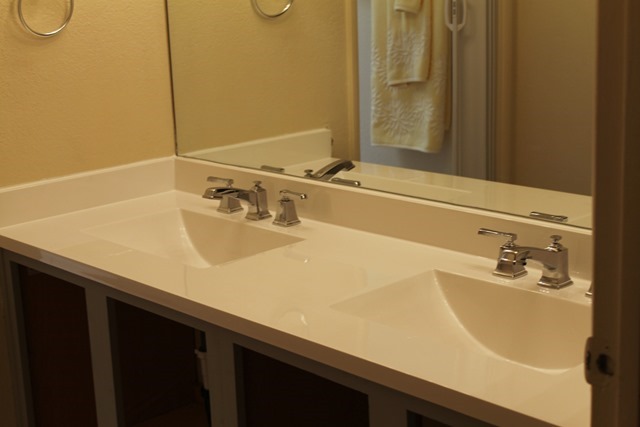 The wide set chrome faucets were provided by Moen. They are from their "Boardwalk" line.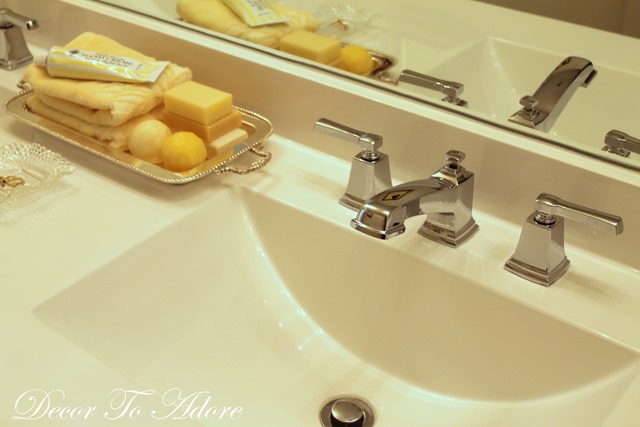 It was finally time to start accessorizing.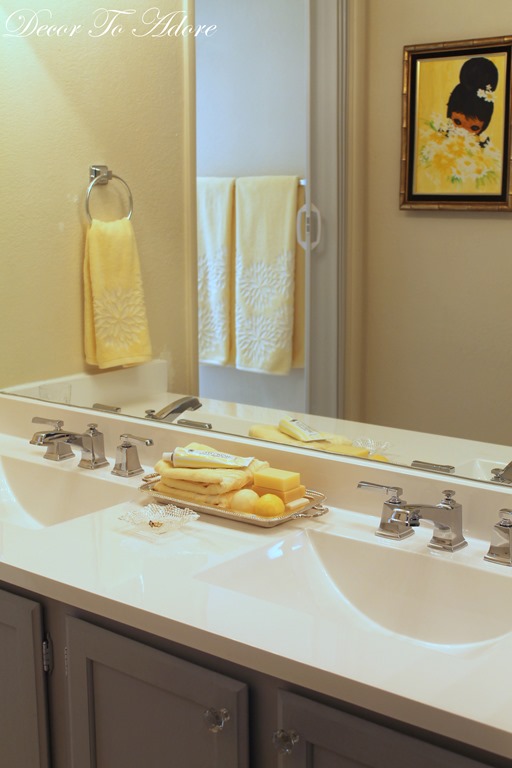 The towels and hand lotion were found on clearance at HomeGoods. The various soaps were gifts. I nestled them on a silver tray I bought years ago in an after Christmas sale at Target. The glass dish was my great grandmothers that held her sewing pins and the crystal cup belonged to my grandpa Roy.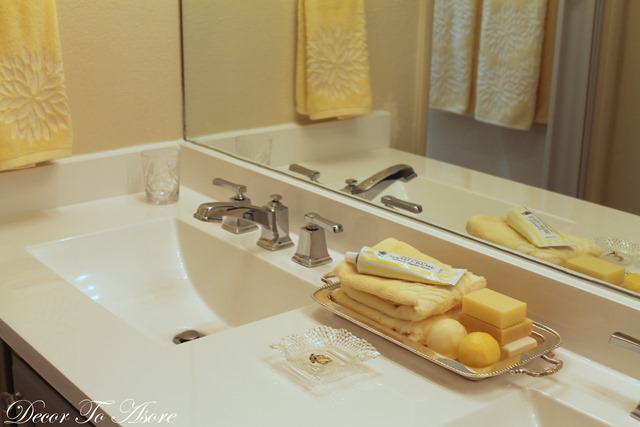 The one thing I forgot to do was get a good after shot of the shower area. Because I did get yet another horrid "BEFORE".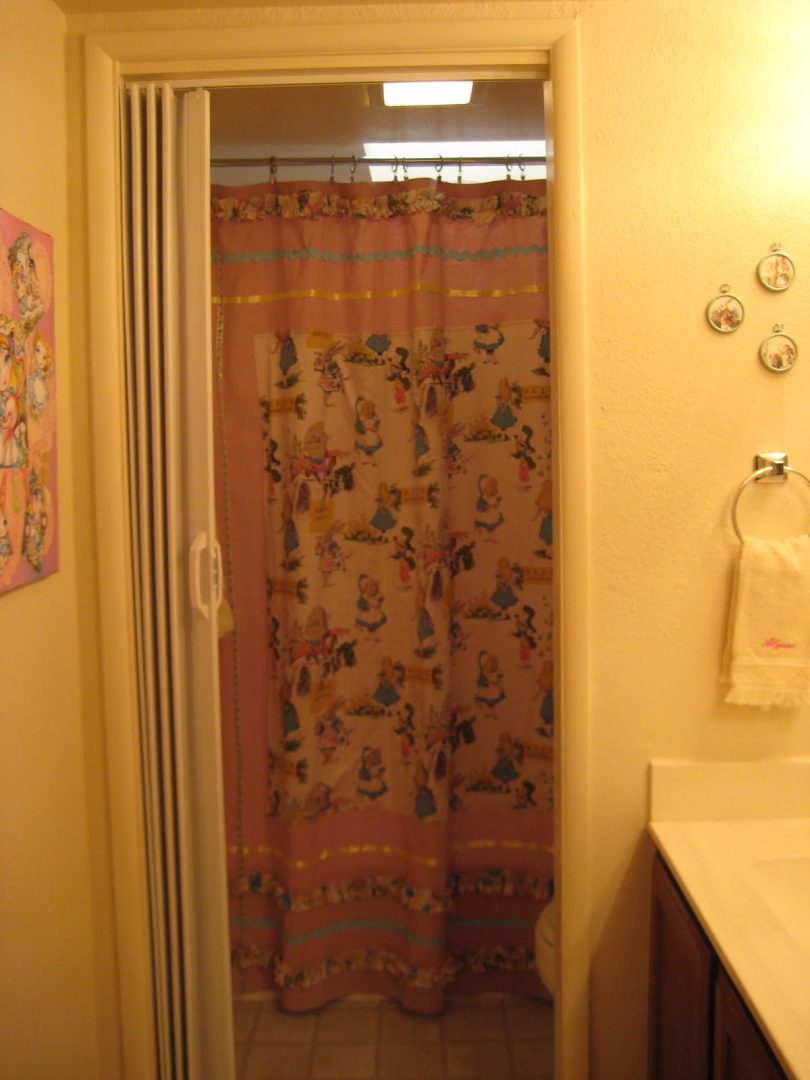 You can see a glimpse of the curtain that we found last fall on clearance at Target.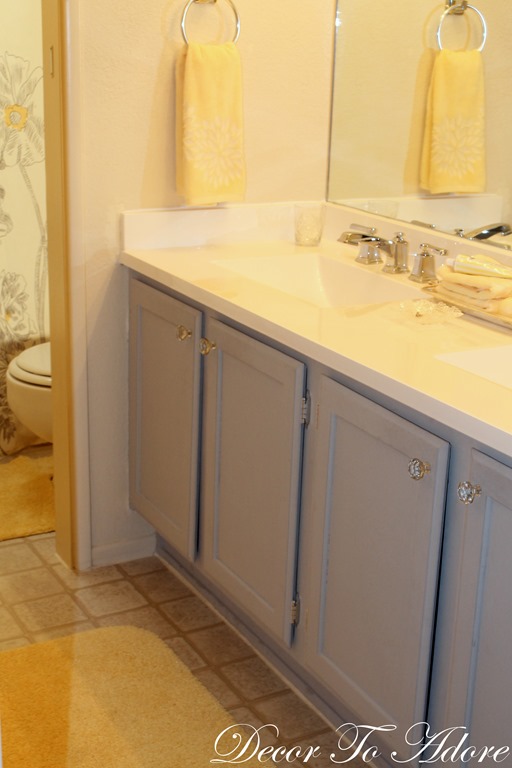 All in all I think it went from drab….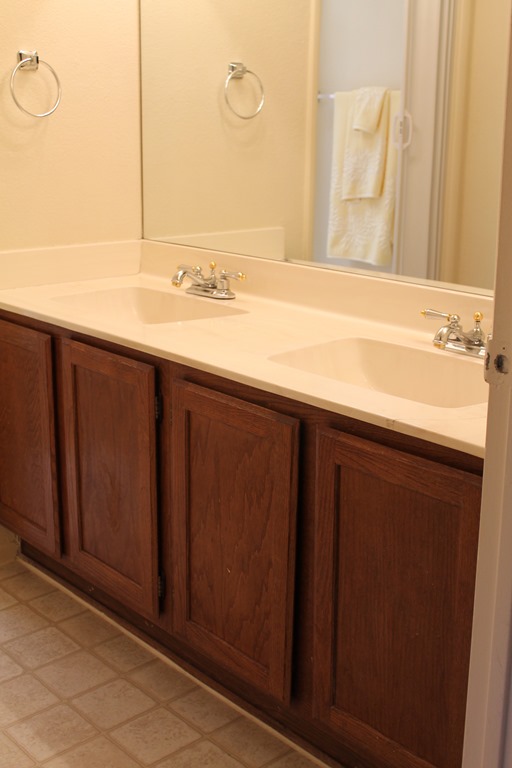 …To fab!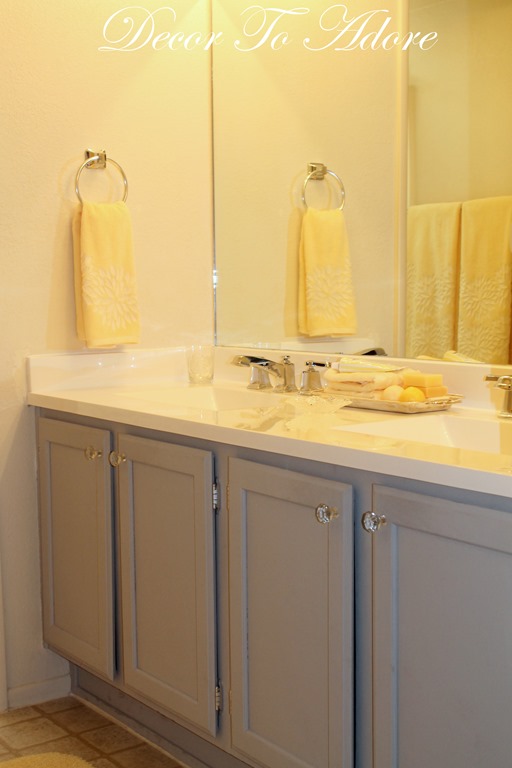 For those who may be interested the wall color is "Biscuit" SW6112 by Sherwin Williams and was painted two years ago.
We would still like to:
Replace the dated light fixtures and frame out the large mirror. At some point down the rental road we will also replace the floor.
Here's a itemized breakdown:
One custom St. Paul double sink vanity top in white: $449.00
Quart of Annie Sloan Paris Grey paint, half a can remains so I could technically halve the price but… : $34.95
Two complete sets of towels and tube of hand lotion  from Homegoods on clearance: $15.00
Shower curtain on clearance from Target: $10.00
Two yellow bathmats from Wal Mart: $8.00
Four crystal knobs from Hobby Lobby at 50% off: $5.00
Daisy girl artwork from estate sale: $4.00
Two Moen Boardwalk faucets (in exchange for a sponsored blog post) : $0
Silver trays, crystal cups and soap: All previously owned/gifts: $0
Daisy artwork for over the toilet from Goodwill (still to be spray painted)  $1.00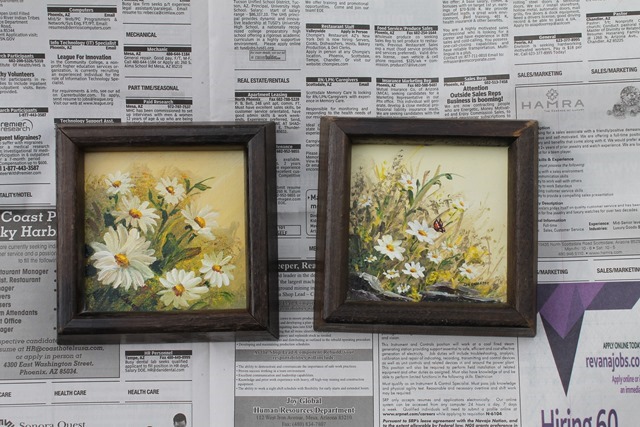 A grand total of $526.95. Yippee indeed!
Laura