It had been far too long since I had seen all my wonderful friends. Where does the time go? I knew before the summer was out and I was back in school that I wanted to host a gathering. Why not have all my favorites on my 45th? I sent out handcrafted invitations a few weeks ago. A Favorite 45 Birthday Party It Will Spin You Right Round.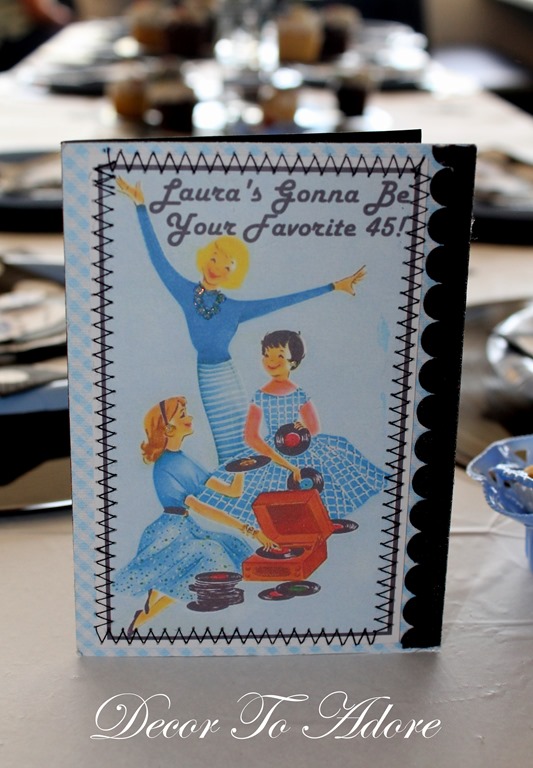 A Favorite 45 Birthday Party It Will Spin You Right Round
Thinking of 45 my thoughts immediately traveled back to my youth and my grand collection of records. Everyone was amazed I still had so many of them.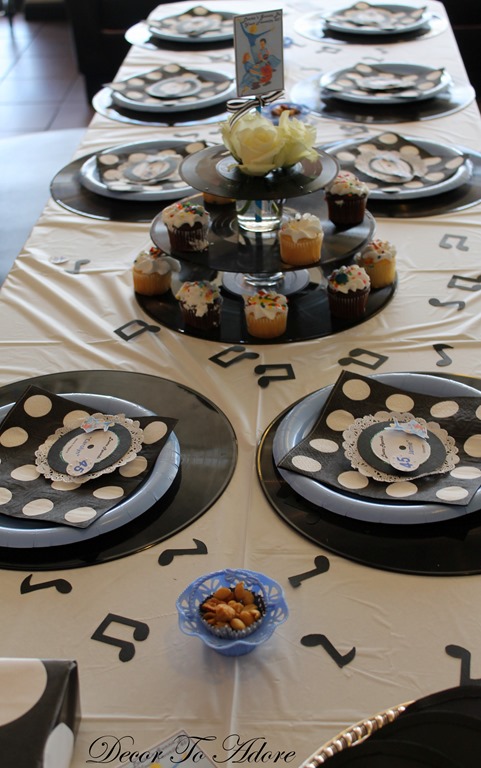 At each place setting, I used a 33 record topped with a blue plate, black and white polka dotted napkin and a personalized nametag that doubled as a place card. (Details will follow on Wednesday.)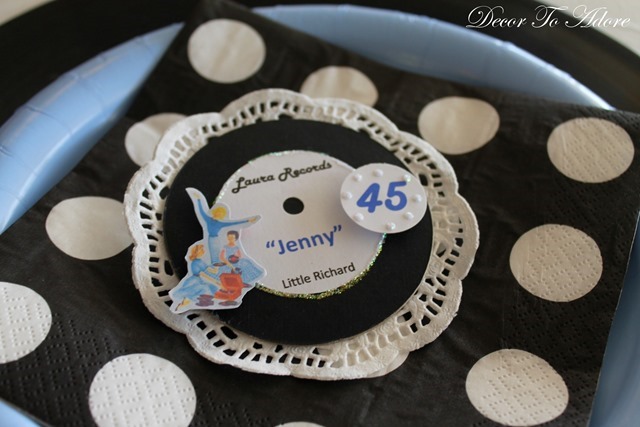 The table was topped with musical confetti and darling vintage nut cups given to me by my friend Jenny.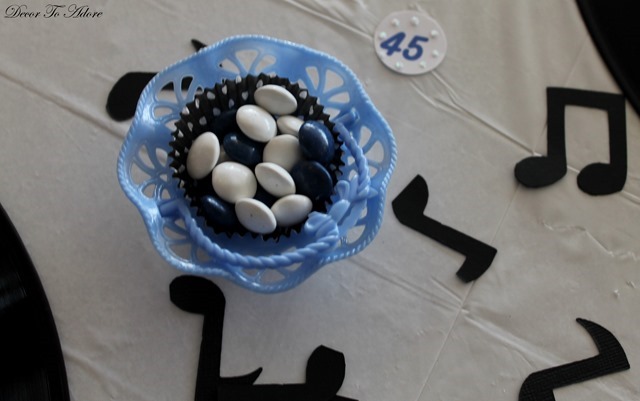 Jenny knows how to do vintage fabulously.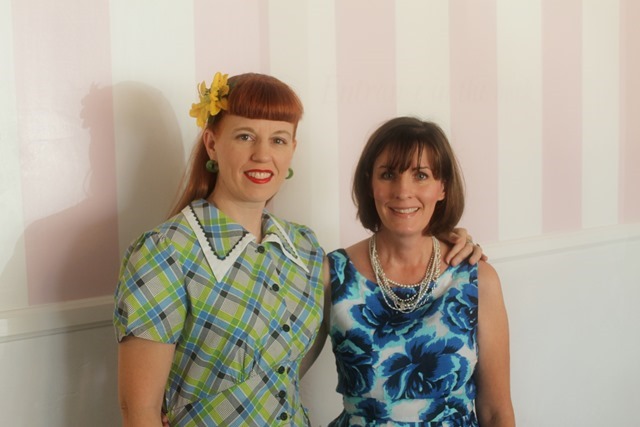 Table Centerpiece
The table centerpieces were cupcake towers. Can you guess how they were made?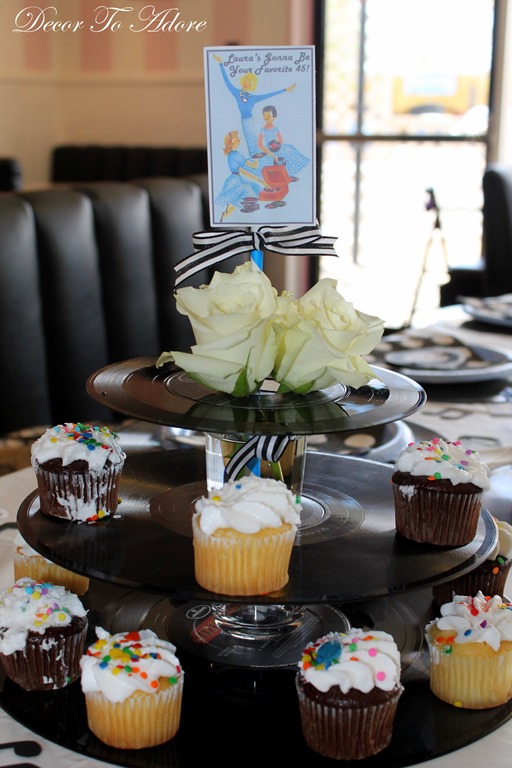 Speaking of vintage, my BFF Tracy and I have now celebrated 37 birthdays together. She drove all the way from California to attend. I sure love her!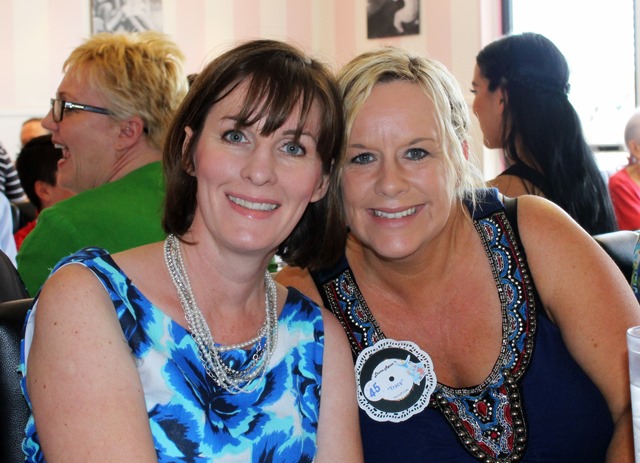 I was so happy that everyone else was SO happy!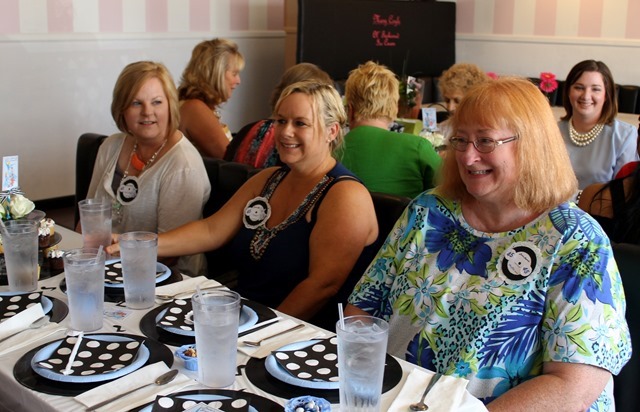 Sweet Guy got a seat by one of his favorites~ Miss Meri.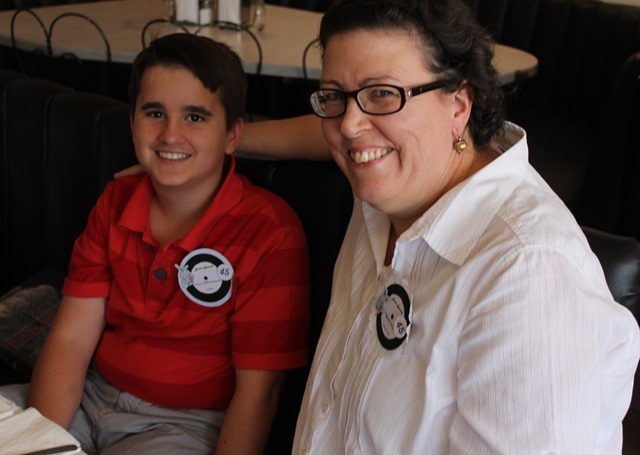 Jamie and her sister Rita were all smiles.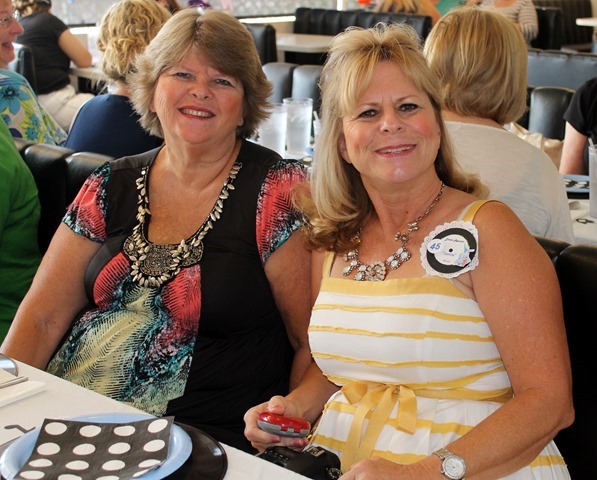 Oh, these great gals, Marty and Liz,  are my favorites and I know many of you feel the same way.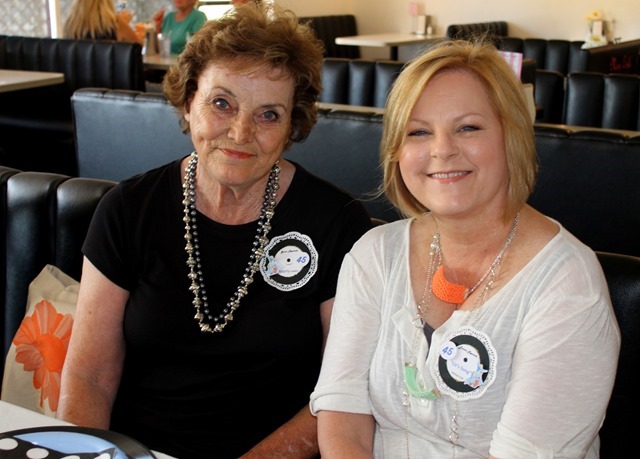 Tracy and my favorite next door neighbor Phyllis.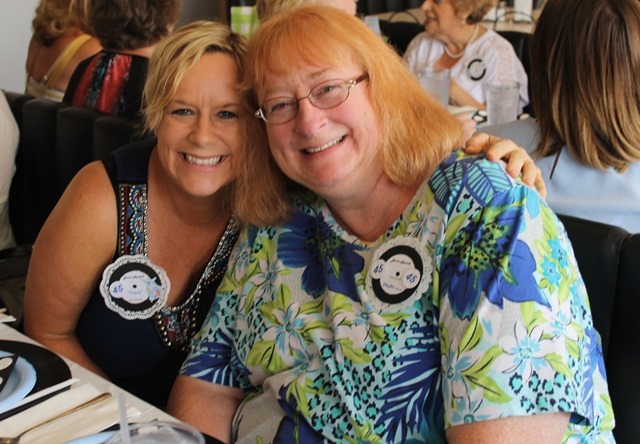 My favorite friends Kristina and Marci. These girls are sweet souls!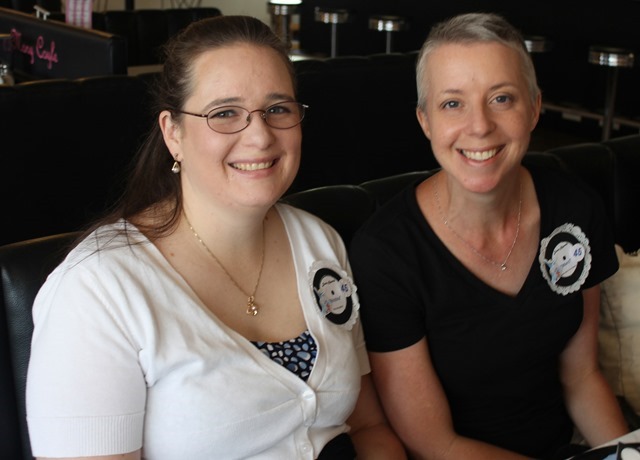 Then there are my favorite favorites. My kids. They spin me right round.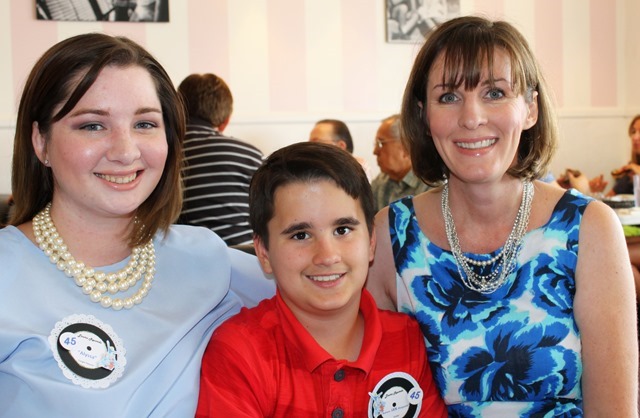 A Rockin' Group
A favorite group picture. Top row~ left to right.
Phyllis, Jamie, Liz, Marty, Meri, J.M. Marci and Jenny.
Bottom row~left to right.
Ceekay, Kristina, me, and Tracy.
I am truly blessed. I cannot tell you how much I value and treasure each of these lovely ladies.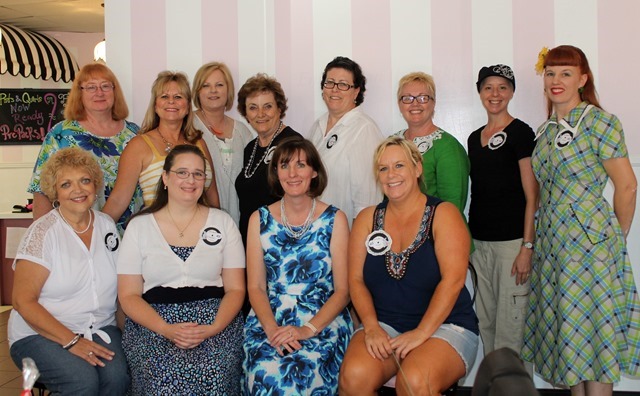 Two of the Fashionista's friends, Liz and Tania,  joined in the fun.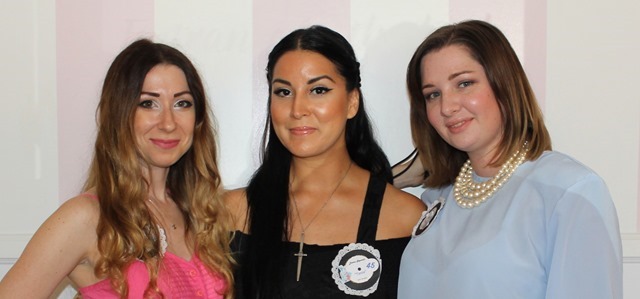 Sweet Treat
The venue was Mary Coyle's ice cream parlor, a Phoenix landmark for over 60 years. They create 16% butterfat ice cream the old-fashioned way.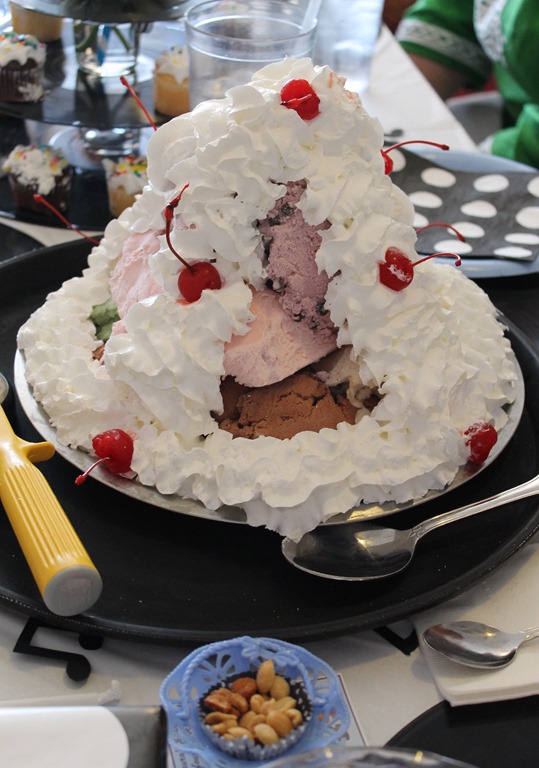 I ordered a creation called "The Hill" for each of the tables. It was four pounds of deliciousness.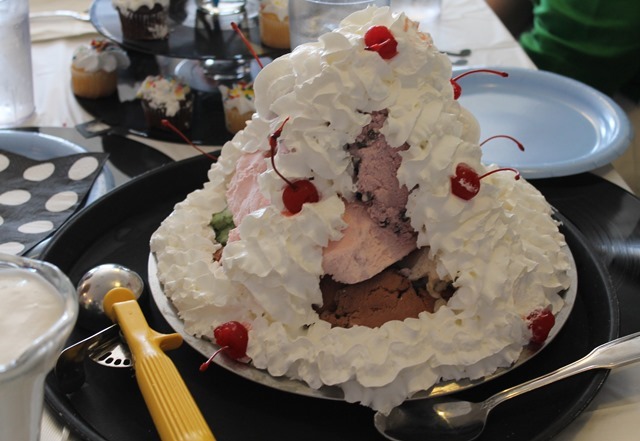 But it was no match for my friends on a really hot summer day.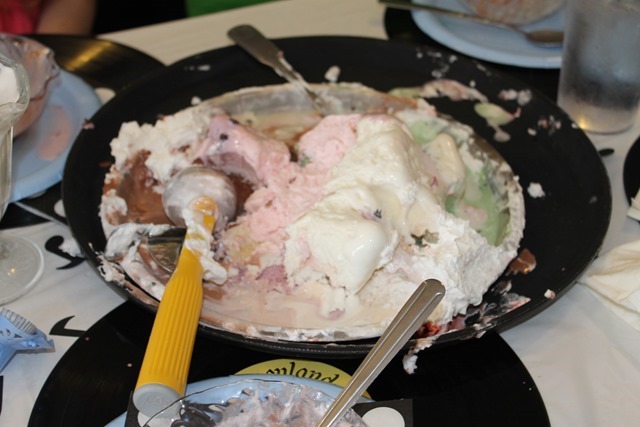 Party Favors
Each guest received a sweet treat to take home.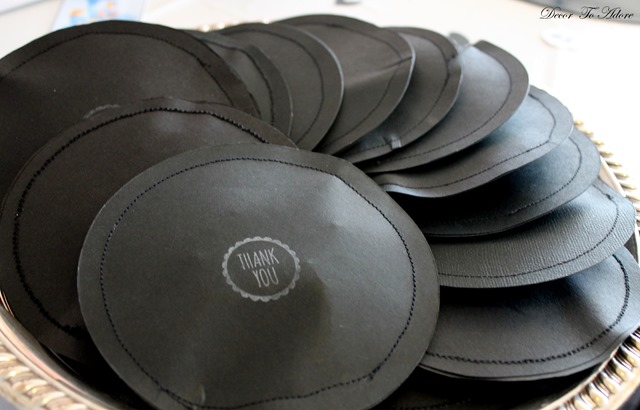 Of course, I can't end a party post without a few outtakes.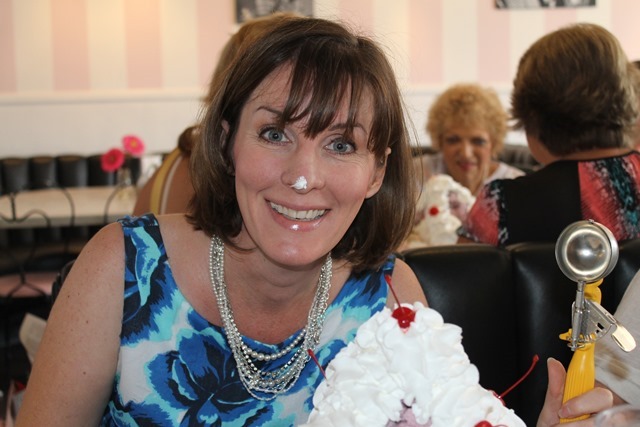 A fun bunch for sure!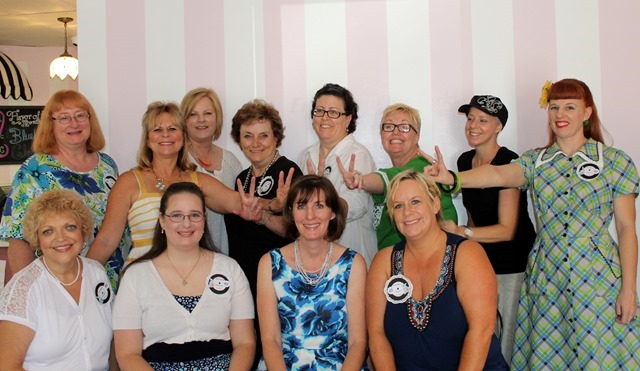 We had to have a photobomb from Sweet Guy.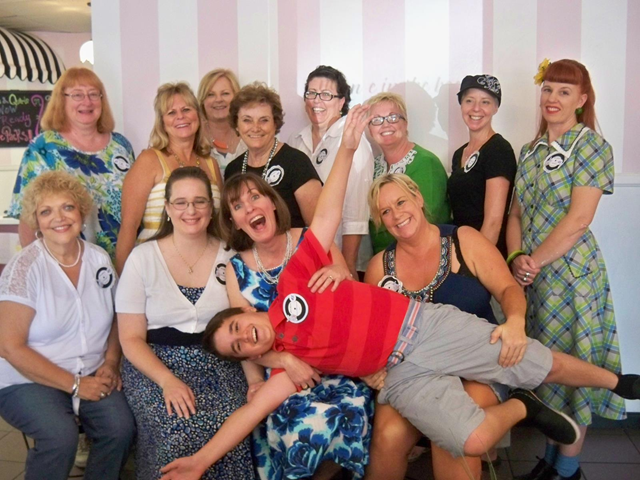 Dear readers you all are my adorable favorites, thank you so very much for sharing this day!
Detailed tutorials can be found on this post HERE.
Laura