Yesterday the Duchess of Cambridge was safely delivered of a son.
The announcement was made on the Palace's Facebook and twitter accounts as well as the London BT Tower.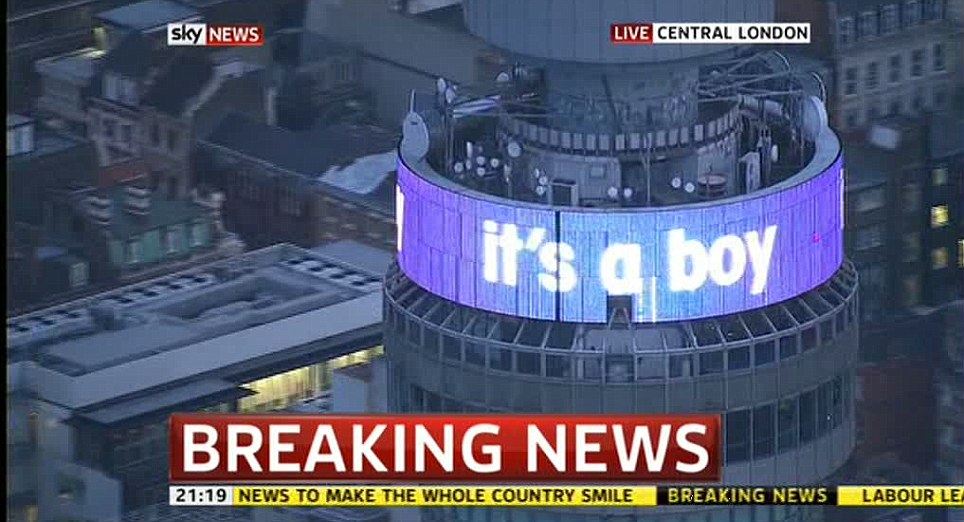 Ah but you have to love the hospital sending out a traditional town crier.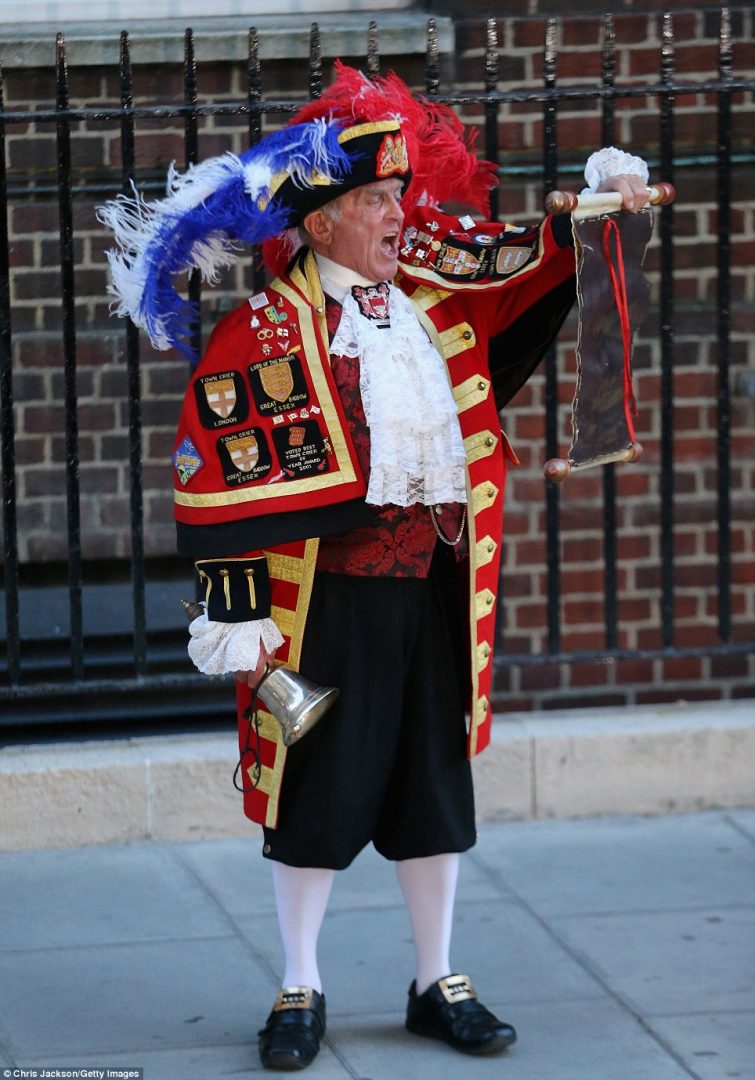 The easel at Buckingham Palace held an official announcement that provided the baby's weight and time of birth. But no mention was made of the young prince's name.
That's not unusual for Baby Cambridge's family.
In earlier times it was not uncommon that a royal infant would go unnamed until its christening.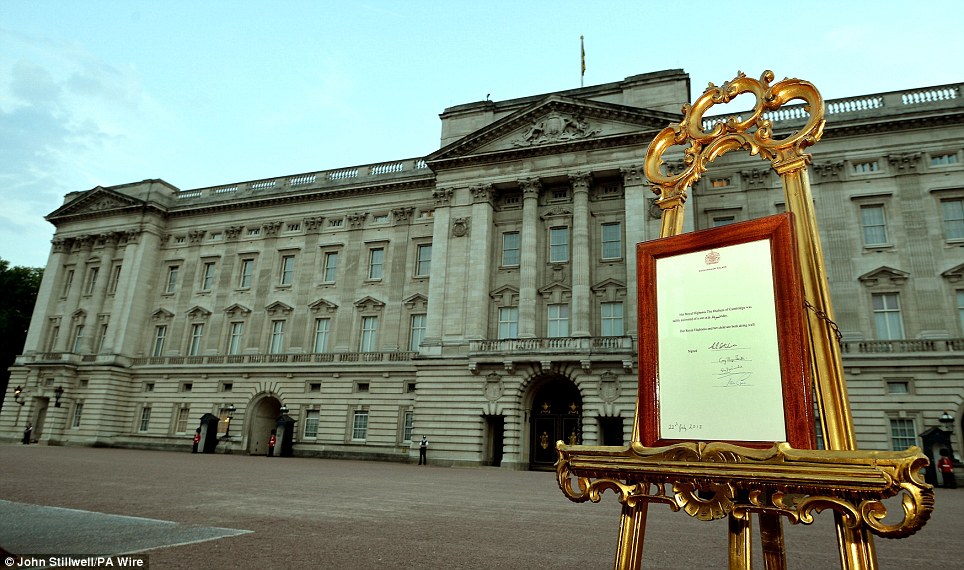 By all accounts Alexandrina Victoria came into the world on May 24, 1819 with little pomp and no circumstance. After all her father, Prince Edward, Duke of Kent and Strathearn, was the fourth son of King George III. In a strange twist of fate all three of her father's elder brothers died leaving no legitimate, surviving children. King George and the Duke both died in 1820 and suddenly Alexandrina became Queen Victoria at the tender age of 18. Queen Victoria reigned for over 63 years at the height of the British empire.
"Princess Victoria Age Four" ~ 1823, Stephen Poyntz Denning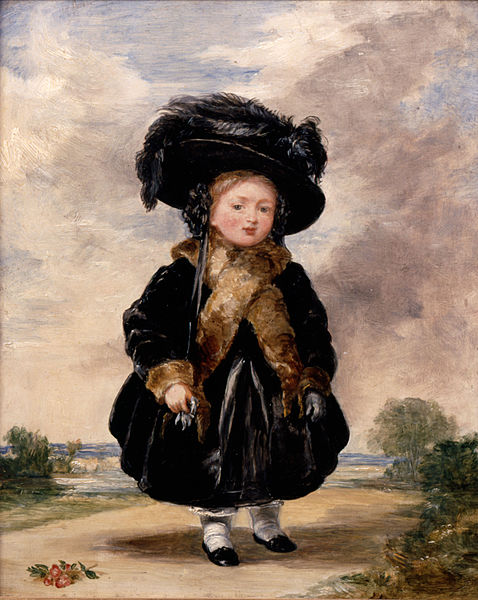 Queen Victoria had a total of nine children. Her first born, Victoria Princess Royal,  was a girl. Only recently were constitutional changes made to remove male preference in succession. So alas the throne went to her younger brother, Albert Edward, born on November 9, 1841. He became King Edward VII on January 22, 1901 and reigned for just nine short years.
"Victoria, Princess Royal and Albert Edward, Prince of Wales" ~ 1843, Thomas Musgrave Joy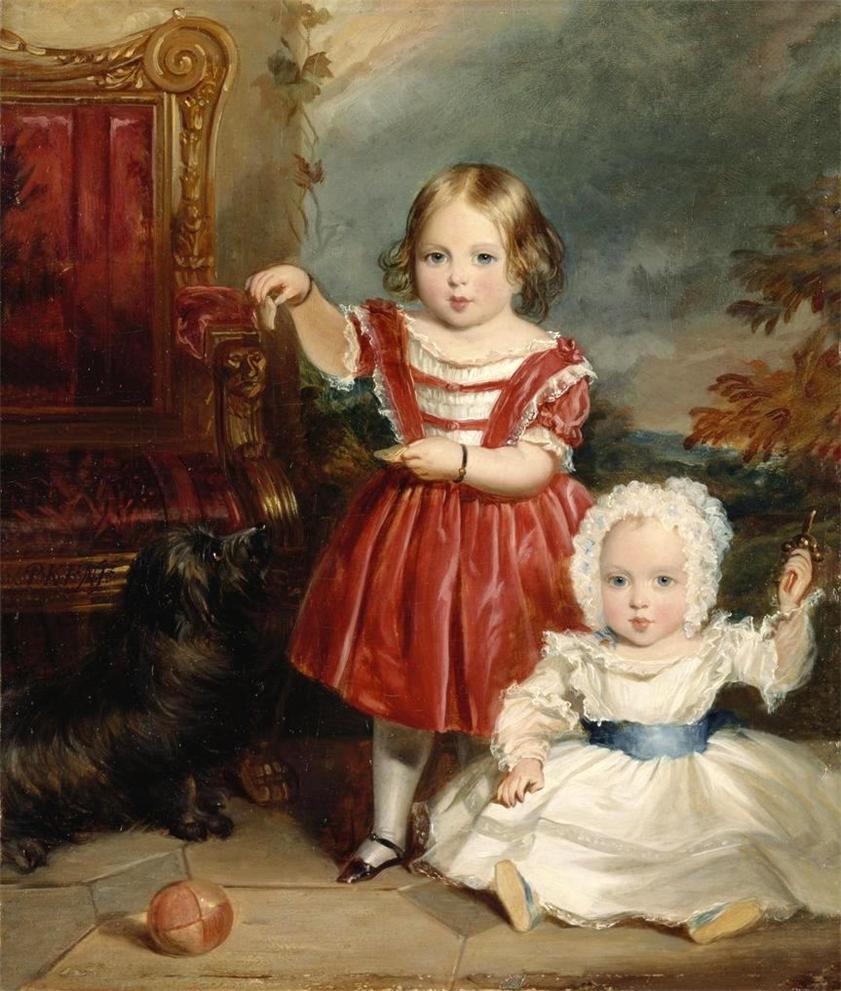 King Edward VIII had six children. His eldest was Albert Victor Christian Edward. Sadly Prince Albert Victor, Duke of Clarence and Avondale died at the age of 28 of pneumonia. At the time of his death he was engaged to Princess Mary of Teck. His younger brother, George Frederick Ernest Albert, became second in line to the throne behind his father. Princess Mary and Prince George became close during the period of mourning and the family approved when they became engaged a year later. King George V came to the throne on May 6, 1910. His reign lasted over 25 years.
George was only 17 months younger than Albert Victor.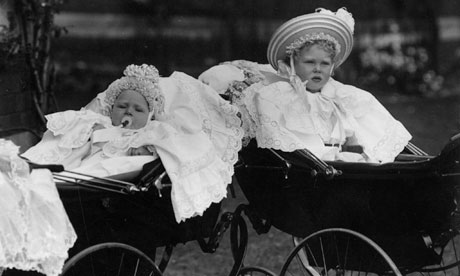 Being quite prolific King George V had six children. His eldest was Edward Albert Christian George Andrew Patrick David who later became King Edward VIII. His reign was less than a year as he famously gave up his throne for love and Wallis Simpson.
Which meant that his younger brother, Albert Frederick Arthur George, became King George VI. Bravely leading his county through such scandalous strife followed by WWII he remains one of England favorite rulers. Sadly, his reign of just under 15 years was short lived.
Her majesty, Queen Elizabeth was born on April 26th, 1926 to the Duke and Duchess of York. She was christened Elizabeth Alexandra Mary. She was named after her mother and her two middle names are those of her paternal great-grandmother, Queen Alexandra, and paternal grandmother, Queen Mary. No formal announcement was made at the time of her birth as it was her uncle, King Edward VIII, not her father who was heir to the throne. Once he abdicated the throne for Wallis Simpson and became the Duke of Windsor her father then became King George VI and she became Princess Elizabeth. As there were no male children born to the couple, the princess later became Queen Elizabeth II on February 6, 1952. She has now reigned for 61 years.
Queen Elizabeth has four children. Her eldest son and first in line to the throne is Charles, Prince of Wales who was christened Charles Philip Arthur George.
Prince Charles has two brothers~ Prince Andrew, christened Andrew Albert Christian Edward and Prince Edward christened Edward Antony Richard Louis. Prince Charles of course has two sons with the late Diana, Princess of Wales. Prince William, Duke of Cambridge, who was christened William Arthur Philip Louis.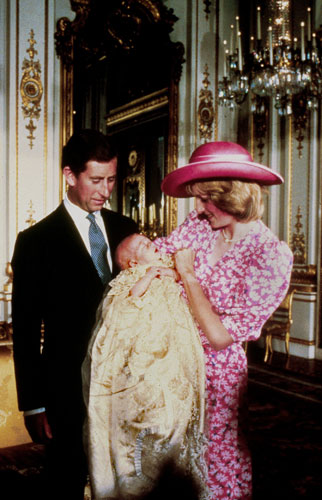 Prince Charles and Princess Diana's second son, Prince Henry of Wales, was christened Henry Charles Albert David but is known to all as Prince Harry.
It should be noted that since 1841 most of the Royal babies have worn the same christening gown which was made for Queen Victoria's eldest daughter, Victoria. The gown is said to have been made from the same silk and Honiton lace as Queen Victoria's wedding gown.  It is believed that Prince Edward's daughter, Lady Louise Windsor, was the last infant to be christened in the original gown.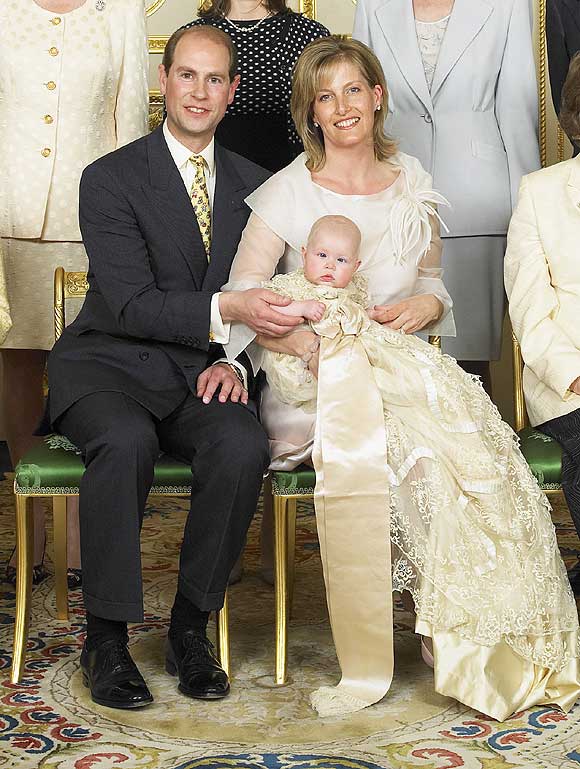 Due to its age and delicate nature it was replicated and worn for the first time by Prince Edwards's son James, Viscount Severn.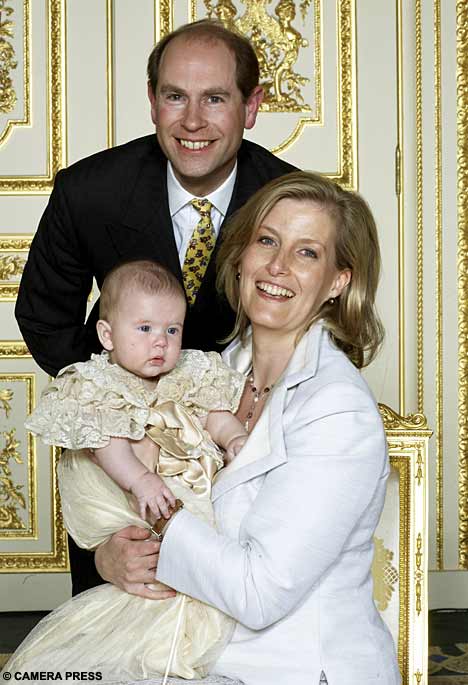 The last baby to wear the gown was the Queen's great granddaughter, Savannah Phillips, daughter of Peter and Autumn Phillips, and granddaughter of Princess Anne.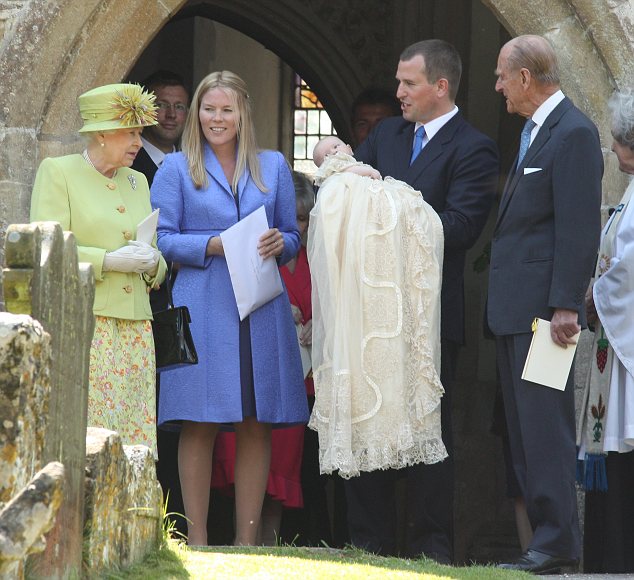 So what will Baby Cambridge be christened?
Since 1066 A.D. there have been a total of
Two King Charles (Prince Charles will be King Charles III)
Eight King Edward's
Six King George's
Eight King Henry's (the last was of course THAT Henry)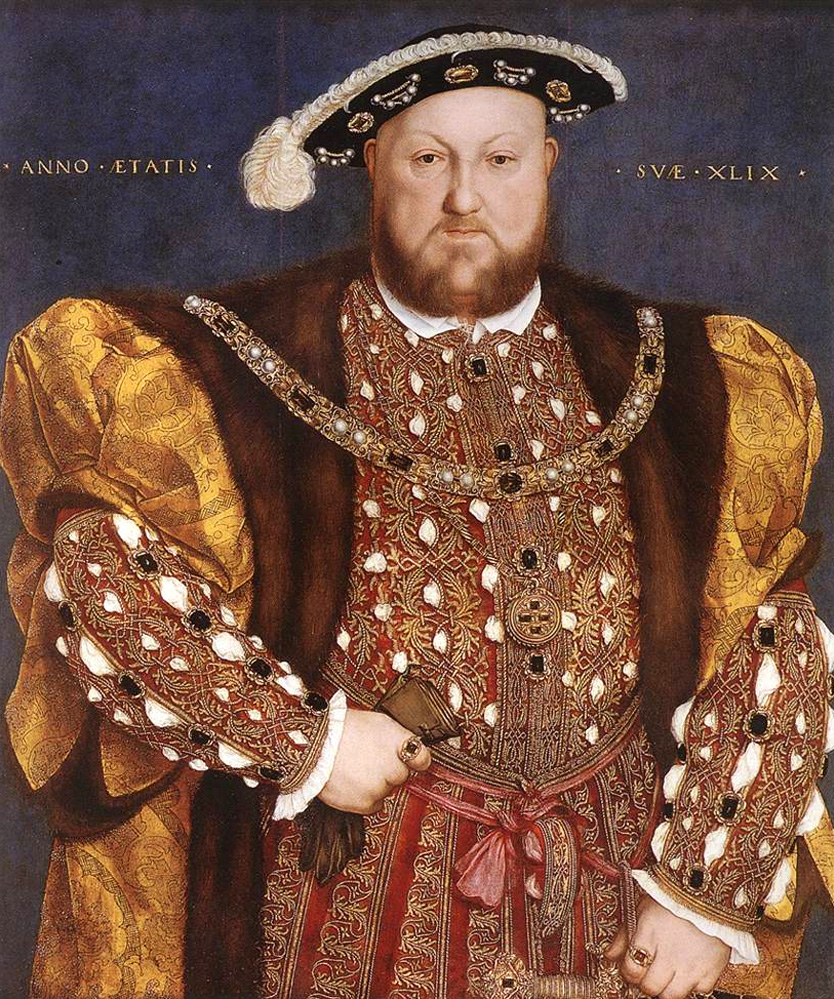 Two King James
Just one King John
Three King Richard's
Just one King Stephen
Four King William's (the Duke of Cambridge will someday be King William V)
While I think "Why not Stephen?" I really don't see that happening.
David is a strong name but it is what the Duke of Windsor went by and Queen Elizabeth has made her feelings about him quite well known.
James is of course the name of the Duchess's brother and Prince Edward's son.
Michael is her father.
First names.
George would make the Queen very happy as it would remind her of her father.
Philip quite possibly in a nod to Prince Philip who is said to be very close to his grandson.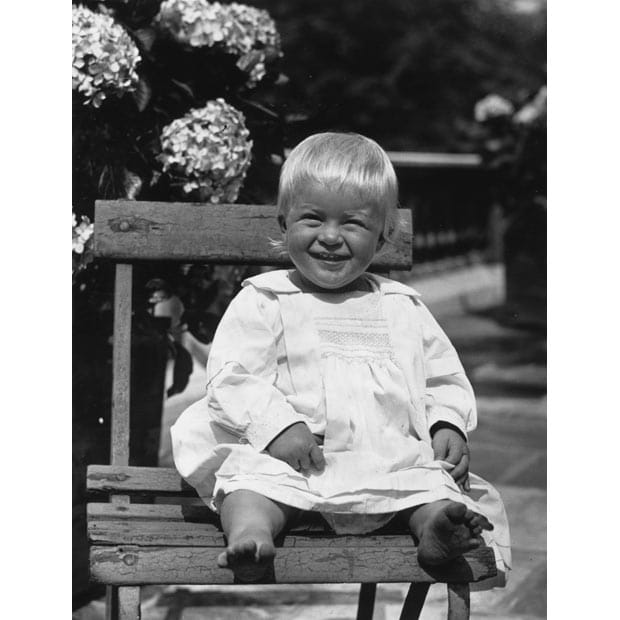 Middle names:
Charles for William's father and Diana's brother.
Henry for the Duke's brother.
William after the baby's father.
John was the name of Diana, Princess of Wales father and perhaps will be a middle name in a nod to the Spencer family.
Long shots
King Arthur? Hmmm.
Patrick
Christian
Albert
Antony
Richard
Frederick
Ernest
Victor
So what's in a name? Quite a lot.
Laura