UPDATE: The Random Number Generator has selected #2~ OUR SOUTHERN TABLE. Jen is a longtime reader and a dear friend. Her weight loss journey is truly inspiring.
Two weeks ago I discovered something dangerous in my neighborhood… See's Candy.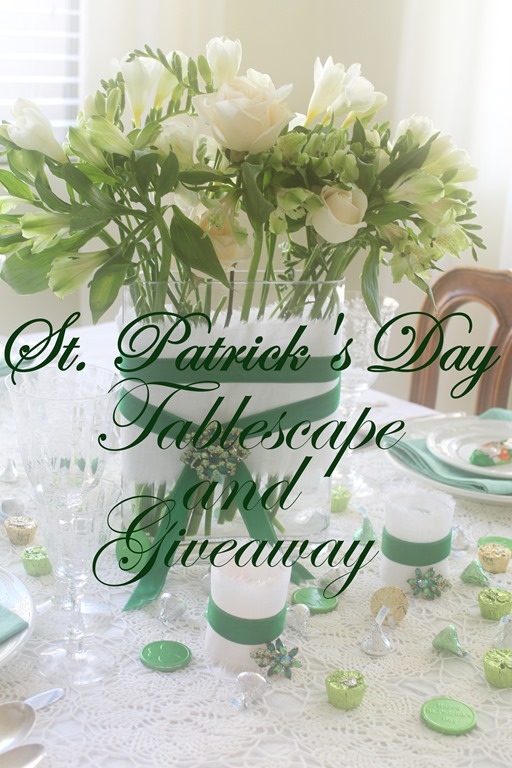 I allowed myself to go in with the single mission of purchasing three large candy eggs to nest in some Easter baskets. Then I spied Saint Patrick and it was all over. So I had to create a tablescape.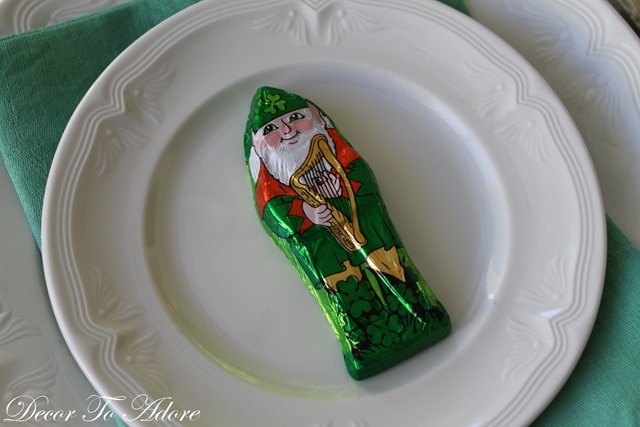 I had posted a few St. Patrick's Day ideas last week and really loved this candle.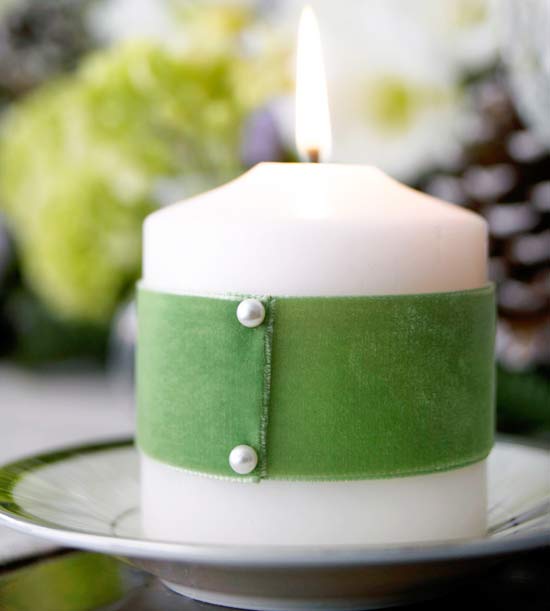 I put my own spin on the idea by taking a glass votive holder and wrapping white Irish linen around it. Kelly green velvet ribbon was wrapped around the middle and secured with a pearl pin. Oh does it look pretty at night!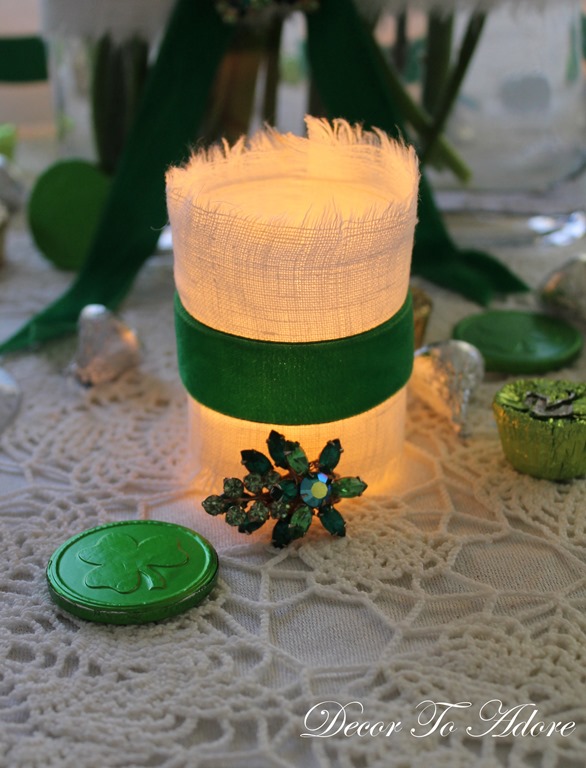 I also loved the white flowers in glass containers.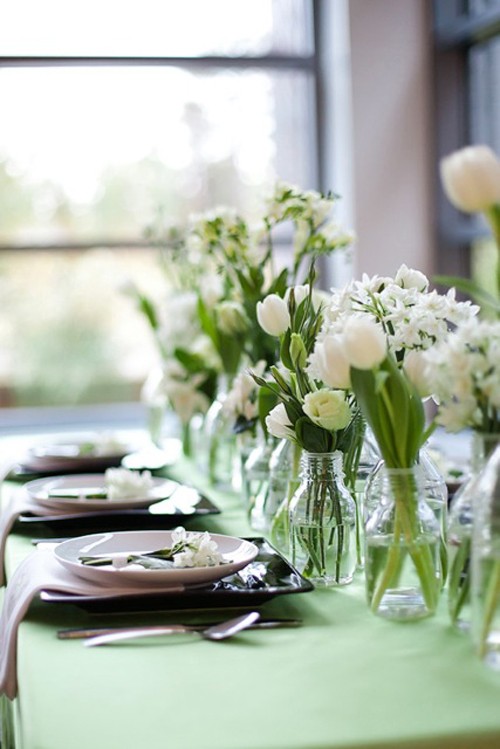 I was able to find green alstroemeria, white freesia's and roses.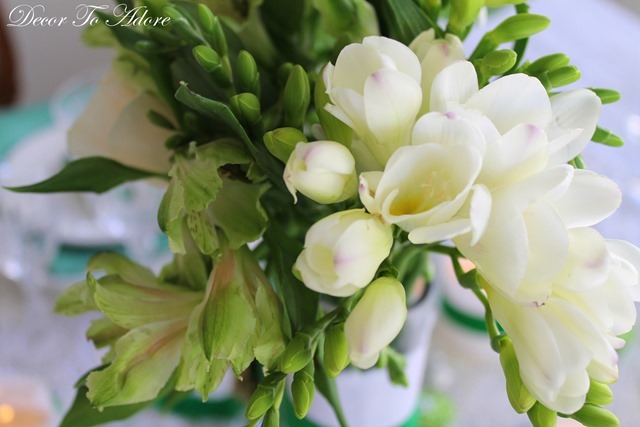 The glass vase was wrapped in linen too.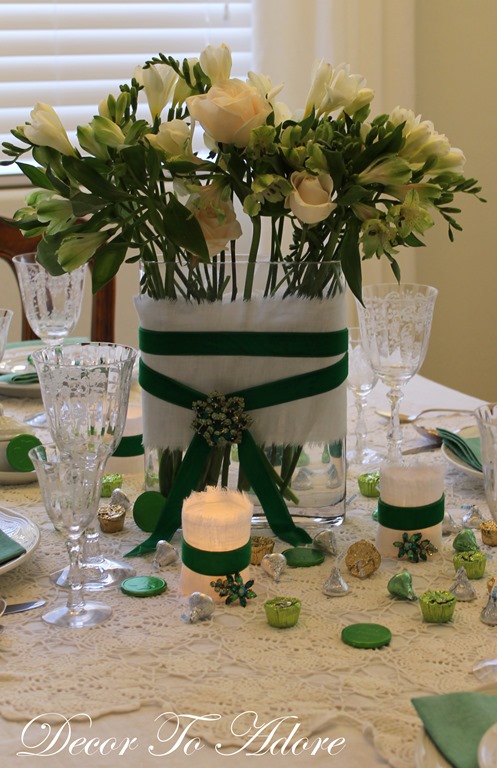 More green velvet was secured with my mom's lovely vintage broach.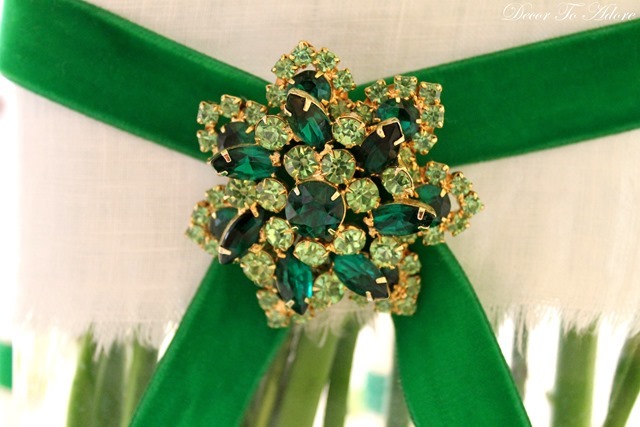 Our everyday white Villeroy and Boch china and vintage silver-plate make for a simple setting.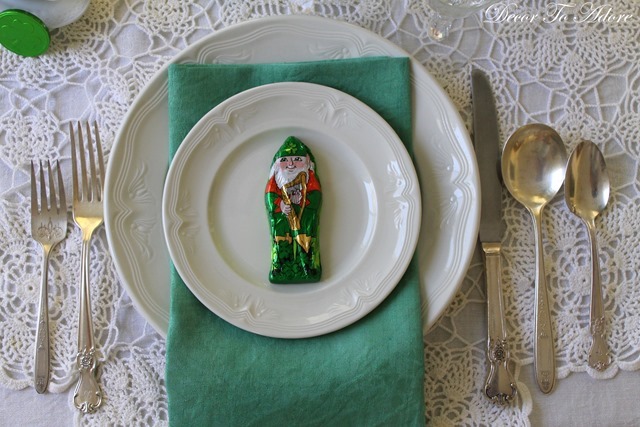 Corned beef is on the menu. Pardon me, would you happen to mind if I eat it with a bit of spicy mustard? This wee tureen will hold it beautifully.
Now I meant to post this giveaway on Monday to thank you ALL for your support. As you may know I went to La Jolla and Sweet boy has been on spring break this week…..blah, blah, blah. But I wanted to let you know how much you mean to me. I have not been able to visit everyone as much as I would like now that I am in school full time, but I really appreciate and treasure each and every one of you.
So I bought you your own St. Patrick's chocolate. I promise it will be delicious even AFTER St. Paddy's Day.
I also found two lovely Pottery Barn natural Irish linen hand towels with a scalloped edge and embroidered white clover.  I've added in a key necklace that felt a bit Celtic to me, some lovely soap and a vintage bouquet of flowers to jazz up your springtime hat, tote or blazer.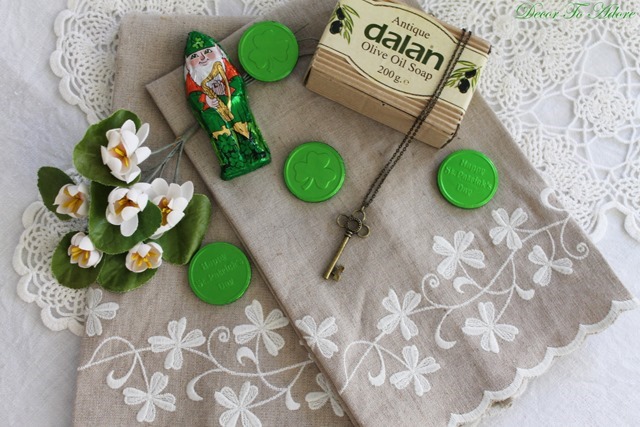 You know the routine.
Leave a comment. That's it. You don't have to be a follower or even Irish.
But if by chance you follow me on Pinterest you can leave a second comment.
Twitter ~ a third.
Facebook ~ a fourth.
May you have the luck of the Irish! I'll pick a winner on Monday.
Laura
Linking to:
Jennifer Rizzo, T T & J, Common Ground, French Country Cottage, The Charm of Home, Someday Crafts