Twas the Night Before Graduation and today I am expecting houseguests. They are here to attend the Fashionista's college graduation which is tomorrow morning. (Sniff! Boo Hoo! Where did time go?)
I've readied the guestroom.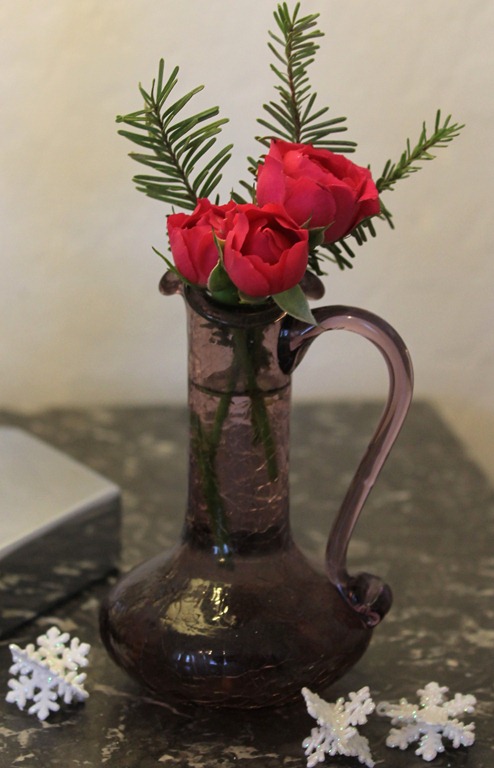 Twas the Night Before Graduation
The guest room is at the very end of a long hall. As you enter the room you can see the cross stitch that Grandma Ingalls sewed as a young girl.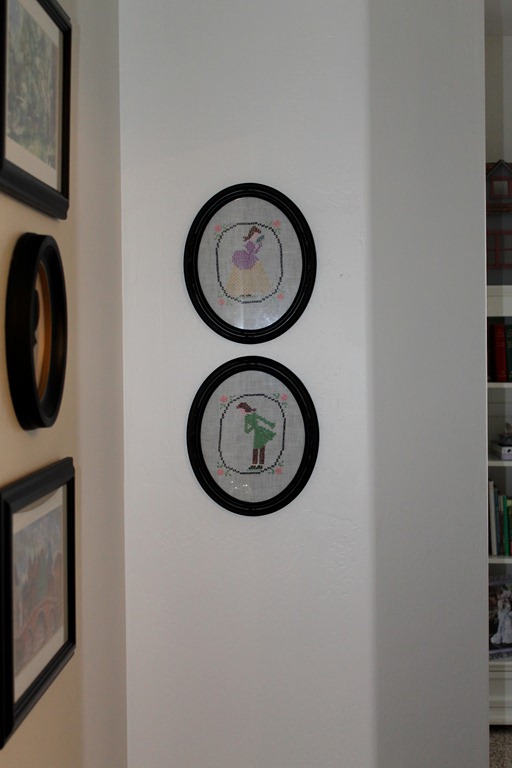 To the immediate left are pictures of places we have been and a sweet little boys silhouette.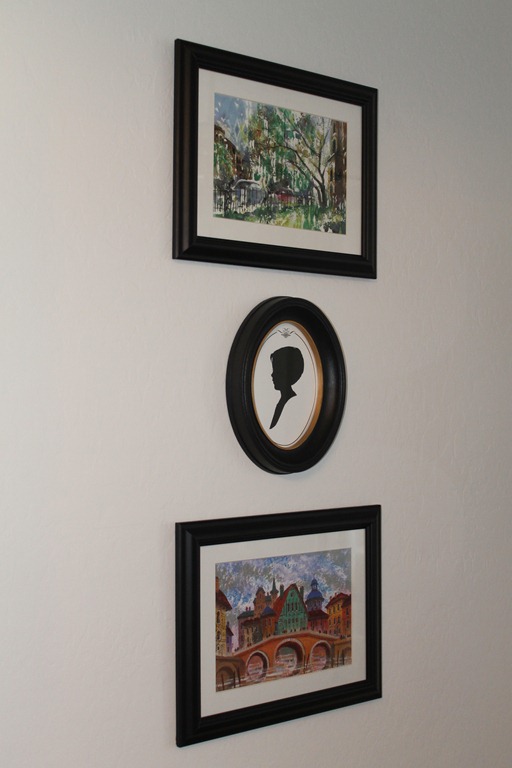 For me, the bed is the most important element in a good guest room. Although the ballerina painting my mother, Karen, painted at age 13 is also a treasure.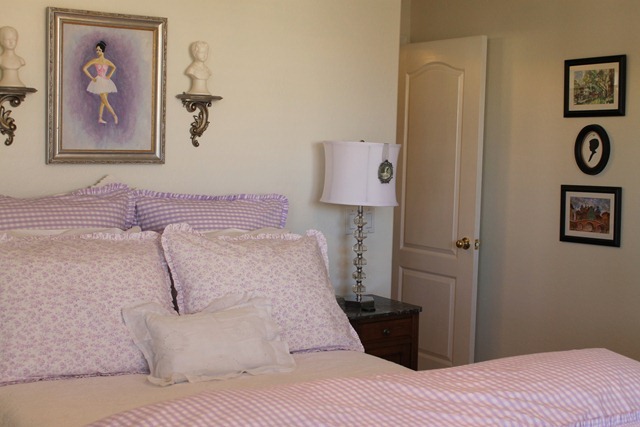 I am a firm believer in sleeping in your own guest room from time to time.  I want to make sure my guests have a pleasant experience.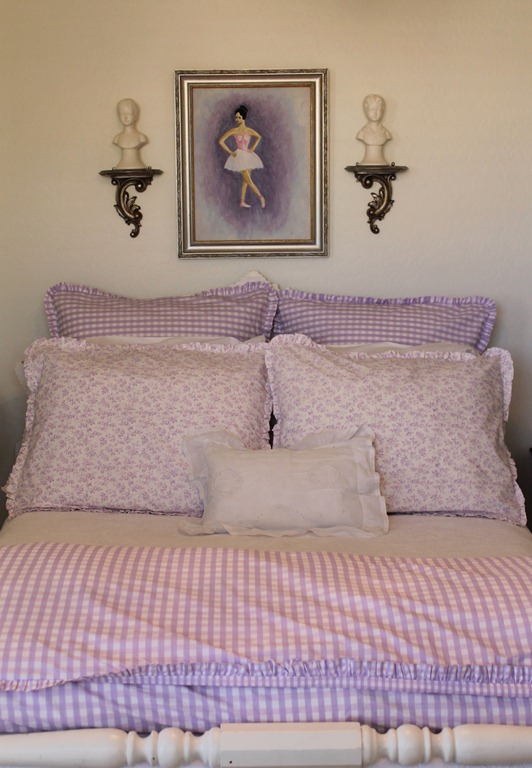 I'll admit it, I am a linen snob. I like crisp cotton sheets. Monograms make it all the better. Great Grandma's quilt peeks through the luscious lace.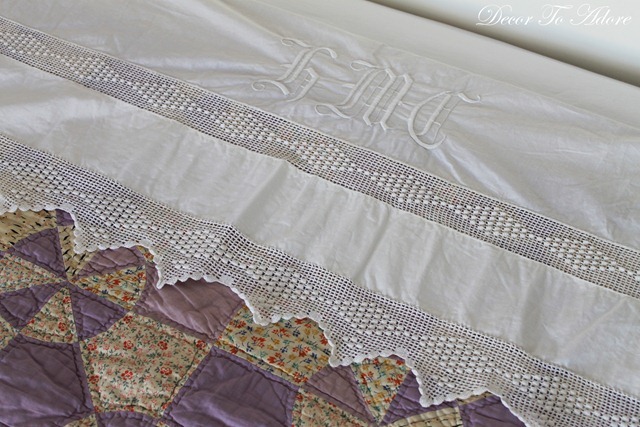 This is topped by a white cotton Matelassé cover, the lavender floral and checked bedding is Pine Cone Hill I found on eBay and the pillowcases were embroidered by Grandma Jingles.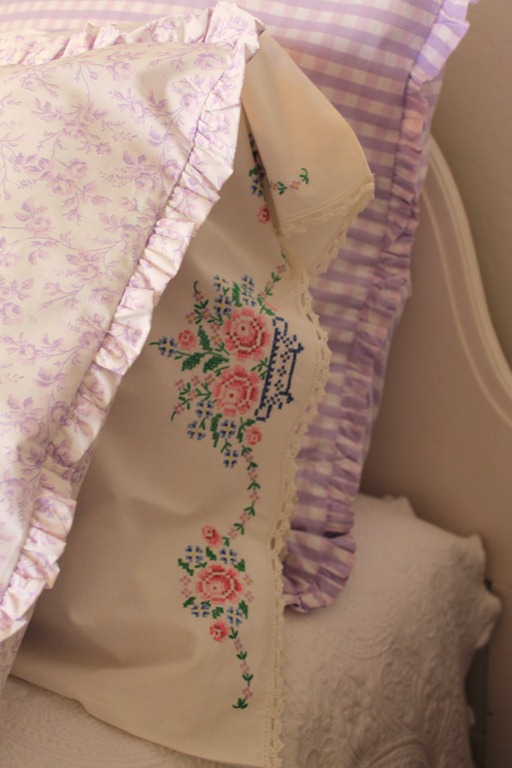 It was a joint effort as my great grandma Becker (Grandma Jingles' mother) crocheted the edges.
To the left of the bed are the shelves Mr. Décor built. There is a working alarm clock as well as other treasures.
If you have a wee one don't worry, they can sleep in the same wicker bassinet that Grandma Mary, mother Karen, myself and my children all slept in.
I like Grandma Jingles' tiny tea set that tops books given to me by Mr. Décor's mother.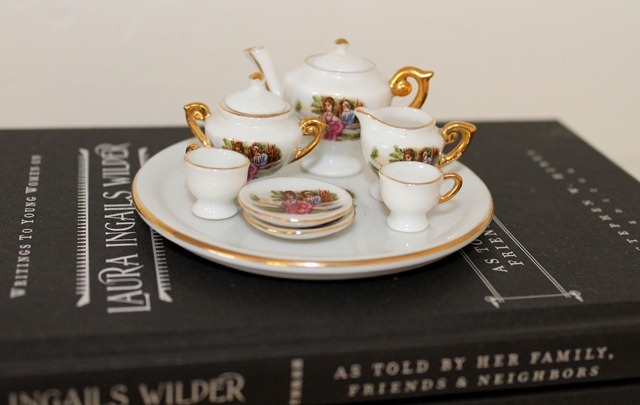 There is a small antique Harvey girl figurine cousin Sweet T gave me after we rode a Harvey train to the Grand Canyon.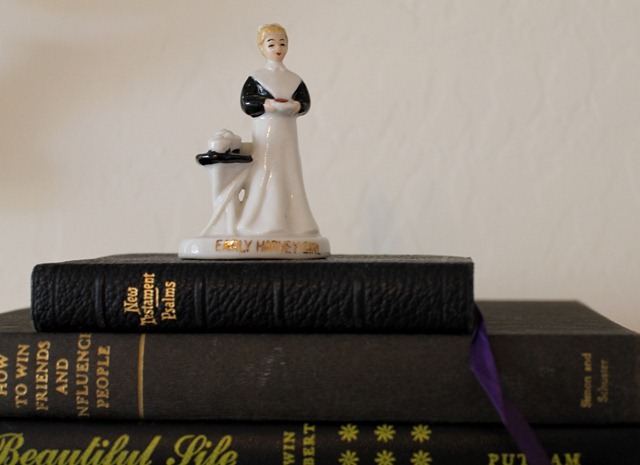 At the foot of the bed is generally a place to put your luggage.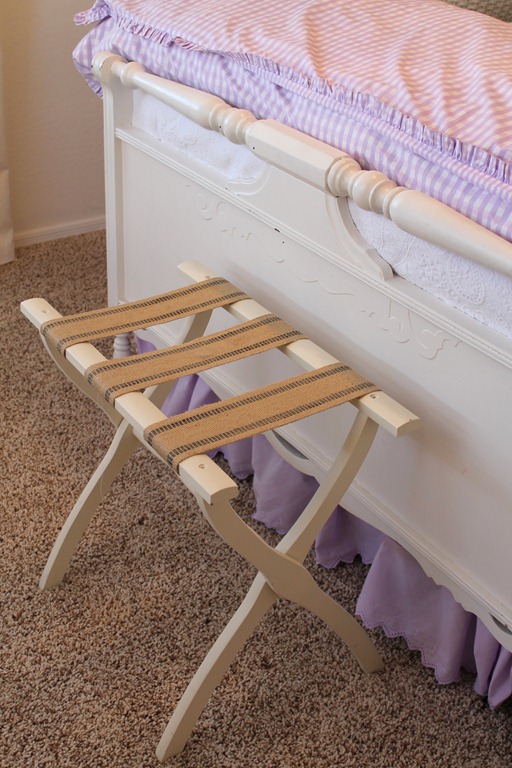 But I moved it next to the chair to bring in a bit of Christmas cheer.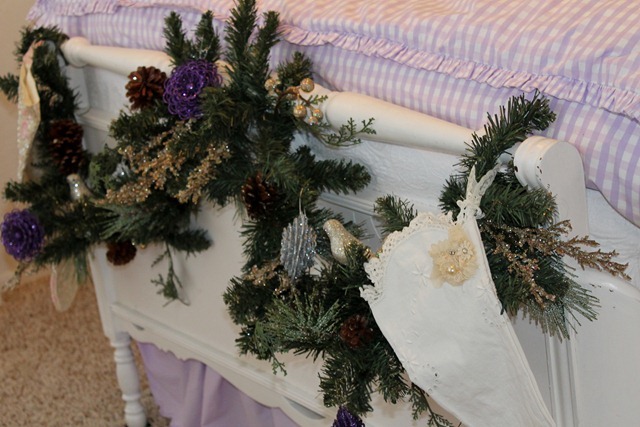 Santa always remembers to fill the guests' stockings.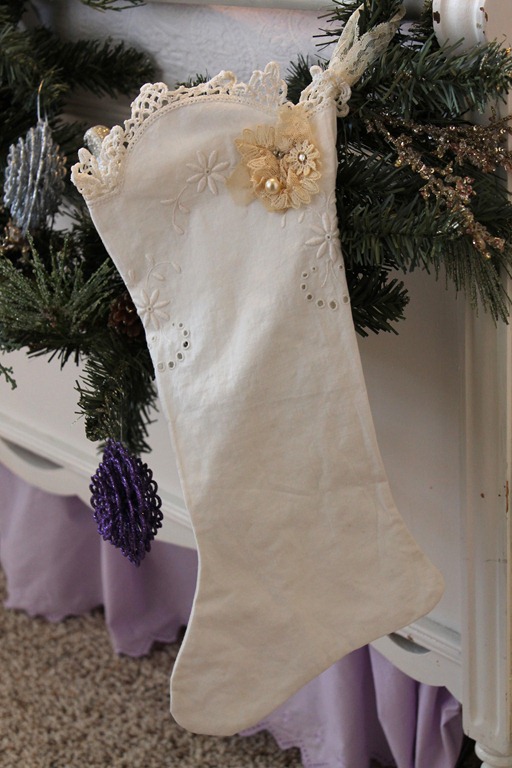 If you need a seat, have one.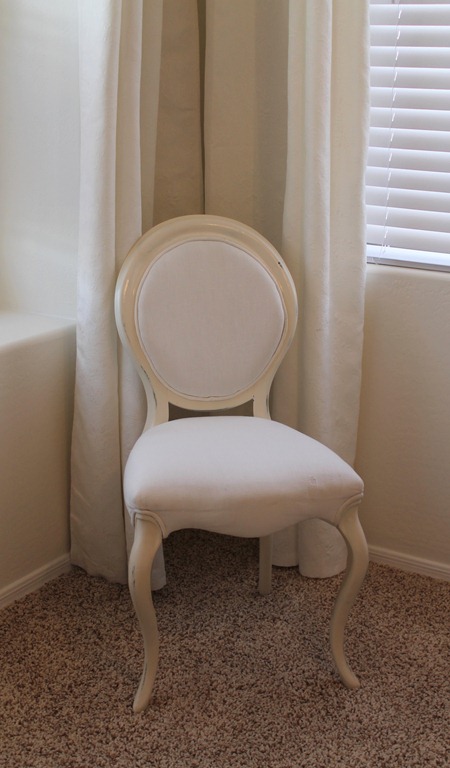 The lamp on the side table received a bit of pearlized garland for the holiday. The crystal base shines on its own the whole year through. My bedside carafe broke so one of Grandma Mary's violet teacups will have to suffice. Fresh flowers are always a sweet touch don't you think?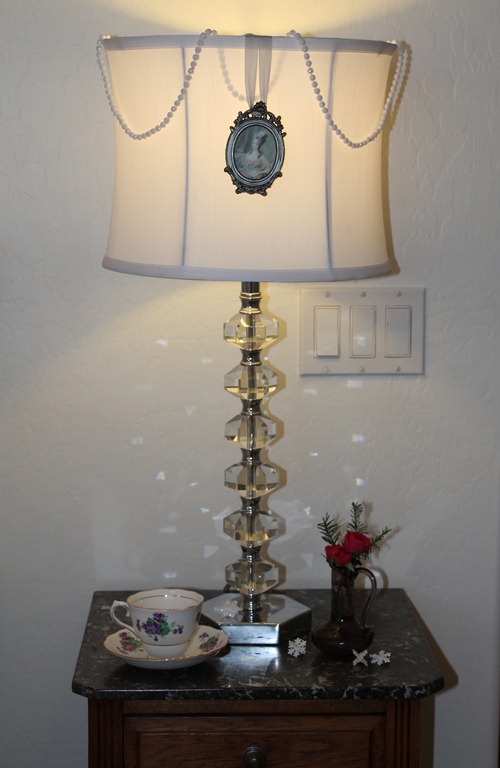 It's also nice to provide a bit of reading material.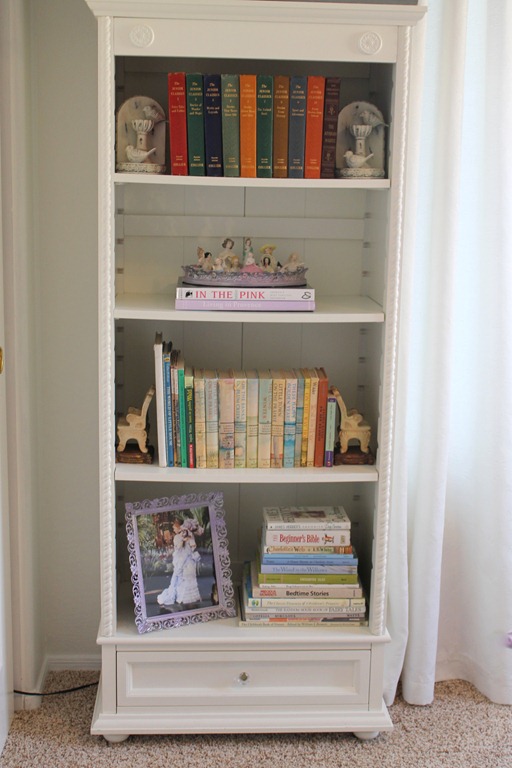 These elegant ladies long ago once topped silk pincushions. You'll have to come stay to see what surprise is hiding under the center lady's pink skirt.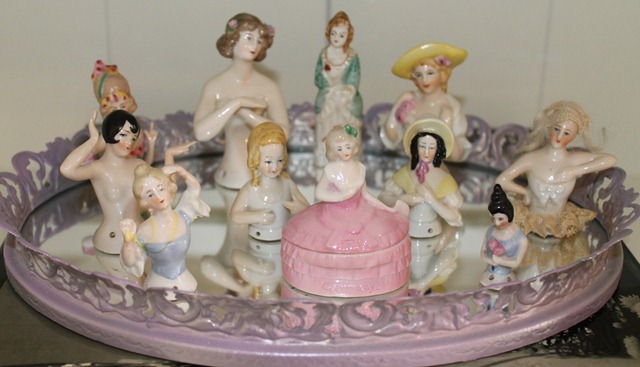 There is an attached guest bathroom as well.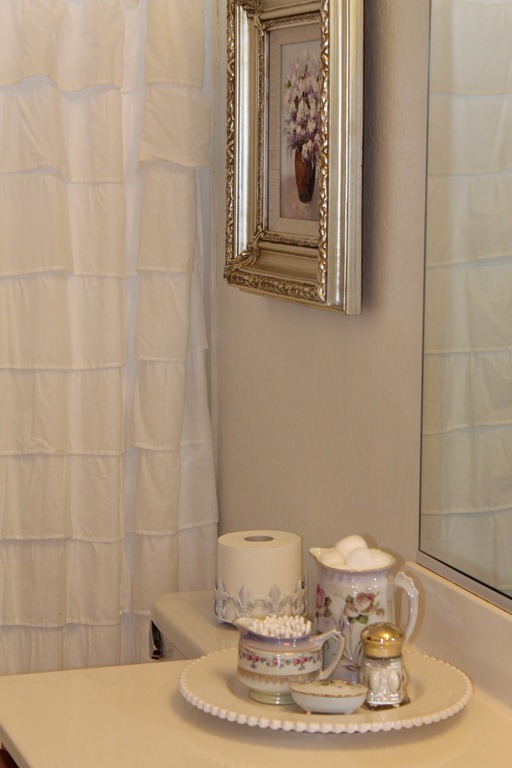 I've left out a few necessities one might need.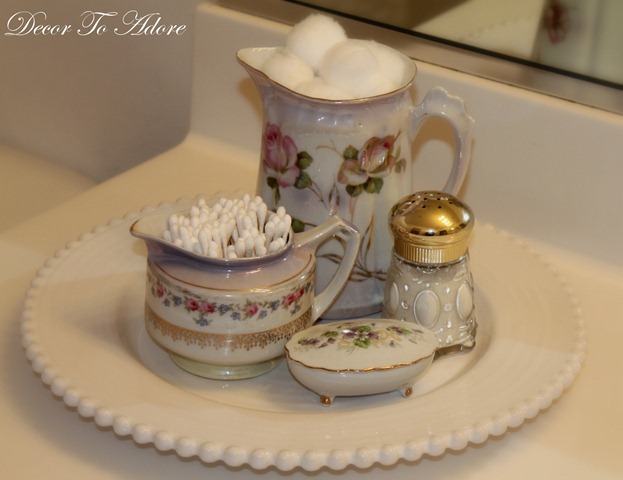 Fresh towels are so nice after a hot bubble bath.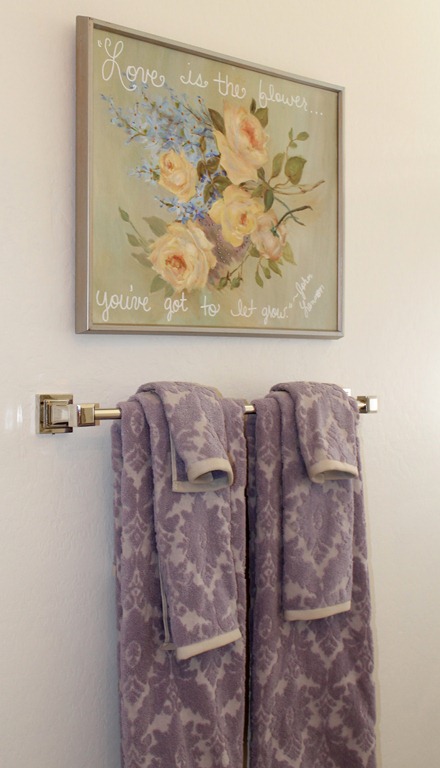 I couldn't resist adding a bit of bling to the painting above.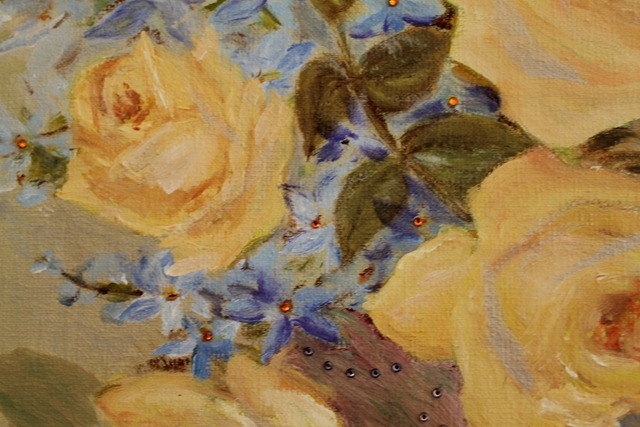 Of course, as darkness falls a good nightlight is always appreciated.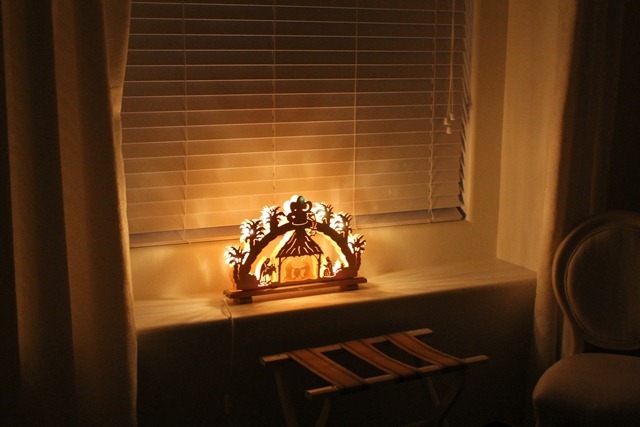 I've shared this German schwibbogen before, but it deserves a second look.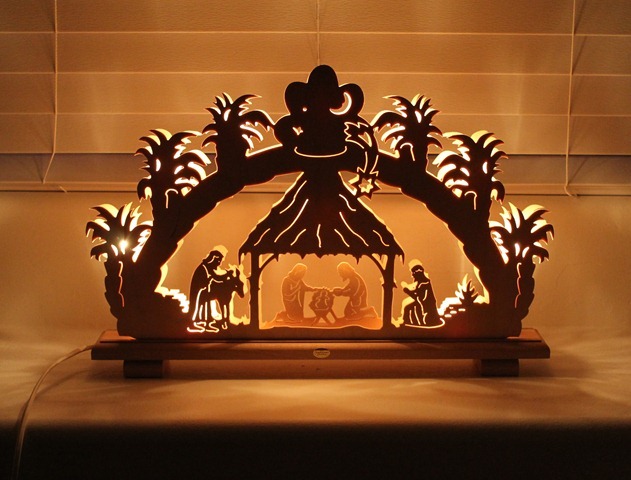 "But I heard her exclaim ere she typed out of sight, Merry Christmas to all and to all a good night!"
Laura