Last Thanksgiving I arose in the early morning and quietly shut the hotel door behind me while Mr. Décor and Sweet Boy slept on. I was on a mission to photograph the buildings, workers and the holiday wreaths of Colonial Williamsburg before the crowds arrived. Indeed the sun was just coming up, my breath frosty in the cold, as I began to walk along the Duke of Gloucester Street.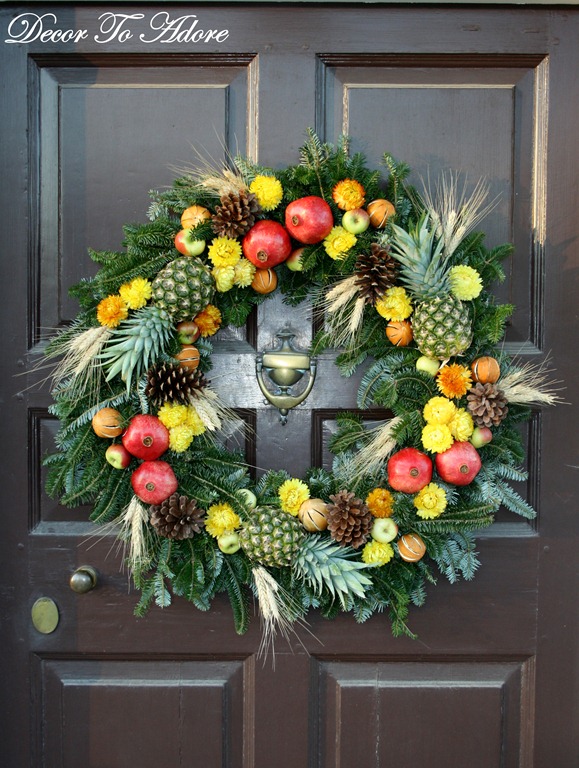 The Holiday Wreaths of Colonial Williamsburg
The first wreath I spied had a lovely fir base and was embellished with miniature pineapples (a symbol of welcome) pomegranates, pinecones, apples, scored oranges, wheat stalks, mums, and marigolds.
Colonial Williamsburg first began decorating for the holidays in 1936. The event is now one of their largest tourist attractions.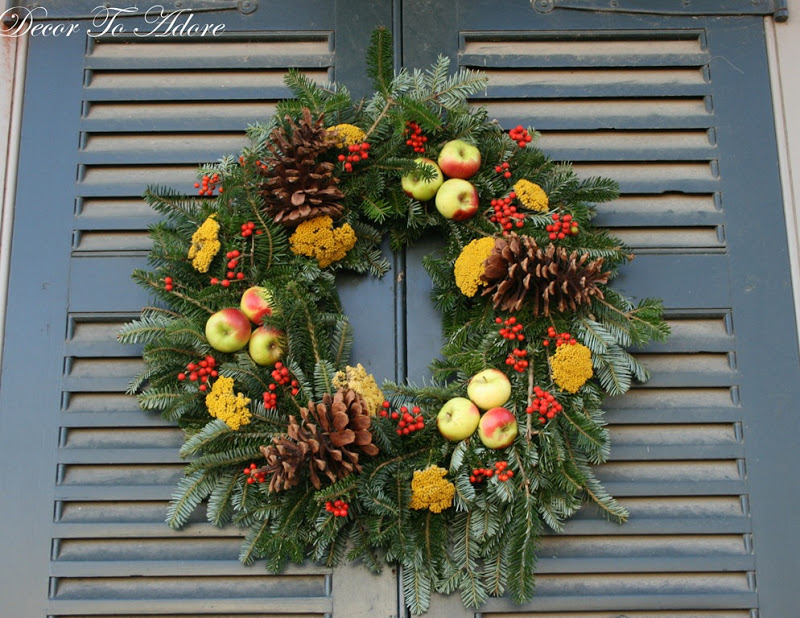 The landscaping staff of Colonial Williamsburg creates more than 2,550 wreaths and over three miles of garland. Residents who live in the historic area decorate their homes using only natural material that was readily available in the 18th century. A contest is held every year to determine the most imaginative or most beautifully designed decorations.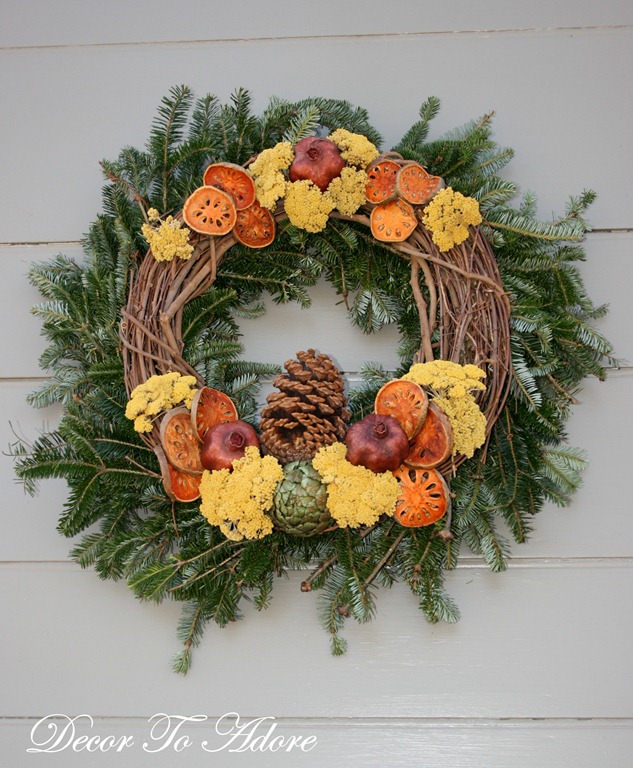 Pediment Decor
Even the pediments of homes and businesses are adorned.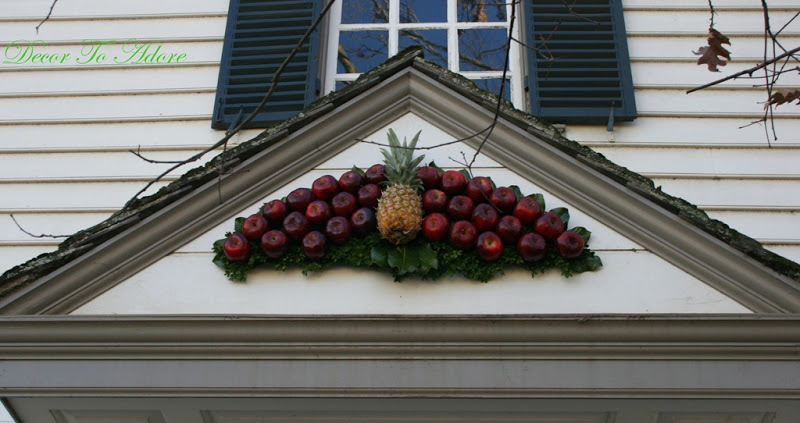 The zoom lens was used to capture these arrangements and I so wished that I could see what the base was made out of, perhaps wire? The glossy magnolia leaves provided a base for the fruit, pinecones and seed pod.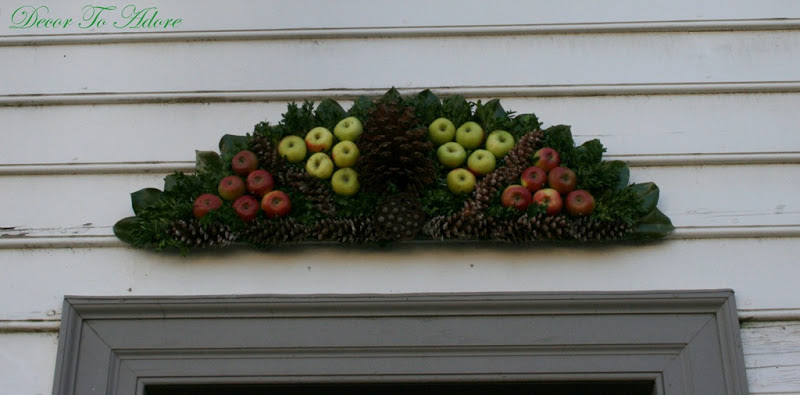 This turkey feather topper was amazing.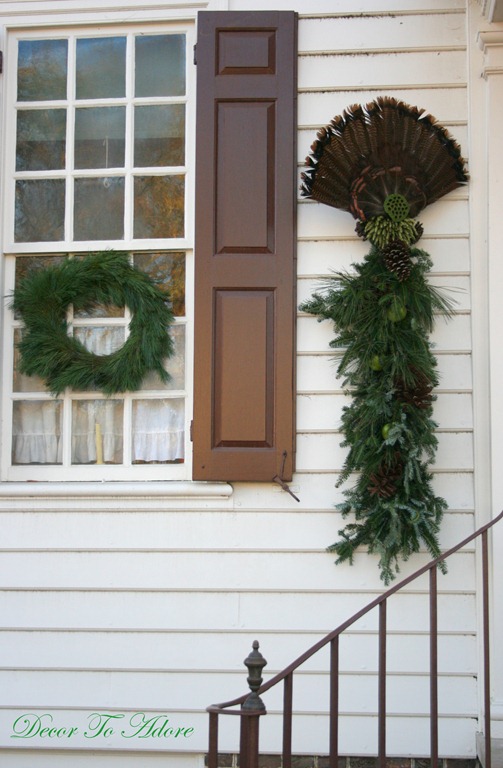 Lemons were wired on to the greenery as were the other elements.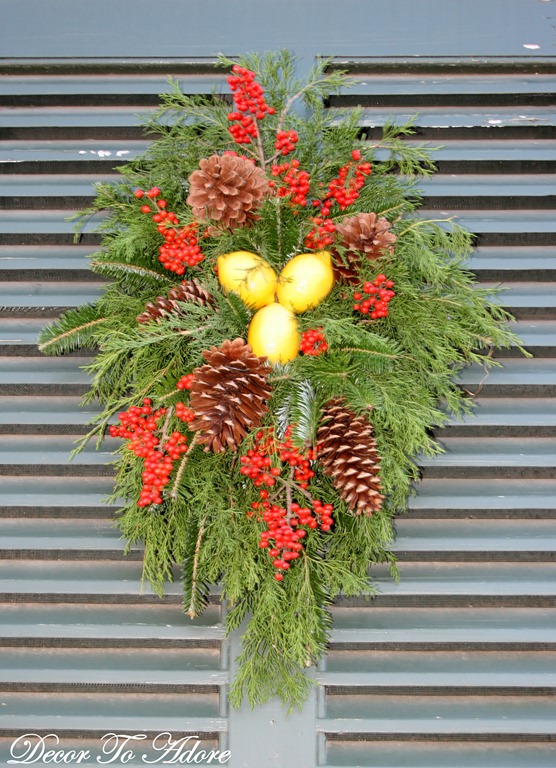 I had never before seen fresh seed pods and was truly fascinated.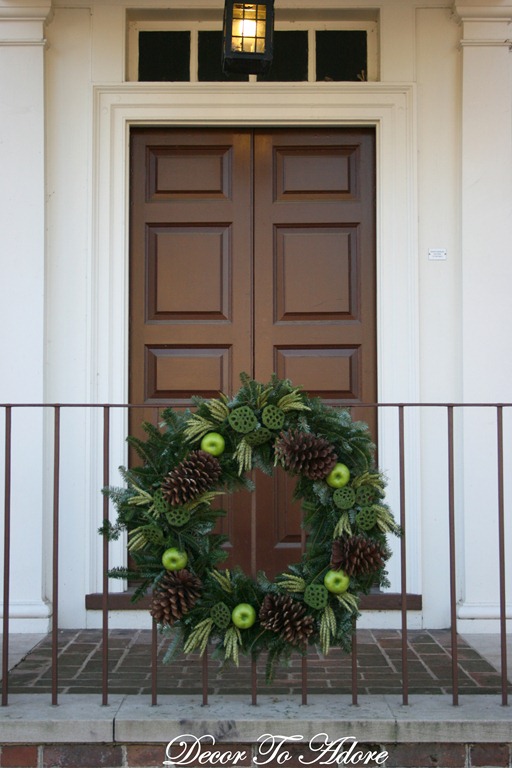 Pheasant feathers, antlers, cotton bolls, and pepper berries are perfection!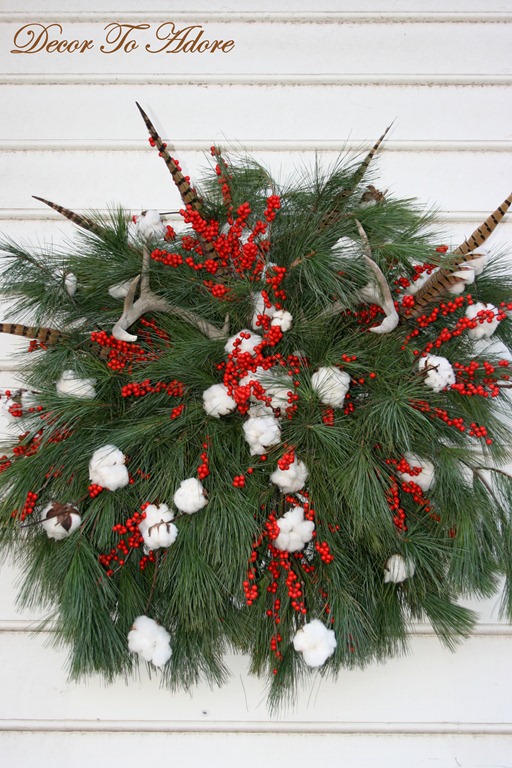 Cockscomb, empty cotton bolls, artichokes, apples and… fungus. Yep. But I love it.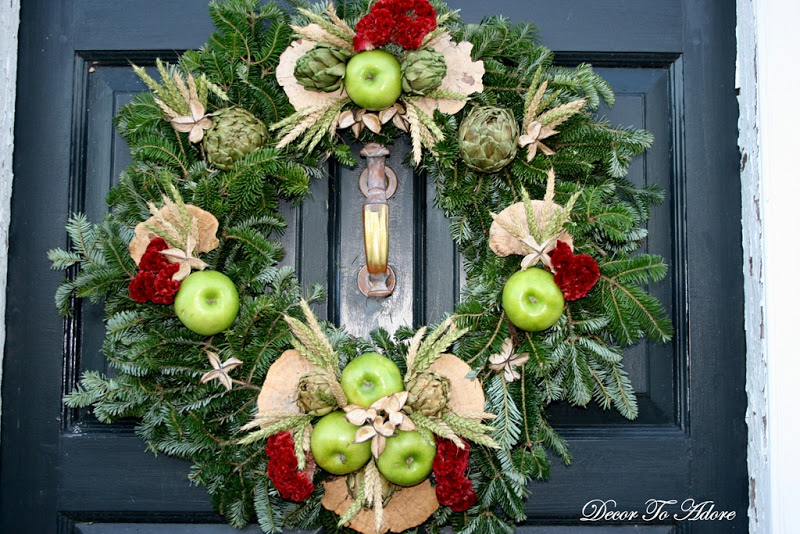 Here's a closer look.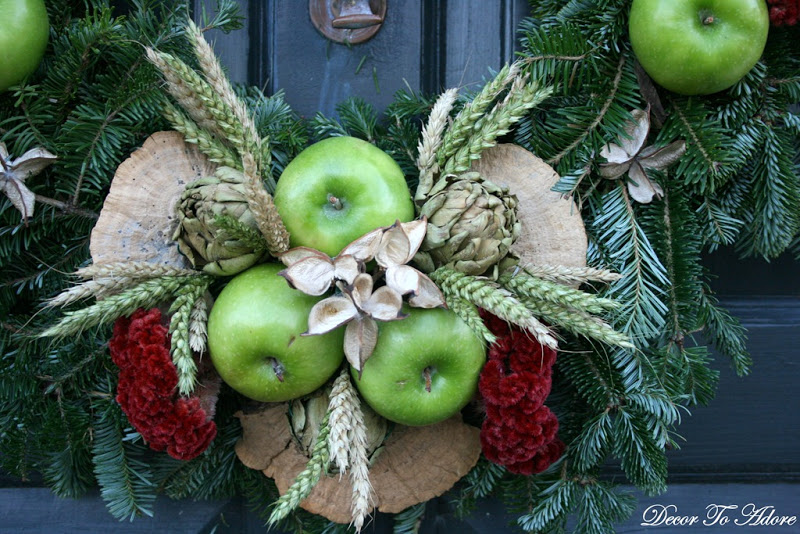 Citrus Wreaths
I wish that there were a scratch and sniff option for photographs.
Whole oranges were joined with orange slices.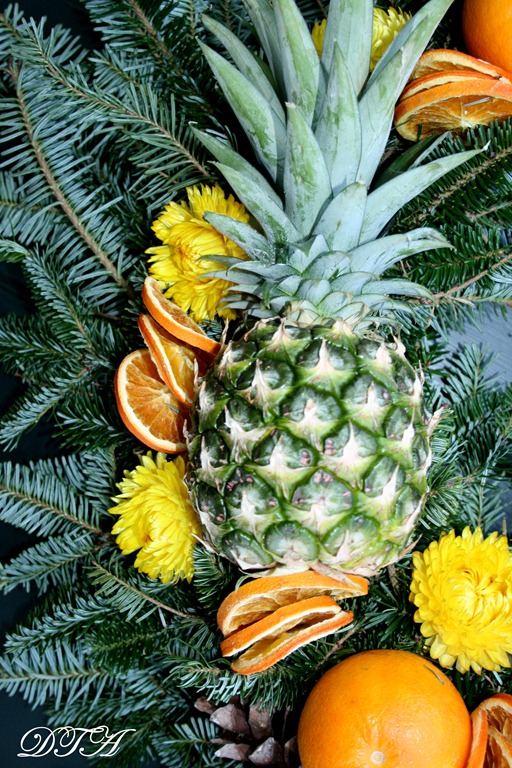 Williamsburg Inn
My early morning ramblings led me to the Williamsburg Inn. I'll take you inside later this week.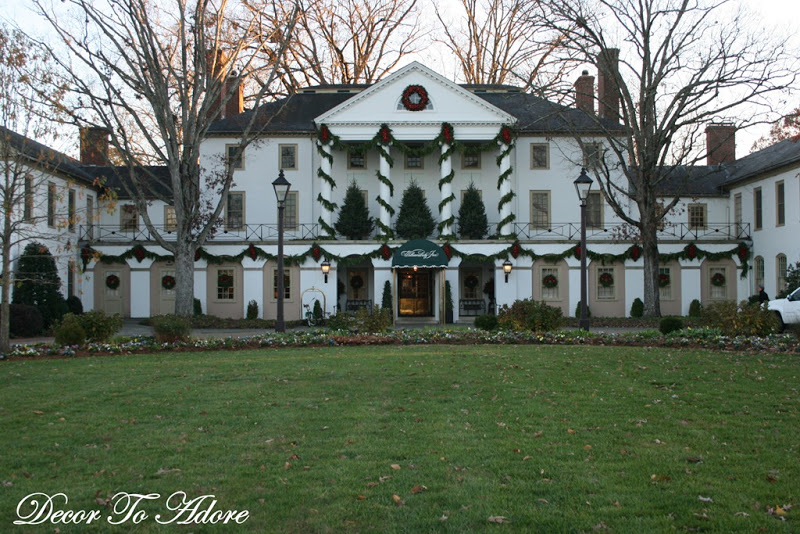 Each window was embellished.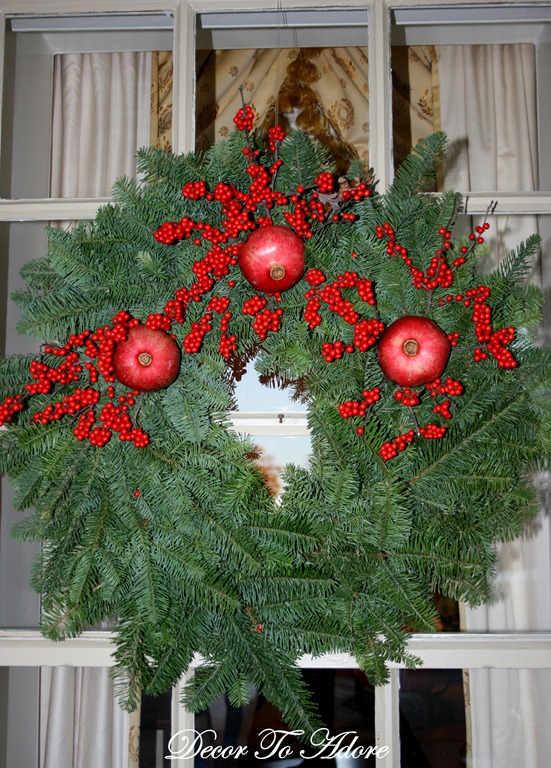 The chairs inside this restaurant were a fabulous bentwood design.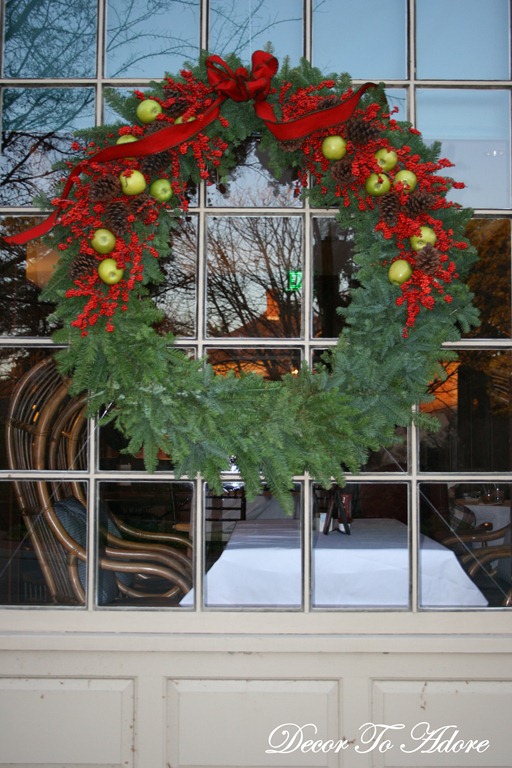 A dried fruit wreath graced the door of a very pretty cottage.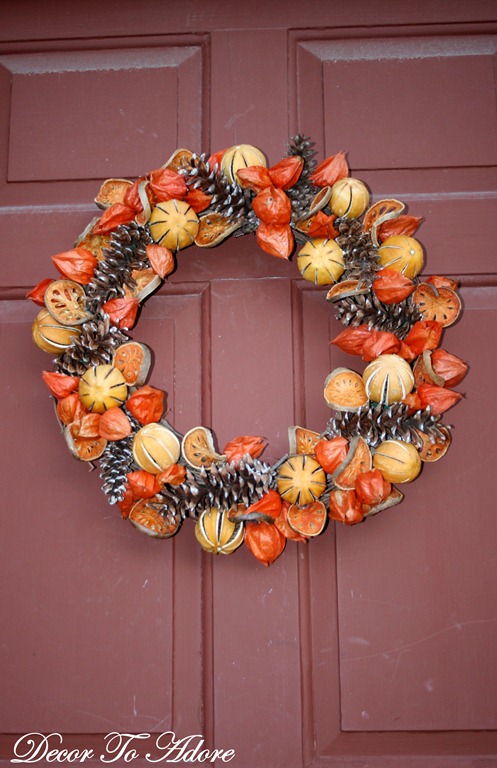 This wreath captured my attention. Someone please tell me what the purple clusters are.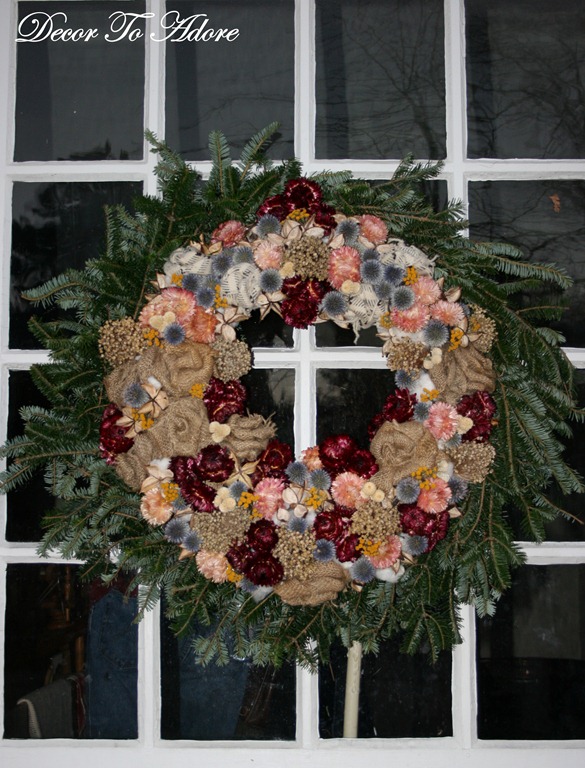 I really adored the burlap rosettes.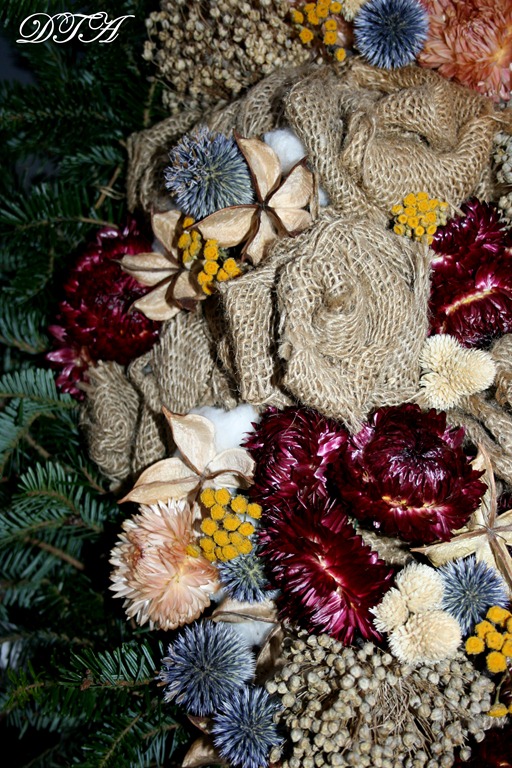 Yes, I'll take two.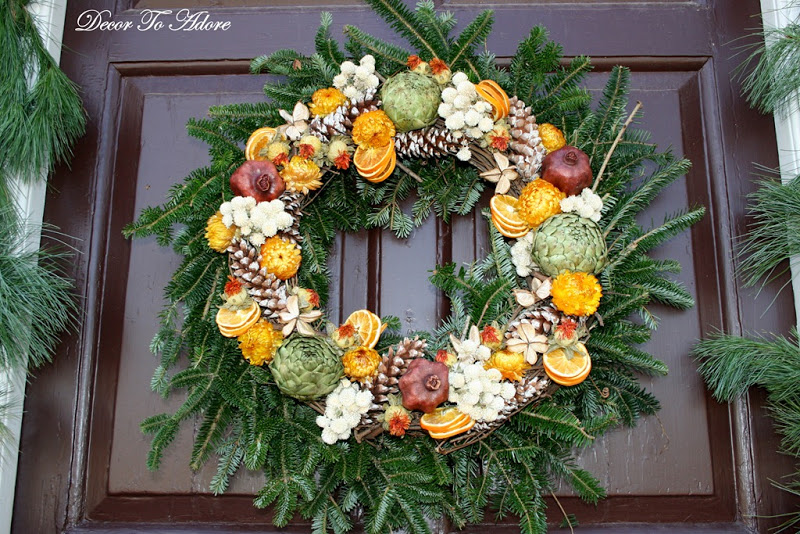 Garlands
Even the garlands received embellishments. A simple grapevine circle, 5 pinecones, an orange slice and wow~ a beautiful star is created. I'm doing this!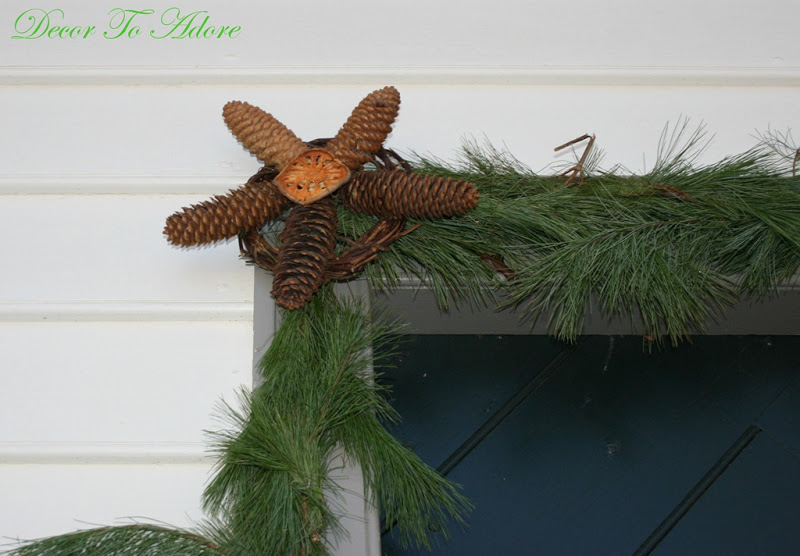 Sure, you've heard of two wreaths, but on one door? YES!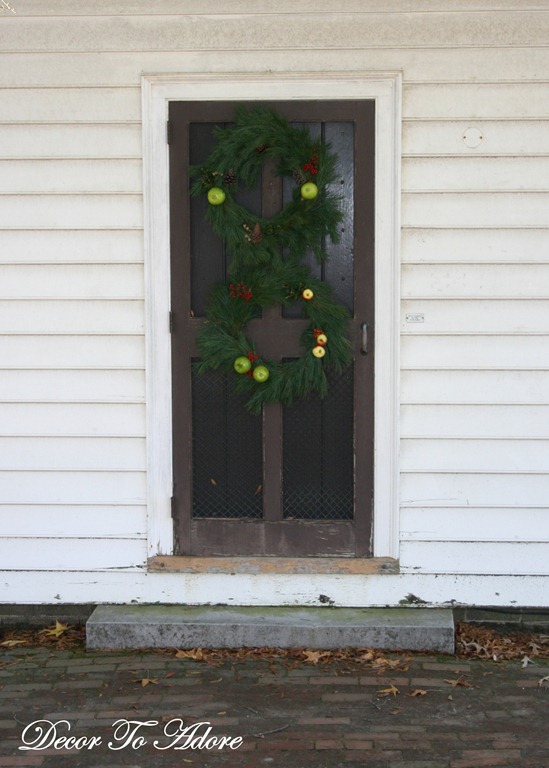 A Williamsburg wreath trifecta!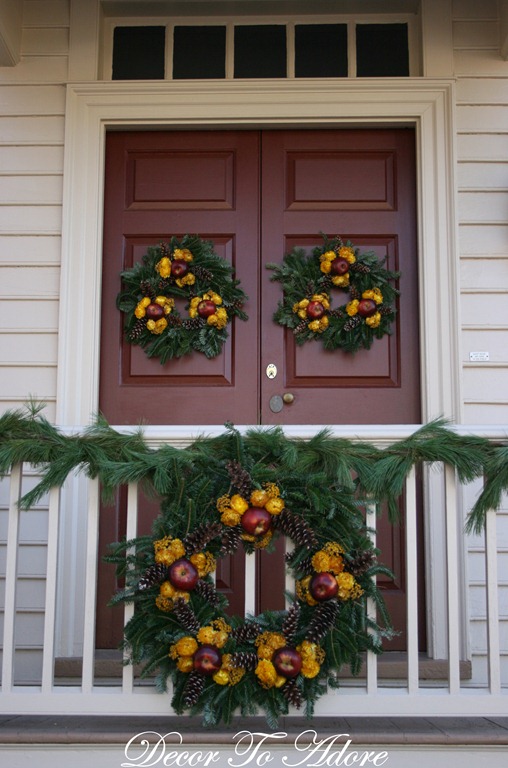 Even the print shop was bedecked.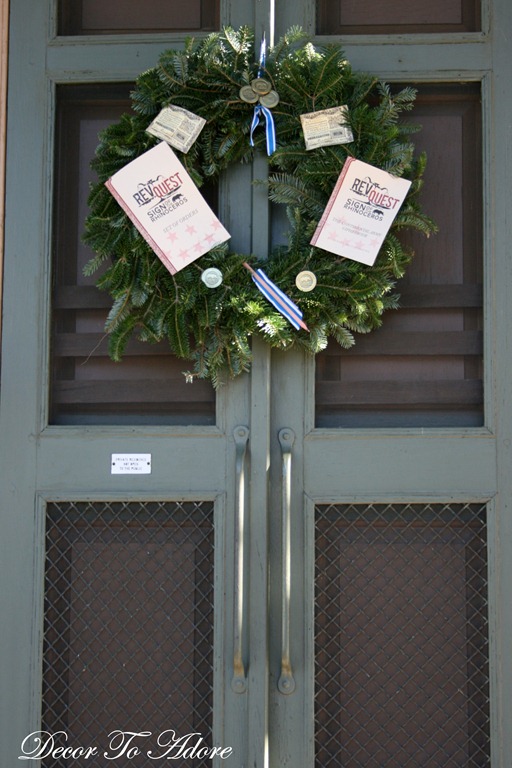 Beautiful boxwood.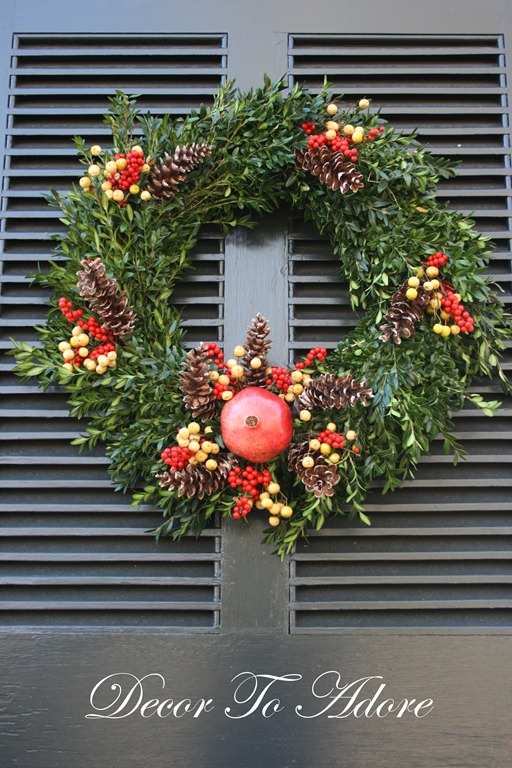 About this time my boys showed up and I shared my favorites.
The Governors Palace
The flora and fauna finery at the Governors Palace was fabulous.
Instructions on how to create your own Williamsburg inspired wreath can be found HERE.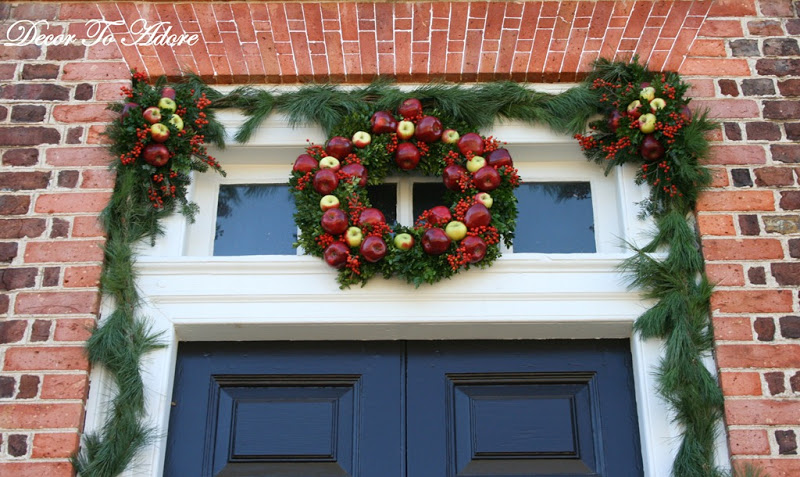 The boys then bid me adieu. They wanted to go see a musket demonstration. I had tried to register online for an early morning tour of the Thomas Everard house but had been unable to do so. Sadly, once we arrived I had been informed at the guest welcome center that the tour was full. I was crushed! The house was FULL of pre-revolutionary furniture.
I decided to see if perhaps they would let me join in…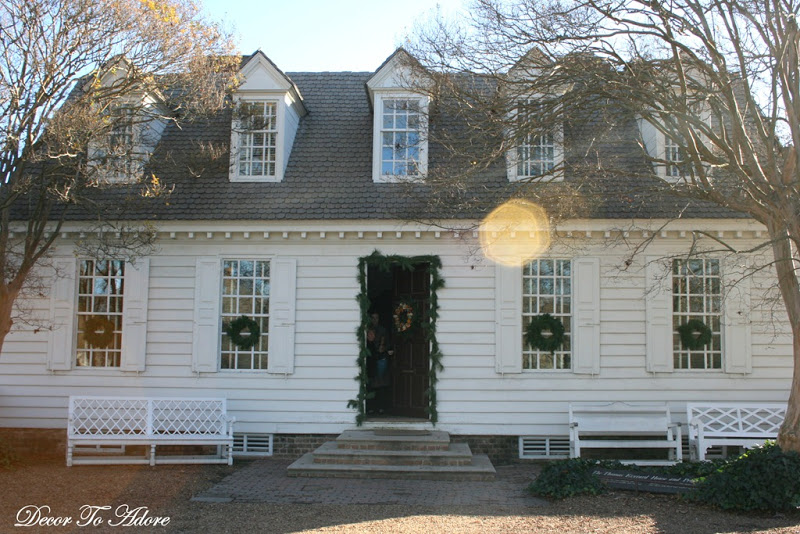 … come back on Friday to see if my heartfelt pleas were heard.
Laura