A week ago Mr. Décor had been on another long business trip. I was at home dealing with scorpions, sassy kids (yep mine) a broken kitchen disposal, a shower faucet that didn't work, trying to help five cub scouts complete their Arrow of Light requirements and needing to order the Fashionista's college graduation announcements like yesterday. A good friend was very sick and my bff had suffered the loss of a family member. Stress meter: a perfect 10.
To top it off according to my personal calendar I needed to have 50% of my holiday gift buying done. I hadn't even started.
I called my Grandma Jingles (Ingalls) and asked "Grandma, Christmas will soon be here and I'm making a list. Any ideas of what you would like?"
Now what I love about Grandma Jingles is that she doesn't beat around the bush and say things like "Oh you don't have to get me anything." Which results in me spending 80 hours trying to find something when all she really wants is say a cheese grater.
Nope, Grandma Jingles, an avid reader who favors such writers as James Herriot (All Things Great and Small) and Jan Karon (The Mitford Series) says,
"Well, I just finished the last book in a series that I was reading. I need something new. I have seen several newspaper articles about this 50 Shades of Grey, get me that."
It was a good thing I wasn't actually drinking anything because I choked, coughed, stammered and blushed.
"Grandma, I am NOT buying you the 50 Shades of Grey books for Christmas!"
Inquisitive she said, "Oh, why not?"
"Grandma, they are complete rubbish for a 90 year old Christian woman with a heart condition!"
"Oh I see", she said. (She's a smart cookie.)
"Well then, she continued, how about a nice sweater vest. With pockets."
I replied, "I'm on it Grandma. Call you Sunday." Then I hung up the phone.
"
My 90 year old grandmother wanted me to buy her literary soft porn for Christmas.
I doubled over as laughter ripped through me like a freight train. Tears streamed out of my eyes, there was snorting and even the potential for pants wetting. 
So this weekend while I
1. Iron every tablecloth and napkin I own
2. Polish about 50 pieces of silver and copper
3. Continue to sew drapes for my office
4. Work on setting up a nice guest room
5. Sign and send out a dozen Thanksgiving cards
I will do everything with a smile.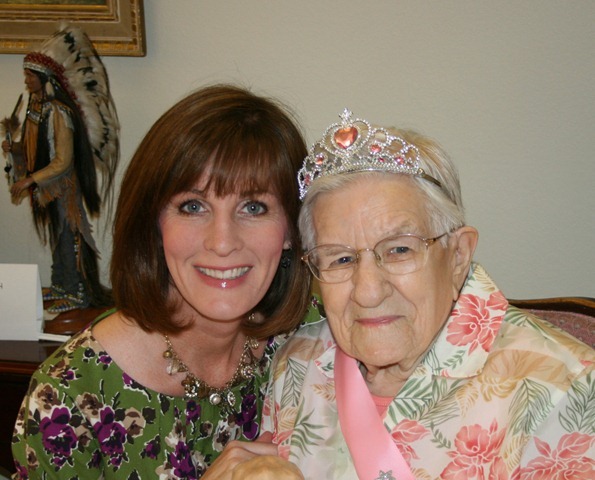 What was the last thing that made you really laugh?
Laura