I recently received a call from my daughter who said, "Mom I have found my style!" She then directed me to Google to view some images and I said "Oh nice, your style is Hollywood Regency."  I began to talk about how the Hollywood Regency interior design style had been around for many years and was enjoying a resurgence in popularity. Her reply was, "Mom, please write a blog post and explain it all. In beautiful detail."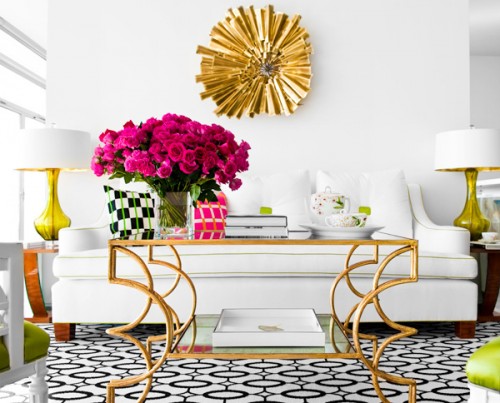 Truly, I love nothing more than to immerse myself for weeks in the research of specific styles of architecture and design. Yes, I said weeks. Which is probably why I don't write more of these posts.
The Hollywood Regency style originated in the golden age of Hollywood. Think Jean Harlow, Carole Lombard and the lavish Art Deco inspired film sets created for movies during the 1930's era. The sets were created with highly theatrical accents that often featured  tall white plaster floor lamps, mirrored dressing tables and fainting couches upholstered in visually rich satin or velvet. While it is not apparent in classic black and white films, set interiors were often brightly colored. All of the design elements filmed beautifully and provided a brief respite to an audience facing the bleak depression that gripped most of the nation.
"Dinner At Eight"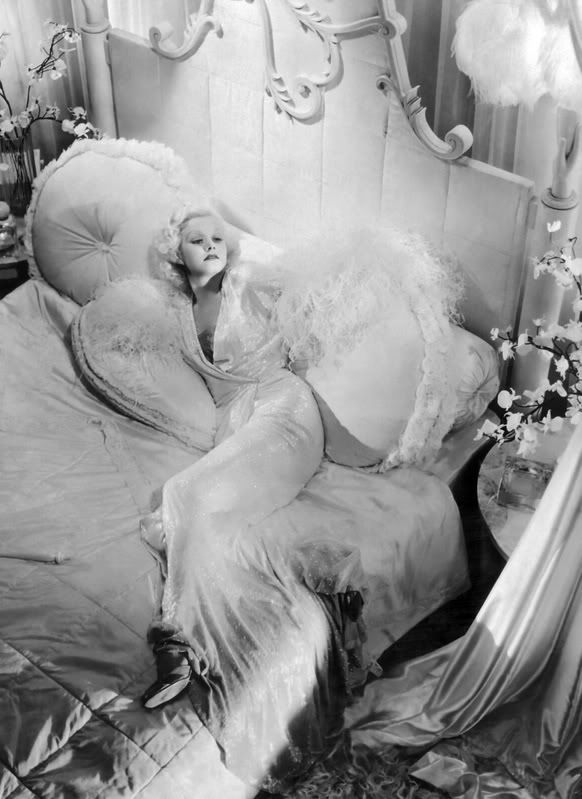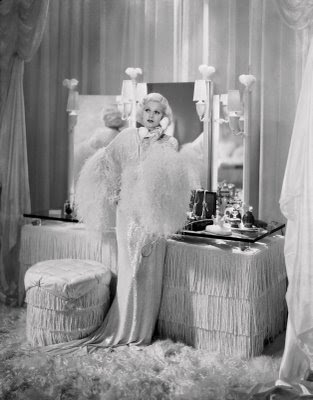 "Nothing Sacred"
During this same time period a man by the name of William Haines was showing great promise as a new actor. Haines was one of Hollywood's biggest stars by the late 1920's and was the top money maker in 1930.
Haines and Joan Crawford in 1928's "West Point"
Haines, nicknamed "Wisecraker", was Hollywood's first openly gay leading man and steadfastly refused Louis B. Mayer's demands that he end his relationship with longtime companion James "Jimmie" Shields and enter into a studio arranged "lavender" (sham) marriage. His film career ended in 1936 with Mayer ripping up his contract with MGM. Luckily, he and Shields had opened an antique shop in 1930 and he turned his entire focus to design. Early clients included longtime friends such as Joan Crawford and Carole Lombard  who were well familiar with Haines exquisite taste and hired him to decorate their homes.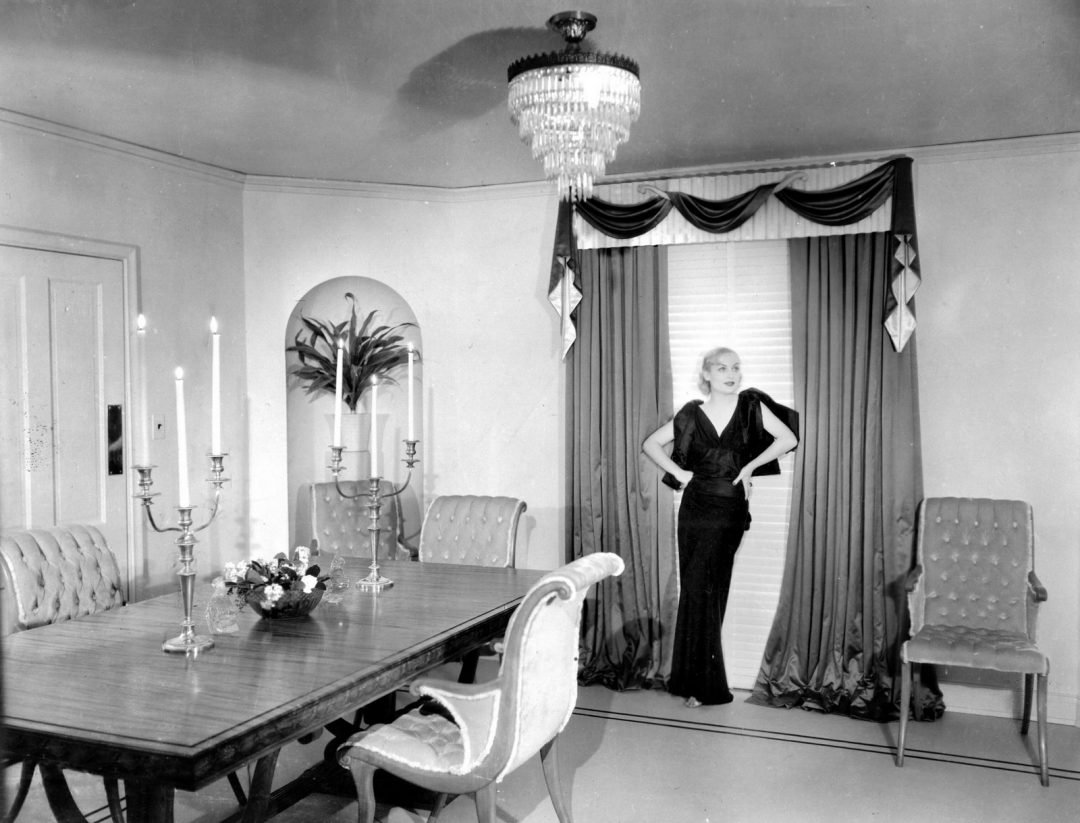 The self taught decorator provided an glamorous alternative to the dark and somber Spanish and Tudor styles so prevalent in early Hollywood by combining English, French Regency and Greek Revival design styles also known as Neo Classicism.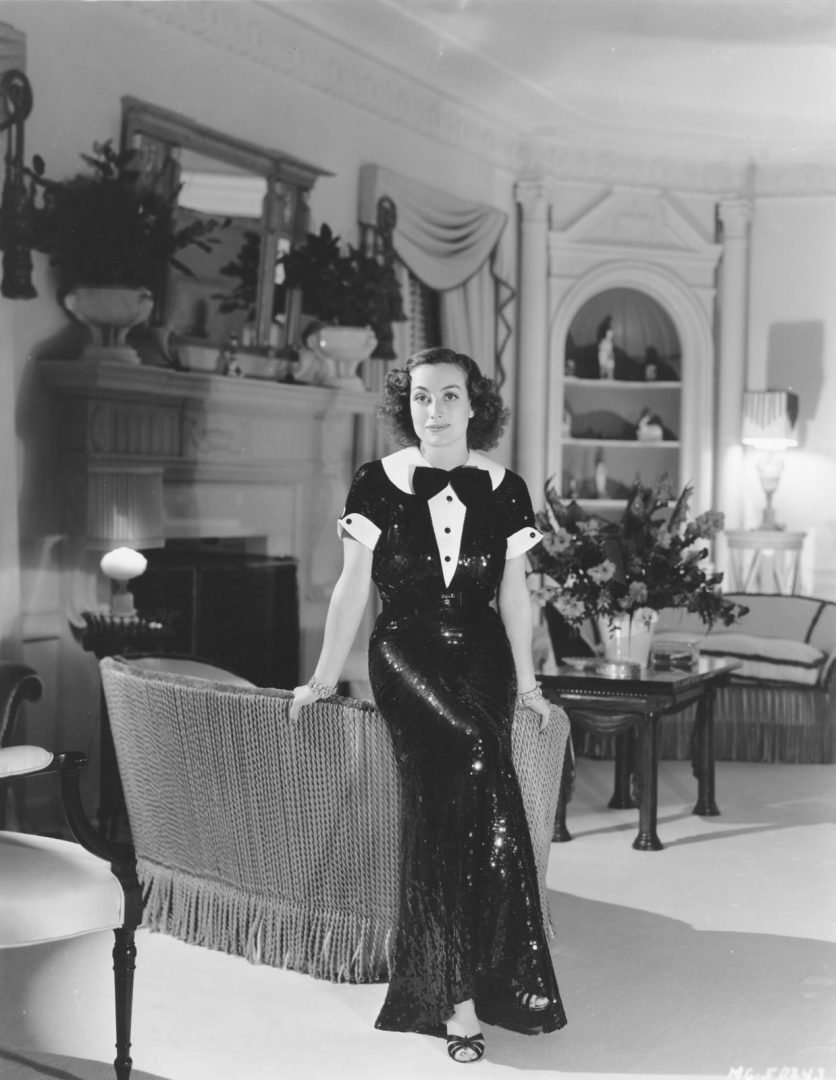 By the late 40's Haines design aesthetic had stylistically shifted into a plush modernism which would later develop into the Hollywood Regency style.
Haines created his own furniture for the rooms and the iconic pieces were designed low to the floor with the idea that the people living in the homes would seem grander if they were not overshadowed by their furniture. His "Bel Air" sofa remains a design classic.
In the 1960's Haines combined his early love of Neo Classical elements with modernism, while adding in a dash of Chinoiserie, to create the true Hollywood Regency look we now associate with the name.
Another designer of the day ~Dorothy Draper ~ had a flair for the dramatic and also influenced the design style which would become known as Hollywood Regency. While William Haines worked on a small scale, Dorothy Draper became well known for her over scaled and brightly colored versions of classic traditional rooms which were referred to as the "Modern Baroque" style.
Draper is often considered to be the first design professional. In 1923 she established the first interior design company in the United States and specialized in large, commercial spaces. Her groundbreaking color combinations, broad stripes, wide use of chintz and plaster moldings contributed to a look which became synonymous with the Dorothy Draper name.
Draper's love of dull white and glossy black, highly polished checkered floors, intricate mirrors, and lacquered doors would all become elements later featured in the Hollywood Regency style.
While Draper may be known as the first interior design professional, it is Billy Baldwin who receives the title of dean of indigenous decorators. Baldwin brought us the tailored and polished look. He strongly believed that comfortable furniture was the ultimate luxury and should consist of "a mixture of all nationalities, old and new".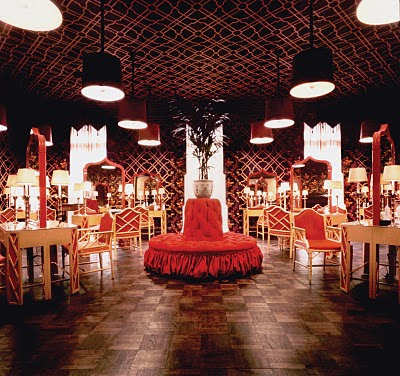 His design staples were white plaster lamps, solid draperies, corner banquettes, the armless slipper chair and Parsons tables. He often used cotton fabric, geometrics , dark walls and and pattern on pattern in his designs.  These elements would later be added into the design soup mix which would become Hollywood Regency.
But the man that most comes to mind for the style so prevalent in today's version of Hollywood Regency would be none other than David Hicks, the notable English designer who rose to immense fame in the 60's and 70's.
The fabulous designer combined bold antiques, modern furniture and abstract paintings.  His true signature was the use of trellis patterned fabric and carpeting so often seen in the work of today's designers.
All of these amazing designers contributed to what we know recognize as the Hollywood Regency style.
The specific elements are as follows:
Color, color and COLOR: Think pretty pinks, sunburst yellows and oranges, Chinese red, Kelly and apple green, and my favorite~ turquoise. This is tempered by liberal doses of black and white. The sheen of the wall color is generally a shiny lacquer.
Furniture should by all means have a classic shape. This includes mid century modern, with designs such as the slipper chair and Parsons table or Neo Classical design with its love of Chippendale and Greek Klismos chairs. The finish on furniture is often white, black or metallic, but natural wood tones are also occasionally used.
There is always an element of fantasy, such as the use of palm fronds and bamboo or animal prints and fur to suggest travel. Tongue in cheek pop art is also used on a grand scale.
Glimmer and glitz arrive in the form of a crystal chandelier, mirrored chest, and Chinoiserie wallpaper in this subtle yet lovely room.
It truly is a melting pot of design styles. But once you grasp the elements and realize that each object is carefully selected and placed within the space you will able to spot a Hollywood Regency styled room rather quickly.
Today's leading designers of Hollywood Regency style are Miles Redd…
…Uber effervescent Jonathan Adler…
…and the extraordinarily talented Kelly Wearstler.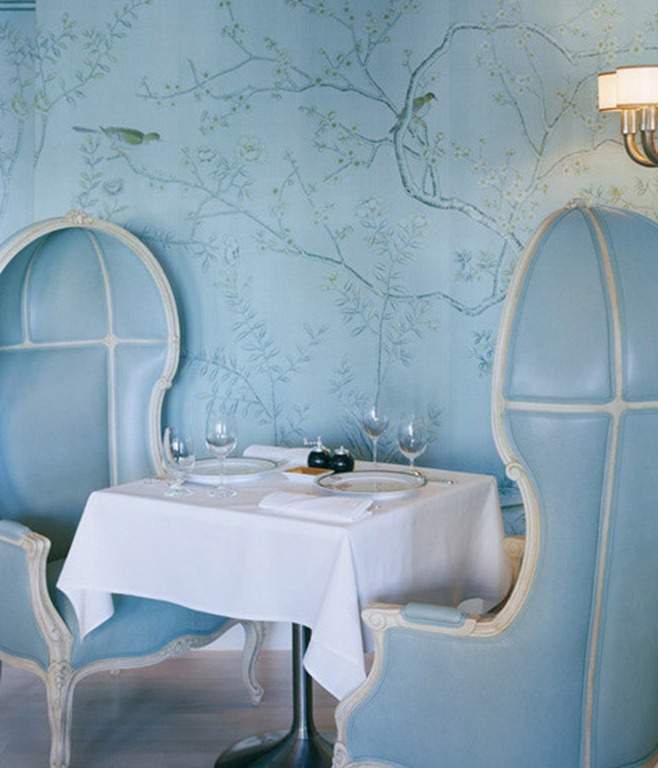 Inspired Reading
"Class Act: William Haines Legendary Hollywood Decorator" By Peter Schifnado and Jean H. Mathison
"In the Pink: Dorothy Draper–America's Most Fabulous Decorator" by Carelton Varney
"Billy Baldwin: The Great American Decorator" by Adam Lewis and Albert Hadley
"David Hicks: A Life of Design" by Ashley Hicks
"Jonathan Adler on Happy Chic Accessorizing" by Jonathon Adler
"Regency Redux: High Style Interiors: Napoleonic, Classical Moderne, and Hollywood Regency" by Emily Evans Eerdmans and Kelly Wearstler
This post originally ran on April 11, 2011. I hope that you have enjoyed this updated post which has allowed me to spend time with my children who are on fall break this week. Please forgive my lack of response to comments.
Laura