Happy Halloween from Décor To Abore! Welcome to Day 31 ~ Whooo Loves An Inexpensive Halloween Tablescape and Treats?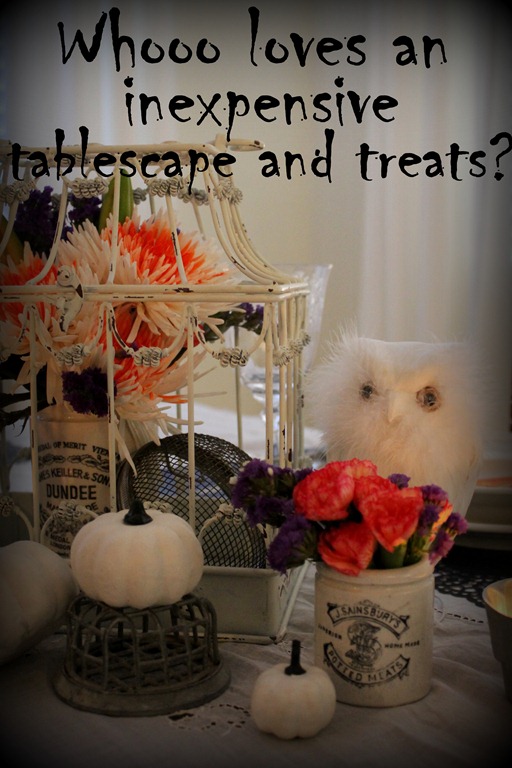 Day 31 ~ Whooo Loves An Inexpensive Halloween Tablescape and Treats?
Our family of four celebrated a day early as the Fashionista has to work on Halloween night. What a fright! I have to say we actually had a lot of fun with our feast. More so than when we are normally scrambling to get out the door to go trick or treating.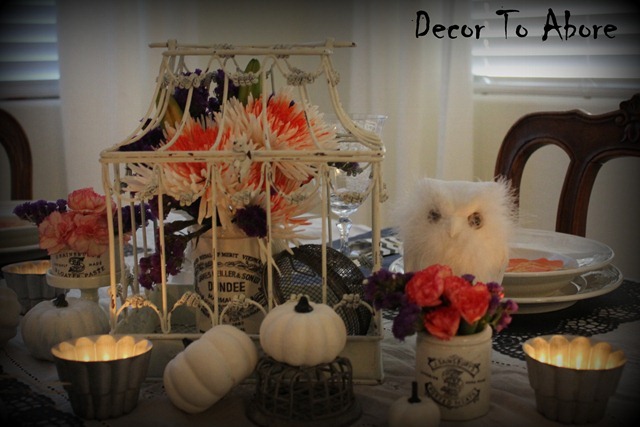 I began by topping the table with a very old and tattered tablecloth I have had for many years. I knew I wanted to include this snowy owl in the vignette. I'll be stalking Michaels the day after to see if I can find a few more on clearance for next year.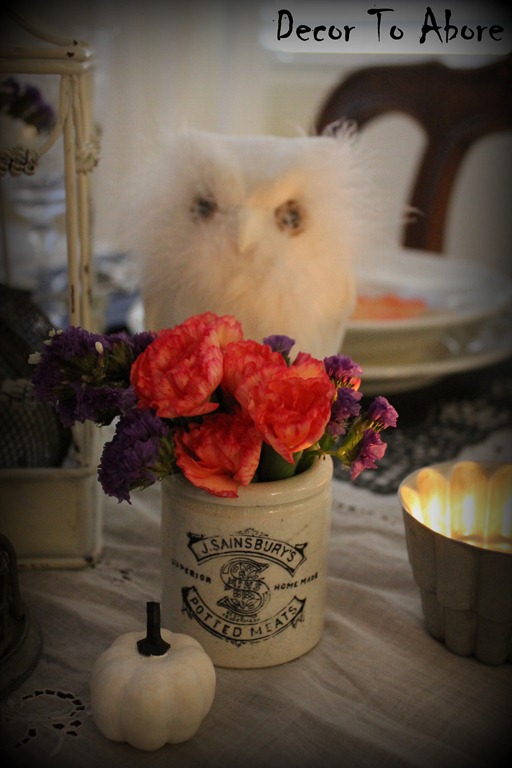 The Centerpiece
The aptly titled spider mums, carnations and purple status came in a large bouquet I found at Fresh and Easy for $7 which I just separated.
I used old crocks as watering vessels including the so apropos mini size of "bloater paste". Ewwwwww!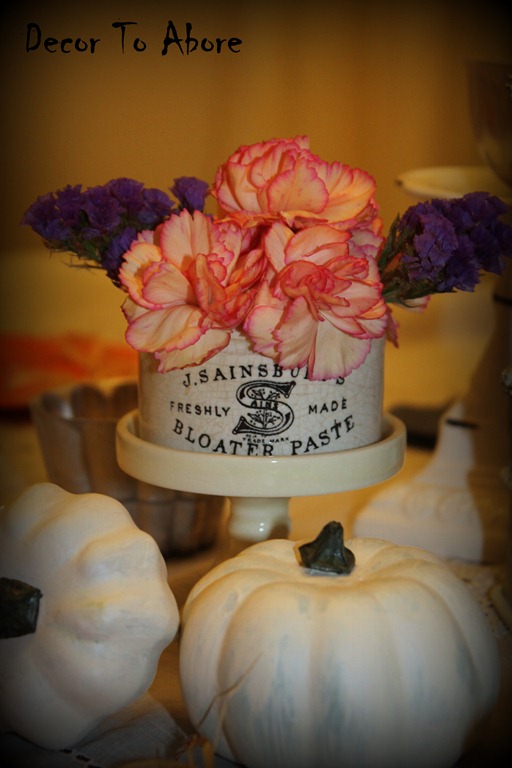 Old flower frogs were repurposed as pedestals and vintage jello molds became votives.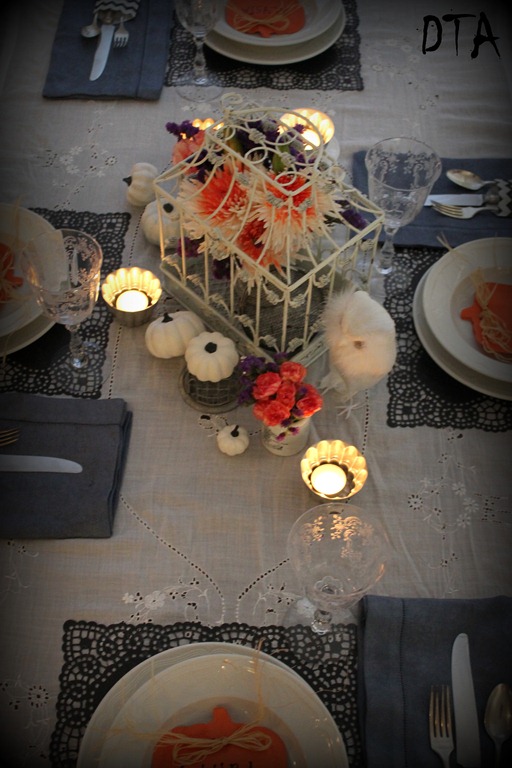 It looks like it will be a frighteningly fun feast!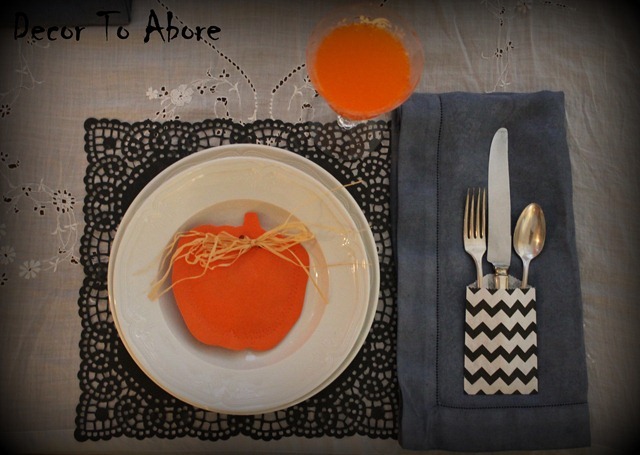 The old crystal goblets were filled with "Grapestein" or "Bubbling Cauldron" also from Fresh and Easy – $1.99 a six-pack.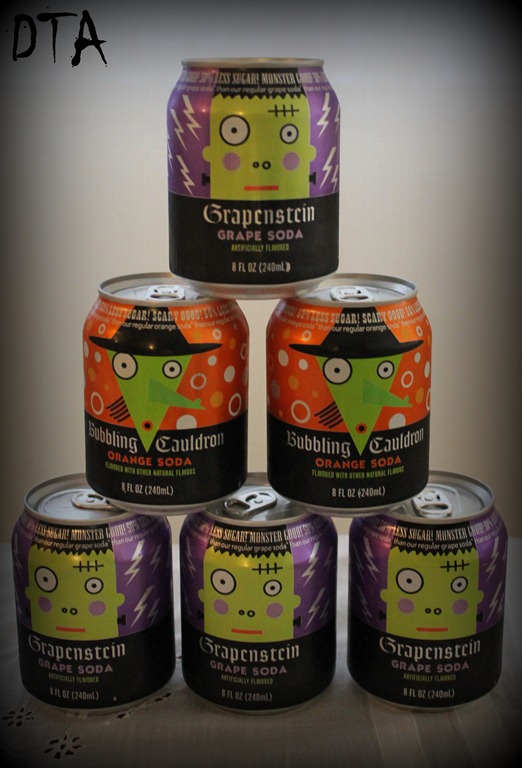 Pumpkin POuches
Each place setting had a pumpkin candy pouch I made HERE. The plates rested on lacy black scrapbook paper that reminded me of spider webs.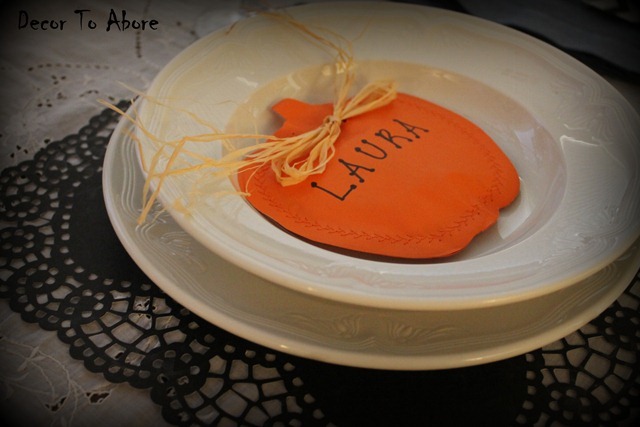 It probably would have been more creepy to eat with our hands, but I tucked old silverware into tiny bags decorated with jack o' lantern smiles.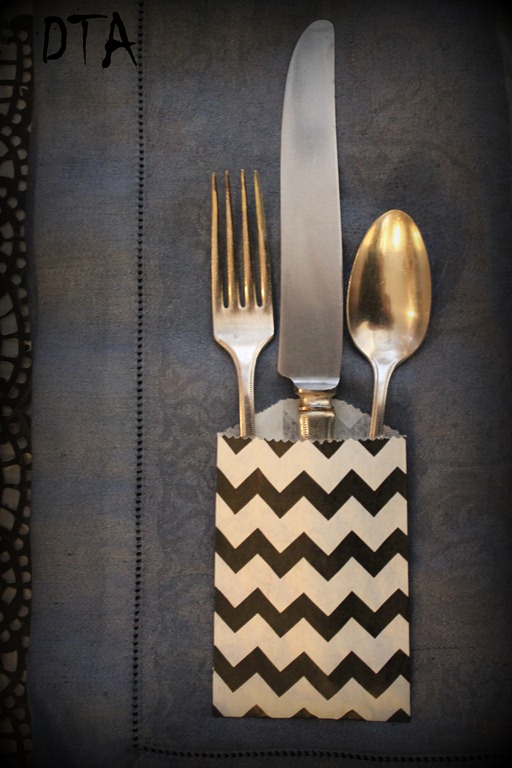 The Menu
Now for the spooktacular treats to eat!
Care for some terrifying teeth?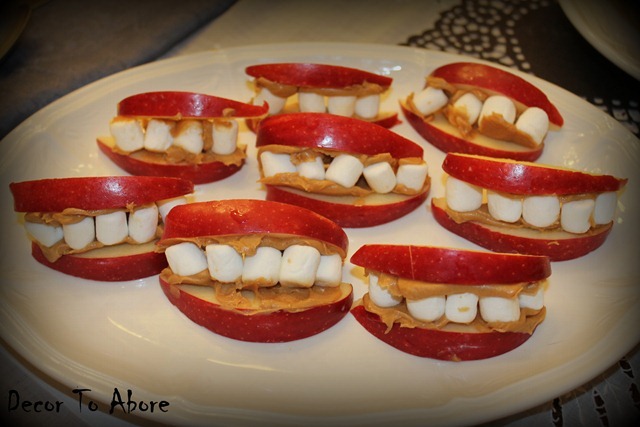 I can't tell you where I got them….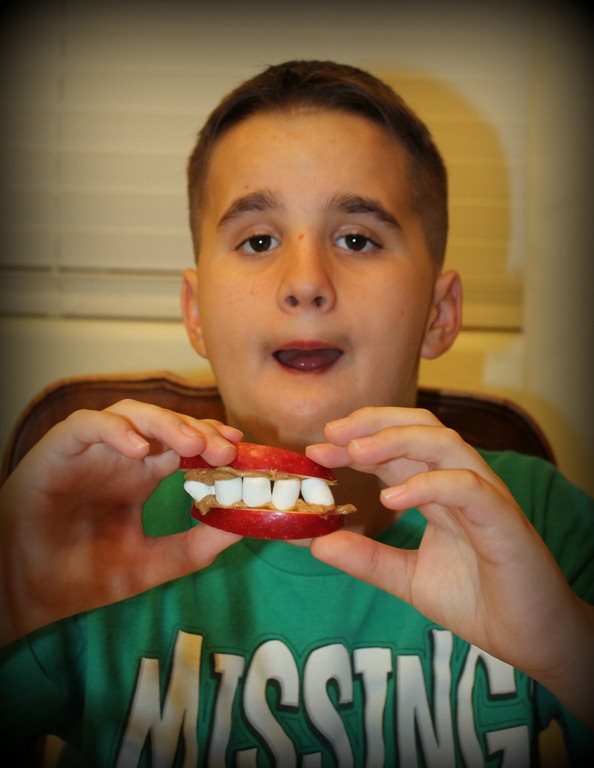 But the "lips" remain fresher longer after a quick dip in orange juice.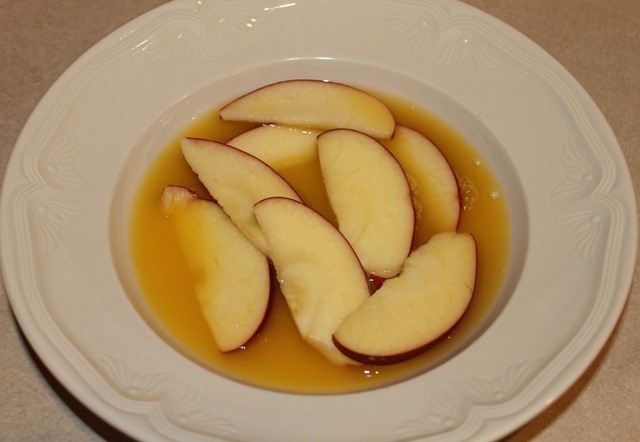 How about a bowl of bloody good soup?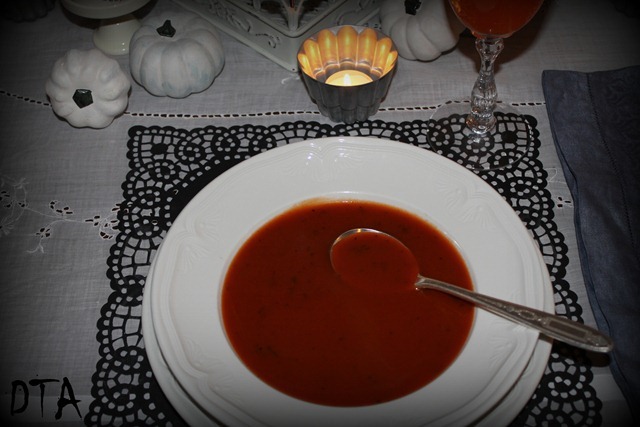 My little monsters had fun creating "Cousin It wiches" and a one eyed one horned tasty bite.
Some crunchy witch fingers round out the meal.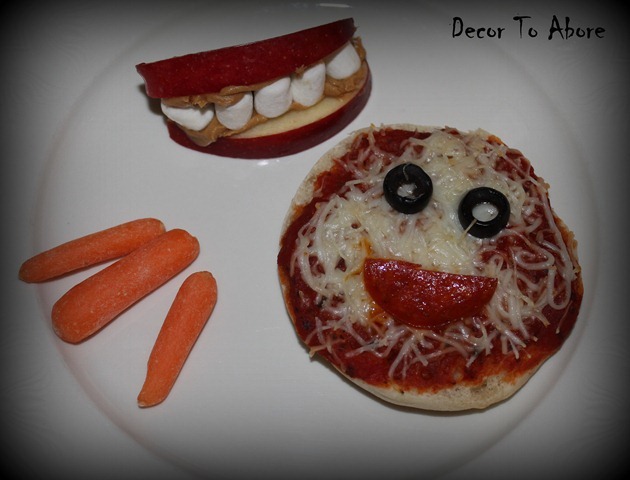 Of course, we needed a bit of dessert. While I can bake with the best of them, sometimes store bought can be bliss too.
Mr. Décor and I nibbled on maple leaf cookies. I found them at the Dollar Store. Add a cup of cauldron boiled tea for extra happiness.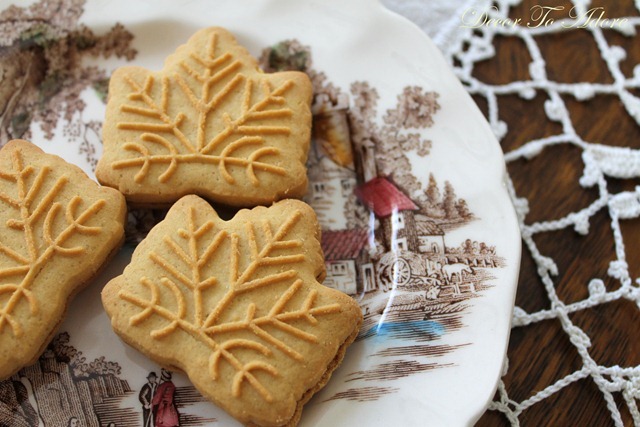 Next up, Sweet Boy's favorite: Trader Joe's Halloween Joe Joe's cookies. A 16 oz box is just $2.99. Bonus – each cookie has a different jack o' lantern face.
For those of you who don't have a dollar store, Fresh and Easy or Trader Joe's ~ go ahead and put the Fashionista's favorite in your cart. They are sold at most supermarkets.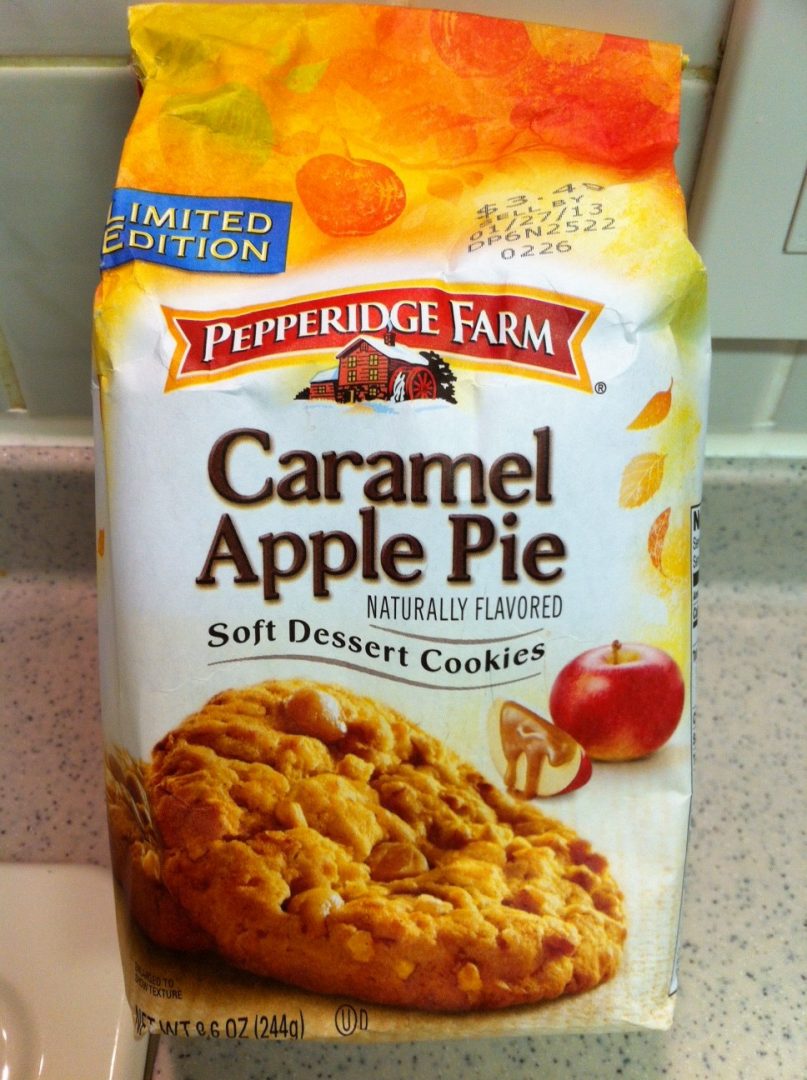 At the end of the evening, as I was cleaning up, I received a horrendous fright! I went to grab a plate of encrusted cheese and there was a…..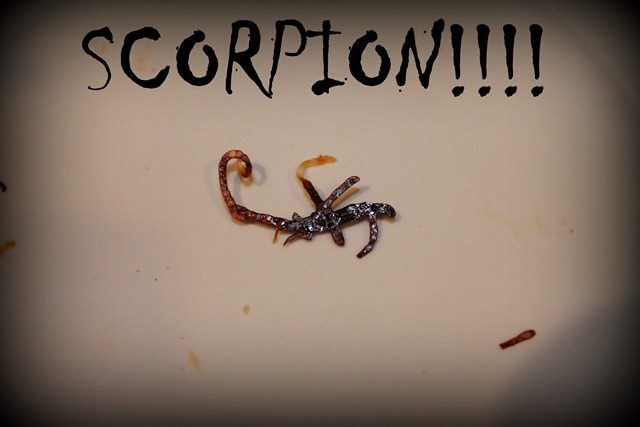 Have a thriller, diller night!
Laura