Over the weekend I made some treats for Sweet Boy's classmates and the neighborhood kids to pass out on Halloween (next week). It also dawned on me that as of Monday, Thanksgiving was one month away. Relax. Take a deep breath. Even though I am knee deep in the "31 Days of Décor To Adore" series I am thinking about November. I am a planner. Which fights with my desire to SAVOR the moment. But I have given thought that I may start a new series come November 1 ~ how to not stress about Thanksgiving. Perhaps provide small tips and my own preparation timeline that will allow me (and you) to enjoy THIS SEASON.
Something a little like:
On Saturday I took inventory of my pantry and made a list of staples that I will need. Things like butter, sugar and flour were at the top of my list. Now when I see these things go on sale I will be aware of what I need and stock up.
Soon I will spend one entire day ironing every piece of table linen that I own and another day polishing all of the silver. With a bit of planning these things aren't actually a chore to me. I turn on music, I treat myself to a pumpkin spice latte and revel in the preparation of the season.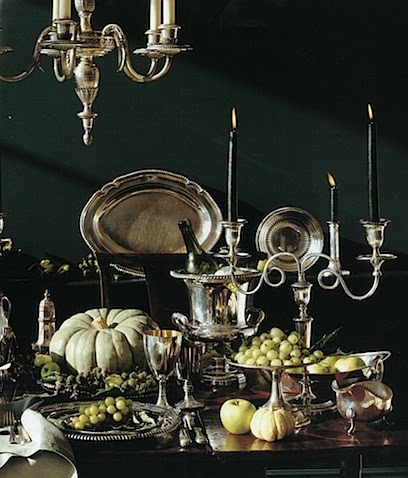 In thinking about Thanksgiving I of course thought about the table. I LOVE to dress the table for each and every holiday.
Savoring each season.
Let's begin with easy centerpieces that caught my eye this year.
First glance~ pretty and easy. Second glance ~ the content of all the small volumes are filled with thankful thoughts, small graces and wee bits of joy. Literary Love!!! You could even encourage your guests to bring their favorite wonder of writing and share why they love it (or a favorite phrase or quote ) during dinner.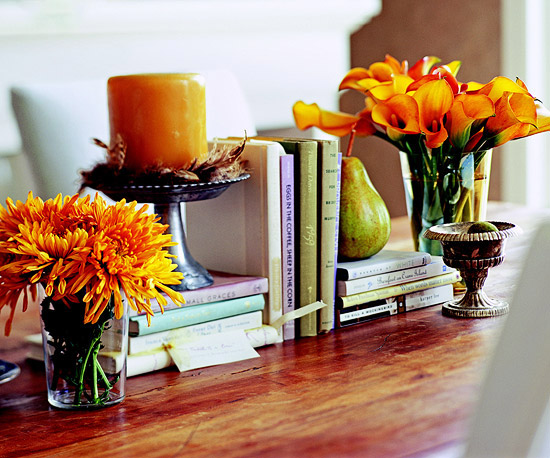 Using a pumpkin as a vase is nothing new and I truly adore cattails in the fall, but one doesn't necessarily think of tulips at Thanksgiving. Yet they really work. I like how a few of the stem leaves are tucked under for further interest.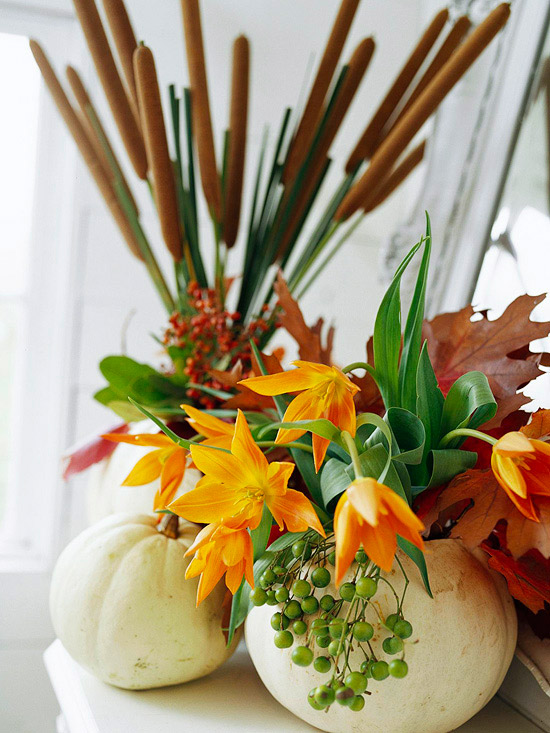 For those of you who like a more modern approach to your table settings, here are a few favorites.
Soothing, natural, clean with a touch of orange and green.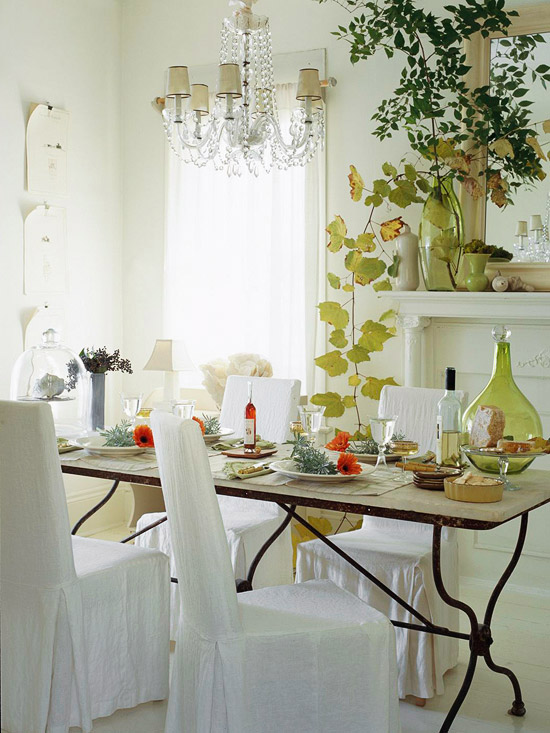 I love teal and brown paired together. A few slices of timber topped with what I think are repurposed brown glass light fixtures (1970's era) used for interest and as terrariums.
Get the kids involved with a stack of cardstock and a circular paper punch they can create a table runner in any color combination you can imagine.
The individual succulent place markers are a great take home gift.
Another great take home gift is an fabric pouch. Before dinner you can fill it with thankful thoughts, candy, or flora/fauna in a florist tube.  If you created a rectangular shape it could then be used later as the perfect eyeglass cover. These antique textile pouches were made by Becky Vizard.
I myself like a good theme to carry throughout the entire house.
Check out those mini styrofoam pumpkins (dollar store!) strung up with twine. You could also fashion something similar like a garland to grace your mantle.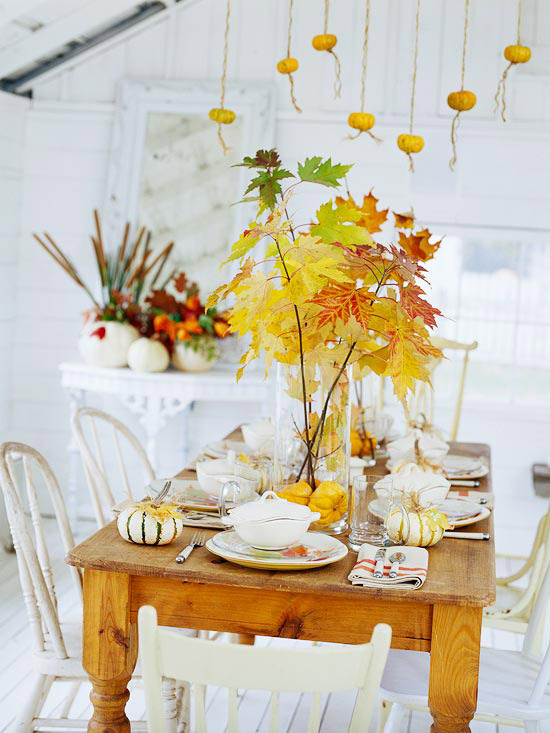 .
Did you notice the "vases"? Yep, balls of twine. Brilliant!
Don't forget to wrap a bit of twine around your candles ….
…and tie some twine around your napkins. Tuck in something special.
Velvet in general just does it for me. Soft and cozy~ perfect for fall.
But add in acorns ~ totally swoon worthy. This sweet little flourish captured my heart so completely that I recently spent an afternoon with my children creating my own version of pearl acorns.
If I had a few hundred more acorns I might ramble around Goodwill and see if I could find a basket then fire up the glue gun.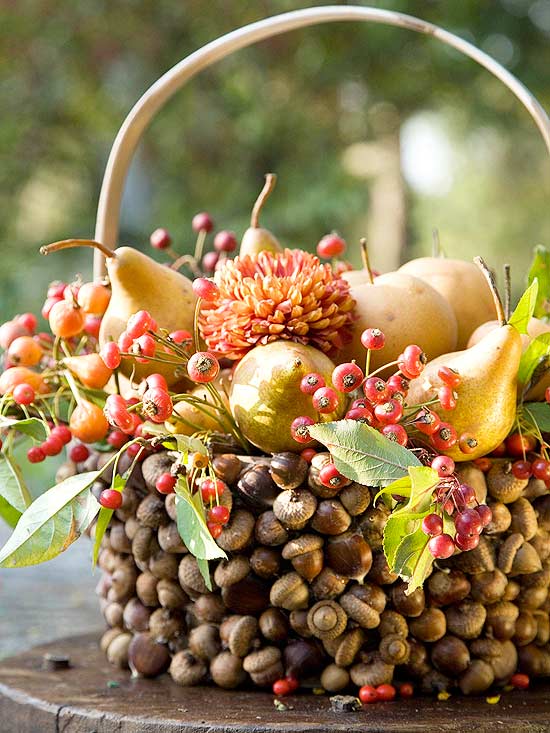 Or layer some grapevine in a large glass hurricane, add a candle and a few acorns. Simply beautiful.
For those of you who'd like a feather in your cap, Poppies and Posies offers a step by step tutorial on how to create this stunner.
Even more simple, a glass vase filled with….birdseed. This arrangement could last for weeks. Feathers and wheat stalks can be found at most craft stores.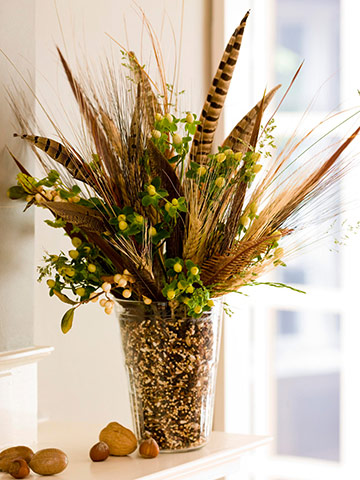 If you happen to have a flock of pheasants you are welcome to send me your excess plumes. 🙂 Because this place setting makes my heart take flight.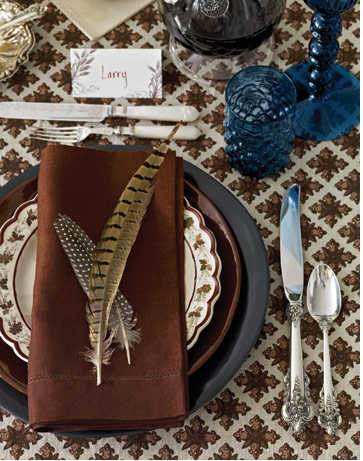 For those of you who think "Oh I am not going to bother setting such a table for just the two of us." I say, "Look at this scene" and get bothered creating a cozy table for two.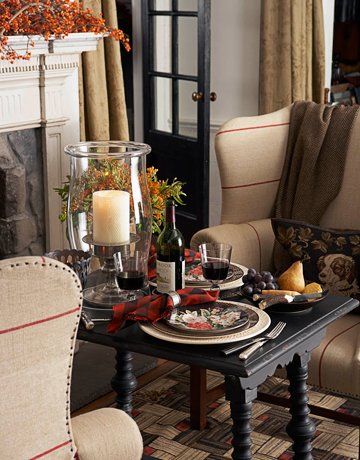 I like to create children's tables that even the adults want to sit at.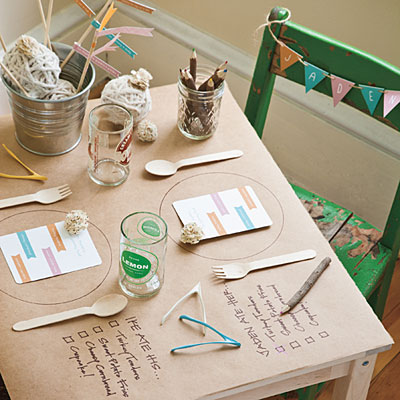 Simple craft or butcher paper is an inexpensive tablecloth kids can have fun with. You can find the twig pencils at several stores including Cost Plus World Market.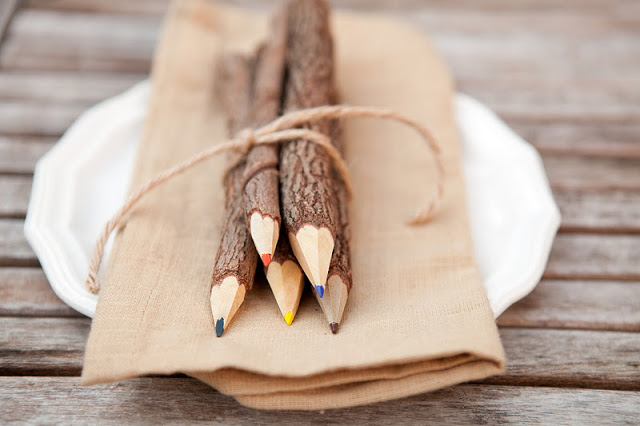 There are numerous sites that offer free printables and crafts to occupy their time. You could even create these funny drumstick place markers and fill them with small trinkets.
I've saved  my favorite theme this year for last. It involves apples, like those shown in this clever take on the traditional cornucopia.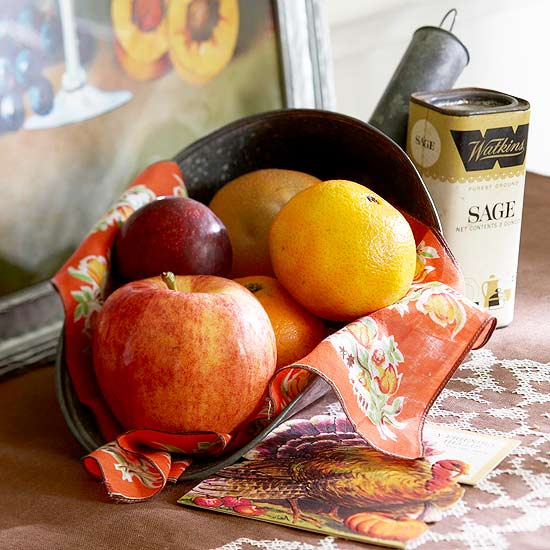 I might layer the table with a natural colored linen cloth or perhaps newsprint on the children's table.
Pinecones ~ check!
Mercury votives ~ check!
1970's Glassware ~ borrow the Fashionista's brown glassware ~ check!
Apple's used as place settings ~ check!
Birch vases. Hmmmm. Ok. No birch trees grow in Arizona so I can't make my own.
They sell birch vases on Etsy and other sites but the cost is a bit beyond my budget.
But I like this idea so I am now on the hunt for birch bark.
You could create garlands of apples to decorate your mantle and the backs of chairs!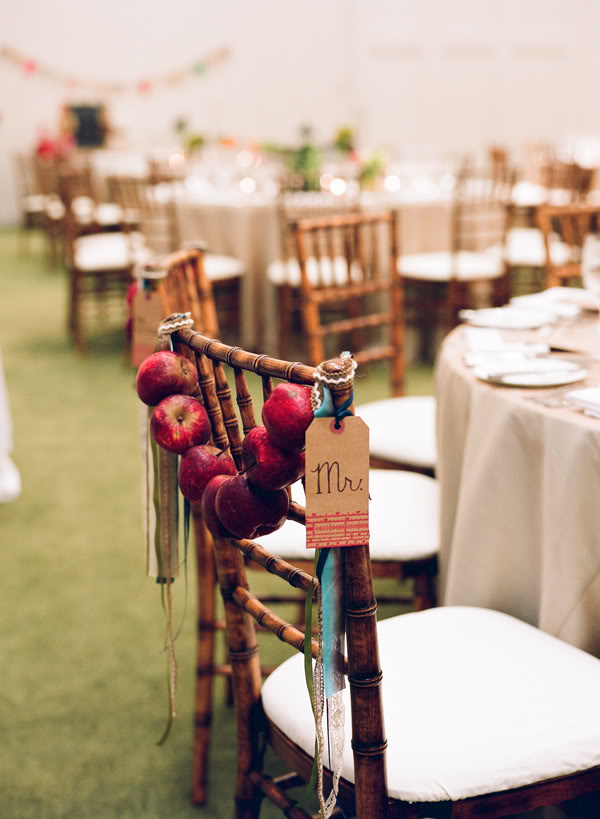 Perhaps even one lone piece of fruit (it could even be faux) tied on with luscious double sided satin ribbon and enhanced with a bit of eucalyptus and bittersweet berries.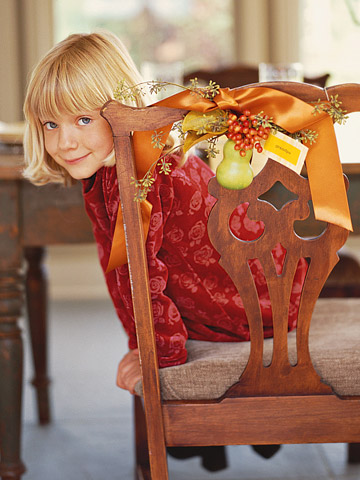 Yes, this is the Thanksgiving tablescape for me.
For those who might need a refresher course on how to set a table:
Last year we spent our Thanksgiving at Colonial Williamsburg but you can see our purple, grey and cranberry table from 2010 HERE.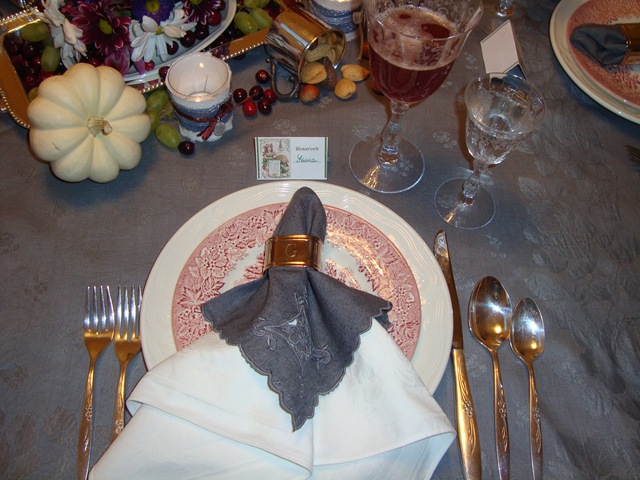 Of course the "feast for the eyes" tablescape I created last week would work too.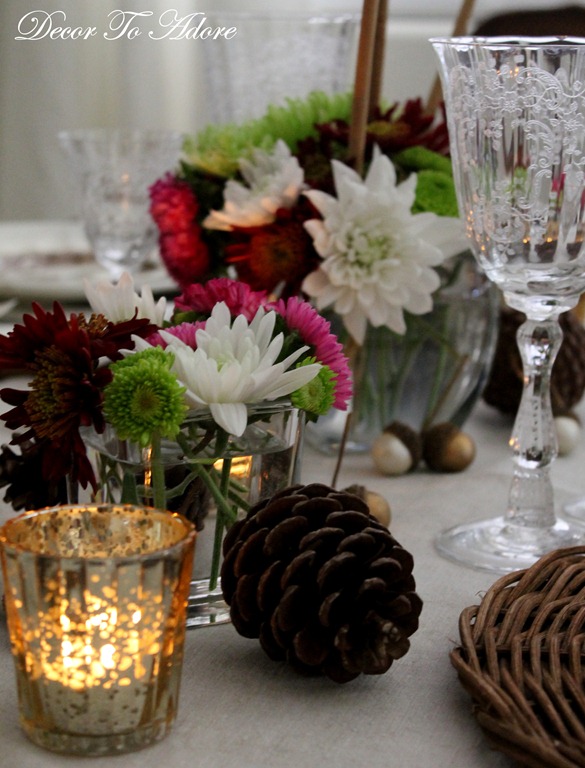 Have your started planning your Thanksgiving table?
Laura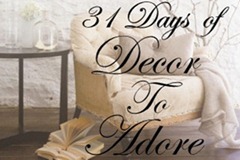 Linking to: