Yesterday I shared with you one of my favorite crock pot meals. I believe that it is possible to make an everyday comfort food meal seem like a lovely occasion.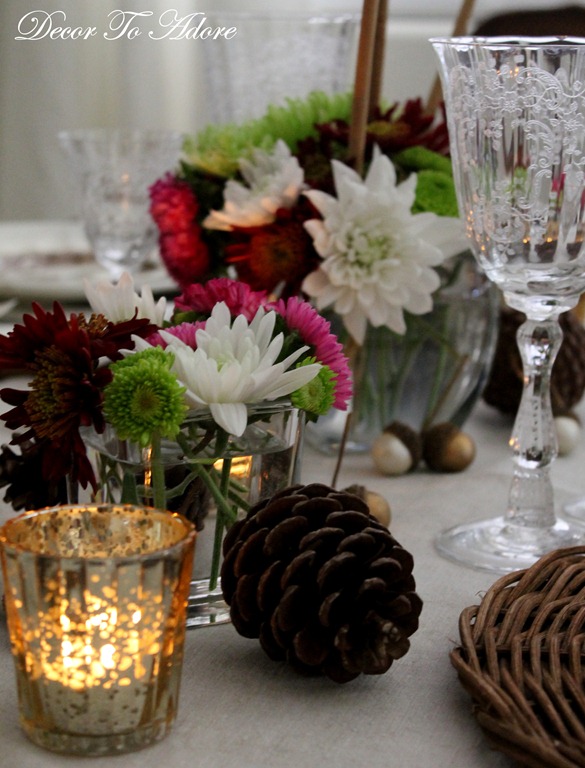 On Saturday evening Mr. Décor flew home after working out of state for a month. Yes, a month. So I spent most of Saturday putting clean sheets on the bed, fresh towels in the bathroom and cooking a meal I knew he would enjoy.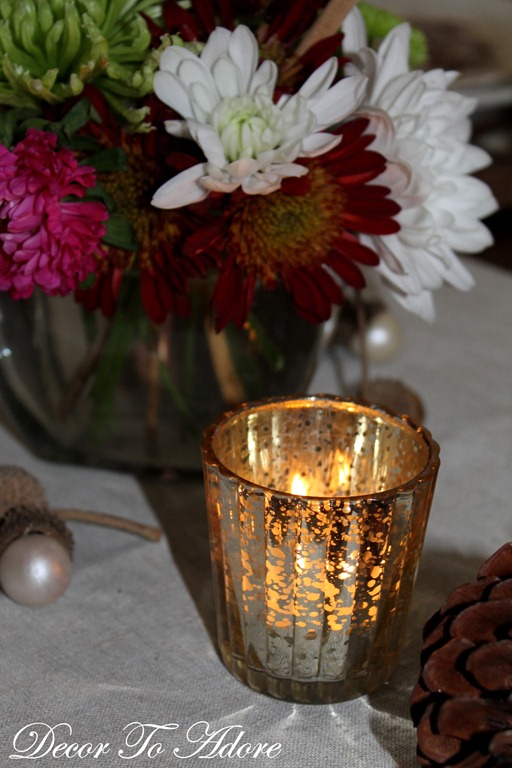 I like to set a pretty table. Even if it is just a table for four. It makes people feel special. Given that it is fall and temperatures are now blissfully dipping into the 90's I wanted an autumnal feel.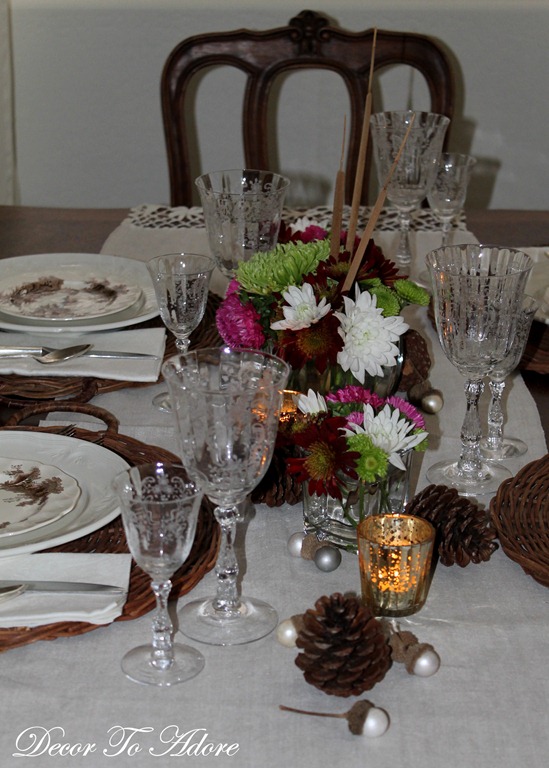 Sweet boy and I had to go to the supermarket so I looked for some flowers. Perhaps floral deliveries are earlier in the week because the blooms were a bit past their prime. Indeed the bouquet I was most drawn to ~ well the cat tails had mold on them. So as I laid my other purchases on the conveyor belt I smiled and asked the cashier "Is it possible you could discount these flowers since they are wilting and have a bit of mold?" She smiled back and said "How does free sound?" 
Well, that sounded like a truly lovely gift!
Once home, I snipped a good portion of the stems off, added a bit of bleach to the water and my blossoms perked right up.
I had enough flowers to create three separate arrangements and then just filled in the space with a few pine cones from the park and the recent acorn craft I created with the kids.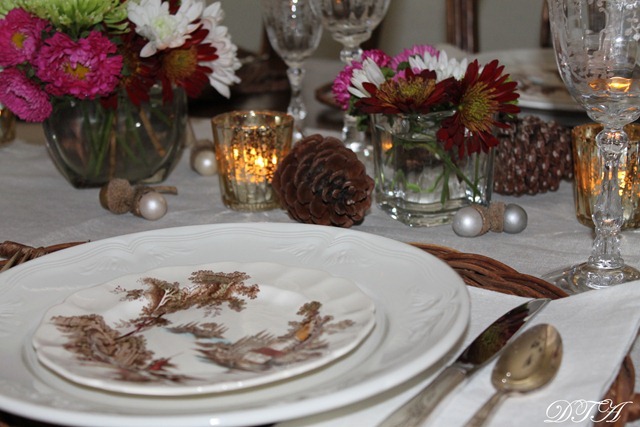 Recently I found a set of six bread plates at the thrift store. They are marked "Old Mill" by Johnson Bros. They felt a bit like "fall" to me.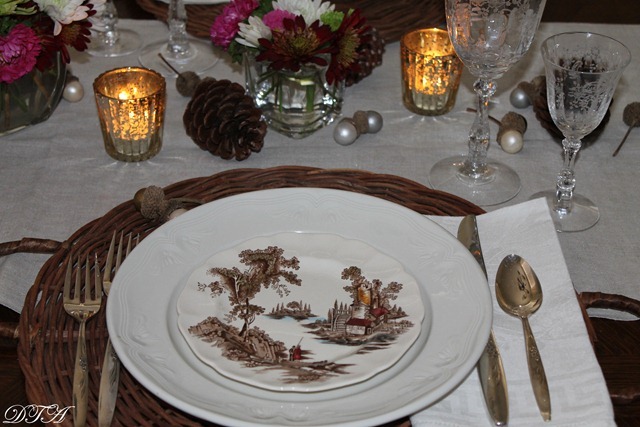 After looking the pattern up on ebay I was quite pleased at the $4 I spent to acquire the transferware plates.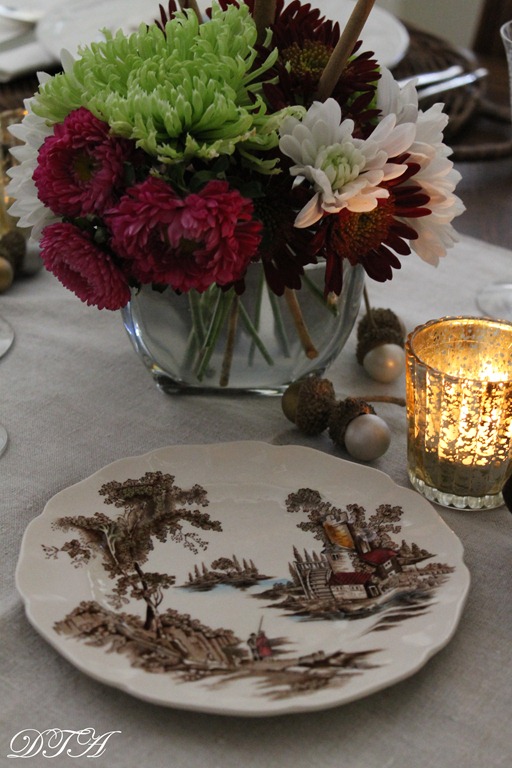 The red roof picked up the color up the mums while the lovely shade of ocher seemed to be reflected in the candlelight. I also like the small touch of blue from the river that works with the blues in the adjoining living room.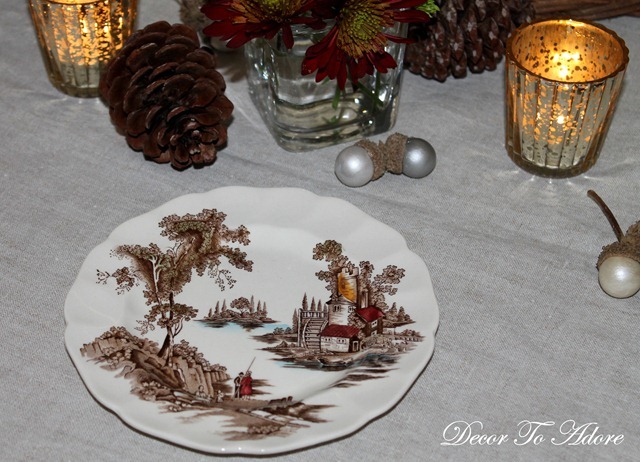 A Saturday night spent at home with family. Special indeed.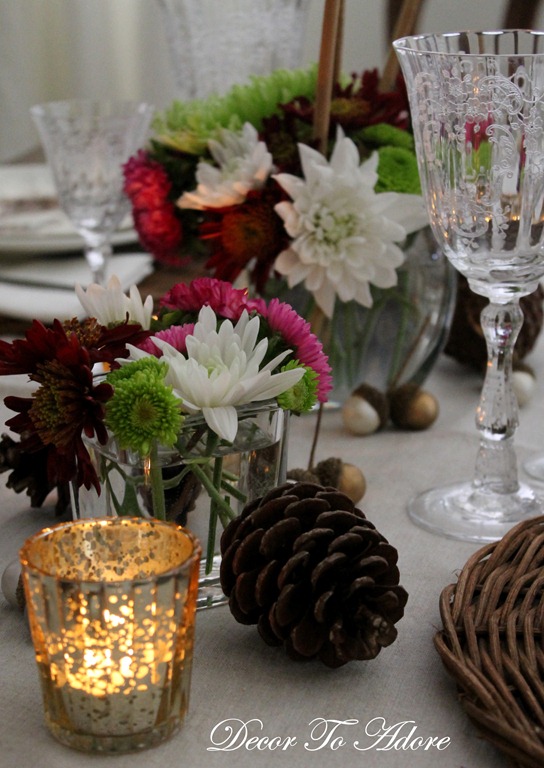 How do you make your family feel special?
Laura
Linking to: