Some of you may be asking "What does food have to do with a 31 Days of Décor series"? The truth is we truly do eat with our eyes first. Today I am presenting one of my favorite comfort food crock pot meals ~ cream cheese chicken. I will also be sharing a few tips on how to create a pretty plate.
Now crock pot meals have gotten somewhat of a bad wrap because generally, while they are cooking, the ingredients look like this: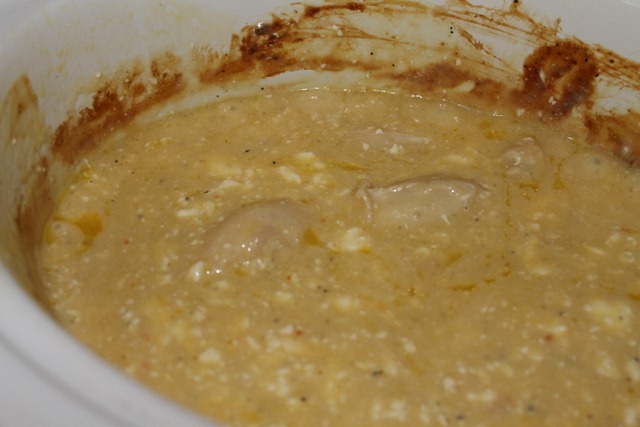 Is it possible to turn a crock of sloppy sauce into something we see as truly appetizing? In a word, yes.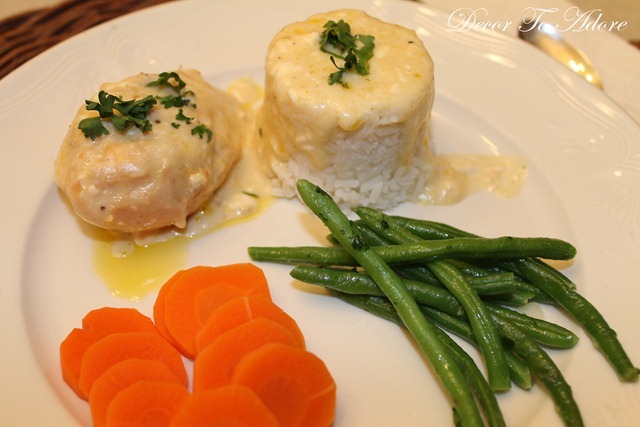 This recipe was given to me by my good friend Kristina. The ingredients for the delicious dish are easily found in any supermarket. It's quite possible that you may already have the supplies in your pantry and freezer.
This recipe can be easily doubled and costs around 40 cents per serving. You will need:
1 block of cream cheese
1 can of cream of chicken soup
2 tablespoons of melted butter
4 ~ 6 thawed chicken breasts
1 packet of Italian salad dressing seasoning (although I only use half the packet)
Coat the bottom of the crock with the melted butter. (This will help the other ingredients from sticking to the bottom of the crock until the soup and cream cheese melt together.)
Add in the cream cheese, soup and seasoning and mix together.
Lay the chicken on top of the mixture and spoon a little of the mixture on top.  
Set the crockpot to medium and walk away for 6 to 8 hours. (You can stir from time to time if you are home.)
Given that two of the ingredients are dairy do not set the crock on high as that can cause the dairy to curdle.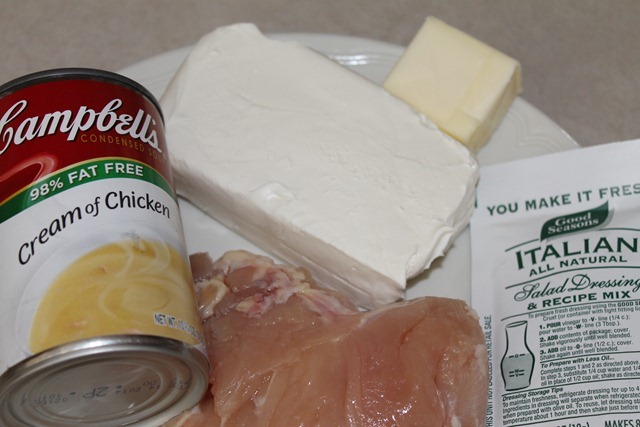 In the last half hour of cooking time I begin to cook some green beans and carrot coins to add a bit of color to the plate. For a meal that speaks to the eyes try not to have an all beige plate. For health, color is king. You can also serve this dish with a nice green salad.
The chicken and sauce can be served over noodles or rice. I prefer rice. To elevate the every day take a small glass jelly jar (or something similar) and lightly pack it with rice.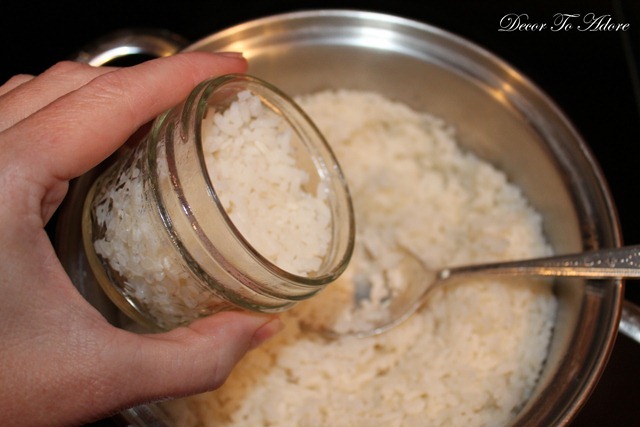 Invert the jar onto the plate.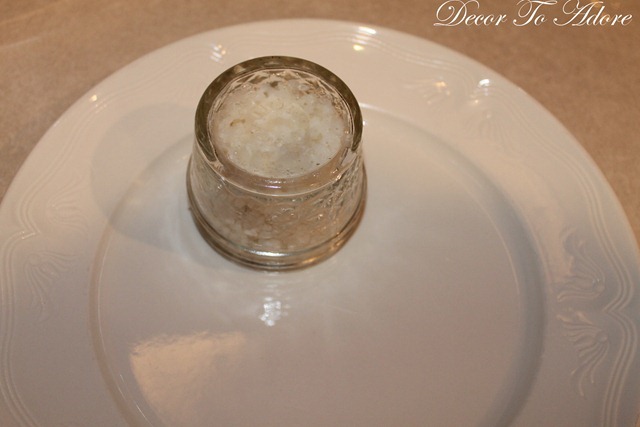 Lightly tap the top of the jar and then lift off the jar. A round compact mound of rice now graces the plate and rivals any fancy restaurant. It takes all of 2 seconds to create.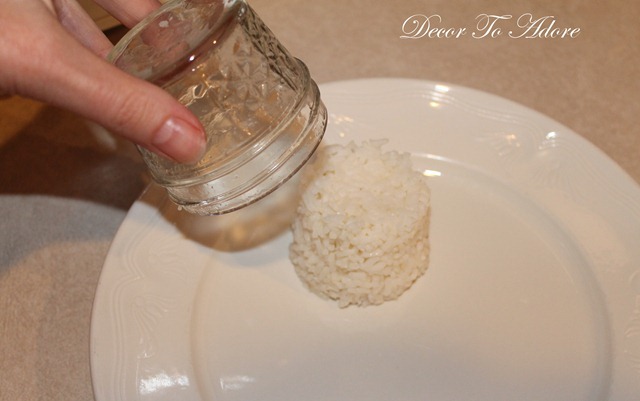 Spoon up a chicken breast and ladle the sauce over the rice and chicken. Sprinkle on some freshly chopped parsley for color if you desire. This garnish is packed with a healthful punch.  Serve with your vegetable of choice and enjoy!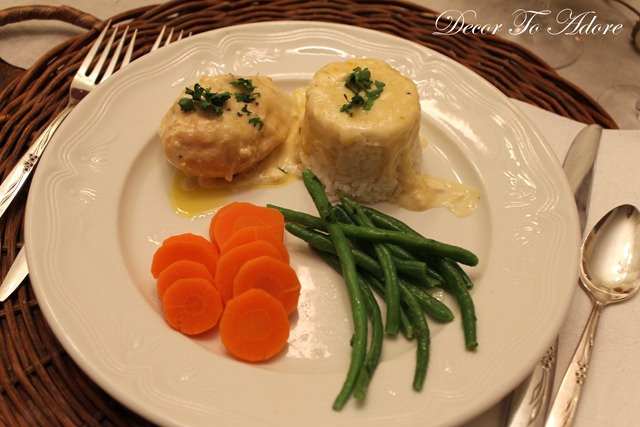 The chicken is fork tender and delicious!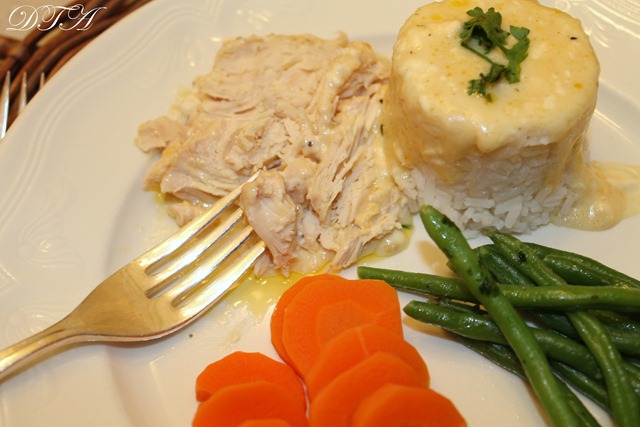 Dessert can also be deceptively easy as David Copperfield. Bake a pan of brownies. (I use the recipe on the side of the can of Hershey's cocoa, but you can also use a box mix.) Once cooled take a glass and use it as a pseudo cookie cutter to create brownie rounds. Place the brownie on the plate, top with a scoop of vanilla ice cream, add chocolate sauce and enjoy!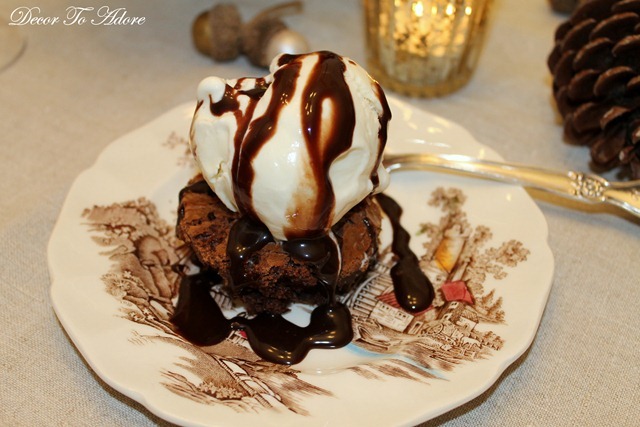 Tomorrow I will be sharing the tablescape I created for this meal.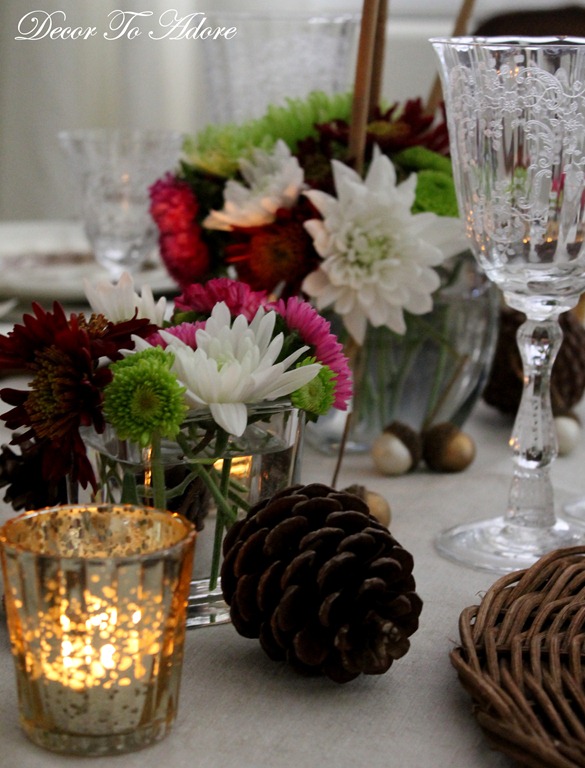 What are your favorite go to dishes?
Laura
 Linking to:
Centsational Girl, Foodie Friday, Kelly's Corner, Stonegable