This is our small entry at the new Décor To Adore manor. It might be a bit too much going on for some. But for our family, it feels authentically like home. Does Your House Tell Your Story?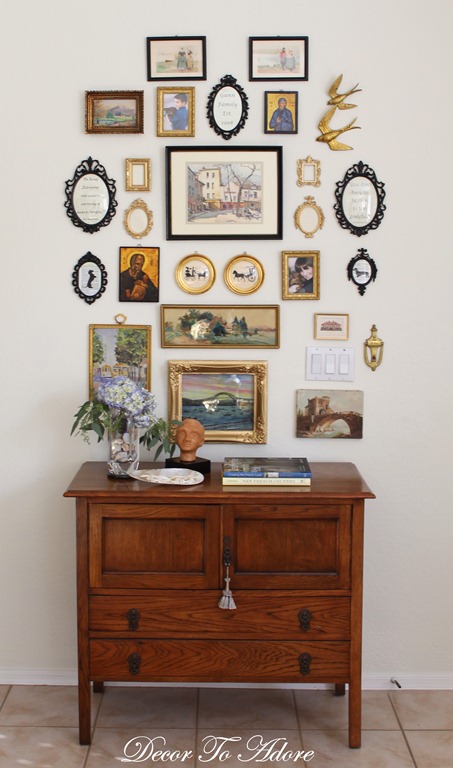 Does Your House Tell Your Story?
The entry space is tiny. It measures just 6' x 9".
When we first saw the home it was staged in a contemporary style. Anyone could have lived there. Anyone.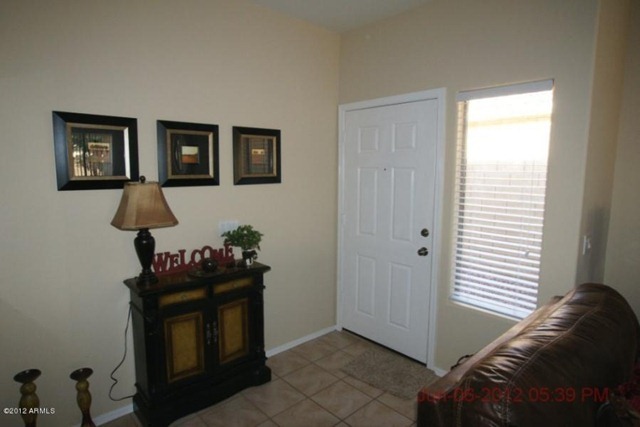 But what if you want a home that tells a story of those that live there? What if you want to make the most of a space? What if you have an incredibly small budget?
Think about what speaks to you. What you cherish.
I began by bringing in a small antique washstand that Mr. Décor had purchased years ago at a flea market while stationed in England. It's small-scale fit the small space.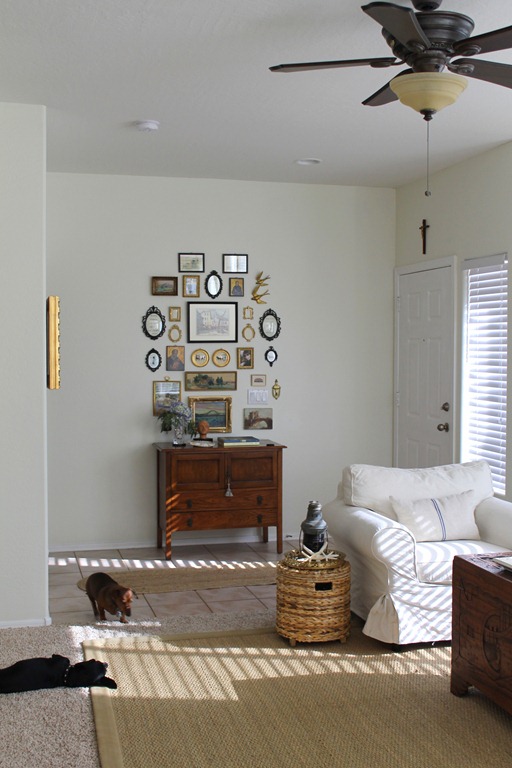 I topped it with a few of our favorite books, added a small sculpture my mother Karen made in high school, scattered a few found shells and finished the look with an arrangement of hydrangeas.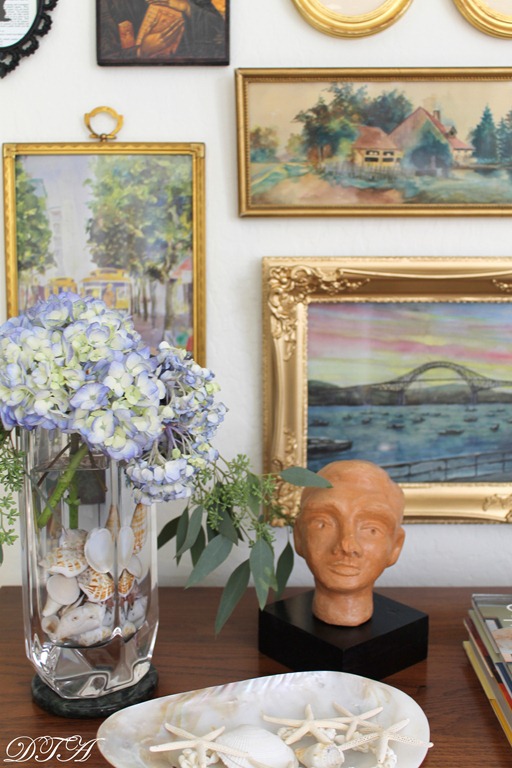 Artwork
The artwork had me stumped for awhile. The builder placed the light switches smack dab in the middle of the wall. Grrrrr. As I continued to unpack 18 million pictures I realized that I actually had very little open wall space. Most of the walls in our new home feature windows. So I took a risk and put all of our favorites up on one wall. I had nowhere to go but up.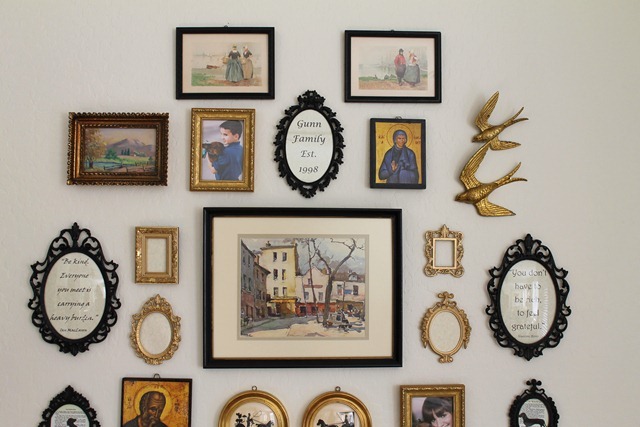 Every piece tells a story. This bell once hung around the neck of someone very special to us. I thank Albert C. Barnes for giving the green light to hang hardware on the wall.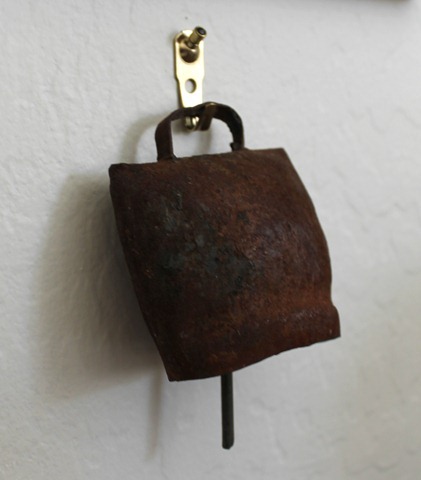 Seeing the bell reminds us of our Nanny who was tied to the olive tree in our front yard every day that we lived on Crete.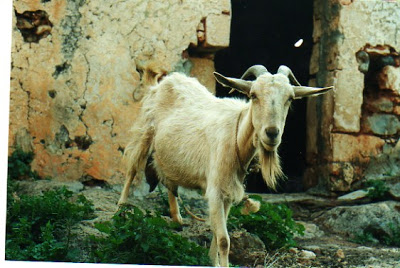 Family photos and watercolors of favorite places mingle together. Who says a light switch can't be art?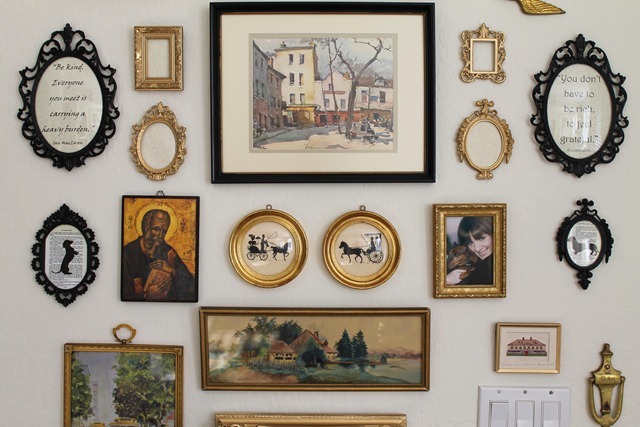 You may remember that the vintage scrolled metal frames were found for mere pennies at a thrift store when I was visiting my Grandma Jingles last spring. A quick coat of spray paint made them modern.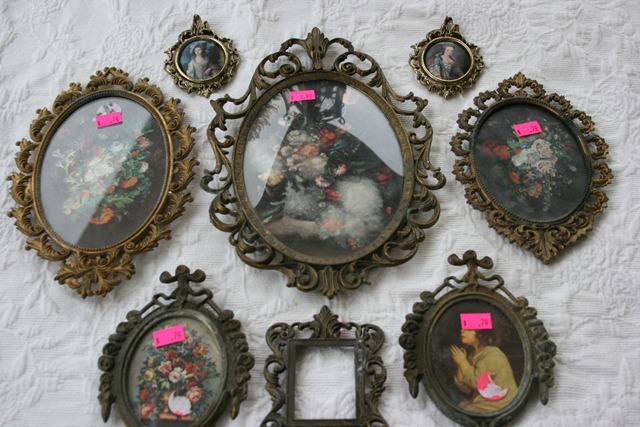 The light in the entry and attached living area encourages morning sun salutations. Yes, by all means, the dogs are allowed on the white slipcovered couches. Rudi waits to be lifted. You can see a small footrest behind him that is put into place so that the fur boys can get down when they want to.
Franz's Favorite Napping Spot
Across from the couch are a large entertainment center and Franz's favorite napping spot.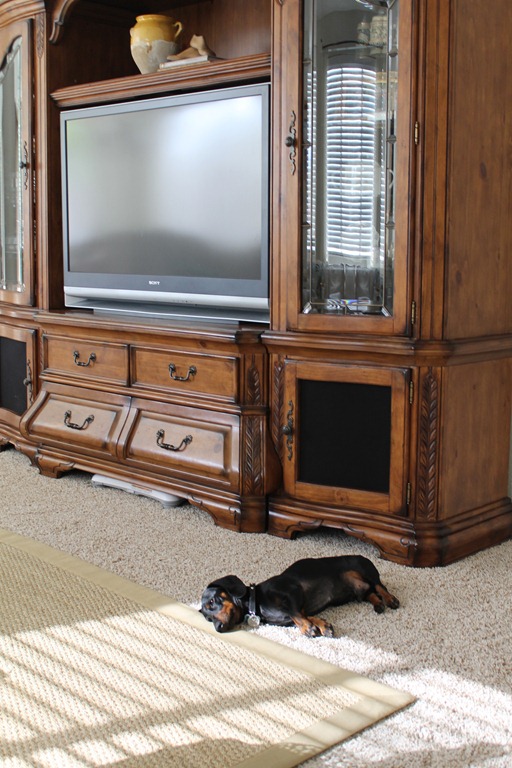 The center is decorated very simply with a confit pot I hand carried home from France, wooden shoe molds found at a flea market in Germany and two books, one of which was written by my dear friend Brooke who greatly inspires me. The other major influence in decorating this space was my lovely friend Joni.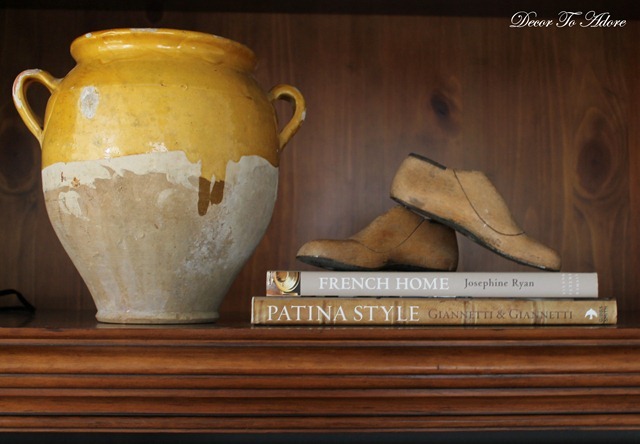 Multifunctional Furniture
Nestled next to the slipcovered chair is a small rattan table. This little gem was found at Ross for $15.00. The lid lifts off for extra storage. In small spaces multifunctional furniture is key. I love the texture the rattan brings to the room.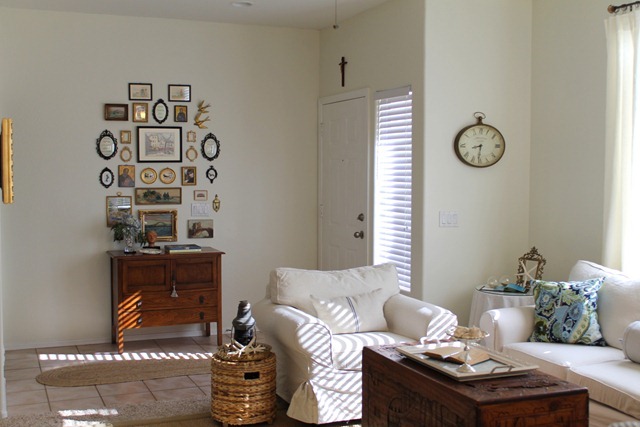 On top of the table, a few starfish nestle on a vintage metal vanity tray along with a lantern that was carried by Mr. Décor's grandfather, Landen, aka POP Gunn, as he walked the banks while working construction on what is now the Panama Canal.
The coffee table deserves a post all it's own. It too has a special story and the carving is amazing.
See the slipcovered chairs that were once in my office?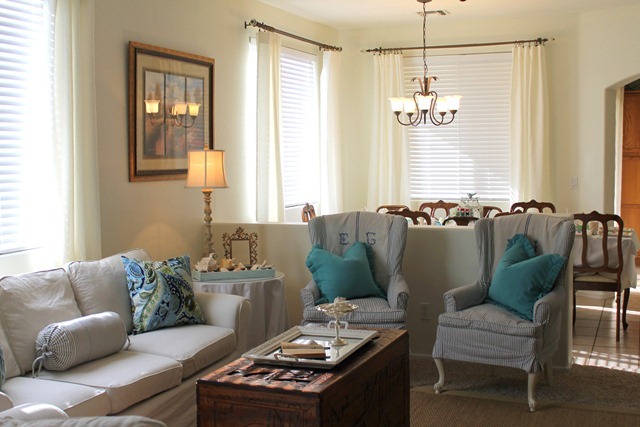 They are topped with down cushions so lovely to lay on. The pillows used to be yellow but got a recent dip in a dye bath.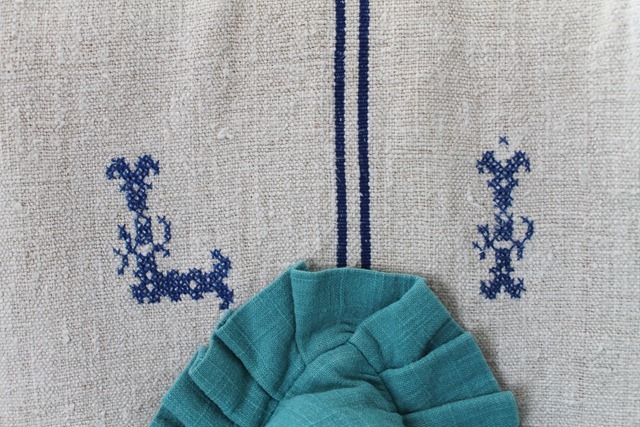 Accessories
You can see that the small dining area is separated by a low pony wall and an archway provides a glimpse of the kitchen.
Using the same curtains, hung high, helps to unify the two spaces.
Next to the slipcovered sofa is a skirted table.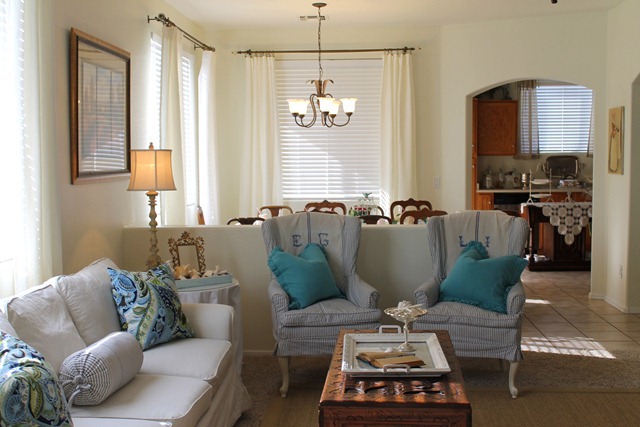 It is topped by a lamp, an antique frame once belonging to my great grandmother Emma and a collection of shells. Mr. Décor was once an avid scuba diver. The large shell was found by him in the Red Sea.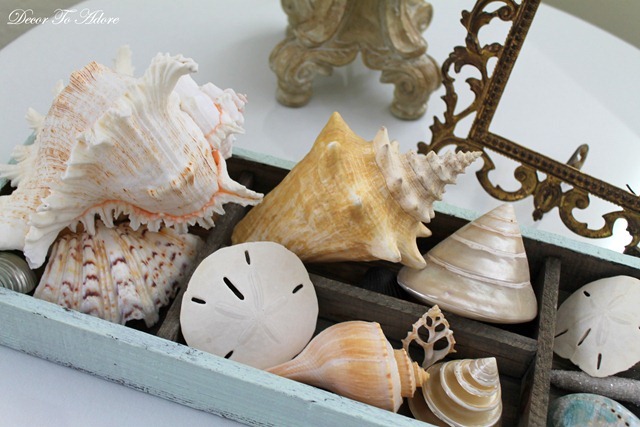 The other table in the opposite corner is covered by yet another favorite book, the same antique frame in a smaller size and an hourglass where time has stopped.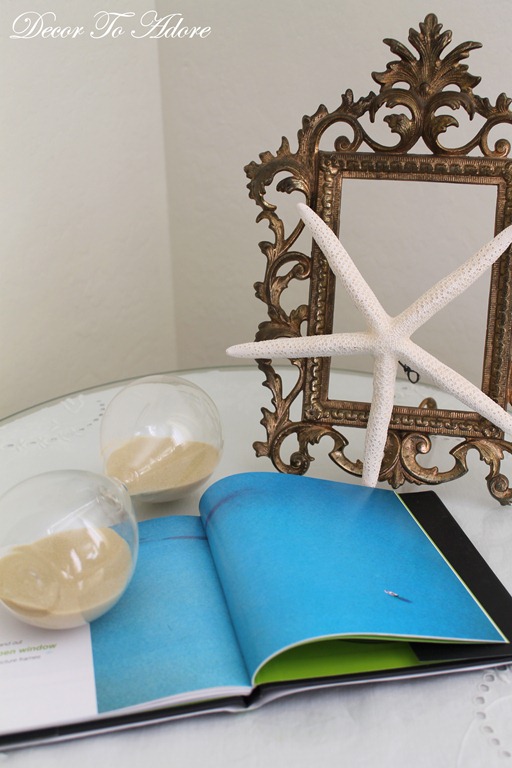 Yes, what began as this….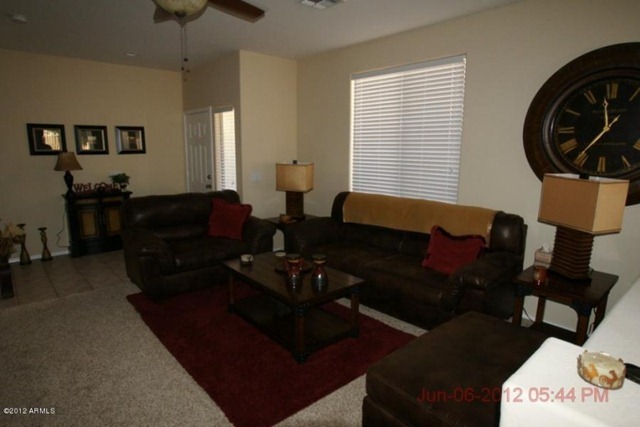 …and this…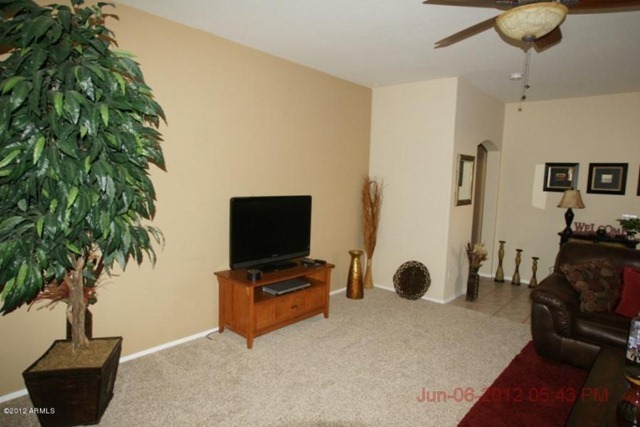 …has been transformed. It is no longer a generic space. The house now tells the story of the family that lives here.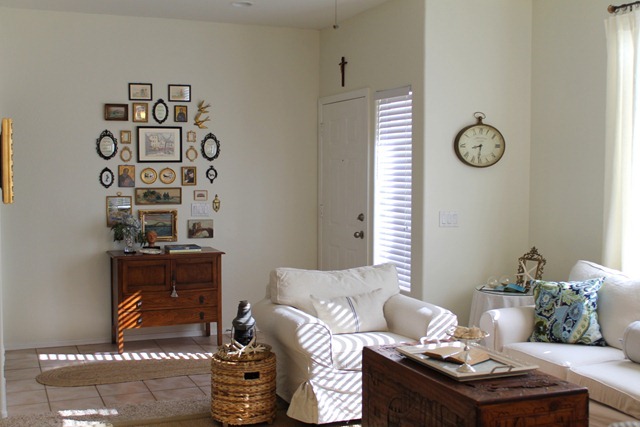 I am still working on changing out the overhead lighting and plan to swap out the summer aqua for a bit of orange and burlap in the fall. That is the beauty of a neutral palette.
Laura