Have you ever had a situation where you thought a certain chair, couch, table… would absolutely fit in a space yet once it was put in place it was disastrously wrong? Here is A Foolproof Method for Furniture Placement Map It Out.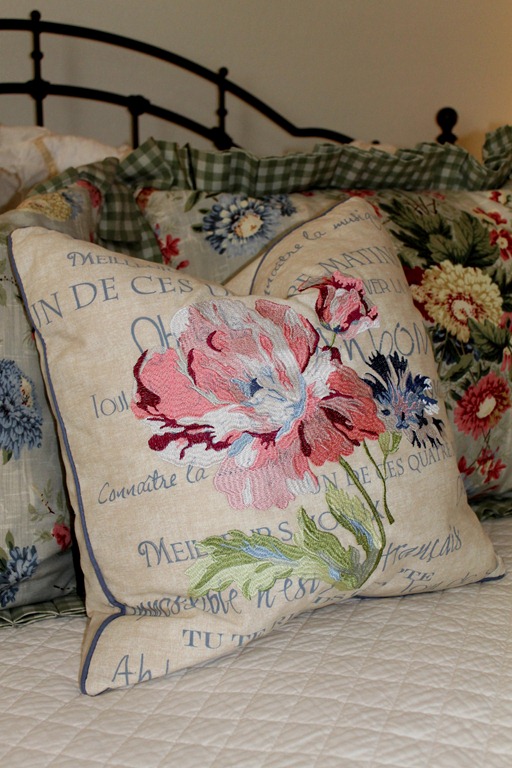 A Foolproof Method for Furniture Placement Map It Out
Most designers always prepare a space layout design ahead of time. They use such programs as C.A.D. (computer-aided drafting) photoshop or sketch up. But what if you are not a designer? You still can achieve a similar process with just three tools: graph paper, a pencil and a measuring tape.
While I myself generally use CAD for the furniture layout process, for instructional purposes I drew all of the rooms in our new home to scale so you could see how relatively easy the process is.
In this drawing of our master bedroom, each square on the graph paper is equal to one foot. After the general room layout was drawn out (to include the windows and a door) I then cut out the pieces of furniture (also to scale) that I wanted to use in the space. In paper doll fashion I played around with various furniture configurations until I found one that best suited Mr. Décor and myself.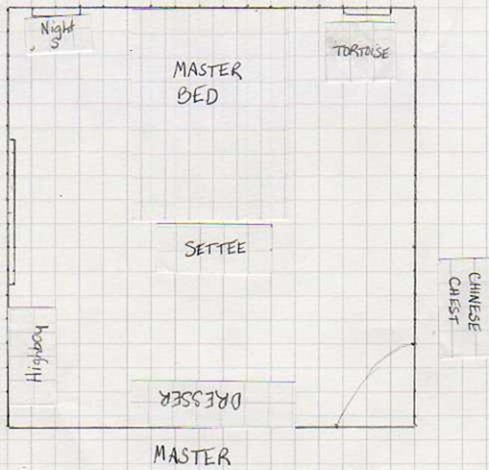 Furniture In Place
Here is the view from the doorway. You can see in the above drawing I had placed a settee in front of the bed.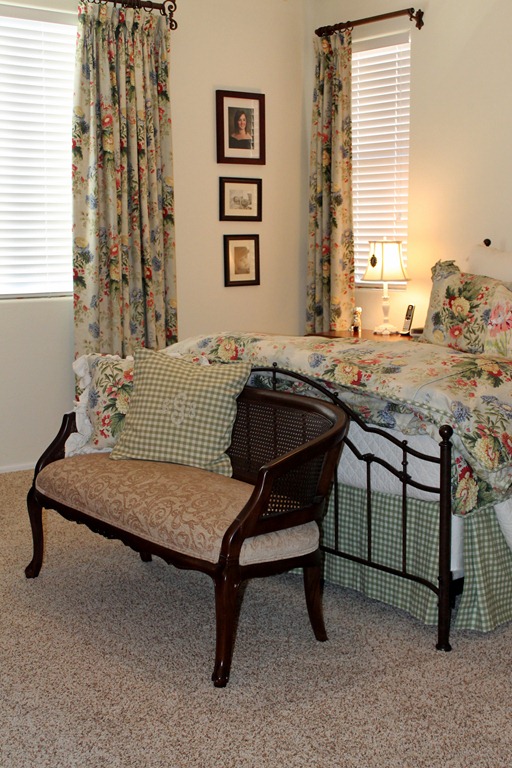 I already knew ahead of time that there would be plenty of space for the end tables.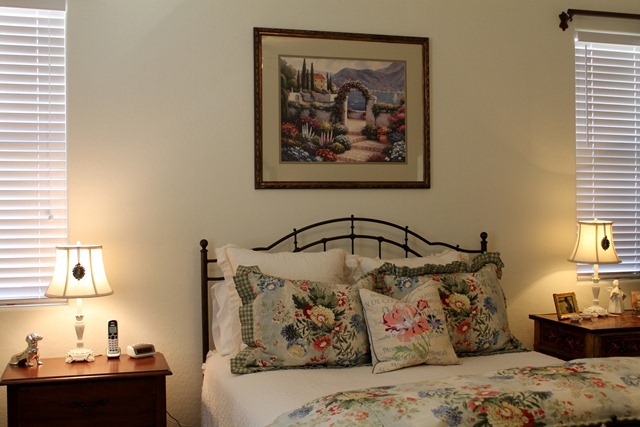 As well as a wide walkway on either side of the bed.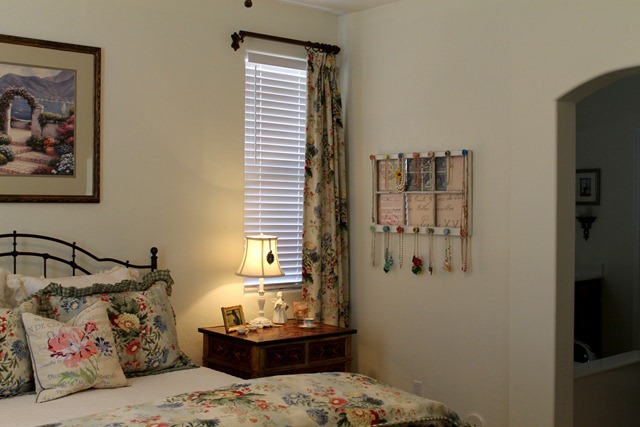 Drapery
By knowing the measurements of the windows  I also determined that with a bit of reconfiguration the drapes that were used in the old bedroom would also work in the new bedroom. This made Mr. Décor and me very happy as we both love the fabric and French pleated style.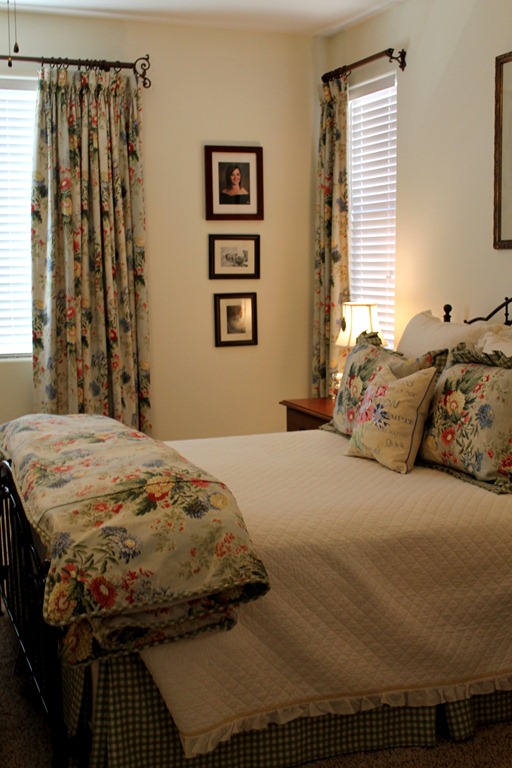 Another bonus is that by having a "map" of the layout on the actual moving day those who were helping us knew EXACTLY where to place the furniture~ a real time and back saver.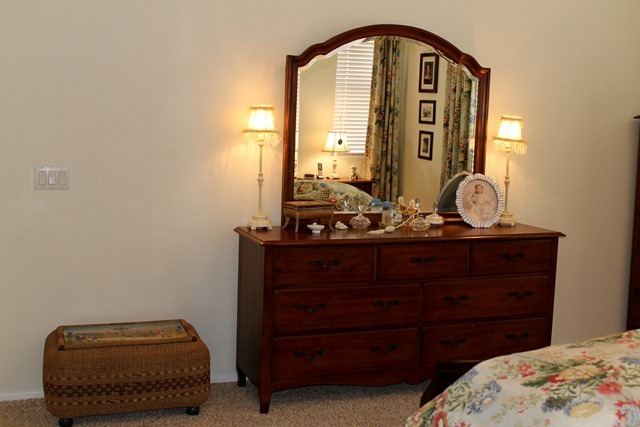 Now occasionally once everything is in place you may decide that another piece can be added into the room.
Such was the case with our Bavarian wedding basket. We purchased this antique and had it custom painted while we lived in Germany. It holds a very special place in our hearts and I was unsure of where to put it without feeling crowded. The basket had been placed in the "try it and see" category and I am oh so glad it worked out.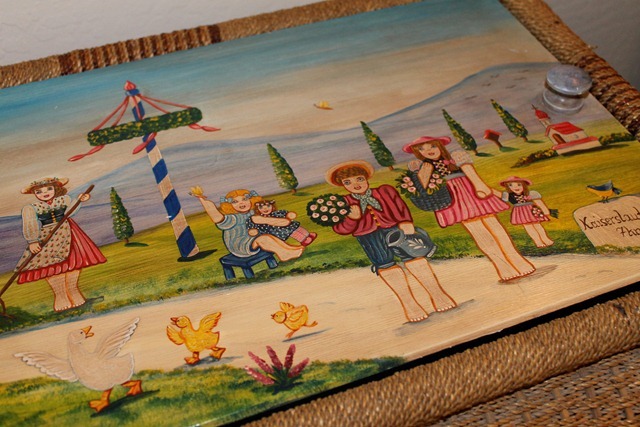 By the same token sometimes a piece of furniture just does not work once you have it in place. It's rare, but it can happen.
One of the rooms that I altered a bit from my original drawing was the main living space. I am so excited to share it with you.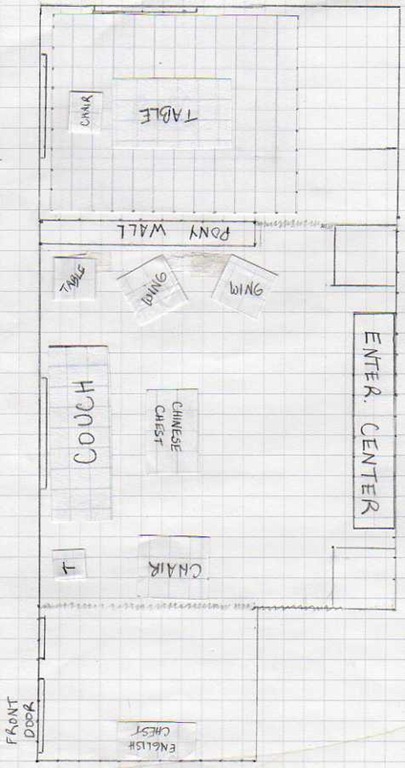 Do you plan out your rooms or are you a fly by the seat of your well designed pants type?
Laura