This weekend marks the Diamond Jubilee Queen Elizabeth celebrating her 60 years on the throne.
Diamond Jubilee Queen Elizabeth
There has been only one other monarch who celebrated a Diamond Jubilee, Queen Elizabeth's great~great grandmother, Queen Victoria. The year was 1897. Even if you are not a Royal enthusiast, this is history in the making. I know it will never happen again in my lifetime nor that of my children.
Princess Elizabeth Alexandra Mary was born on April 21, 1926. She was the first child of Prince Albert, Duke of York and his wife, Elizabeth Bowes~Lyon.
She interestingly enough was born by Cesarean section at her maternal grandparents, The Earl and Countess of Strathmore and Kinghorne's, Mayfair estate. The house sadly is no longer in existence. 
Baptism
The princess was baptized in the private chapel of Buckingham Palace on May 29, 1926. She was named Elizabeth after her mother, Alexandra after King George V's mother, who had passed away six months earlier, and Mary after her paternal grandmother. Her full title was Her Royal Highness, Princess Elizabeth of York.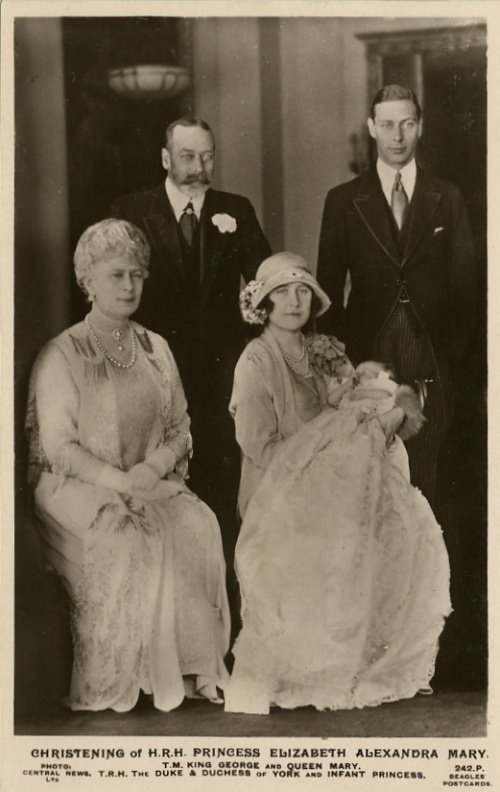 Princess Elizabeth was left in the care of a royal nanny for six months as an infant while her mother and father were on a royal tour.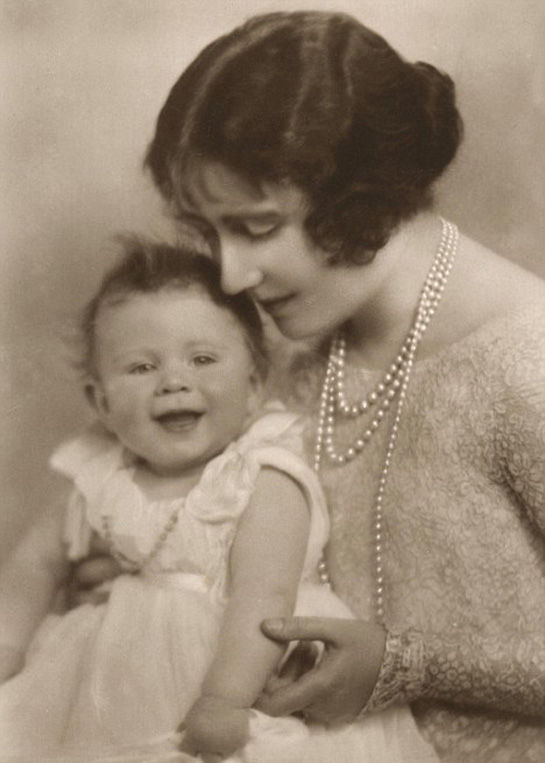 Princess Elizabeth was not the heir apparent. It was expected that her uncle, Prince Edward~ later King Edward VIII, would reign. Because of that, she had a fairly normal, albeit royal, childhood. She is shown here at age 3.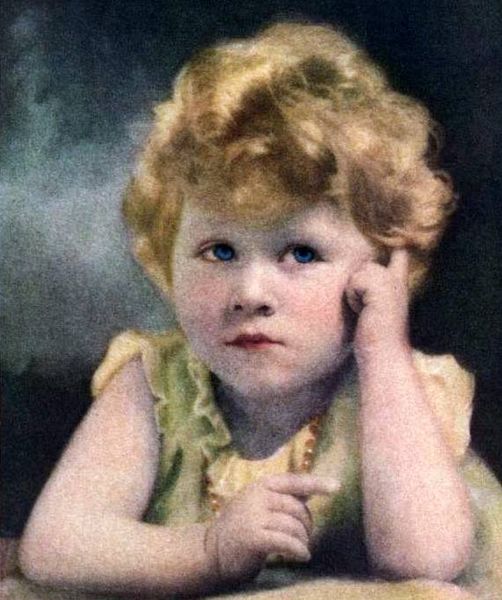 Princess "Lilibet", Time Magazine Cover, April 29, 1929
Princess Margaret Rose
The Queen's only sibling, Princess Margaret Rose, was born on August 21, 1930. Princess Elizabeth was four years old and delighted.
For the first ten years of her life, Princess Elizabeth and her sister were adored by the nation but not much thought was given to Elizabeth as ever being queen.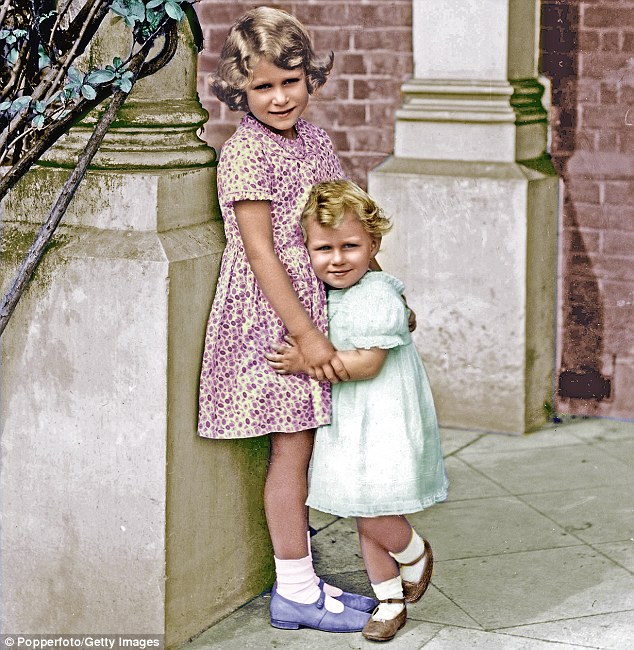 Her father was the second son of King George V and Queen Mary. Elizabeth was merely third in line for succession to the throne. But all that changed when her uncle, King Edward VIII, famously abdicated for love and became the Duke of Windsor.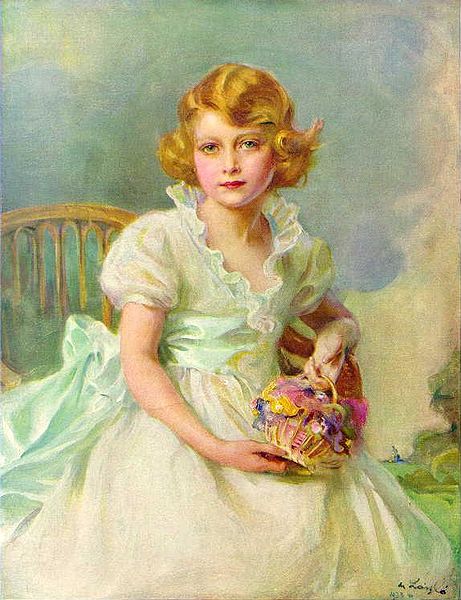 Princess Elizabeth, age 7, Philip de László
King George VI's Coronation
King George VI's coronation was held on May 12, 1937, the date previously intended for Edward's coronation. This man never dreamed or wanted to be King yet famously rose to the challenge and bravely carried his nation through World War II. Princess Elizabeth was 10 years old and suddenly heir to the throne.
Education
Princess Elizabeth was educated at home along with her sister, Princess Margaret. It has been said she excelled at art, music, horse-riding and swimming. To prepare for her future role as Queen she was also taught law, constitutional history, and French.
At the age of eleven a Girl Guide (Girl Scout) troop was formed at Buckingham Palace. The troop comprised of twenty Guides and fourteen Brownies. The members were all daughters of court officials and palace employees. An interesting side note was that two former members of that troop were bridesmaids at the Queen's wedding. The Queen advanced to the rank of Sea Ranger in 1943.
The War Years
During the war years Princess Elizabeth and her sister were evacuated to live at Windsor Castle, while their parents remained in London.
In February of 1942 King George appointed his fifteen-year-old daughter, Princess Elizabeth as Colonel of the Grenadier Guards, the senior Regiment of the Foot Guards. It was the first time in history that a woman had held the position.
A photograph was taken by Cecil Beaton in Buckingham Palace in October 1942 which shows the Princess wearing an embroidered grenade in her cap and a blue enameled and diamond brooch, the Regimental cypher, presented to her by the Regiment on her sixteenth birthday.
ATS
At the age of 18 Princess Elizabeth joined the ATS (Auxiliary Territorial Services), the women's branch of the Army, to help out in the war effort. She was trained in vehicle maintenance and learned how to drive an ambulance.
Princess Elizabeth was blossoming into an attractive young woman. She had met a young Greek prince and naval officer in 1934 as a girl at the wedding of Princess Marina of Greece and Denmark. Their long lasting friendship would soon turn to love.
Princess Elizabeth, age 19, by Cecil Beaton, Buckingham Palace, 1945
Engagement
Although her family was rather opposed to her marrying so young, Princess Elizabeth announced her engagement to the dashing Prince Philip on July 9, 1947.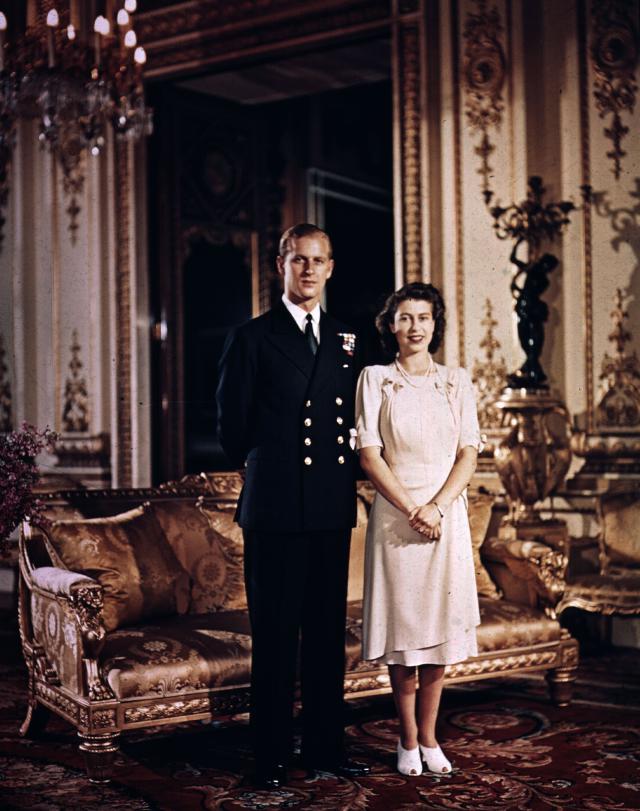 Prince Philip presented Princess Elizabeth with a beautiful platinum and diamond ring which had been taken from a tiara of his mother, Princess Andrew of Greece. The ring had a total of eleven diamonds. There is a central solitaire stone of 3 carats with five smaller stones set in each side. When Philip presented the ring to the Princess it was too big and quickly had to be resized in time for the official photo. She continues to wear this ring.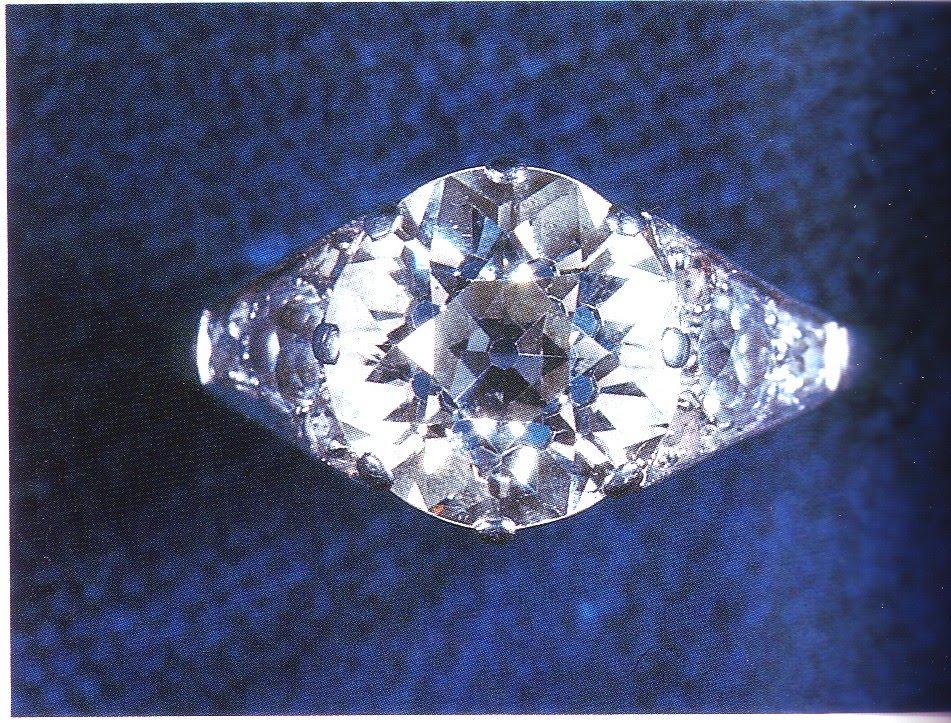 The Wedding
Prince Philip and Princess Elizabeth were married on November 20, 1947 Westminster Abbey in London. You can read more about the day HERE and HERE.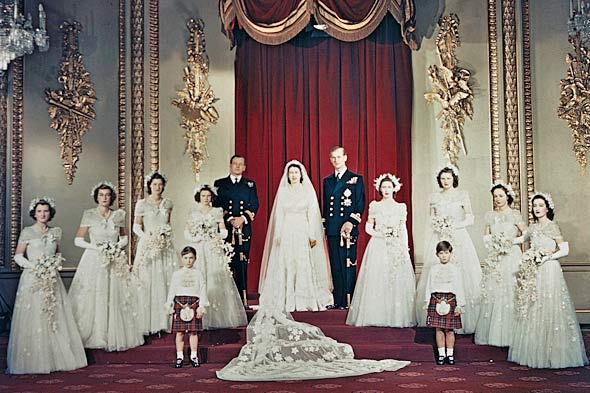 Children
On November 14, 1948 Princess Elizabeth gave birth to her first child, Prince Charles Philip Arthur George at Buckingham Palace.
Princess Elizabeth and Prince Charles by Cecil Beaton, Buckingham Palace, December 1948
The Prince would later be joined by a sister, Princess Anne Elizabeth Alice Louise, on August 15, 1950.
Prince Charles and Princess Anne, Cecil Beaton, Clarence House, September 1950
It was a happy time for the young couple and their growing family.  The Prince's military career continued to flourish and by 1952 he had been promoted to Commander. However, his military service and their simple, private way of life would soon come to an end. 
Her Majesty's Coronation
The Prince and Princess had been on tour in Kenya when they learned on February 6, 1952 her beloved father, King George VI, had passed away. Princess Elizabeth immediately acceded to the throne on her return from Kenya. Her coronation was held on June 2, 1953.
Queen Elizabeth II by Cecil Beaton,  June 2, 1953
The Queen's white satin Coronation gown was designed by couturier Norman Hartnell and exquisitely embroidered with the floral emblems of the countries of the Commonwealth.

Her Crown Jewels
She wore the George IV State Diadem which was created in 1820 by Rundell, Bridge & Rundell for the king's coronation in 1821. The diadem is set with 1,333 brilliant-cut diamonds and also includes a four-carat pale yellow brilliant diamond. The band has two rows of pearls on either side of a row of diamonds, above which are diamonds set in the form of a rose, a thistle and two shamrocks which are the national emblems of England, Scotland and Ireland.
Queen Elizabeth also wore Queen Victoria's diamond collet and drop earrings which was commissioned by the Queen in 1858 and worn by queens at each coronation since Edward VII's in 1902.
The Robes
Prior to the coronation she wore the crimson Robe of State. It was 18 feet long, lined in ermine with gold lace and filigree work around the edges. It weighed more than 15 pounds. She continues to wear this robe for each State Opening of Parliament.
After the coronation she wore the 21 foot Purple Robe of Estate which featured an ermine border and cape with a white silk lining. The decoration on the robe comprises a border of wheat ears and olive branches, symbolizing peace and plenty. The Royal School of Needlework put 3,500 hours into the gold embroidery. It is this robe that is featured in all of the official photographs.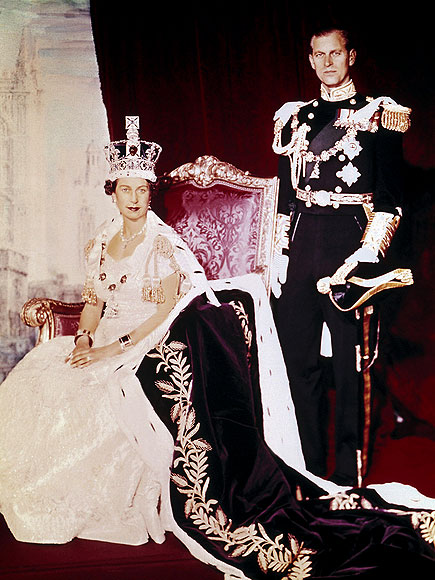 Queen Elizabeth II and Prince Philip, Duke of Edinburgh, Cecil Beaton, June 2, 1953
After her coronation Queen Elizabeth wore the Imperial State Crown. It was commissioned by the Queen's father, George VI, for his coronation in 1937 and created by Garrad & Co. Jewelers. It features platinum, silver, velvet, ermine and over 3,000 stones to include diamonds, rubies, emeralds, sapphires, and pearls.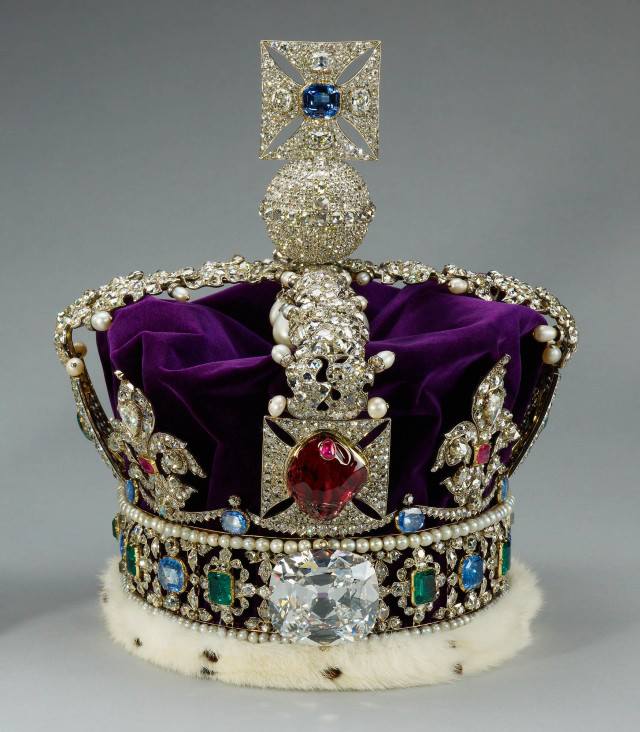 Maids of Honor
The Queen selected six Maids of Honor, instead of pages, to bear her velvet train throughout the Coronation ceremony, it was a precedent set by Queen Victoria. From left to right, they were: Lady Moyra Hamilton (now Lady Moyra Campbell), Lady Anne Coke (now The Rt Hon The Lady Glenconner), Lady Rosemary Spencer-Churchill (now Lady Rosemary Muir), Lady Mary Baillie-Hamilton (now Lady Mary Russell), Lady Jane Heathcote-Drummond-Willoughby (now The Rt Hon The Baroness Willoughby de Eresby), Lady Jane Vane-Tempest-Stewart (now The Rt Hon The Lady Rayne).
Her official portrait features the George IV State Diadem, Queen Victoria's coronation jewelry and the purple Robe of Estate. It also documents her official throne, the imperial state crown and scepter. It was painted by Sir Herbert James Gunn in 1954.
A Mother Once More
Prince Andrew Albert Christian Edward was born on February 19, 1960. He was the first child to be born to a reigning monarch since Queen Victoria.
Queen Elizabeth II & Prince Andrew, Cecil Beaton, Buckingham Palace, March 1960
The Queen's youngest child, Prince Edward Antony Richard Louis, was born on March 10, 1964.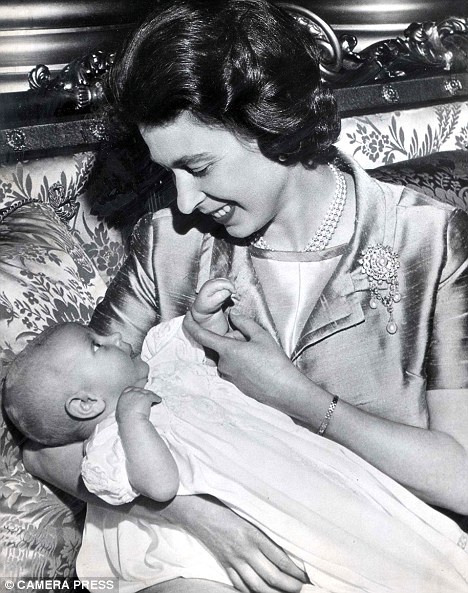 The Queen and her Grandchildren
Left to right, Prince William, Peter Phillips (son of Anne) Prince Harry and Zara Phillips.
Extended Family
Official Portraits
In 1968 the Queen began having her formal portrait made in the White Drawing Room of Buckingham Palace. She wore a turquoise silk sleeveless shift dress with silver floral embroidery designed by Hardy Amies.
Queen Elizabeth II, Cecil Beaton, White Drawing Room, Buckingham Palace, 1968
My favorite image was from a series taken by Annie Leibovitz in March 2007.
The Queen is also often photographed while wearing The Order of the Garter which was founded by King Edward III in 1348. It is the most senior British order of chivalry. The Queen wears the robes of the Sovereign of the Order: the blue ribbon (or sash) and the dark blue velvet mantle, on which is pinned the Garter Star. The star comprises the St George's Cross within the Garter, surrounded by radiating silver beams. St George is the patron saint of the Order.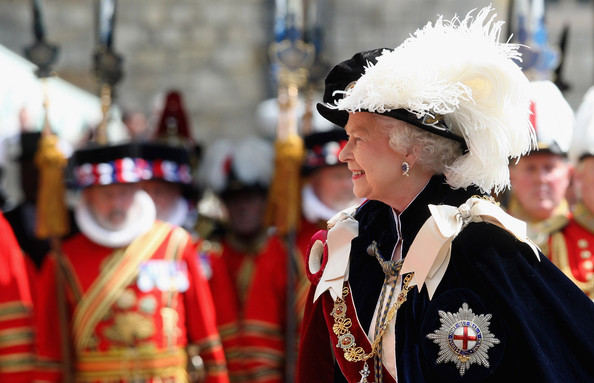 Throughout her 60 year reign Queen Elizabeth's constant companion has been her husband, Prince Philip. They will soon celebrate their 65th wedding anniversary.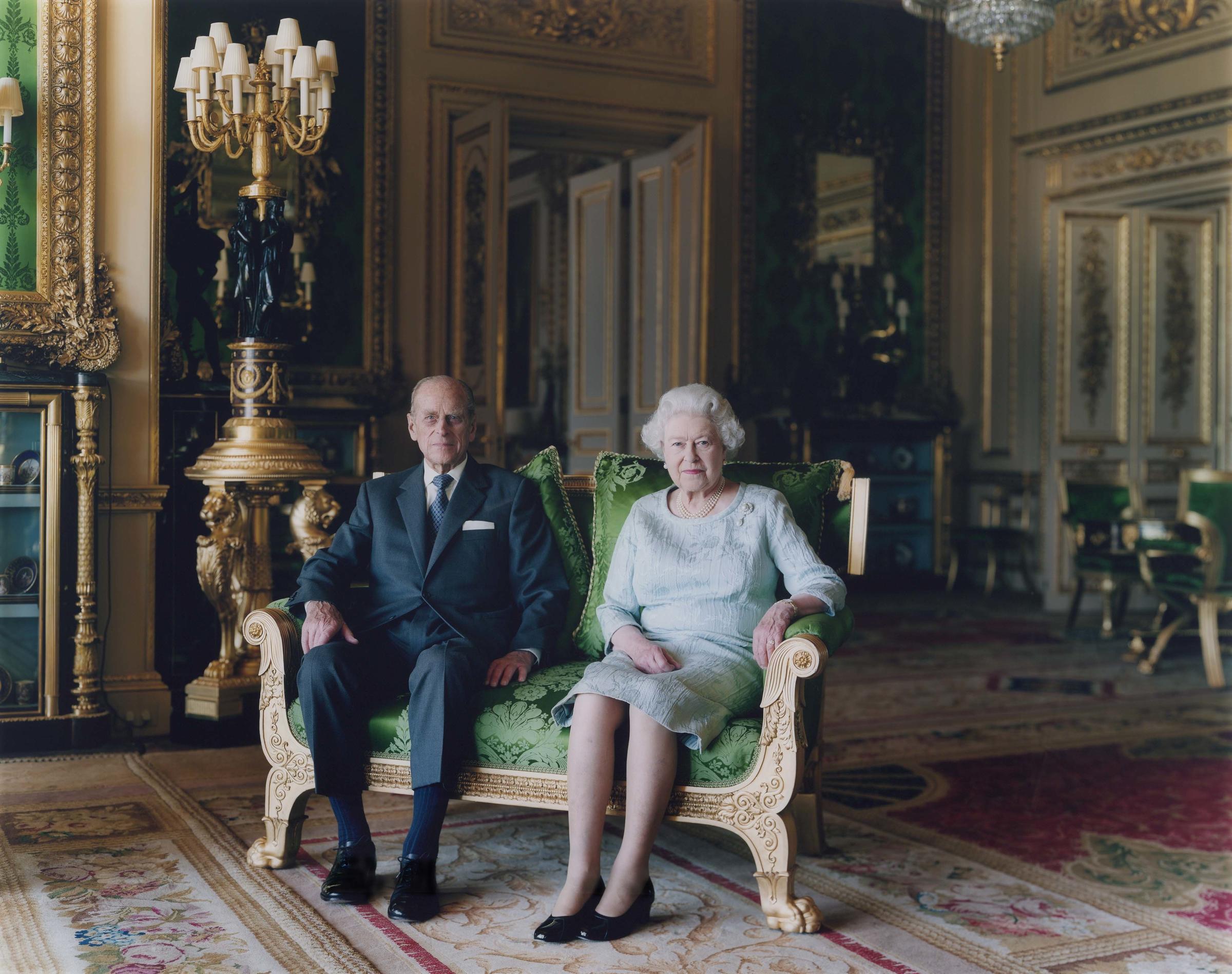 Queen Elizabeth II and the Duke of Edinburgh in the Green Drawing Room at Windsor Castle taken by Thomas Struth.
They recently posed for the official Diamond Jubilee portrait. The Queen wore a white silk and silver sequin dress by Angela Kelly and the State Diadem crown – as well as Queen Victoria's Collet Necklace.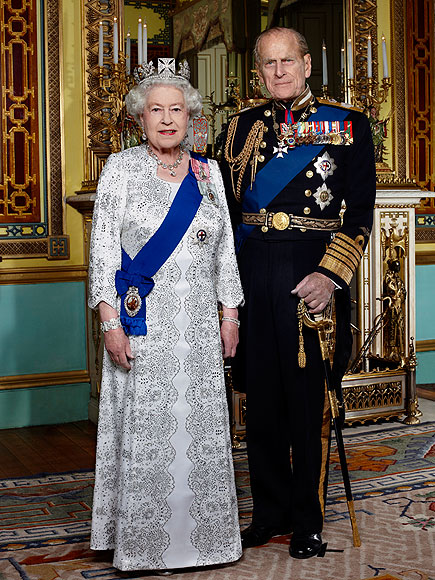 Official Portrait~ John Swannell
It has not been an easy reign. Not only has the Queen had to change with the world, she has faced personal difficulty and tragedy within her family. But she much prefers to focus on the next generation. The Queen has a total of eight grandchildren which of course includes a future king, Prince William.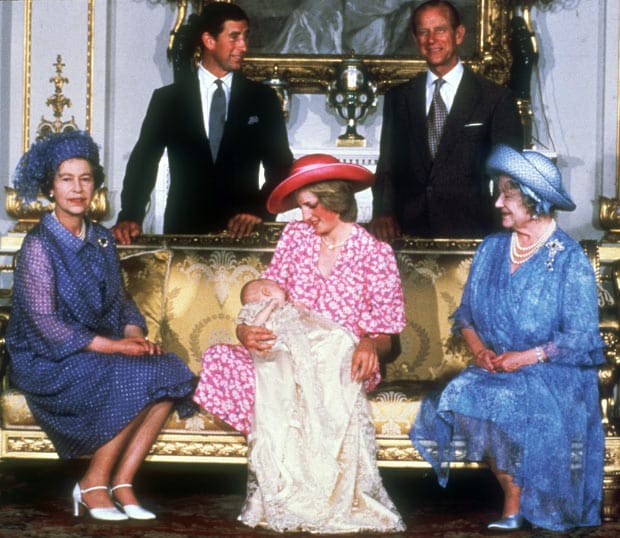 Queen Elizabeth has indeed produced quite a legacy.
To that I say "Well done and God Save The Queen!"
The Duchess of Decor
You May Also Enjoy:
Britain's Longest Reigning Monarch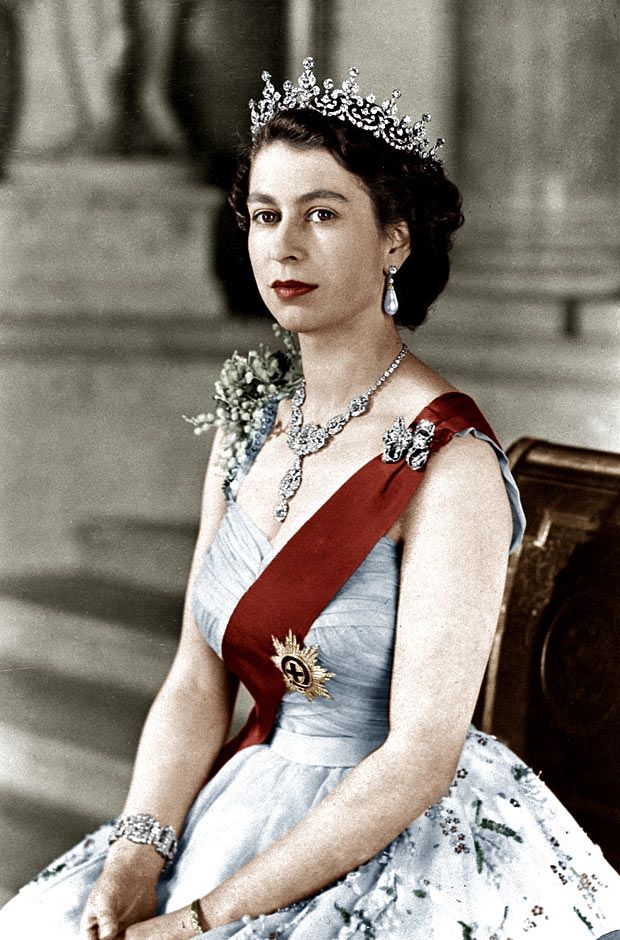 For a complete listing of all the titles the Queen holds please visit this POST.