This week my Grandmother Eleanor, aka "Grandma Jingles",  turns 90. I think this calls for a celebration. The Fashionista also recently had a birthday. Ladies and Gentlemen The Beatles Birthday Tablescape.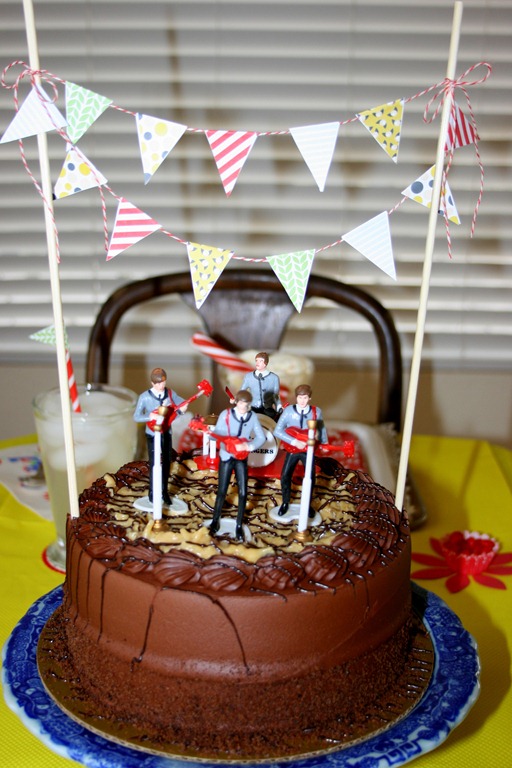 Ladies and Gentlemen The Beatles Birthday Tablescape 
We celebrated the Fashionista's birthday on the 4th. But Grandma likes The Beatles too.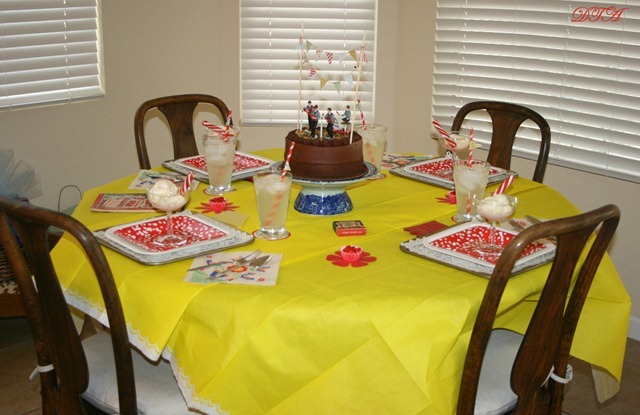 As I have mentioned before my daughter is an old soul who likes mid-century modern and everything vintage. I always keep my eye out for things when I am cruising thrift stores. I found some great old napkins, tablecloth, and a book of party games for mere pennies. The polka dotted plates came from Target and the candy from the Dollar Store.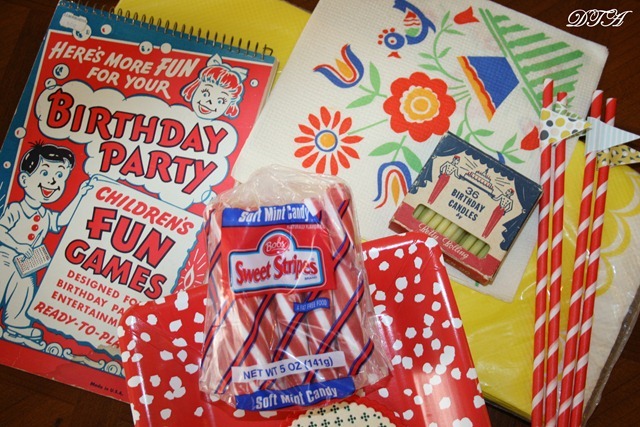 Grandma Jingles sent the paper drink coasters, I found the candles here when purchasing straws on Etsy and the party favors were simple paper die cuts topped with a mini cupcake liner filled with red hots.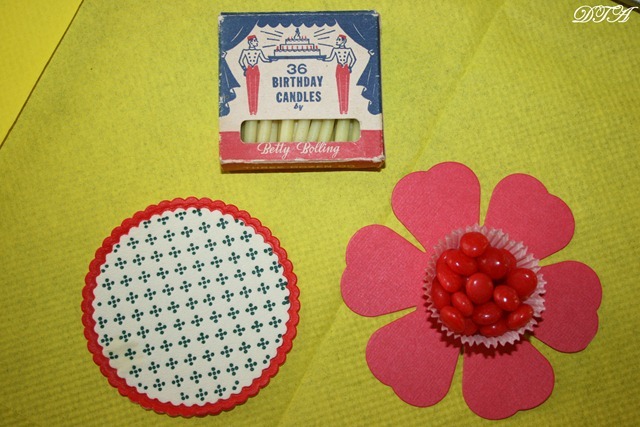 Here's a close-up. I've created similar favors for Grandma's party on Thursday.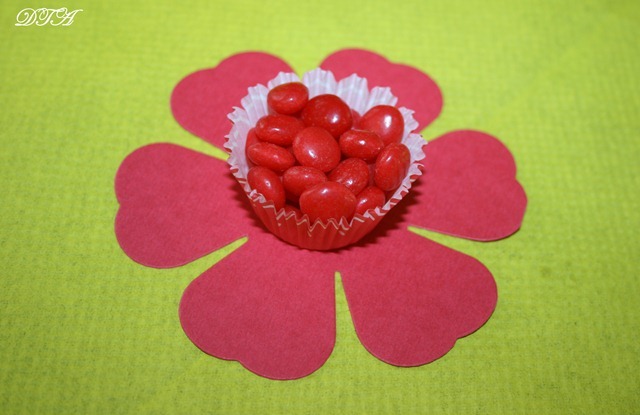 Sometimes I think paper plates are just fine. We used the vintage silver plate though.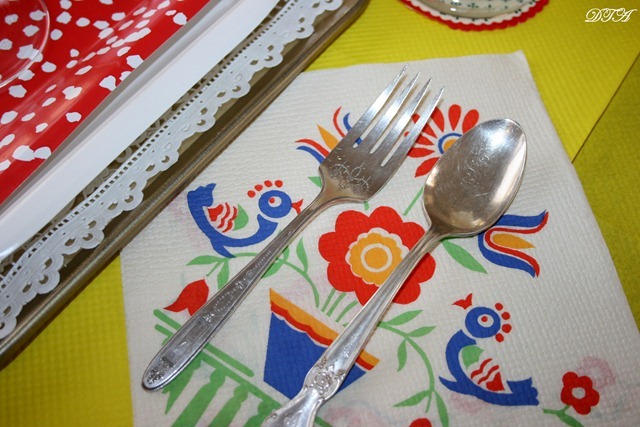 The Cake
A store-bought cake is perfectly acceptable too. Although it did get jazzed rocked up.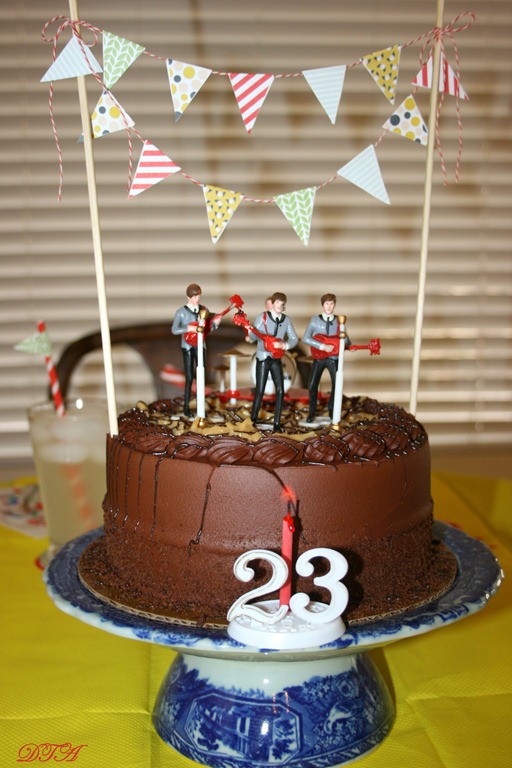 Loved this paper banner. It was a free printable on Pinterest.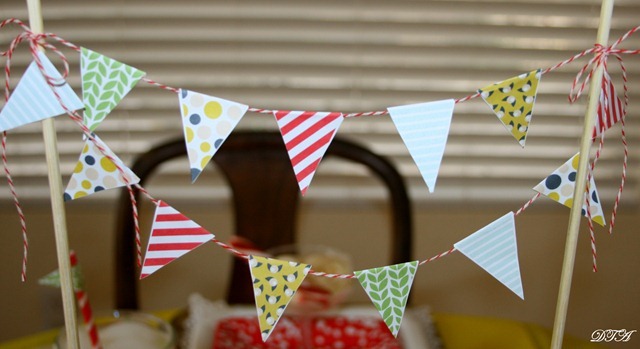 I cut the banner out with scissors and used scrapbooking glue dots. I can never get enough bakers twine.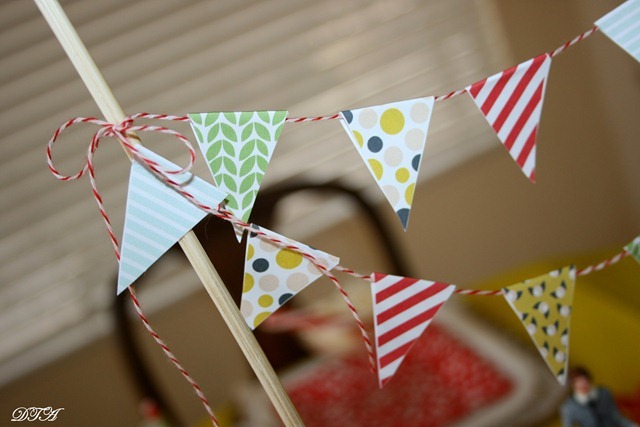 The Go-Go Swingers aka The Beatles were found at my mom's house last September. A true treasure.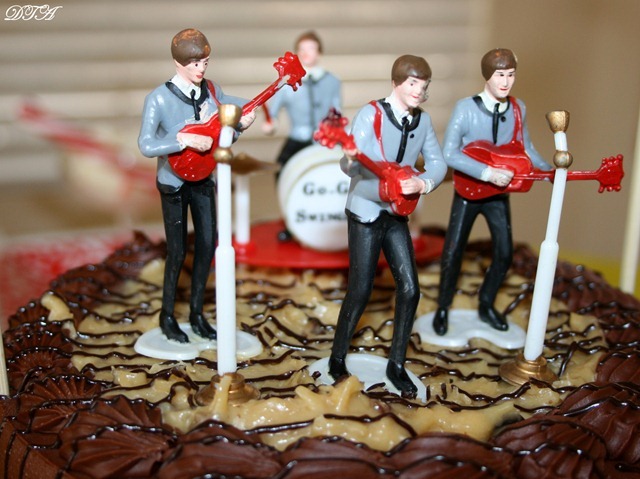 Sadly, George must have gotten too close to a candle one year and now looks like a cyborg. We just try to capture his good side.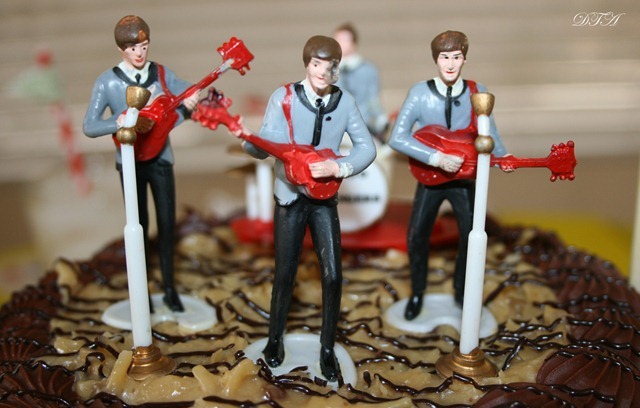 Here's the backside view of the boys.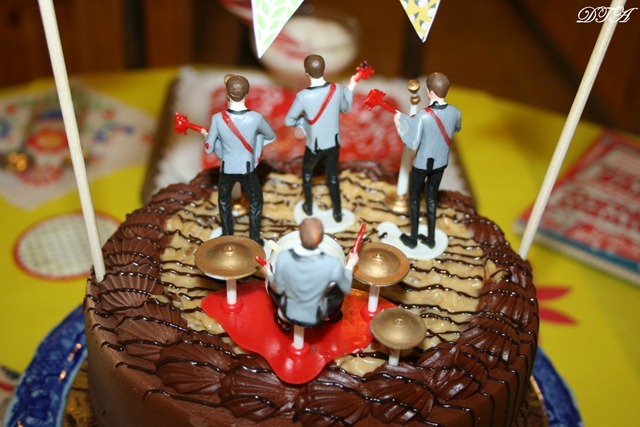 Lemonade was the refreshment of choice. Extra bunting flags were used as straw flags.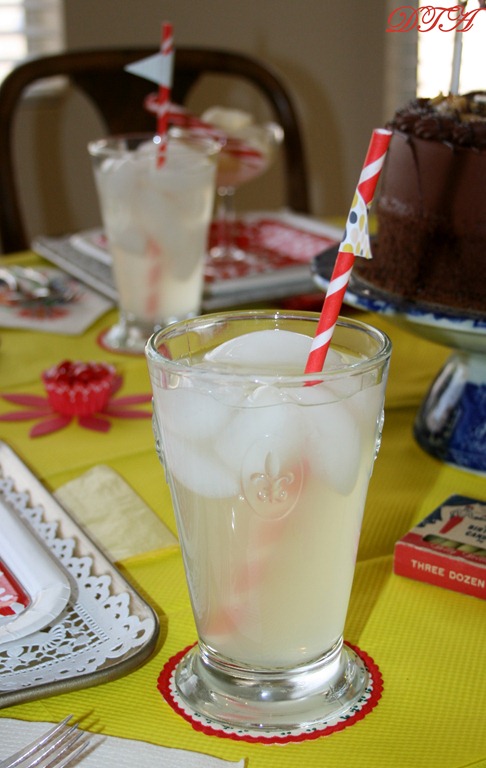 Vanilla ice cream in vintage champagne glasses helped cut the sweetness of the chocolate cake. A big "thank you" to my good friend Miss Marty for giving us the blue cake plate.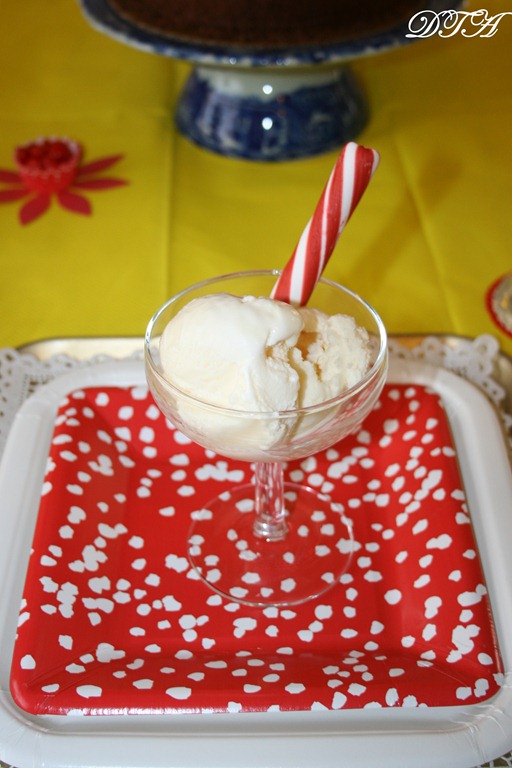 As usual, I had help with the decorating.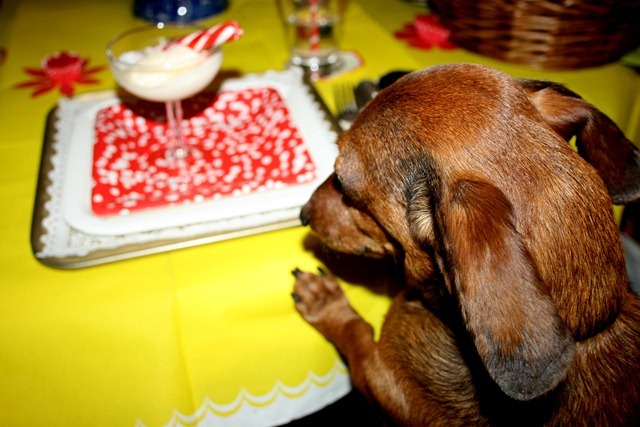 Great Gifts
Her fur boy was SO excited to give her his gift. It was a vintage velvet footstool he found at the thrift store.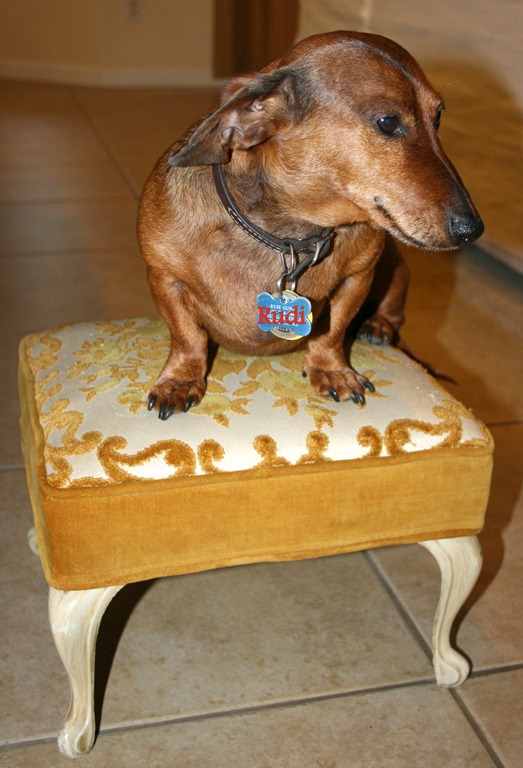 She loved it, as well as the book "Parisian Chic" from her brother.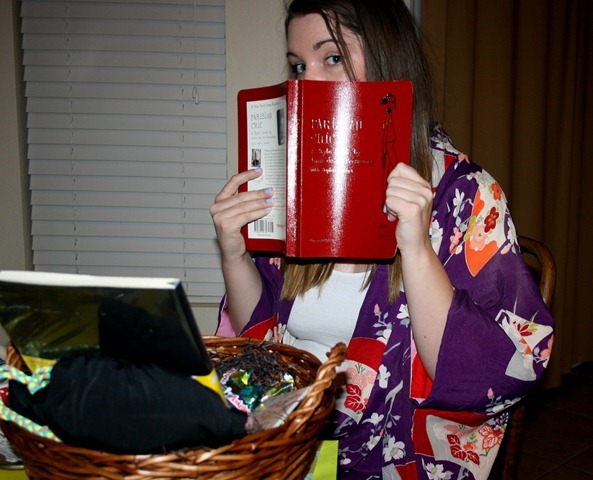 We gave her a pair of coveted shoes.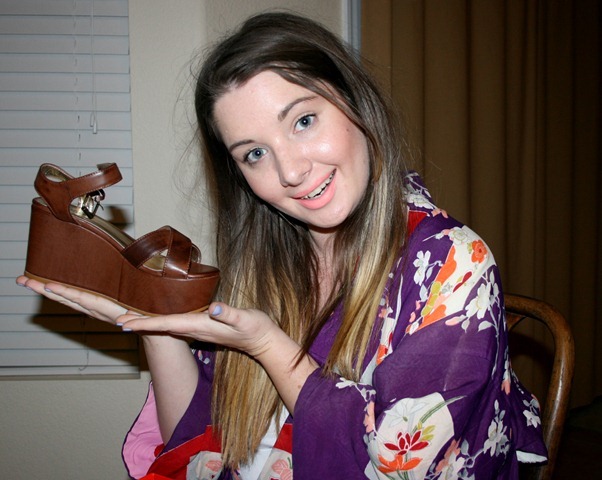 I leave for Minnesota tomorrow but will give you a sneak peek of the party preparations for Grandma's Jingles 90th birthday throughout the week.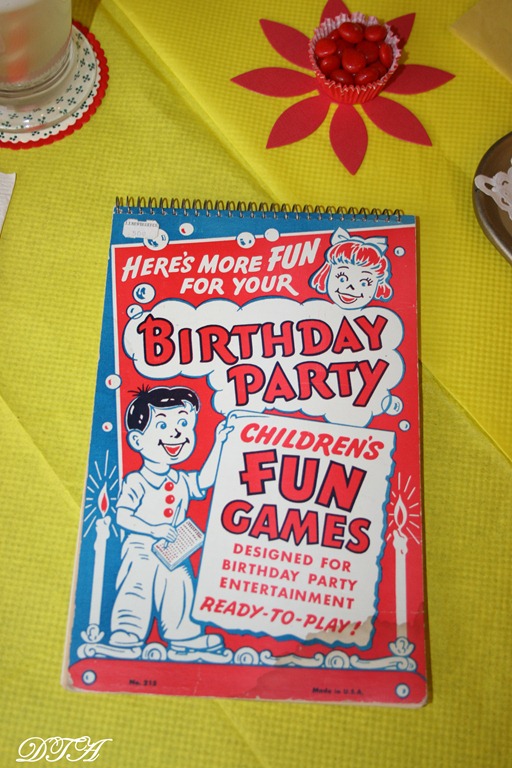 May your Monday be full of fun and games.
Laura