I've been spending a lot of time in the bathroom lately. No, not like that. I've been trying to find a way to fall in love with it.  Strangely enough, 97% of master bathrooms in Phoenix have no doors. Yes, you read that right. No doors. I'd like to talk with the man who thought that was a good design idea. (Yes, I am sure it was a man.) Saying Boo to a Bad Bathroom.
The entryway into our master bath is over 9 ft tall. It would take an incredible amount of good luck finding a door to fit that also didn't have a big custom price tag.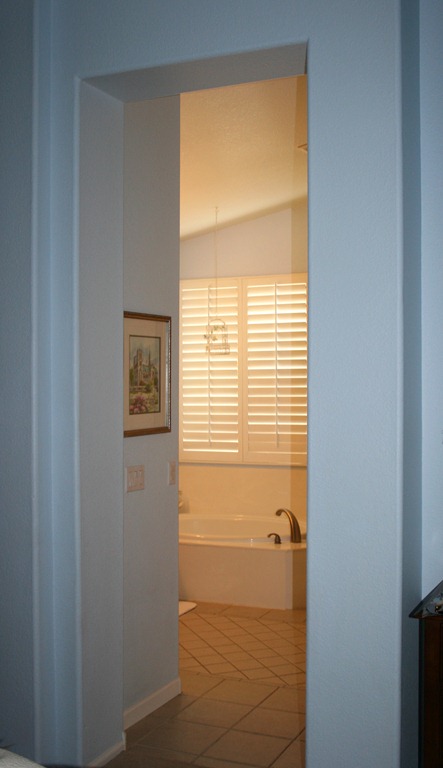 Saying Boo to a Bad Bathroom
I'd love to do a barn-style door, but the cutout niche and dressers to the left and right of the entryway quickly nixed that idea.
 For a moment I even had a wild thought that would have delighted Miss Kitty. But the notion quickly continued moving west.

Because really, swinging doors would not have extinguished the light that blinds anyone who might want to sleep a bit later than the person getting ready. Or eliminate certain bathroom acoustics which really should not be heard. Yes, even after 13 years of marriage. (Let's keep the romance alive Mr. Bad Builder!)
It should be noted that the entryway view looks RIGHT into the shower and bath. Nice.
A Sweet Chandelier
Due to the disastrous real estate market and the fact that our home is now underwater by several thousands of dollars, we have no desire to remodel, so it was time for me to try and love the one I'm with. I had added a vintage planter as a pseudo chandelier awhile ago, but for some reason, I never showed it to you.
Pretty always helps.
The planter was originally yellow, with dark green leaves and featured a red bird. Paint, please! The link chain and hook were purchased from a box store for less than $5.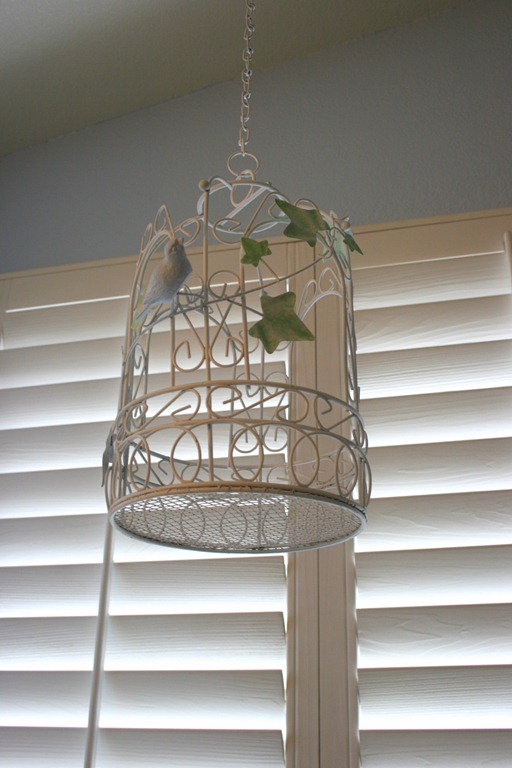 Decanting Bath Products
I am one of those girls who appreciates a good long soak in the tub. Rudi the dachshund also gets his weekly bath here. I decided that I really didn't want anyone to know about my love for Mr. Bubble any longer.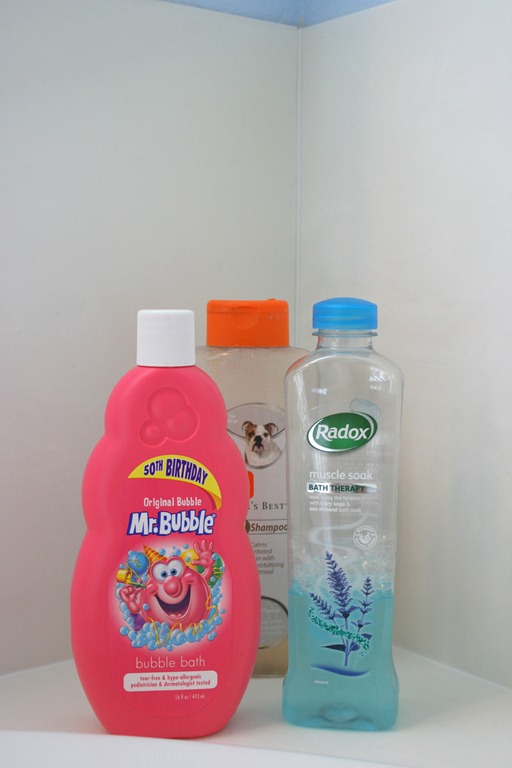 So I raided my kitchen cupboards for some glass containers. Pouring the contents into pretty vessels took all of five minutes and I wondered why I hadn't done this years ago.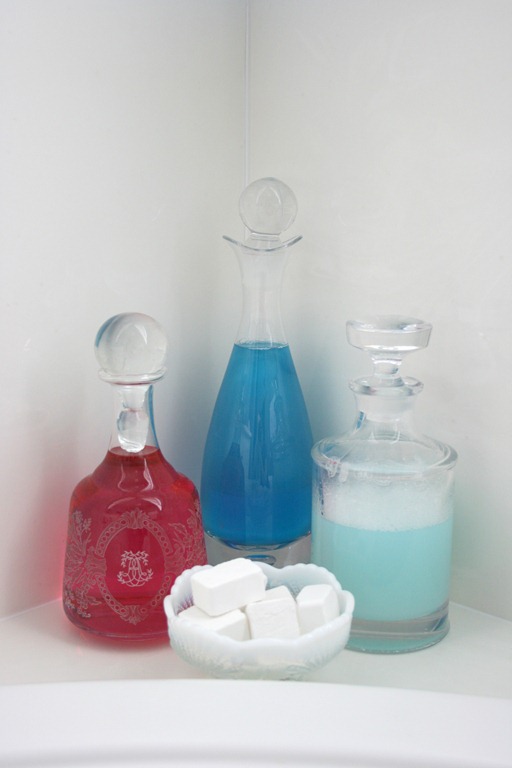 Oh wait! Now I remember, I had small kids. But Sweet Boy is now 10, so glass around the tub is now ok. This liquor decanter was found at the thrift store for $3. It makes me think of Marie Antoinette. Happiness has now been bottled.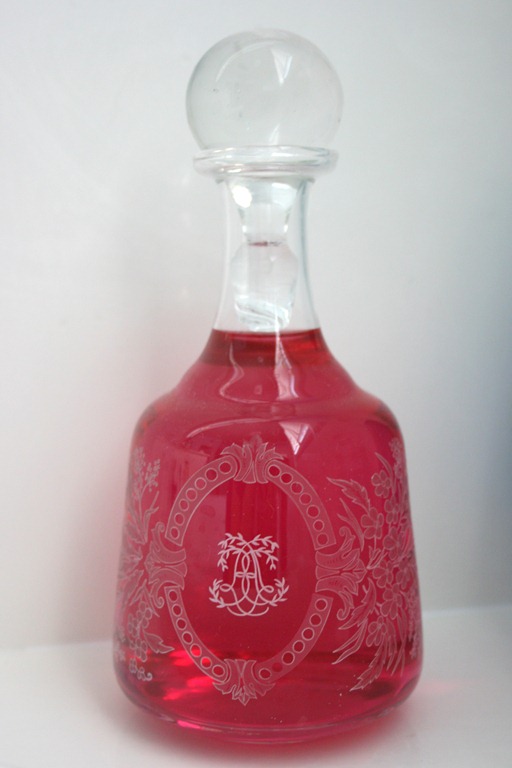 For those of you who do have small children, Wal Mart carries some great plexi glass containers which I talked about HERE.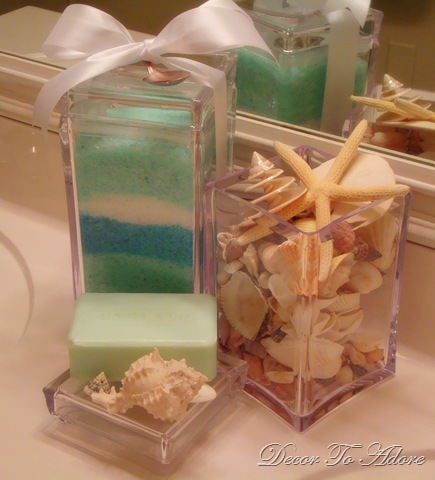 Displaying Antique Towels
I also didn't like the view while in the tub. It was no fun looking at the shower glass or generic towel that originally hung here.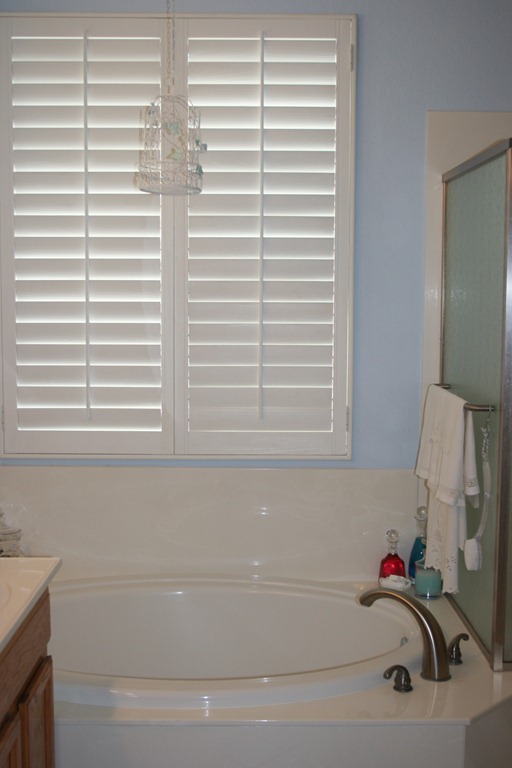 So I decided to change the focus of a ho-hum terrycloth towel with a few of the vintage and antique hand towels I collect.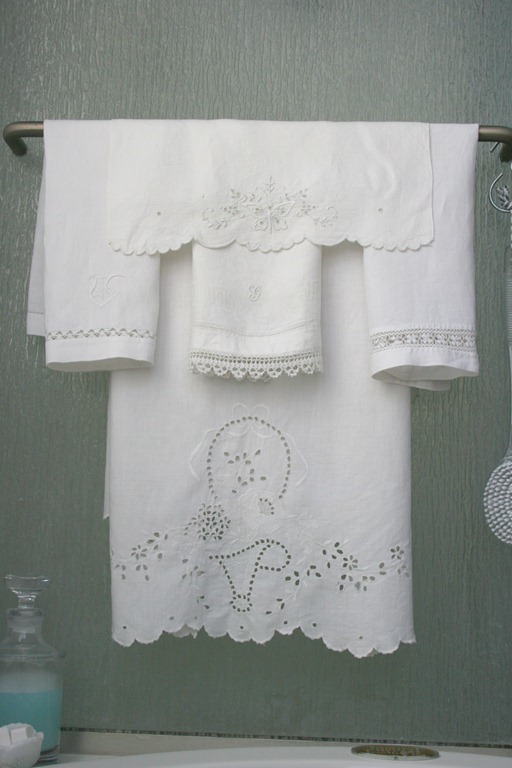 I also hung my back brush from a small hook. I think it looks a bit neater than just laying on the side of the tub.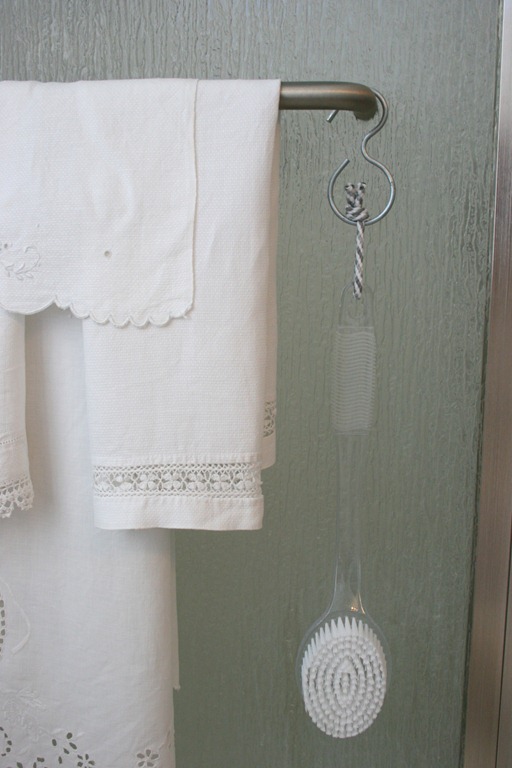 The view was greatly improved!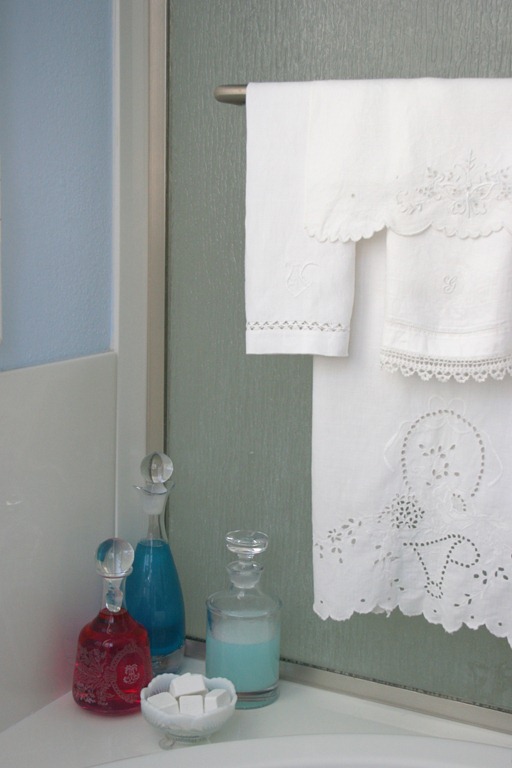 A few pretty soaps were collected into a glass canister.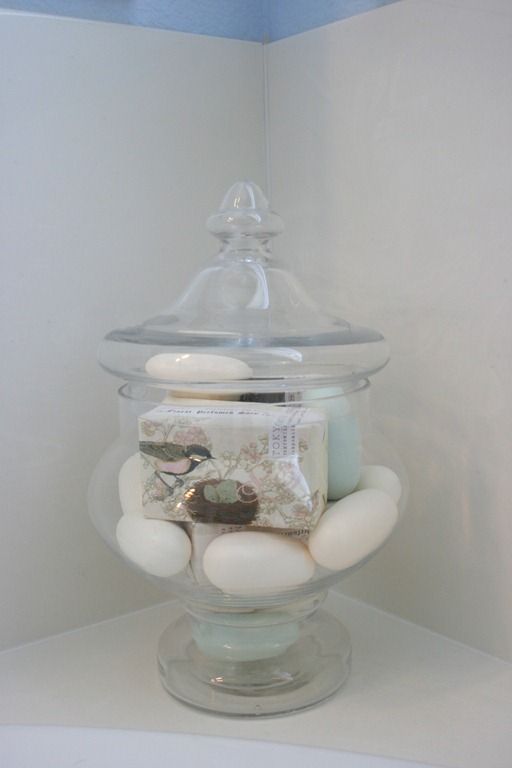 New Bath Mats
The other issue that was causing me to have hateful thoughts was that my bathroom is apparently allergic to latex. In the 7 years, we have lived in this home I have purchased countless bath mats. Some have been expensive and some have been bargains. It doesn't matter, within a few months they all look like this on the back. (YUCK!)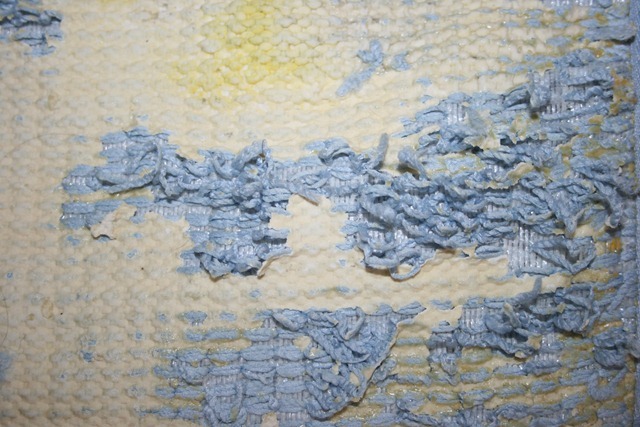 I wash the mats regularly and line dry them. But I guess the ultra-dry desert conditions we have here just ruin the latex backings. What I really hated was that I spent WAY too much time cleaning and scraping sticky goo off of my tile floors.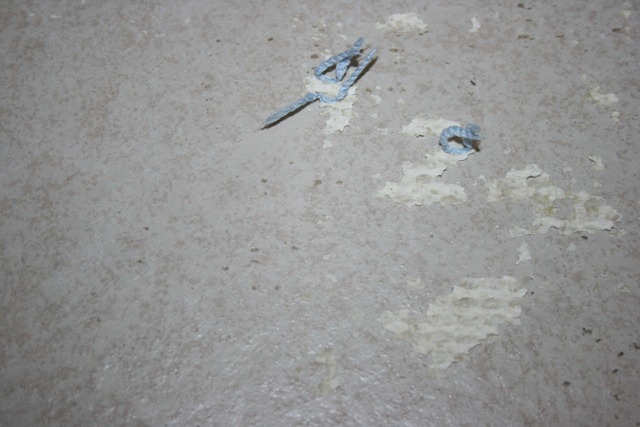 Enter all cotton mats I found at Homegoods. $9.99 for two ~ woohoo! Latex is gone.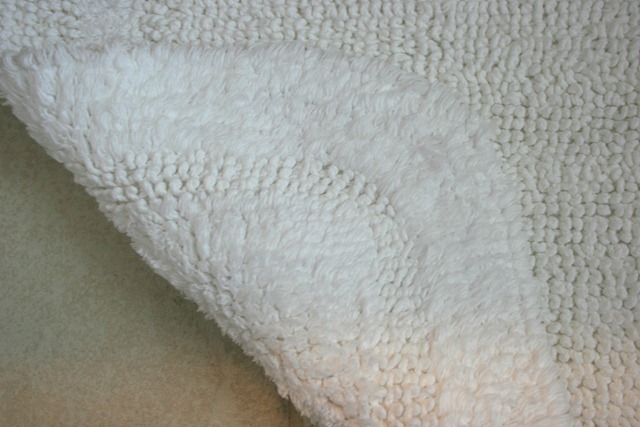 And yes, I, of course, have products that I left in their original containers. They are tucked behind the vanity so that the general public can't see.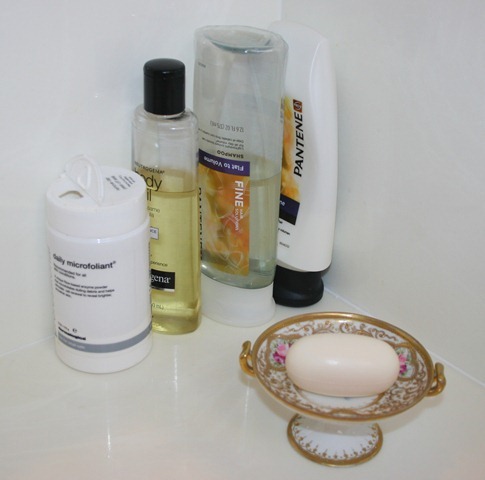 So now you know my ancient Chinese secrets. I also really love my thrift store soap dish.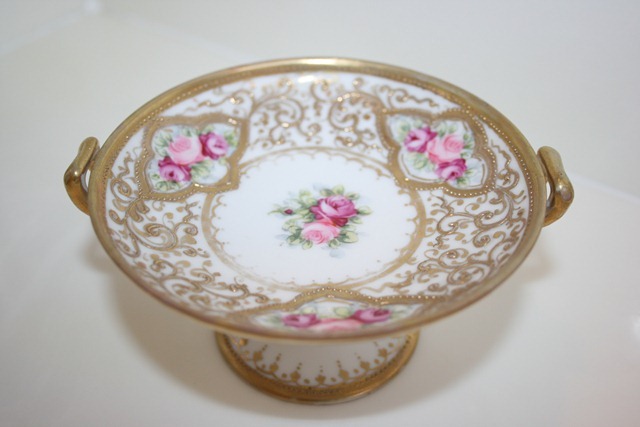 While I still don't exactly LOVE my bathroom, I am liking it a bit more.
Laura