I don't think I have ever blogged about my neighborhood during Halloween. We are blessed to live in a cul ~ de ~ sac of kindness. Phyllis always sets up a candy station in her front yard first. Ponce plays music all night long and Alan delivers refreshments via a wagon and a cooler.  It's so much fun that my kids actually prefer to remain in "the circle" and pass out candy then go begging for it door to door. Every year I make a little something special for the neighborhood kids. (Click HERE for details.) Here is how to create A Spooktacular Setting.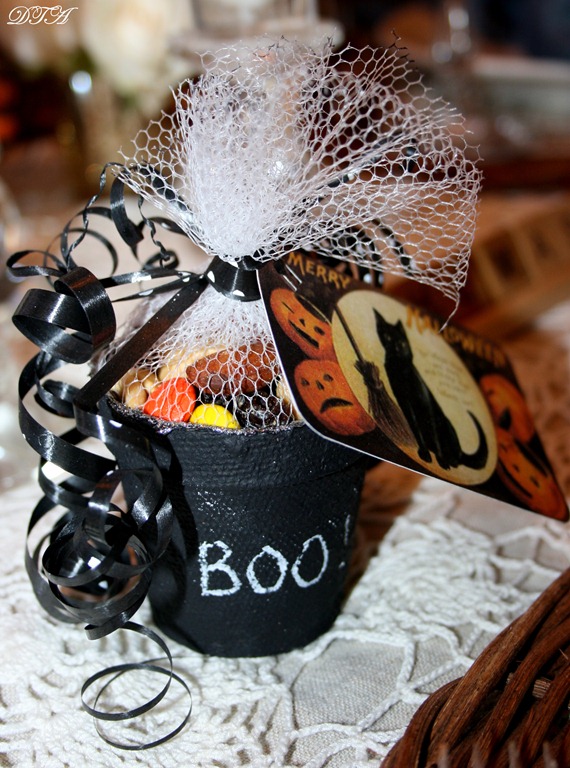 A Spooktacular Setting
Like many a mom before me, I try to get a bit of a healthy dinner with my kids before the sugared gluttony begins. So a spooktacular tablescape is required.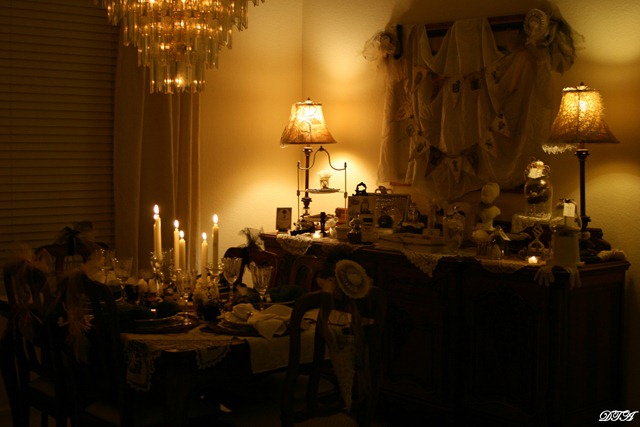 This years theme was an abandoned lab of a mad scientist.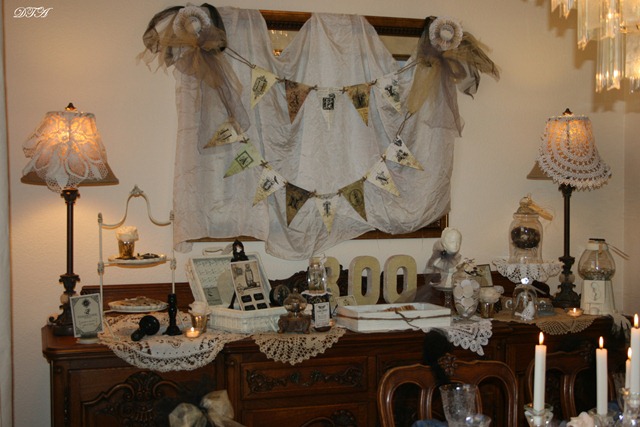 The Living Room
I covered the furnishings in the adjoining sitting area with antique Metis sheets ~ much like you would find in a vacated estate. I added in a few ticking pillows for accent.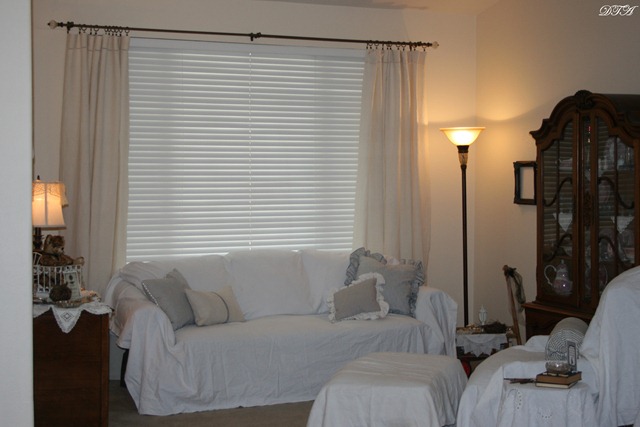 The little side table received a few old keys and a darling printout from Mine for the Making.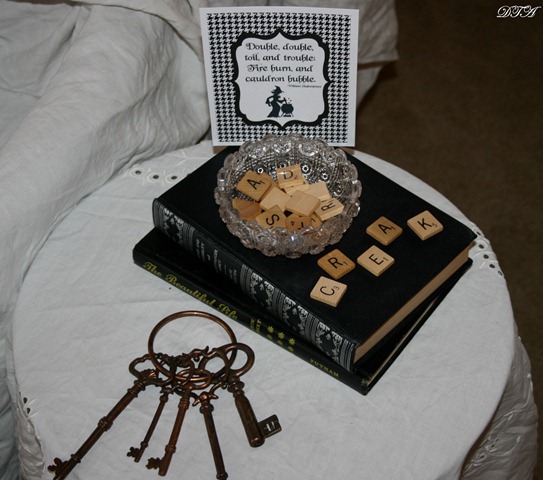 The small chest received a tongue in cheek vignette of an antique teddy made from… werewolf hair.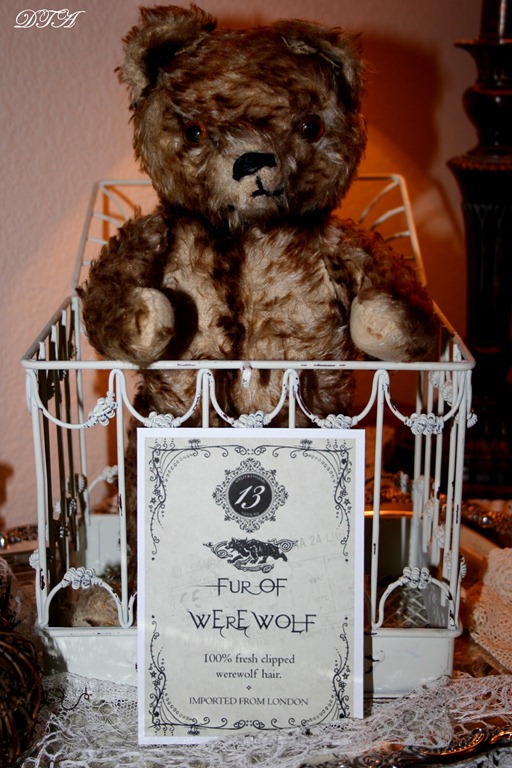 (Printable found on Pinterest. If you know the source please let me know so that I can provide the credit.)
I adore this sweet twine pumpkin which arrived in a lovely swap package of goodies I received from Lynn.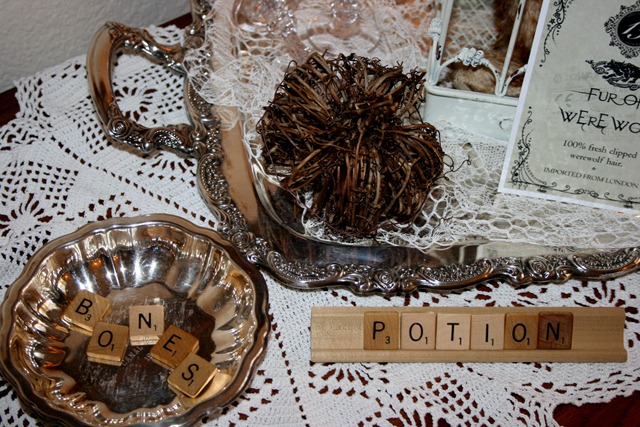 The Dining Area
Next, I covered the picture in our dining area with two pieces of antique silk I had stored away. I didn't bother to hem or iron it.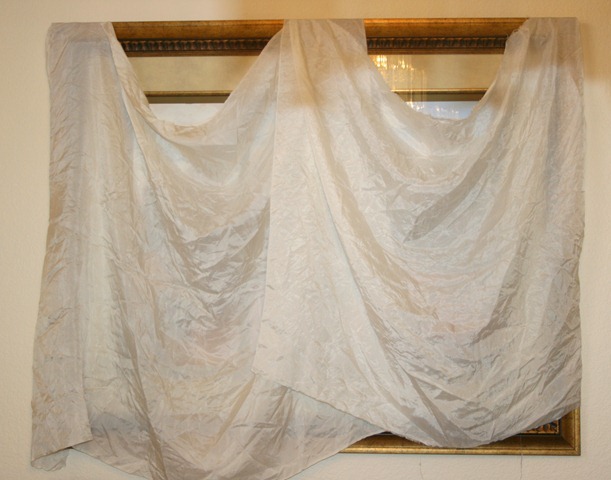 Last year I had printed out a cute Halloween banner by Moselle. I finally got around to making it this year.
After cutting out the pieces of the banner I embellished it with Stickles glitter. The banner was tied together with a bit of twine.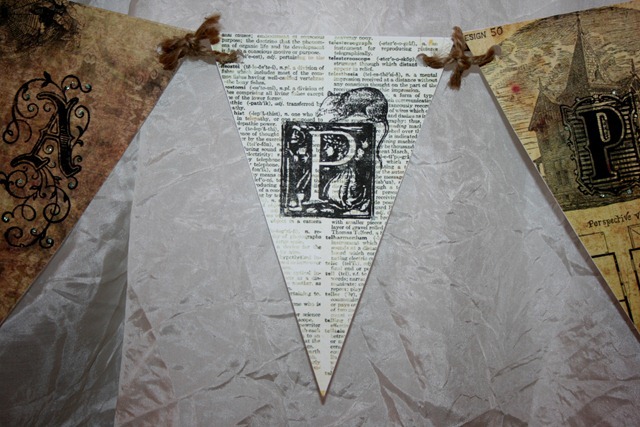 I thought I had made the end ties long enough to fasten over the picture, but I was mistaken. As I was now out of twine and determined not to spend ANY money on this vignette I got resourceful and pulled out some black and gold netting to lengthen it to fit.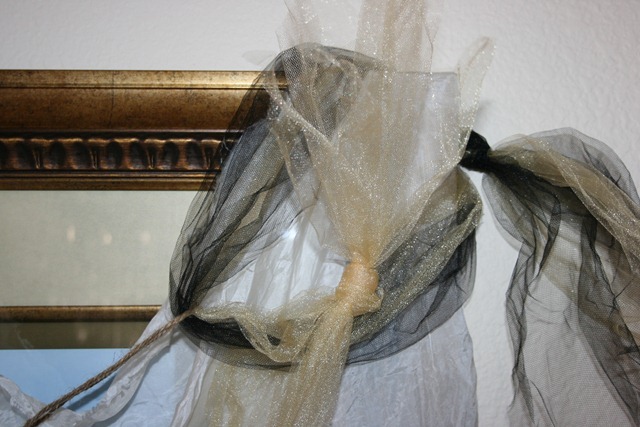 Making Rosettes
Uh, it looked ridiculous.
So I just covered it up with some prize ribbon rosettes I made. (Click HERE for details.)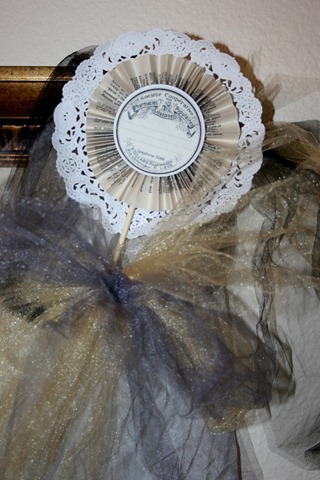 I then went around the house and gathered up everything I owned in a neutral color palette. Of course, this French bust doesn't look very festive right now…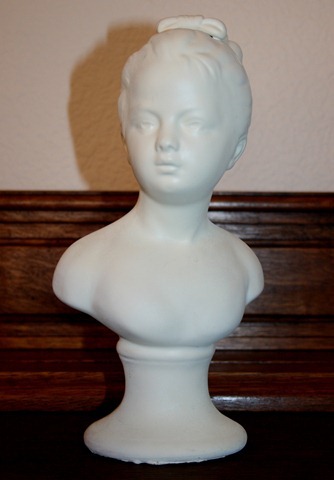 …but if you add a netted bow and a piece of Victorian mourning jewelry she fits right in.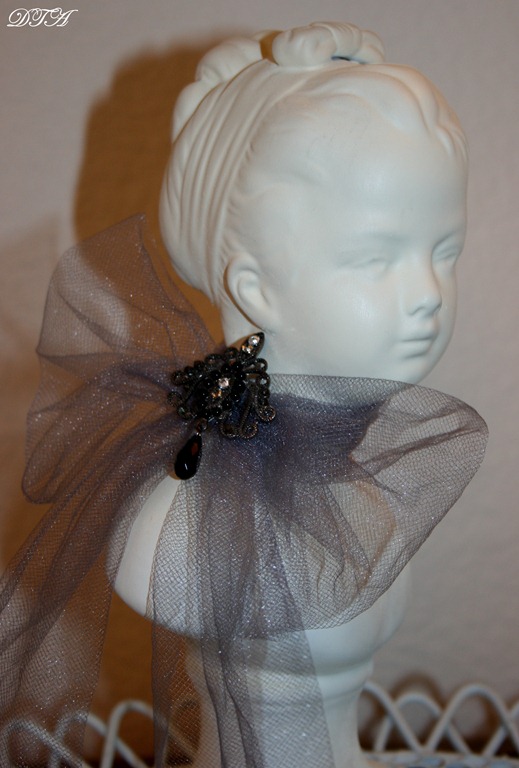 The Tablescape
In a nod to Nester I layered every runner and doily I owned to create a base on the tabletop and buffet. Again, I didn't bother to iron any of the pieces.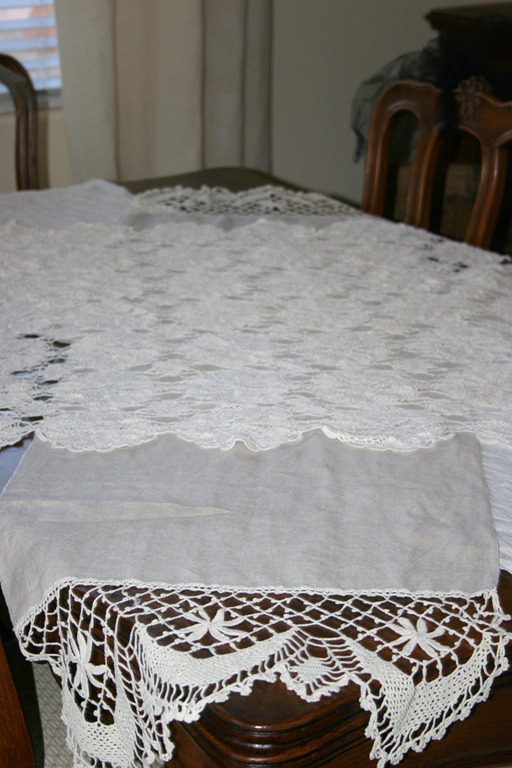 I added my well-used wicker chargers, some vintage paper doilies (it didn't matter that they were ripped) and the mercury votives I purchased at a post-Christmas sale at Target.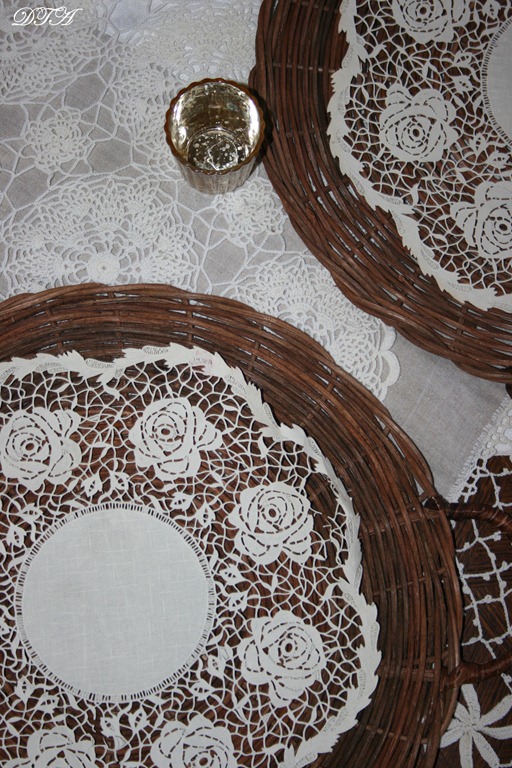 The votives were used to hold white roses from a giving neighbor's garden.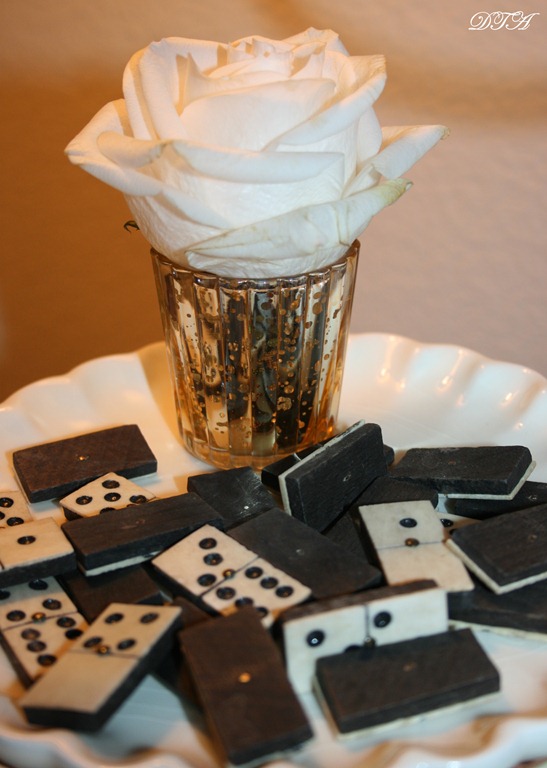 The chargers were topped with our everyday dishes and antique linen napkins. The "G" on the napkin ring stands for good goblins of course.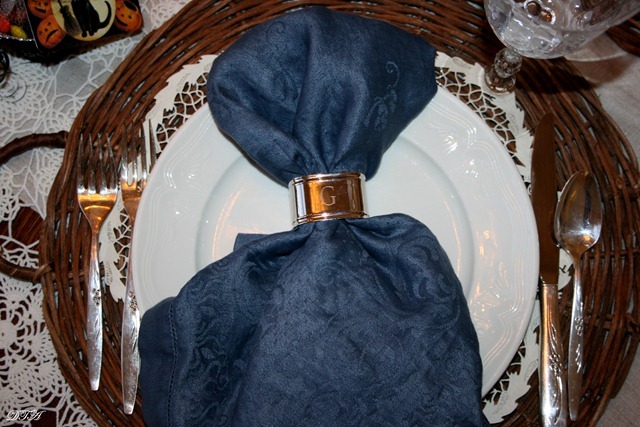 The "B" monogrammed napkins make for a beautiful "boo".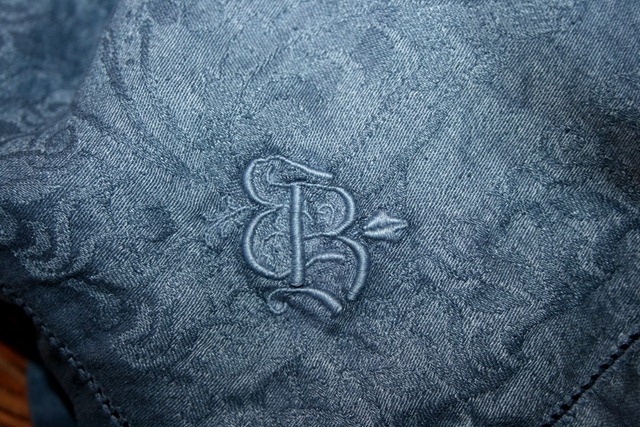 Vintage scrabble tiles are always fun.
The Sideboard
The sideboard was loaded up with everything a hoarder mad scientist might need.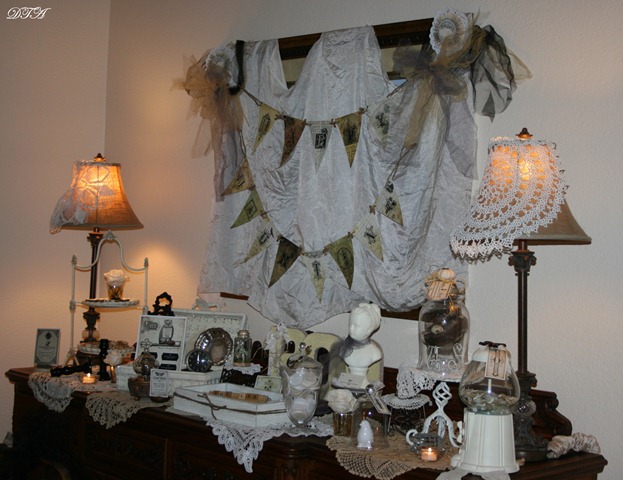 Luna moth "eggs" were nestled in a silver egg cup that Sweet Boy had received at his christening. The clock in the background was, of course, stopped at midnight.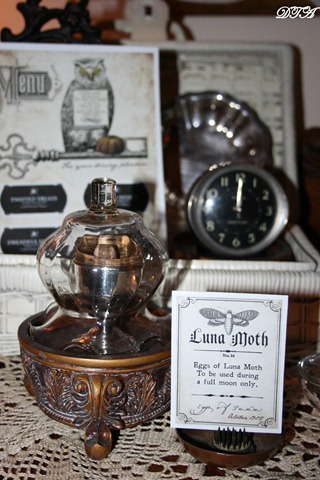 (Printable from the uber talented Second Sister.)
Apothecary bottles and cloches were filled with a variety of natural substances.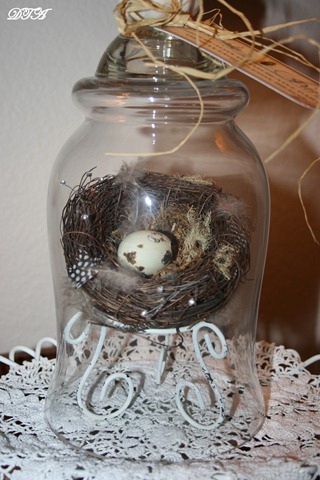 This petrified fairy was bottled by Janna.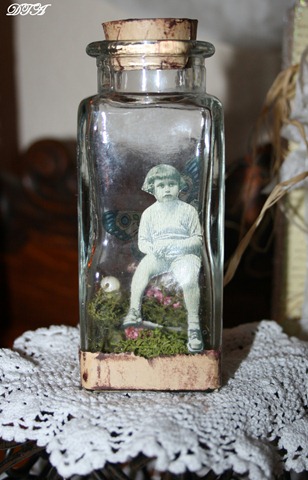 Boo Letters
Antique glass glitter sparkled on some simple letters. (Click HERE for details.)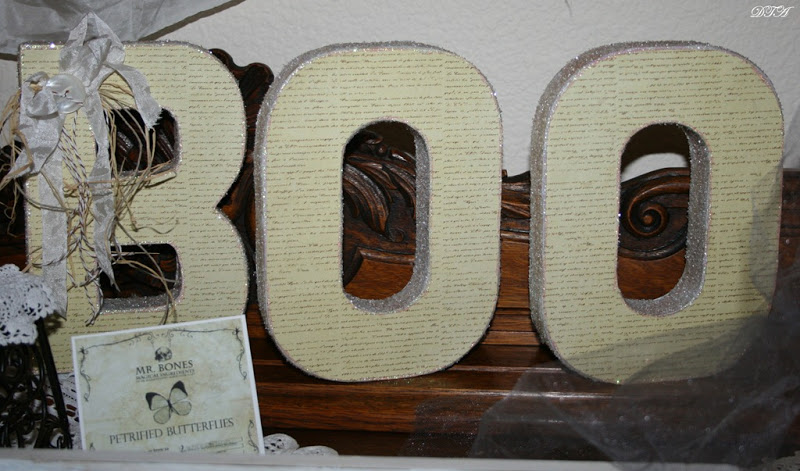 On the back of each chair, I tied a sweet treat. (Click HERE for details.)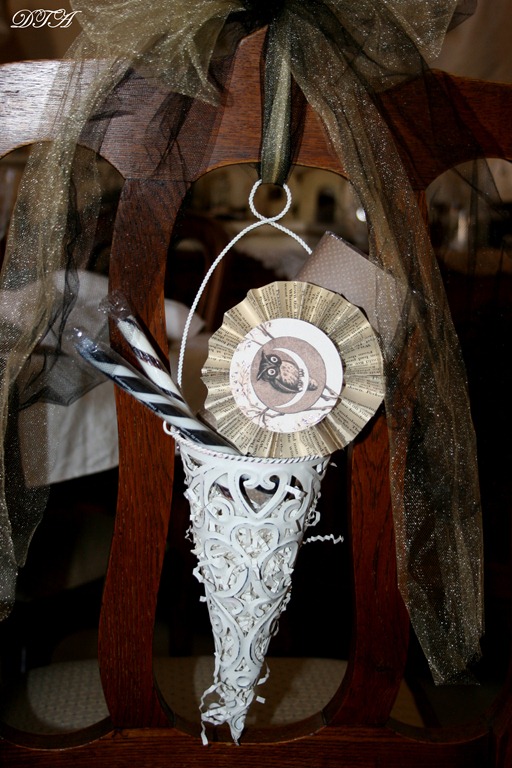 Individually nothing makes sense, but all together it's ghostly glorified goodness.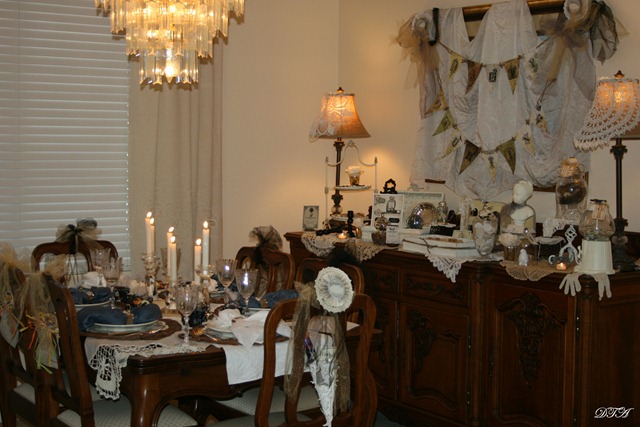 Are you creating a Spooktacular tablescape?
Laura