Is it too early to begin Valentine posts? I'm wondering since I just celebrated the 12th day of Christmas, 3 Kings Day, also known as Epiphany, yesterday. How did I celebrate? I took down my tree and made a huge pan of brownies. Life is Like a Box of Chocolates Tutorial.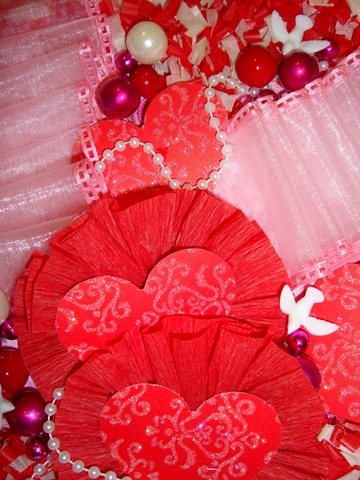 Life is Like a Box of Chocolates Tutorial
I just adore Valentine Day. I have, in the past, been the recipient of a few lovely valentines. Last year I was in a swap with the delightful Cupcake DD and she sent me a lovely altered box chock full of wonderful things. It inspired me to save my family's candy boxes last year and add my own bit of fancy.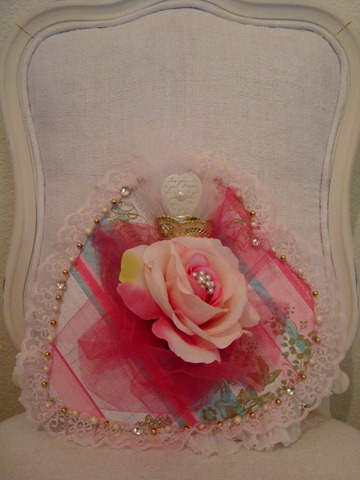 Now of course if you didn't happen to save last year's candy box you can do one of two things. Use another type of box or go to store, buy a heart-shaped box and eat all the contents immediately. (I like choice number two.)
Once you have an empty box you can embellish the edge in a variety of ways~ ribbon, lace, crepe paper. I had crepe paper on hand and decided to create a pleated edge. You could also gather your crepe paper in a ruffled edge. To attach your embellishment use white glue, a glue stick (my choice, Coccoina) or a low temp glue gun. Fold and glue, fold and glue, fold and glue until you want to throw the box in the trash. Hee Hee.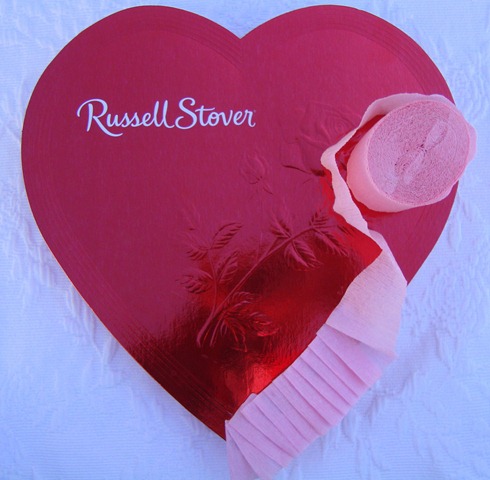 I am going to tell you that it is ok if you do not have perfect pleats.  I am sure there are people out there that pleat their edges while also holding a ruler, but I am not one of them and you don't have to be either.  Next, cut a shape to fit the interior space to cover it. I used scrapbook paper, but could you imagine this in velvet~ yum!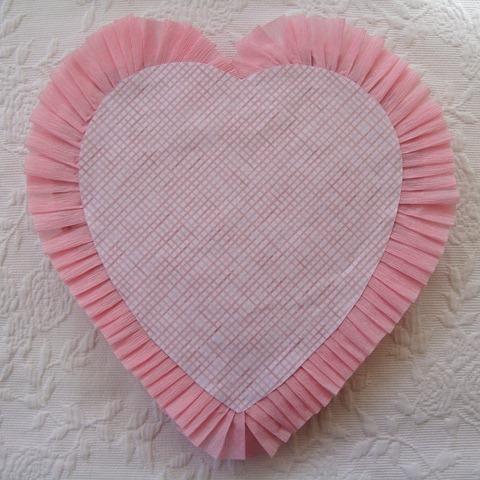 You can now start to embellish the top of the box. On a few of the boxes, I added a second layer of fringed tissue paper (it also goes by the name of festooning) which you can purchase at scrapbook stores or on Etsy.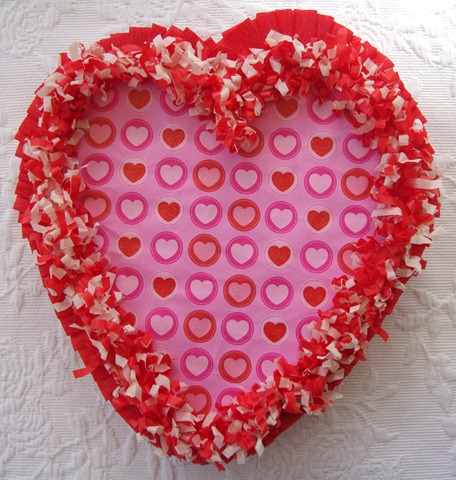 From there I just got creative and added folded ribbon, crepe paper rosettes, punched scrapbook shapes, plastic doves, pearls and whatever else I could find in my pink, red and white stash.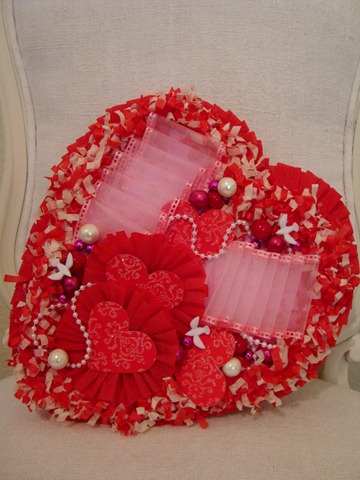 Sweet little paper doilies make fantastic cones.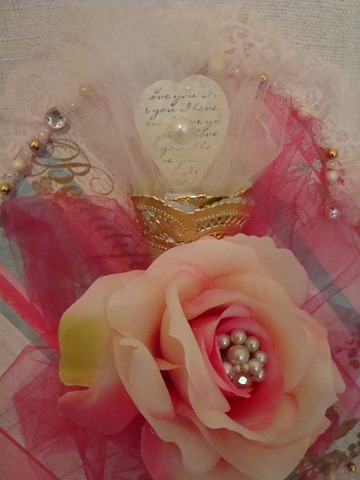 Here is the Fashionista's favorite.
Her box features a sweet Valentine cone that my dear friend Miss Sandy had created for me a few years ago.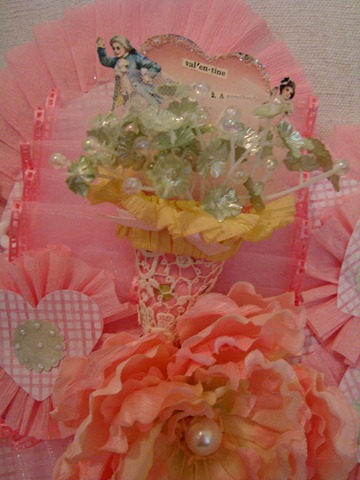 Each box has tons of layers and textures. I love this close up shot of folded ribbon, roses and crepe paper rosettes.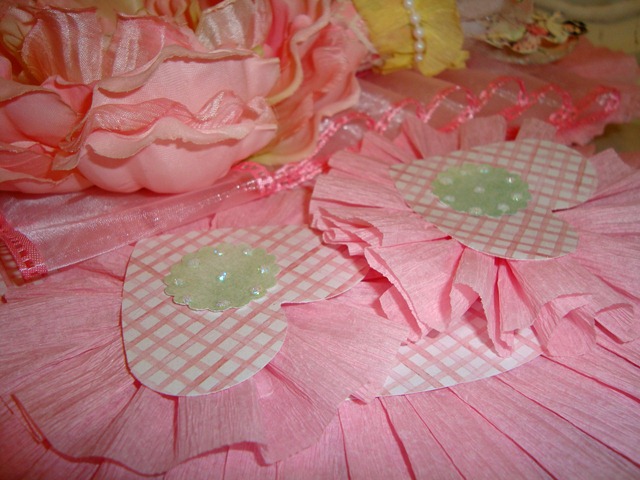 The lovely Candice Carpenter has several wonderful tutorials on ribbon folding and creating rosettes, among others, on the right-hand sidebar of her blog.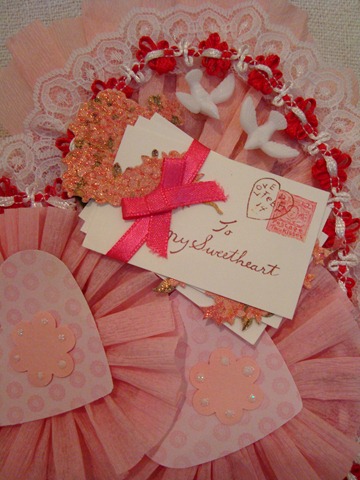 Even teeny tiny boxes received some sweet treatment.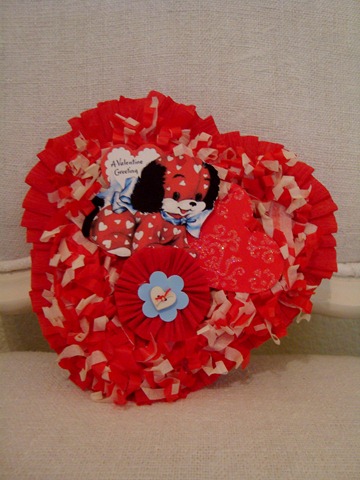 This box will hold enough new Lego pieces to make an awesome starship. Two guesses who it is for.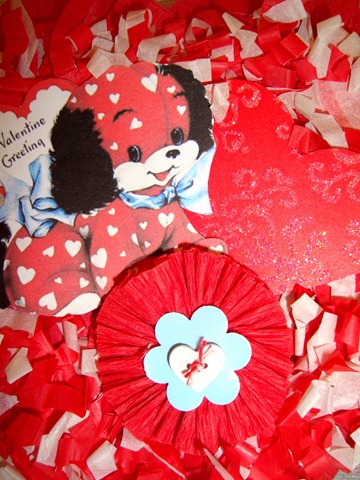 So what will the other boxes hold? A whole lotta fun. Lace, ribbon, paper, ephemera, and small bits of candy. But I can't show you as they are headed to the homes of a few lovely ladies that I am swapping with and I want it to be a surprise.
What Valentine surprises do you have in store?
Laura