For the past several weeks I have been fairly absent from blog land. I hope to make up for the lack of posts and comments with the first of several tutorials of the projects that have kept me away from the computer. One of the largest projects I created was a painted floor cloth to use in our 
Metis Linens
 booth at the Rose Bowl. It was very worth the time and effort, as it gave our display a finished look and elicited several "ooh's and aah's". Here is a Tutorial Creating A Painted Floorcloth.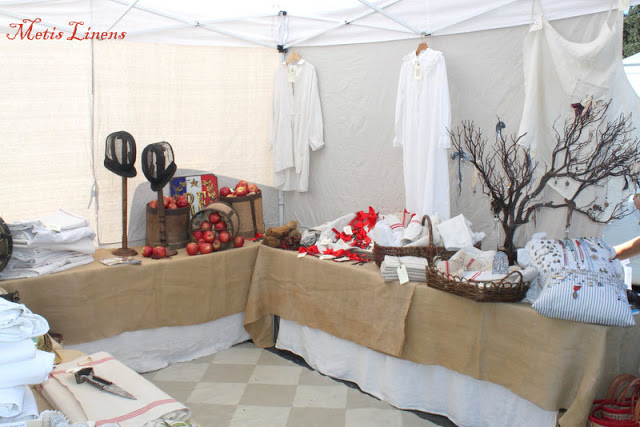 Tutorial Creating A Painted Floorcloth
I read several articles on painted floor cloths. 
Martha Stewart
had a good tutorial. While she recommended using cotton duck as the paintable canvas, it was a bit out of my budget so I decided to try a simple and inexpensive painters drop cloth. After I laid the cloth out I decided that it would be best to iron it for a smoother surface.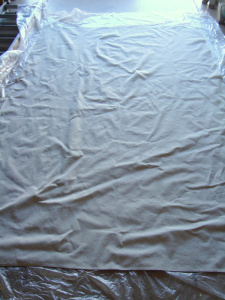 I purchased white acrylic artist gesso from the local arts and craft store. It can be expensive, so use a coupon. Gesso is the medium that preps your painting surface and gives it a firmer texture. I applied two coats. A big mistake that I made was using a cheap paintbrush. What a nightmare! The gesso globbed onto the surface and I had to keep picking loose strands from the brush out of the paint.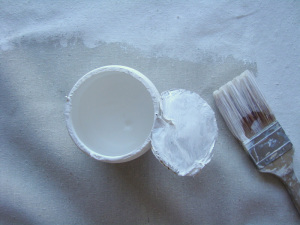 Invest In a Good Paintbrush
Don't make my mistake. Invest in a good paintbrush right from the start. I selected the
Purdy paintbrush
and it was perfect. It delivered smooth, even strokes of paint and best of all there were no loose brush bristles.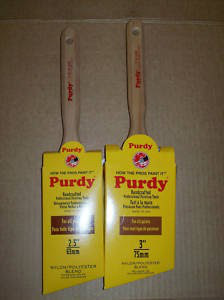 I wanted to create a diamond pattern, so I used some leftover flooring tile I had as a template. You could use any stencil pattern as well.
The use of blue chalk lines really helped in keeping the pattern straight. The angle of the XL 2.5″ Purdy paintbrush worked well in creating the sharp diamond points.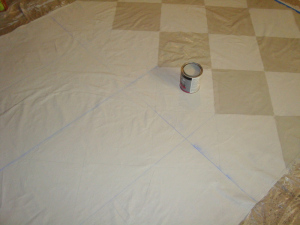 I selected Pratt and Lambert Appaloosa 33~28 as the base and Silver Mink 33~25 for the darker squares. It required just one coat. I let it dry for over a day and then applied one coat of satin finish clear varnish to seal the cloth as it was going to receive quite a bit of foot traffic. The varnish will also allow me to run a damp mop over the cloth from time to time.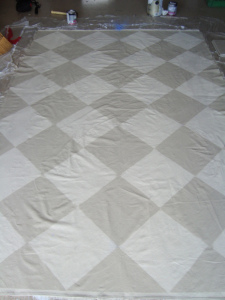 Truth time. This wasn't a tremendously hard project, but it did take 3 days to finish due to the drying time that each coat of gesso, paint, and varnish required. I agree with Martha that stapling the canvas onto a sheet of plywood or old door would be MUCH easier. It was a little tough to paint the canvas just lying flat on the ground. But due to the large size of canvas I was creating, the plywood would have cost more than the finished project so I opted not to do this step.
I think the end result was worth the time investment. What do you think?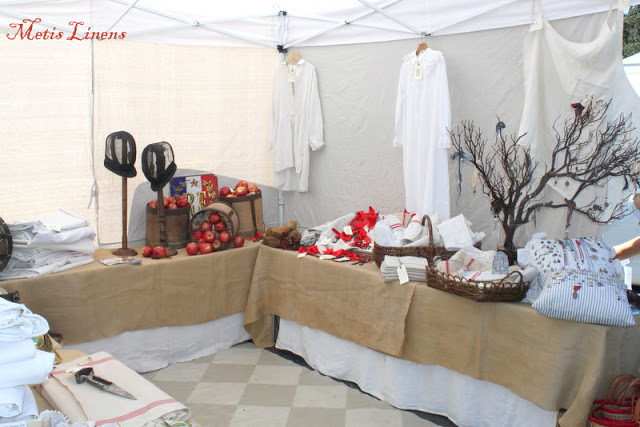 This project would be great in a breakfast area or outdoor living space. Let me know if you create your own.
Laura