Like many mothers, I am at times overwhelmed with day to day family responsibilities. Currently, I am taking two college classes, have a design business, launching a second business and trying to build and maintain 2 blogs and 2 websites. But children still need birthday parties. I was hoping for an EASY button. But when you live in a world with children, Murphy's Law will always reign supreme. Harried Mother Hosts Hootenanny.
Harried Mother Hosts Hootenanny
Case in point. For years Sweet Boy has been begging for a party at Peter Peppers. But when finally given the option this year he politely declined and sweetly said, "Mom your parties are better than anything else. Can I please have a party at home?" This plea was accompanied by "the look". You know the one.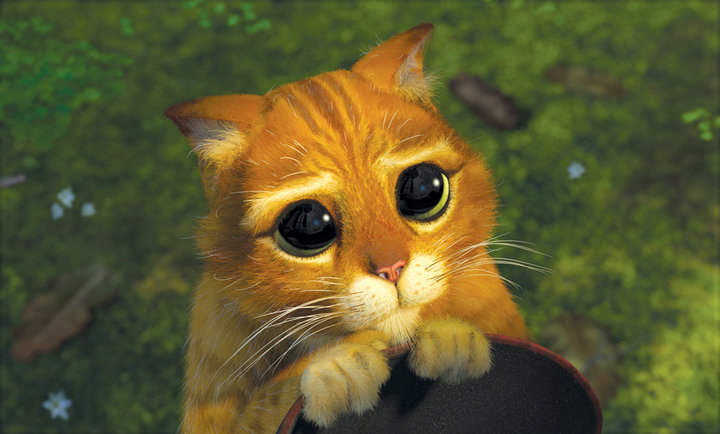 So I sighed and asked, "What theme do you want?" As I fully intended to hightail it over to the Party Palace and load up on pre-packaged party paraphernalia. His reply, "The Last Airbender". (This is a Nick toon that ended 3 years ago but is still extremely popular. It was also recently made into a movie.) But was there ANY partyware anywhere? No, of course not, because that would be too easy. EveneBayy was high and dry. So I asked, "How about a Hotwheels party?" I was once again given the "Puss in Boots" face. So out came the glue, scissors, and scrapbook paper. Let it be said that I am forever indebted to images being available for printing on the web.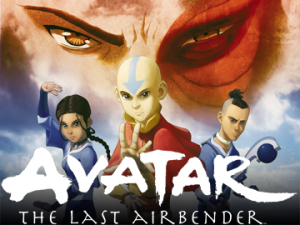 The back of the invitation read:
Airbenders, Earthbenders, Firebenders, Waterbenders
Are you ready to save the world?
Join Avatar (sweetboy) on Saturday, October 2nd
Training will occur from 11 am to 1 pm
The Four Nations will meet at (address)
You can assist in maintaining world order by calling (phone #)
I had to then figure out how I would decorate for such an event.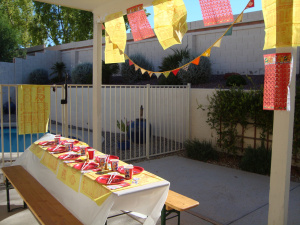 A trip to the Asian market yielded paper banners, lanterns, and dragons for prices that left me very, very happy.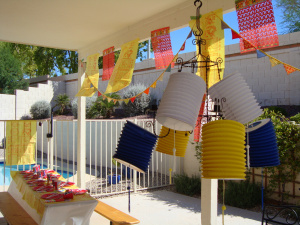 I draped three yellow paper banners over a plain white dollar store tablecloth. More images were printed from the web and glued onto the front of dollar store cups. A cute touch that doubled as a take home gift were the chopsticks. The morning of the party I found myself in a panic as I hadn't remembered to purchase napkins. Luckily, some leftover Valentine napkins were folded to hide their design and they somewhat fit the bill.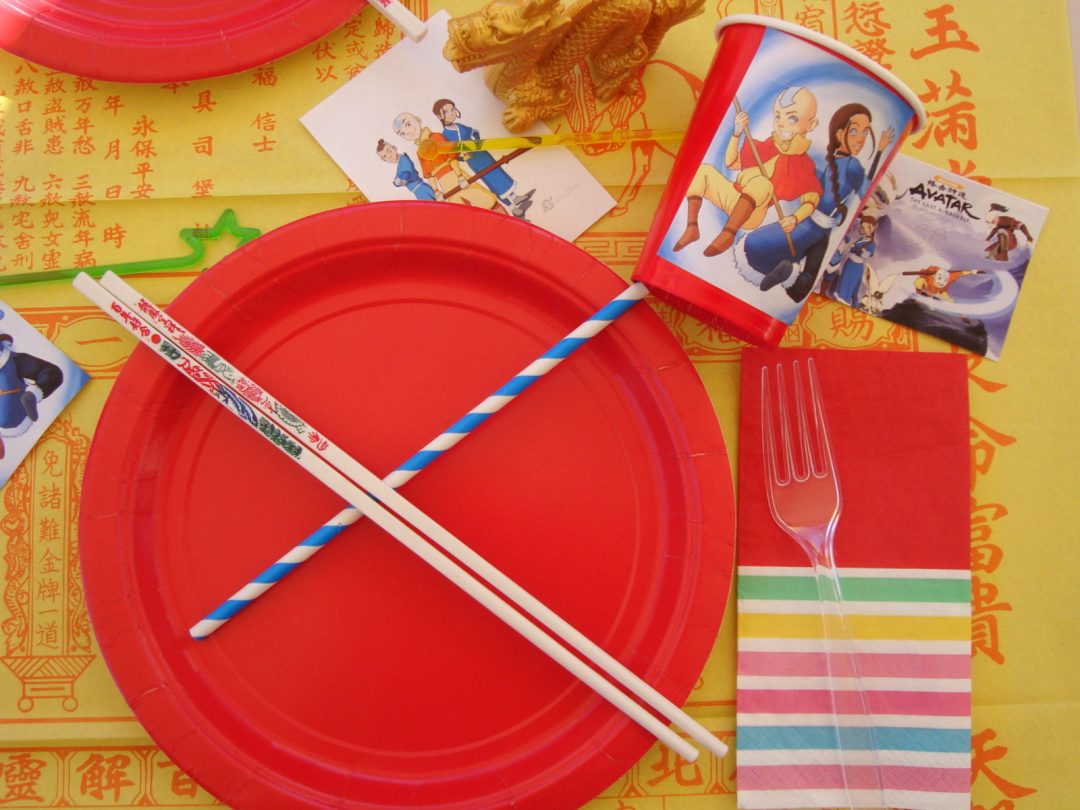 Avatar The Last Airbender Birthday Party
The interior of the house required some digging into Mr. Decor's colorful past. He was stationed in Japan and thankfully we have kept his memento's from that time period.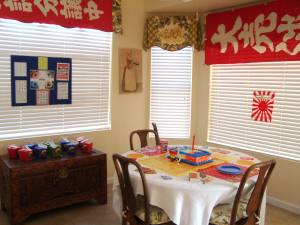 Yes, the cake was store bought~ and delicious! The red candle, also purchased at the Asian market, is generally used in a Buddhist altar but I thought it made an excellent marker for year 9. Now let me tell you about the cake topper…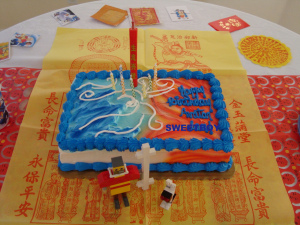 I went to 4 stores looking for the 6 inch "Airbender" action figures. Once again the easy button alluded me. I was finally told by a popular toy store employee that the Aang action figure was still available online. I ordered it 2 weeks in advance. The night before the party let's just say that the Toy Was Not Us. Grrrr! I handed Mr. Decor a picture of Aang and Momo and instructed him to "Build something".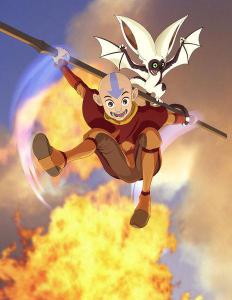 Can I tell you how much I love that man? In all their Lego glory are Aang and Momo.
Almost everyone who was invited showed up. We take a picture in the same spot every year. It is fun to see how the kids have grown.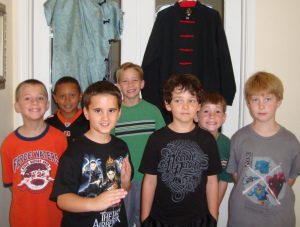 The warriors thought that Mr. Decor's Asian shirt and Mt. Fuji walking stick were "Cool!".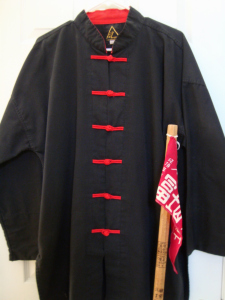 Airbender Ideas
You know how you can google "birthday party ideas" and numerous sites featuring awesome games and activities show up?. Guess how many ideas showed up when I googled "Airbender Ideas"? Now, you're catching on~ none.
I put on my thinking cap. For the category of Earthbending, there were two teams and a pile of small stones. The boys had to walk/run with the stone balanced on the spoon to the opposite end of the yard.  If it dropped, they had to start over.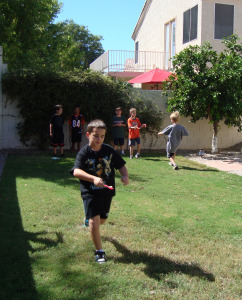 Next, they developed their water bending skills with a water balloon toss.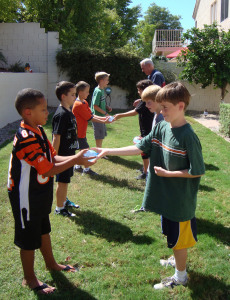 Since it was close to 100 degrees the boys really enjoyed this skill.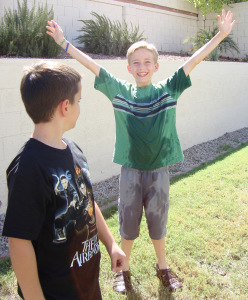 Airbender Food
Cooling refreshments came in the form of juiceboxes that featured Asian characters.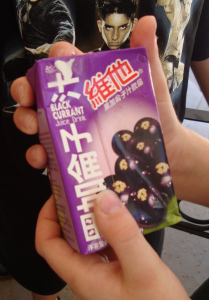 We also had several popular Asian snacks such as the Hapi mixed crackers guarded here by Katara~ a happy meal water bender.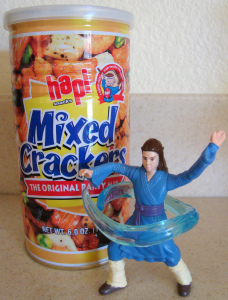 My own little China girl prepared all the food. Cheery red plates held a beige sea of carbs.   In my defense the eggs rolls were vegetarian.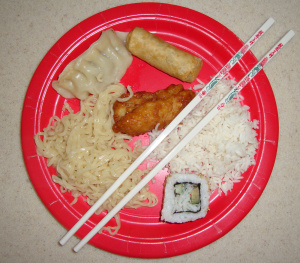 The boys happily ate it all.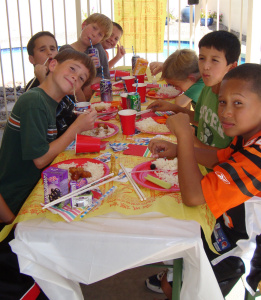 Afterwards, the boys participated in the fire and air bending categories by enjoying a bit of cake.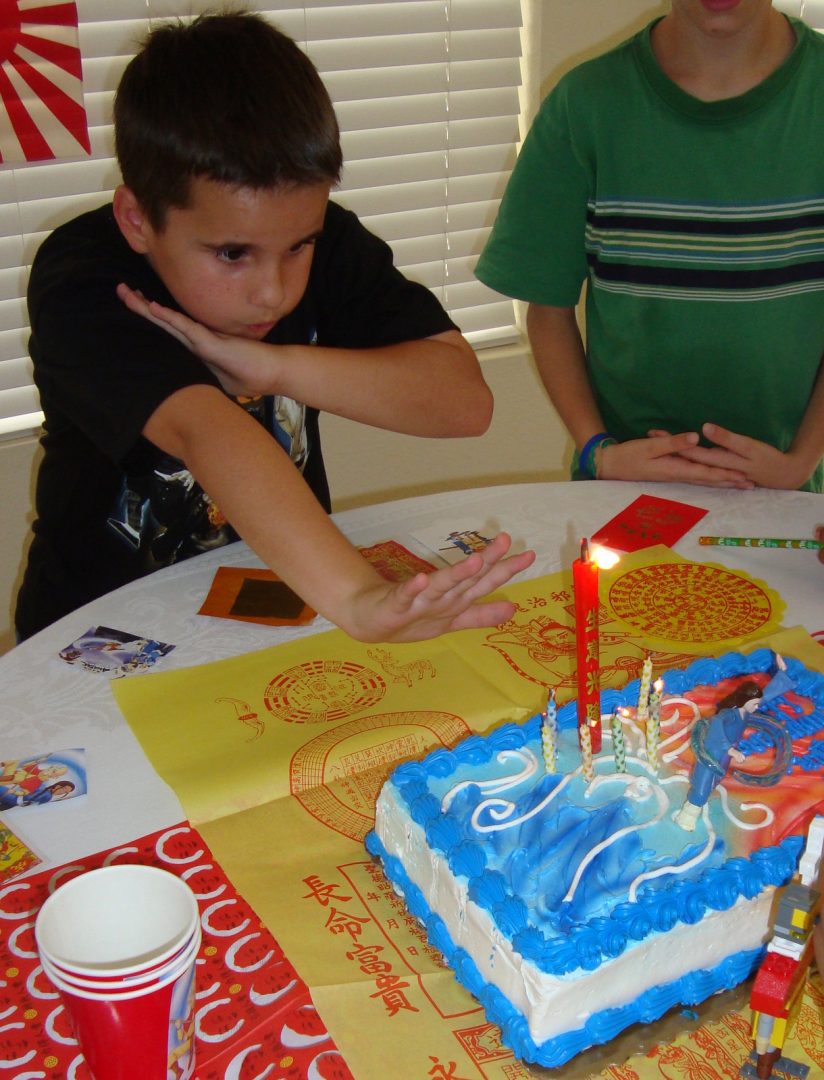 Mind Bending
Onto the mind bending. I explained the concept of the Chinese Zodiac and how Asian characters are like an alphabet of sorts.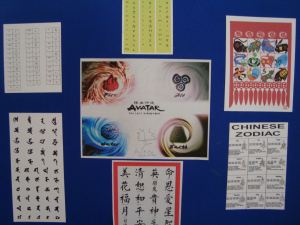 I found a great website that took names and provided a representation in characters. The boys had a fun time trying to guess their names. The take out boxes were purchased at Michaels.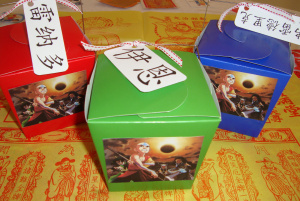 They then had to use their mind bending skills to solve customized puzzles.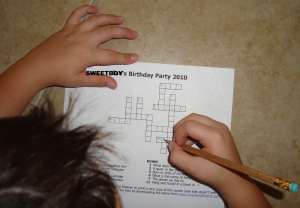 We had a total of six mindbending games.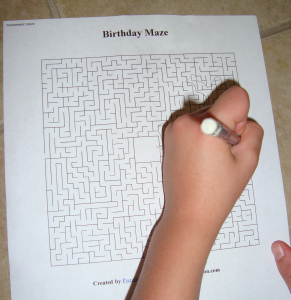 After completing each game successfully the boys were rewarded with a prize to put into their boxes. Air bending whistles, journey aiding compass rings and Asian themed candy made up part of the loot.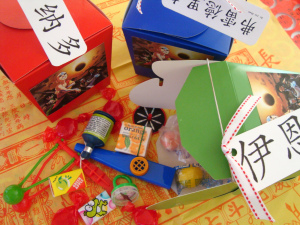 I always photograph each party goer with the birthday boy, showcasing their gift. Afterwards, the photos are printed and on the back, we write a thank you message. It is a quick and easy way to instill gratefulness in your child, as well as document a friendship.
Tell me what you've done in the name of love~ 500 cupcakes? 40 costumes?
Laura