Welcome to the Decor To Adore September spectacular. This entire month will be devoted to before and after makeovers, simple craft projects and other bits of bliss that everyone loves. To kick it off, my wingchairs are finally ready for their close up. It only took eight months. Wingchairs Slipcovered in Ticking.
Wingchairs Slipcovered in Ticking
But I am getting ahead of myself. Remember back in December when I found these "side of the road sale" beauties? What I loved: the scale of these particular wingchairs was on the small side, which made them perfect for my office. What I hated: the upholstery screamed 1980's and the dark wood…not so much.
I had purchased this grain sack over 10 years ago when I lived in Germany. Yep, always ahead of the trend….The initials on one side were "L.I." I enlisted the awesome cross stitch skills of my favorite cousin in love to create Mr. Decor's initials on the opposite side of the sack because he appreciates little details like that. A big round of applause for her.
White Twill Wingchairs
Now the chairs were pretty old. Not only did the upholstery need to be replaced, but the foam cushion was shot as well. I purchased plain white twill at S.A.S. Fabrics in Phoenix for $3.00 a yard. The chairs required about 8 yards.
They look pretty cute this way. I adore the extra layer of the new down cushion. But with a dog who thinks every furniture surface is his to lay on and two children, I knew that the pristine whiteness would not last long.
One thing about me is when I get an image in my mind I will not settle for anything less than what I want. I wanted the chairs to be covered in a combination of antique grain sack and vintage ticking. We've all heard the rumors that the grain sack trend is over. The thing is, I still like my monogrammed grain sack and wanted to use it. Yep, that's me. Always going against the grain. Pardon the pun.  I find that being a slave to trends is exhausting and expensive. It's better to settle for something timeless.
While I loved my personalized grain sack, I didn't want to cover an entire chair in it. Given that we live in Phoenix and spend 9 months of our lives in shorts, a grain sack covered chair had the potential for rubbing and chaffing. This would result in chairs that would probably not get sat on and then, what would be the point?
Antique Ticking
So that's where the vintage ticking came in. It couldn't be new ticking, which is available at any fabric store. The reason being is that the texture and thickness of new ticking just ISN'T the same. There is also an aging process with fabric. I wanted it to blend in with the old grain sack. So I waited, and stalked eBay and waited some more. Another quirk of my personality is that I am the type of person who would rather wait for what I want than to settle for something I would not be happy with. Which is why it took 8 months for these chairs to be finished.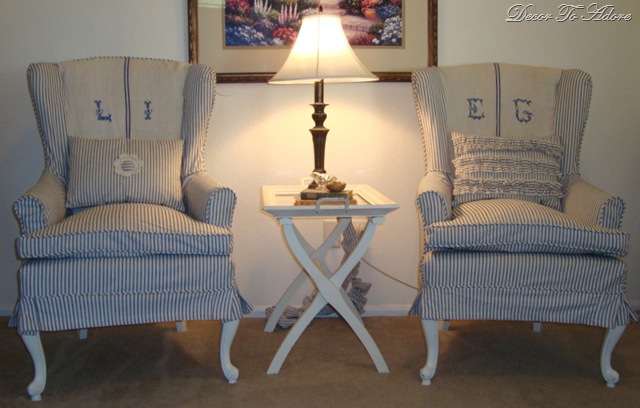 Was it worth the wait? Well, if you read the previous post you know that my patience was rewarded beautifully. The ticking pillows that I made back in June look pretty good on the finished chairs.
One of my favorite touches on the chairs is the name tag that now has found new life on the armrest. It was on the original fabric that had been made into a mattress cover by the family of one Jacob G. Peachey.
So, my office is now half finished. I think the chairs look pretty good with the Craigslist bookcase. Do you see the wee little picture on the wall?
This was another Grandma's Attic find. It cost as much as the ticking (woo hoo) but it was one of those things that right when I saw it, I knew it was going home with me. It reminds me of my own Sweet Boy who was born in Germany.
Other projects to be completed for the office: the wee footstool that belonged to my great-grandmother, Lenora, will soon be getting a slipcover. (Rudi, the doxie needs all the help he can get, the spoiled dog.) Also on the to-do list: giving the small tv cabinet in the room a makeover, as well as the lamp in between the two chairs and finding some additional new/old artwork.
Be blessed,
Laura