I regularly wear aprons to protect my clothes while cooking and baking. Creating a Cute Apron with Leftover Fabric.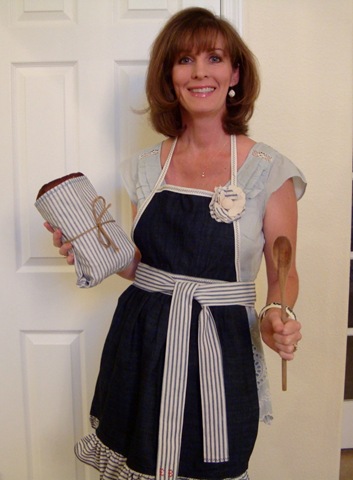 Creating a Cute Apron with Leftover Fabric
After the two wing chairs that were found at the side of the road were slipcovered in antique ticking I found that I still had tons of fabric left.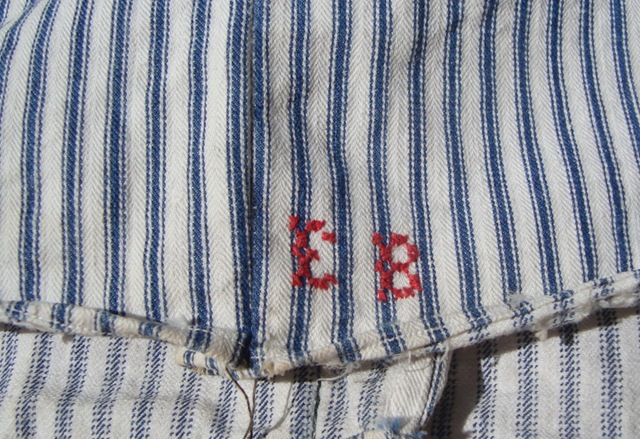 There were a few areas on the fabric that no matter how hard I tried to remove the rust spots, they never completely faded away. I thought about how I could use these pieces of fabric. An apron seemed like a good choice because in all honesty, I am a bit clumsy when cooking.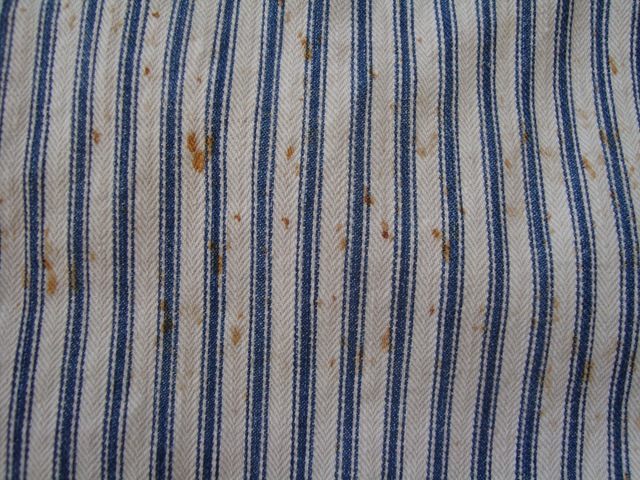 It never fails that I splatter something on myself when whipping up something in the kitchen. Which is why I always wear an apron. A few spots wouldn't really hurt as they would probably appear soon anyways. Now here's the part where I make you cranky since didn't use a pattern. You can create your own pattern just following the shape of another apron.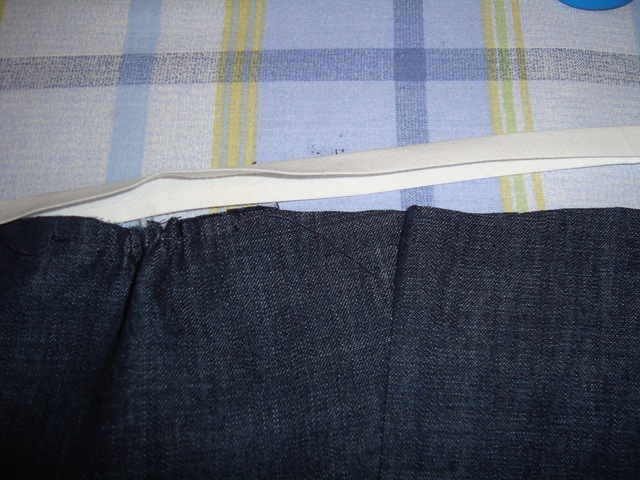 I like bib aprons and made this apron a bit more feminine with some bust seaming and a bit of gathering. Then double folded bias tape (available at any sewing store) was pinned it on to the upper edge.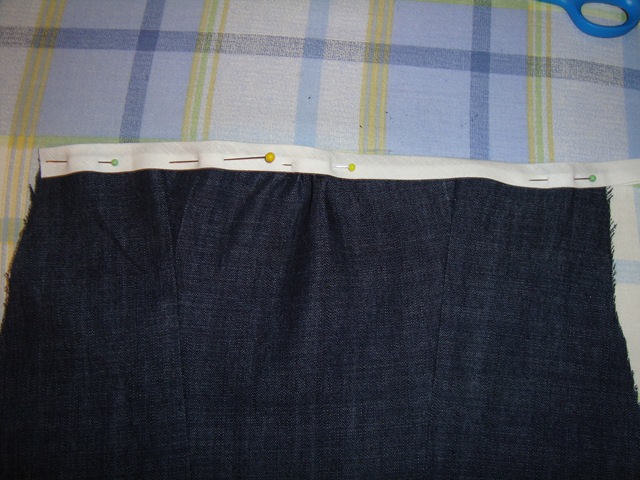 I used decorative stitching to attach the tape. (My apologies for the brightness of the photo.) Then I attached the bodice to a pleated half skirt.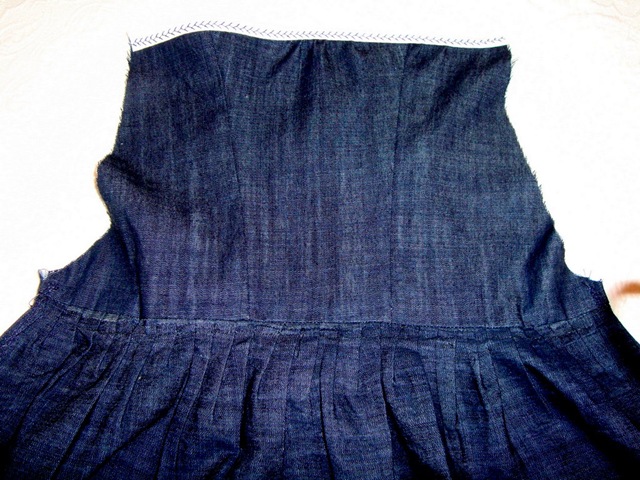 I then took more bias tape and custom fit it around my neck so the apron would sit exactly where I needed it to.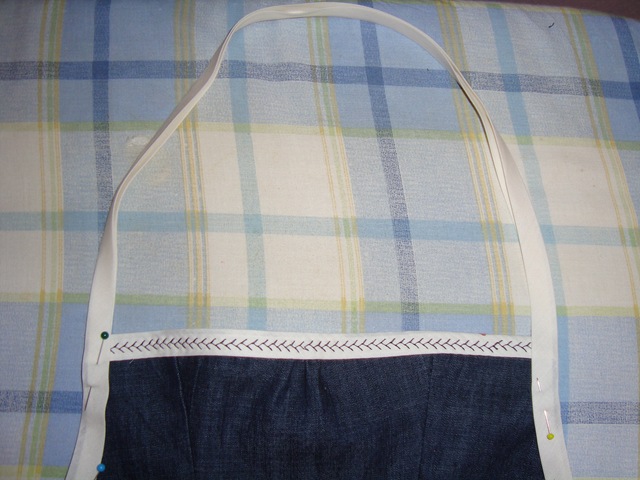 Embellishing The Apron
This is what the finished upper bodice look liked. The floral pin was leftover from when I created a few designs for my ticking pillows. It didn't make the cut for the pillows, but I thought it worked perfectly here.
I then took a 44-inch wide strip of ticking fabric and gave it a 1/2" double folded hem. This was the bottom ruffle. At the top of the fabric, I set my machine to the widest straight stitch and sewed two rows (this is necessary for thicker fabric) that I could then pull to create a ruffle.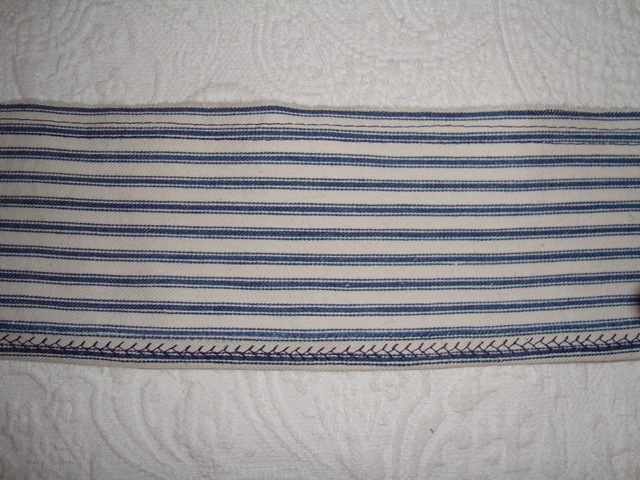 Once the fabric was gathered to fit the skirt I attached the two pieces together. You can somewhat see the rust spots when you are THISCLOSE, but from a regular standing distance, they are hardly visible.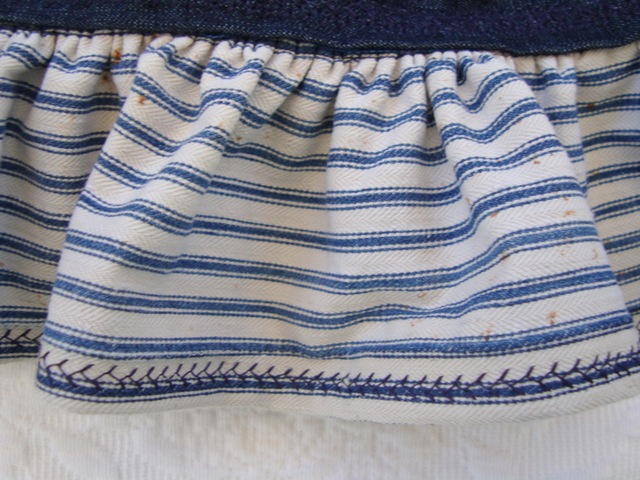 Apron Strings
For the apron strings, I knew I wanted extra long ties that I could wrap back to front. Professional chefs often wear aprons tied in this manner and I too find it more comfortable. I was looking for a special way I could incorporate the red initials that were originally found on the ticking material and thought they would look good on the end of one of the ties.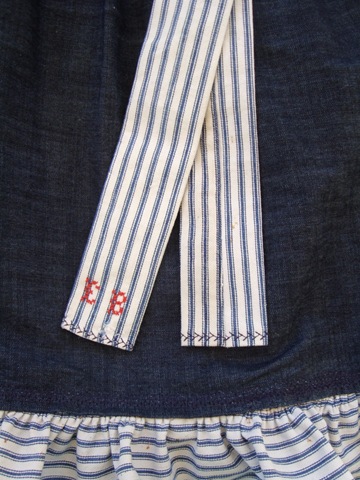 Of course, you might be thinking "But the "EB" initials aren't your initials.". Well, sure they are if you think outside the box.
Enthusiastic Baker
Exceptionally Blessed
Excellent Bather
Now that I've made you smile, I think my work here is done for the day.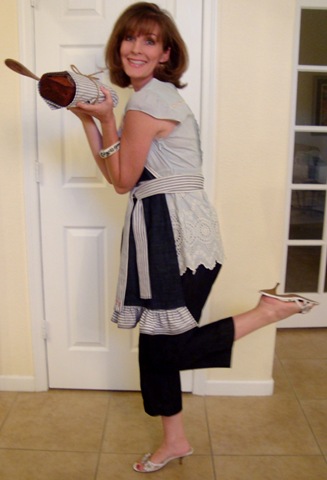 Happy Day from an Entertaining Blogger (shown with Extra moist Banana bread.)
Laura