Sweet Boy and I recently took a relaxing buggy ride through the Lancaster countryside with our cousins.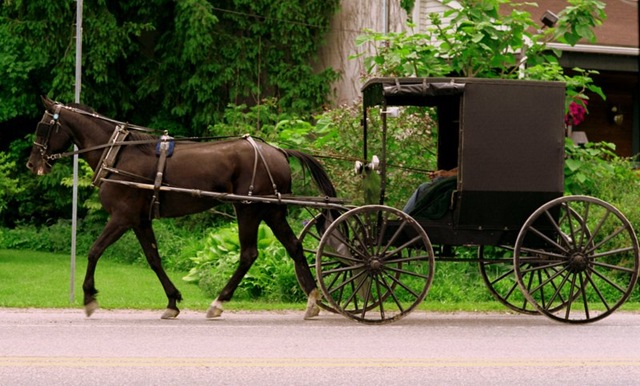 Our driver was Mr. Minno, who I adored. He welcomed questions. We had several and were very respectful during our time together. After awhile he became quite comfortable with us and asked several questions of his own.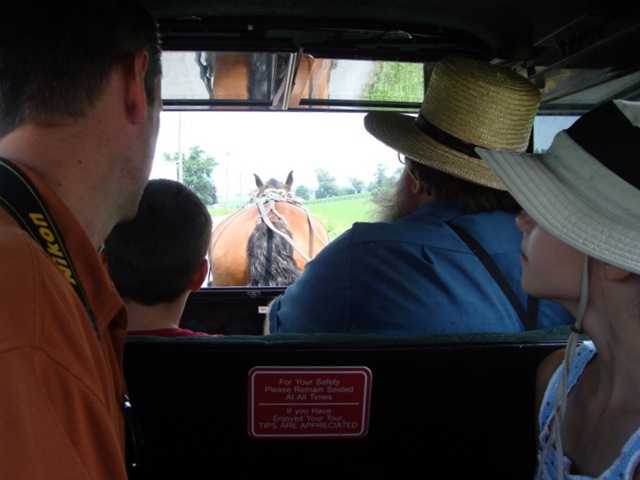 We rode by several farms and even stopped at a few to purchase homemade root beer and cookies.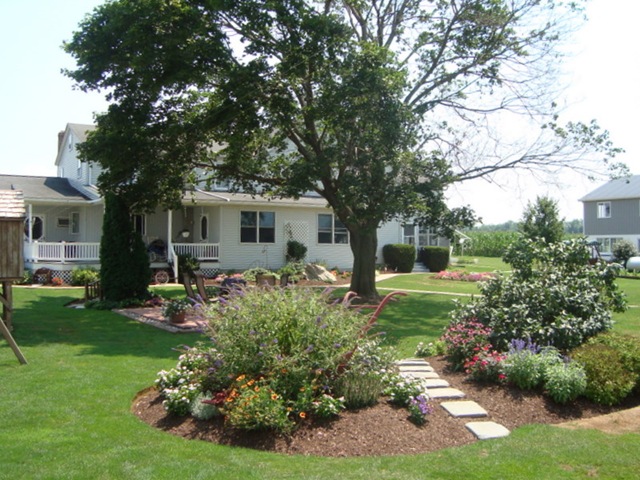 We made sure that it was ok to take photos of the farms. It is only asking adults to pose for photos that they are uncomfortable with, as they strive to remain humble in all areas of their lives.
 

Everything was so well kept. I have to say that I felt very peaceful during my time here and began to think that the Amish have life figured out quite well.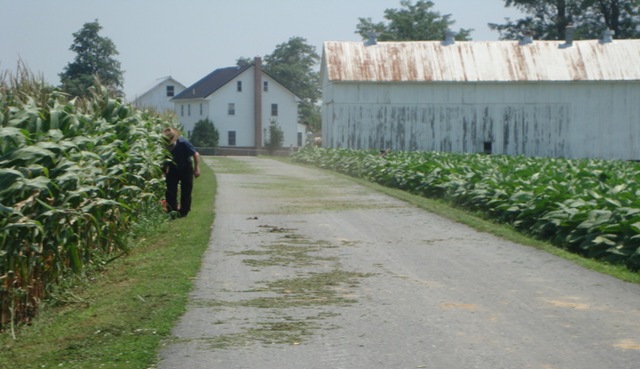 A farm requires constant attention. There is always something that needs looking after. The Amish do it beautifully.
I adored the Amish clothesline. I would love to have a pulley strung line in my own backyard.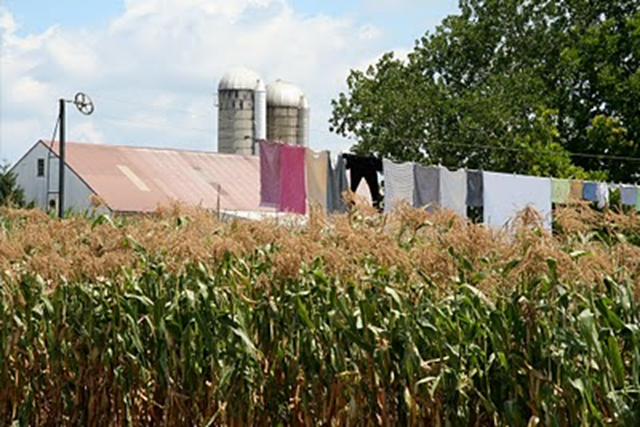 This little sweetie was 3 years old and followed us all over her farm. I would have liked to put her in my pocket and carried her home.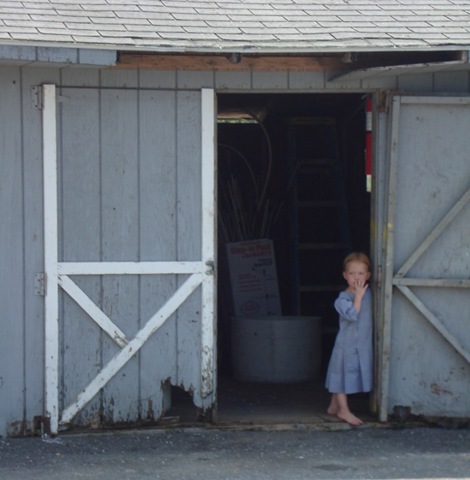 At one farm there was a rooster that at first I thought might cause I bit of trouble. He seemed quite taken with Sweet Boy who in the beginning paid him no mind. (Can Roosters see in color? I wondered if it was the red shirt.) Mr. Foghorn only had eyes for one.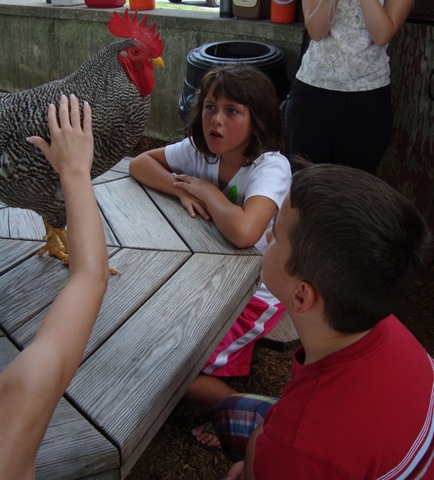 Sweet Boy finally gave a tentative poke.
Then the heavens parted and the angels began to sing. It was a chicken flavored mutual admiration society.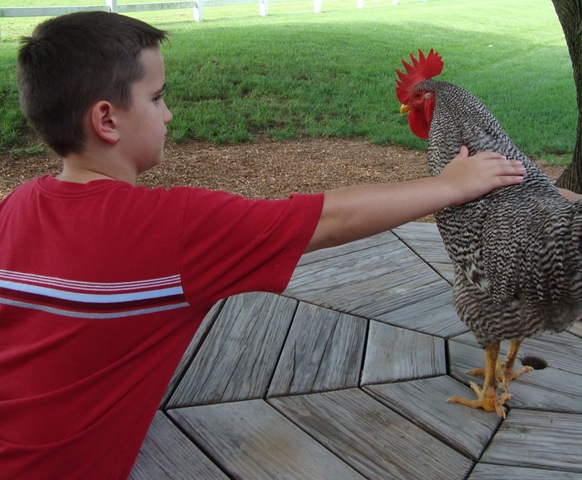 Here is a joke that Mr. Minno said I was welcome to share: What do you call cows laying on the dirt? Ground beef. Hee hee.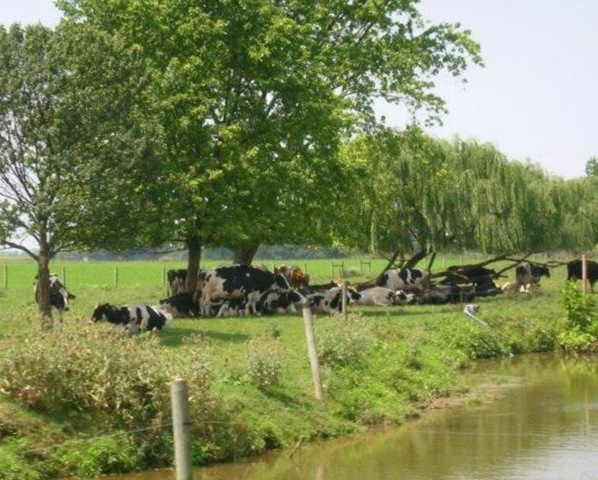 We passed by several people, men, women and children, riding Amish scooters. I WANT one!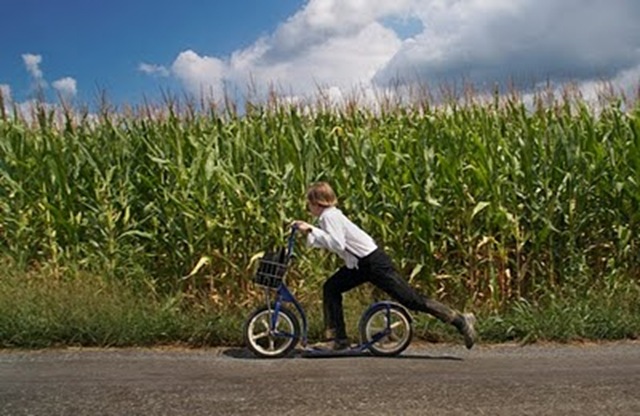 I am serious. I NEED a scooter! The turquoise please. Santa, you can find them here.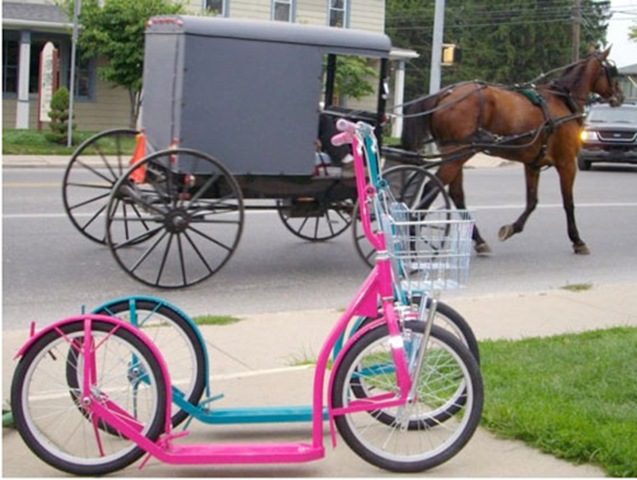 On our way out of town we saw a sign for Grandma's Attic. Skiiirrrttt~ had to flip a Huey Lewis (u turn).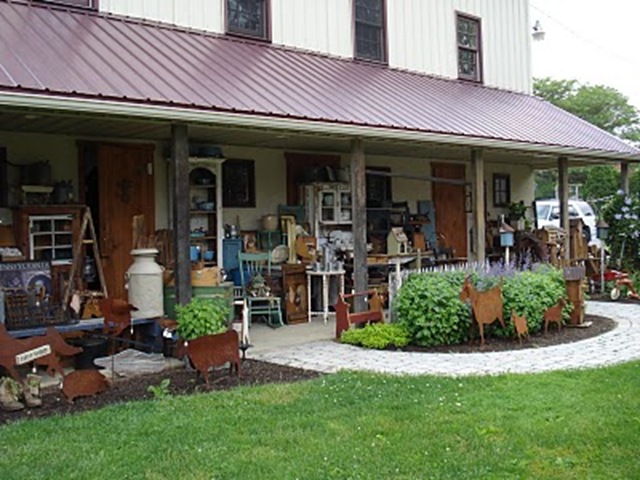 Grandma's was a wonderful Victorian home chock full of goodies. It was surrounded by luscious flower gardens and darling birdhouses.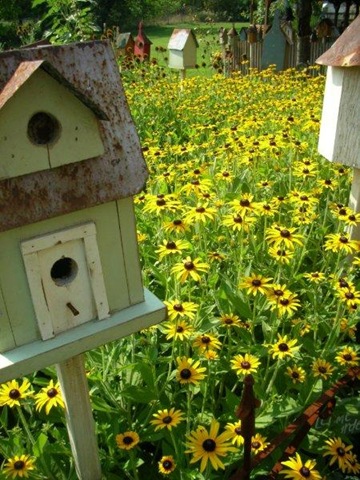 They had cute displays on the first floor of the house. The owner primarily lives on the second floor. I asked if there was an area filled with cobwebs and dirt where you had to dig for treasure. A little something like this: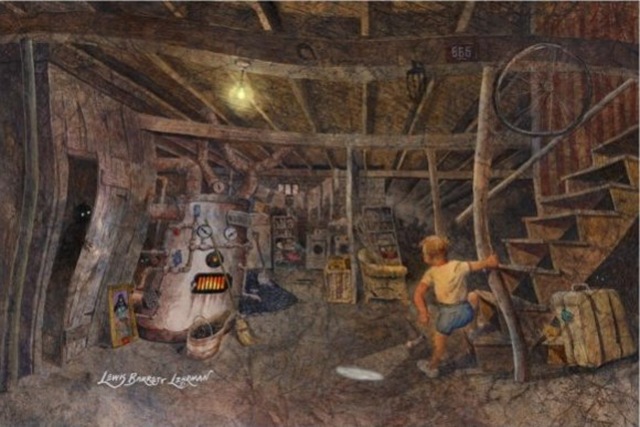 There was. We were led to the out buildings. Tara spied what I was looking for: a pile of vintage blue ticking. Three full size mattress covers and a small grain sack that still featured the owners initials/ name tags. They were partially filled with feathers and straw. There was enough dirt embedded in the fabric to start a small garden. This was probably why they were still waiting for me.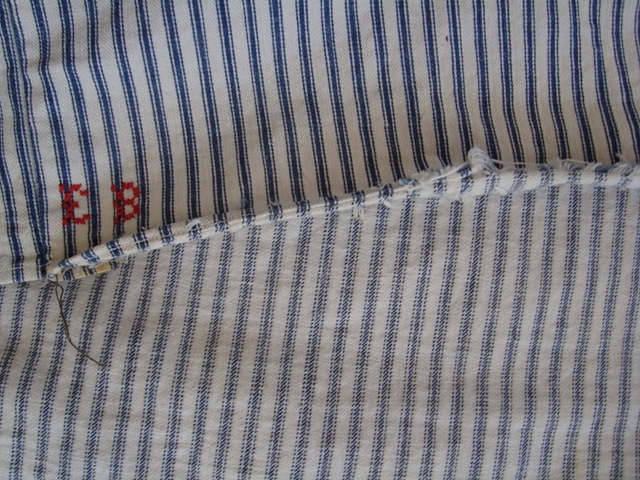 I've been searching for vintage ticking since last Christmas to cover my wing chairs. My stalking Ebay has been to no avail. Prices for vintage ticking in any condition can get astronomical. The proprietor said I could have all of it for $10. You know the IKEA commercial where the women comes running out of the store and yells, "Start the car!" Yep, that was me.
For that price I didn't even mind the rusty age spots. I mean after all, I do have a few myself.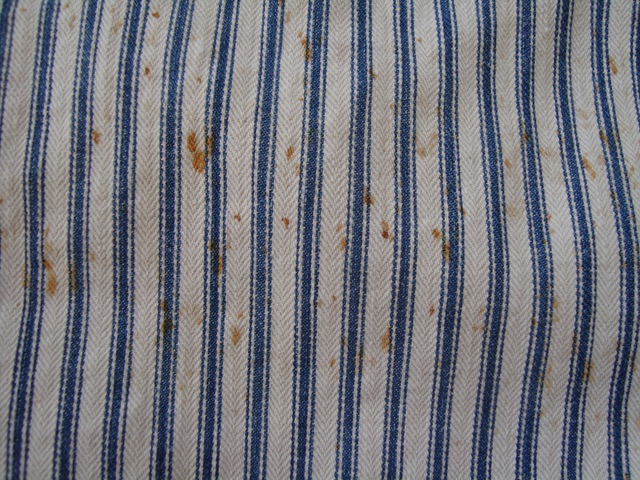 Once home I grabbed a few lemons and made some strong lemon juice.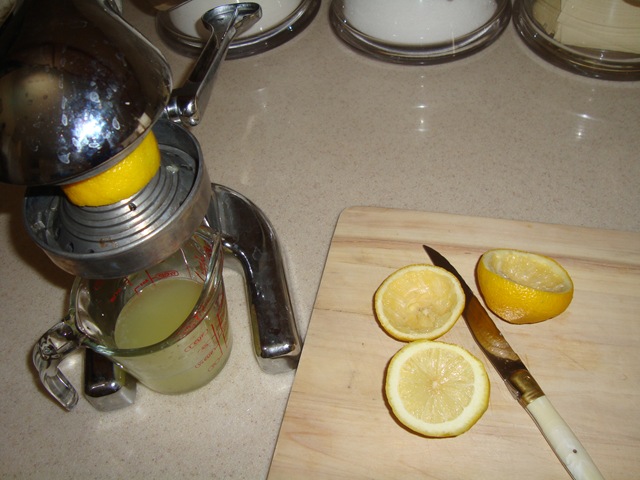 A light spritzing onto the fabric and it was time for the fabric to get a gentle sun bleaching.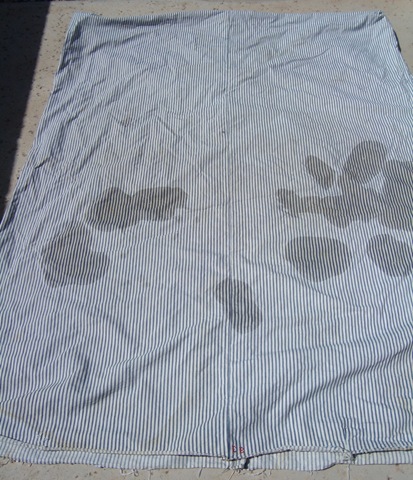 It works just like Esoterica but without harsh chemicals. See, the spots are already fading fast.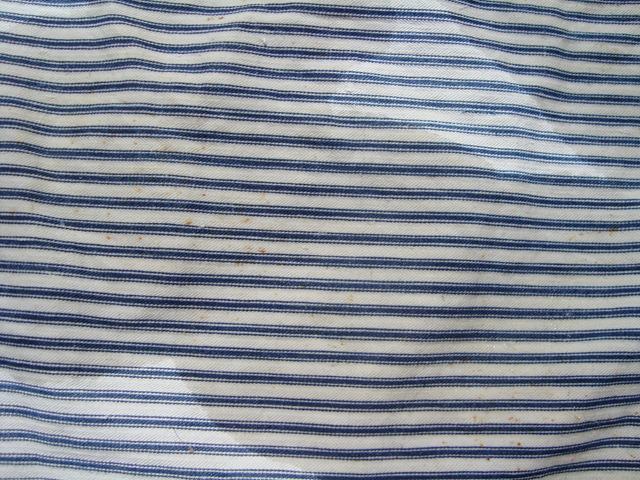 So come back on Friday to see the first of many things that I have been creating. Here's a teaser. It's a peachey project to be sure.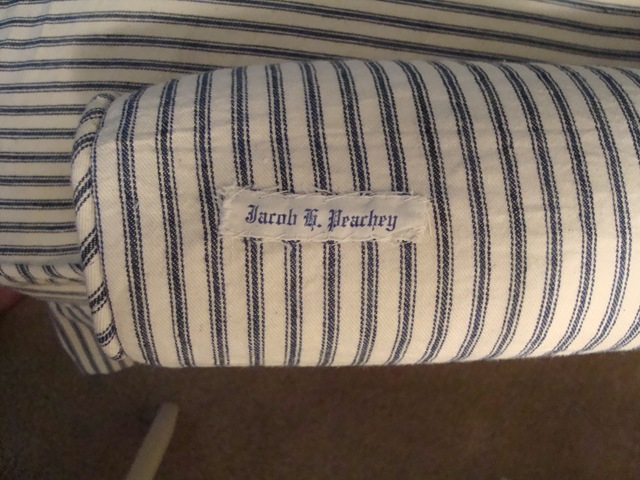 Have you ever had a "Start the car!" moment?
Laura