Anthropologie Inspired Tree Topper Craft 3. Late last week I found myself in a certain favorite store perusing their seasonal displays. I picked up their recent catalog and found myself enamored with the Mystic Nest Tree Topper. It was a crown of sorts truly fit for a magical snow queen. Alas, it had a price tag that was also reserved for royalty.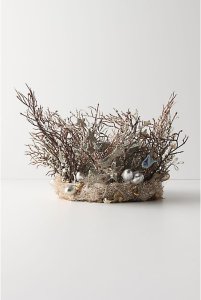 Anthropologie Inspired Tree Topper Craft 3
It made me think about my own tree topper if you call one huge velvet bow a tree topper. It was tired and I had lost that loving feeling. So I grabbed a glue gun and a few supplies and created this: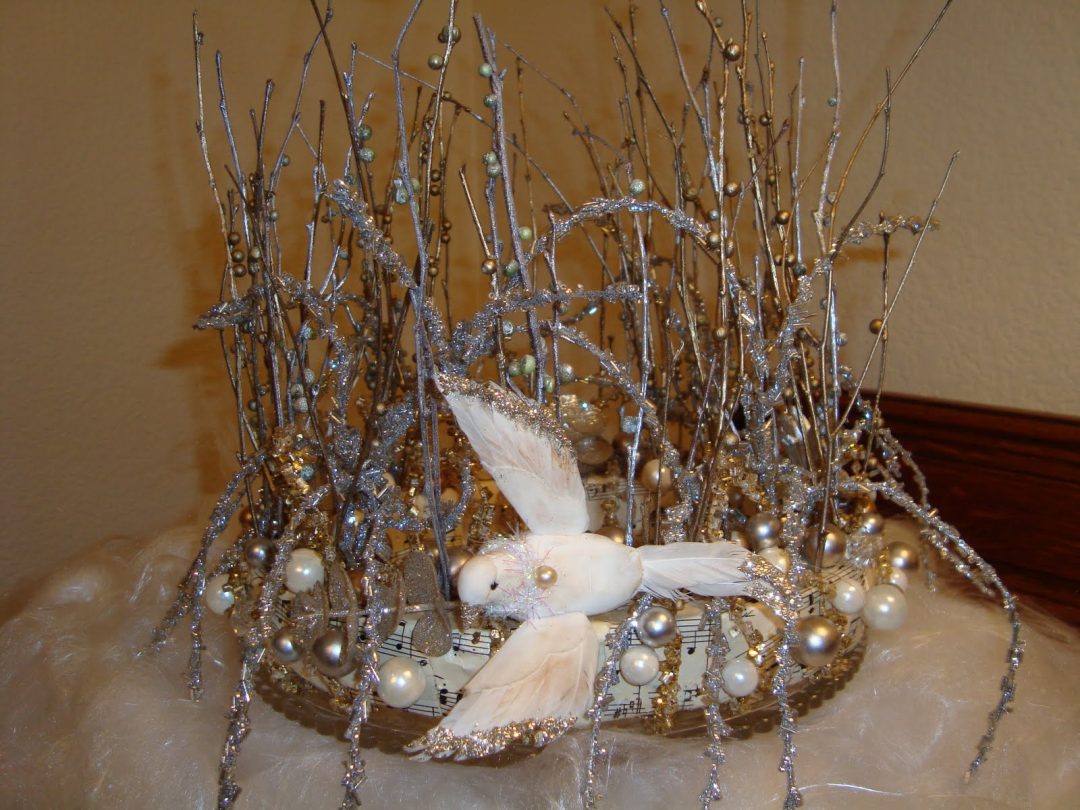 Materials Needed
This tree topper was made to my taste and for a lot less money. Here are the supplies that I started with:
10-inch

styrofoam

wreath bought for another project over a year ago.

One white dove found in the still overflowing craft closet.

Barbara

Trombley's

Art

Ultrafine

Art Glitter, color:

moondust

Jim

Holtz

Distress Ink, color: vintage photo
Assorted pearl picks purchased from

Michaels

after Christmas sale last year for like 22 cents a piece. (I checked and they carry the same picks this year.)

Wired tinsel in gold and white.

Vintage sheet music

Mod

Podge

The good ole glue gun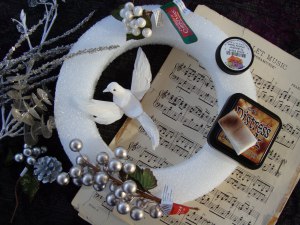 Music lovers please cover your ears while I randomly tear the sheet music into strips and apply it to the

styrofoam

base with Mod

Podge

.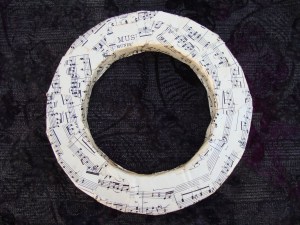 A Crown For Jesus
Next, it was time to stick in the picks. I made a hole first with a toothpick and then gingerly eased in the picks so I didn't damage the glitter coatings. (The first pick I just tried to jam into the styrofoam and it disintegrated.) I didn't have enough picks to suit my taste so I hot glued on a few mini silver pine cones I had leftover from a display last year. Then I took apart the pearl picks and randomly scattered the beads throughout what I had begun to tell my kids was a "Crown for Jesus".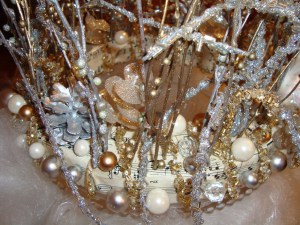 Mystic Nest
I've seen some aged birds around blog land. I have no idea how they are created. I imagine it may have something to do with tea dying, but I was in a hurry. So I just took a cosmetic sponge and dabbed a little distress ink onto it and then onto the bird. I put a bit of glue onto the beak, tail and wing feathers and then covered the areas with a bit of glitter. I then clipped off a wee piece of tinsel and hot glued it around the neck and covered the ends with a pearl. The bird was then applied onto the crown with the glue gun. Tres Magnifique!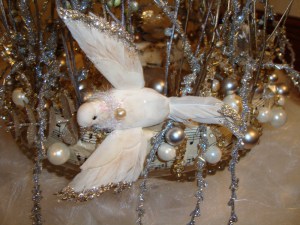 Is it ok to say that I like my crown even more than the Mystic Nest?