I recently redid our guest room on a very modest budget. I was able to keep the cost under $500 by buying the furniture on Craigslist, waiting for wall paint to go on sale and purchasing drapes at IKEA. Still, all these things put a big dent in my budget. When it came time for pretty little extras I really had to put on my thinking cap. Guest Room Transformations.
This is how the high ledge above my closet now looks.
Guest Room Transformations
Can you believe these are the same candlesticks? Tuscan is over for me so I didn't hesitate to grab a can of white spray paint.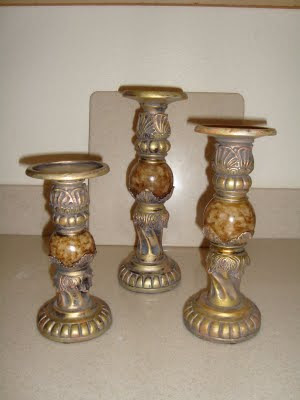 I then grabbed my handy-dandy tube of silver Rub and Buff. With Rub and Buff, a little goes a long way. I find that using my fingers works the best to add shine exactly where I want it.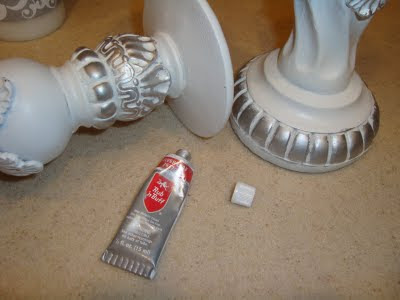 I searched for silver candles for 2 weeks to no avail. After a trip to the Dollar Tree and selected three white candles and proceeded to cover them with a simple sheet of scrapbook paper.
Right next to the candles I placed a box of greenery.
I actually found this beauty on a dumpster diving expedition. It still had its $60 price tag on the bottom. I then proceeded to snap the ugly lion's paws right off.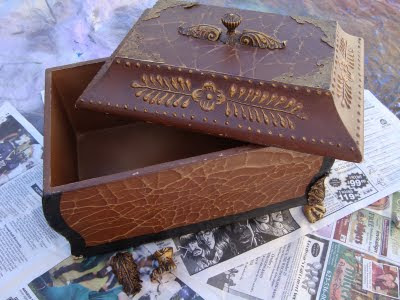 Then came a coat of primer.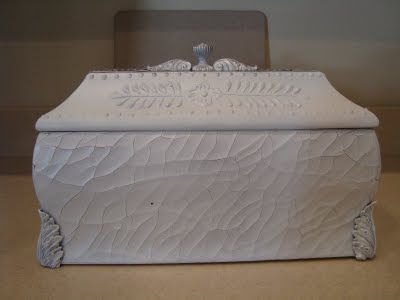 This was followed by an application of beloved Rub and Buff. It doesn't even look like the same box.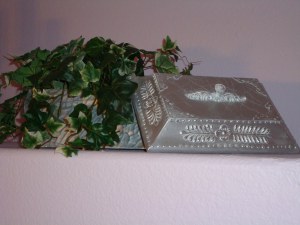 The same dumpster produced this little gem. Its front metal plate was coming off. I took it home anyway.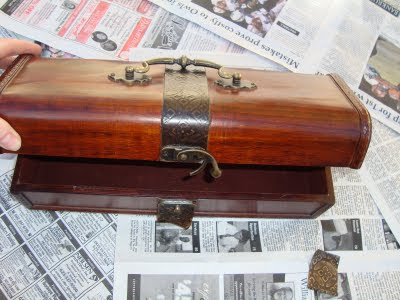 Again it was a primer to the rescue. I then
mod 

podged

a strip of scrapbook onto the center.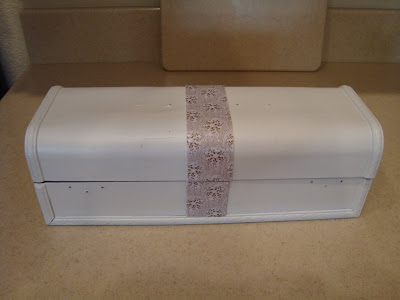 Updated Treasures
The same sweet tube of Rub and Buff was used and resulted in a pretty little box that now holds some of

my favorite things.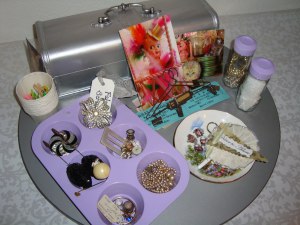 This painting was done by my mother when she was 13 years old. It is very special to me. But the frame was always a bit to "gold" for my taste.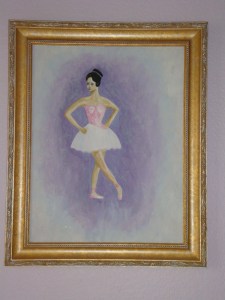 Ditto for the antique wall sconces.

Thank goodness I still had almost an entire tube of Rub and Buff left. The white porcelain busts are of a boy and girl. They were found at Goodwill for $3.00.

 One can of white spray paint: $4 with a Joann's coupon.
One tube of Rub and Buff: $2 with Michael's coupon.
A pair of white porcelain busts: $3 at Goodwill.
Two wooden storage boxes: A quick walk around the 'hood on bulk trash pickup day.
Candlesticks, Picture, and Sconces: All found objects in my home.
A room that makes me happy~priceless!
What is something that you treasure?
Laura