This past April I wrote a post, on beautiful bedroom spaces that had inspired me to transform the Fashionista's former lime green bedroom into a soothing sanctuary. After determining how I would use the space, I then set a budget and gathered several things stored in my cabinets and closets that I wanted to use in the space. A set of embroidered linens I had rescued and framed were at the top of the pile. They now grace the entry of the guest room and set the tone of the room.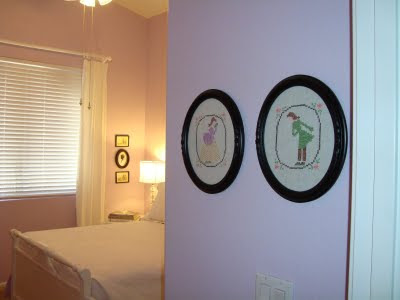 A new guest bedroom for under $500
I also wanted to hang an oil painting that my mother had done as a young girl in the room. Based on the colors found in these pieces of art it was decided that the walls of the room would be lavender. I involved both the Fashionista and Mr. Decor in the decision. It was easy enough for the Fashionista to love the selection as purple is her favorite color. For Mr. Decor lavender reminded him of our wedding colors which were cream and periwinkle.
Special Touches
To me, the most important thing in a guest room is a comfortable bed. I have stayed in too many spaces where a lumpy mattress or itchy sheets kept me from a good nights sleep. I found the antique bed on Craiglist for a song. The yummy white cotton matlesse spread and pillow covers were left over from our own bedroom which I redid two years, ago. I found the brand new white linen bed skirt and euro shams at a yard sale last spring.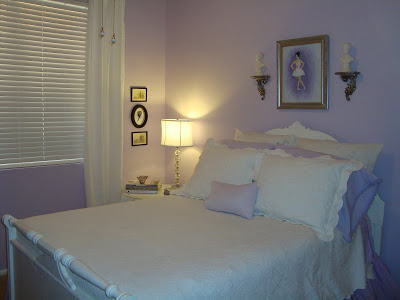 I topped the white linen bed skirt with another Ralph Lauren bed skirt I also had leftover from my bedroom redo. I dyed the white embroidered skirt lavender the same way I did these

pillowcases

.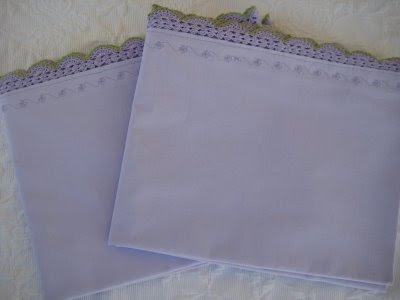 Soft Sheets
The white vintage sheets were also given a dye bath and I then added some embroidery and ricrac to the deep hem. Over the deliciously soft sheets, I placed an antique quilt my great grandmother had made. It is like sleeping in a soft cotton cocoon.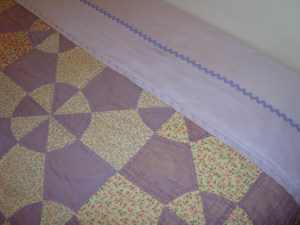 Although I wanted white linen drapery panels for the window I couldn't find long enough panels (96″) in a bright white that fit the budget. Instead, IKEA came to the rescue with white matelasse panels, $29.00 for two. Of course, every guest room should have a chair in which a guest can sit on.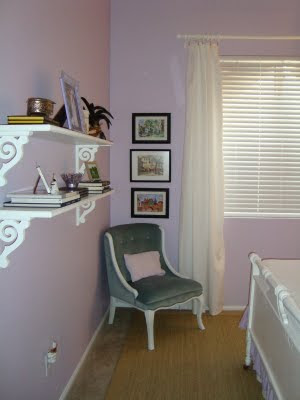 Above the chair are three prints of European cities that we have visited in the past. Each picture has a touch of lavender in its midst. Although they are very different in style, I unified the grouping by using white mat board and spray painting all the frames black.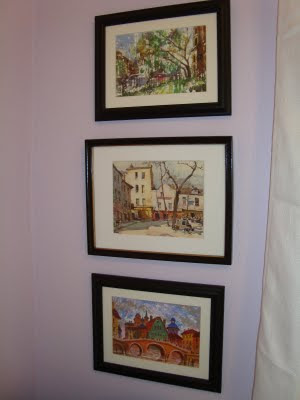 On the wall by the bedside table, I framed two antique prints of Flemish figures in black frames along with Sweet Boy's recent Disneyland Treasure. Mishmash for sure. But we really love it and that truly is the number one rule when selecting and hanging art.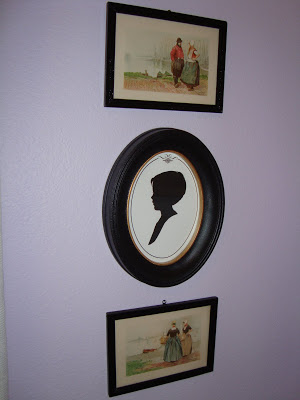 On the wall next to the chair are the shelves that Mr. Decor made to my specifications.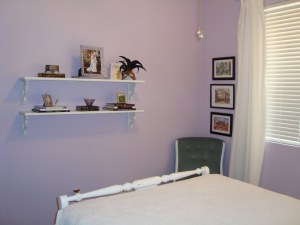 Here is a closeup. I didn't want to just fill the shelves with "stuff".  Each item has meaning.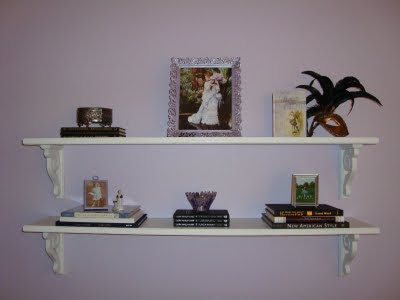 Decor
I topped a few favorite interior decorating and crafting books with an antique photo of a small girl with her dachshund. Next to it sits my antique china Harvey girl given to me by a cousin to commemorate our train trip to the Grand Canyon which once featured Harvey girls.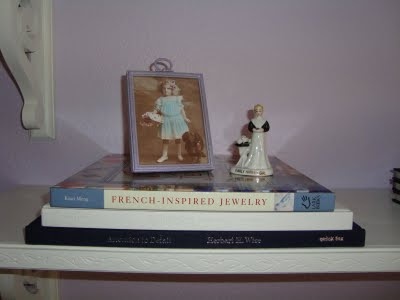 Another vignette features my mothers sterling jewel box atop three of her books. It comforts me to have her things around and it all beautifully keeps to the silver, lavender black and white color palette.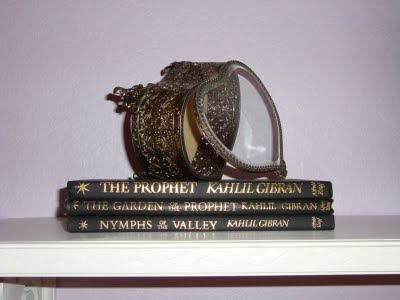 I often take the dust jackets off of books as a preferred look. The lavender mercury votive holder came from Z Gallerie for a whopping .99 cents.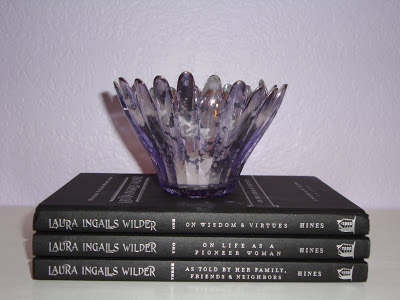 It is a tiny space to be sure. The only other wall in the room features craft closet which I showed you the contents last week. I topped the upper ledge with a few things I had on hand. They all received major makeovers with paint.
I'll show you several of the transformations and provide tips on Wednesday.