How are your preparations for Halloween going? I am starting my Friday at school and then will leave a wee bit early to attend an Arizona bloggers luncheon. It should be great fun. Boo To You.
Boo To You
Marty from A Stroll Thru Life planned the luncheon. There will be about 12 ladies attending the event. I am so excited and didn't want to show up empty handed so I made up some goody bags to pass out to everyone.
 I wanted to bring something for our hostess to thank her for planning the event.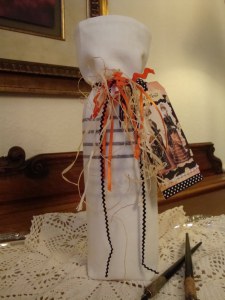 Start with a bottle of cider. (Or wine will do too.) Find a nice linen dish towel. (Terry cloth is a bit too bunchy.) Grab a few straight pins with enamel heads, a bit of scrap ribbon and a pretty tag if you desire.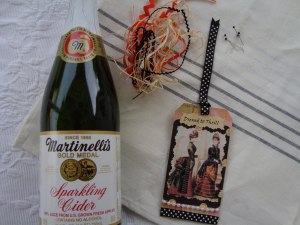 Fold the towel almost in half and begin rolling the bottle up in the towel. When you've reached the end of the towel secure the seam closed with 3 straight pins. Fold the bottom up like you would wrap the end of a gift and secure it with 2 more pins. Tie the top shut with the ribbon. Attach the tag. Pat yourself on the back for giving not one but 2 gifts, cleverly wrapped.

Here is another bottle in a towel gift I recently gave one of my instructors who invited all of his students to tour his ASID (American Society of Interior Design) award-winning home. I just can't wait to show you the pictures of that day!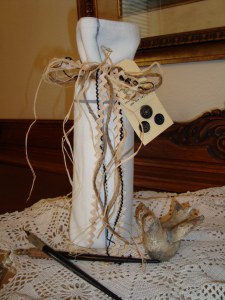 In case you have a present that won't roll up very nicely in a towel here is another idea based on some bags that I did last summer. Once again I just repurposed paper shoppers and added a few bootiful images I downloaded from the computer. Add some raffia and ribbon for a bit of fun fluff.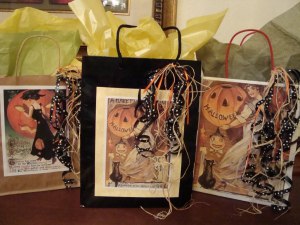 Here is a closeup of one of the bags.
A Cute Halloween Bat
After the luncheon, I will be spending what is sure to be a delightfully frightful afternoon with a classroom of 7 and 8-year-olds. I will be assisting with the costume parade, a candy-filled party and of course giving an art lesson. Today we are making bats.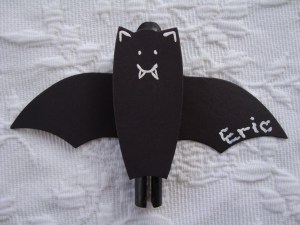 You begin with a wooden clothespin and paint it black. (I bought this package at Joanne's for less than $2.00 by using a coupon.)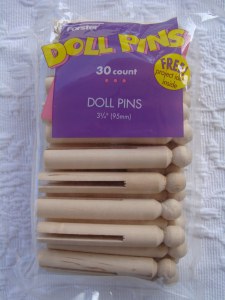 Cut out some wings and a body.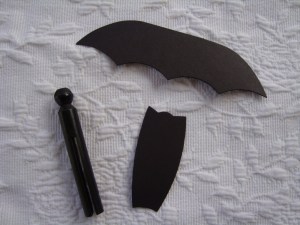 Add a smile with fangs and a spooky name with a silver pen or acrylic paint.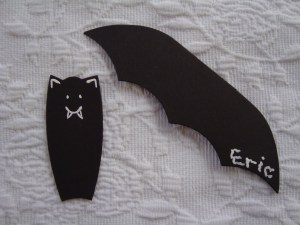 The end result looks so cute tied onto a gift, hanging from a Halloween tree or as a place marker on a table setting. It's so easy, even a wee goblin such as this can do it.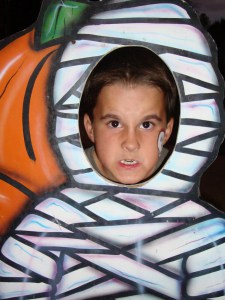 May you have a spooktacular weekend!