Back in July, I had come across the blog Controlling My Chaos. Its author, Jill, is fantastically creative and organized. Yeah, I know~ but it's like Mulan's grandmother said, "We can't ALL be acupuncturists." 🙂 Anyhow, she had created this great filing system for her recipes. Even better she provided a tutorial AND graciously posted her darling templates. So here is A Cookbook for the College Kid.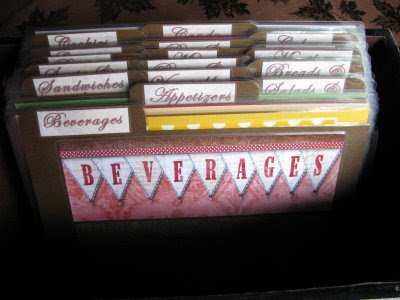 A Cookbook for the College Kid
Now like any good mother I had begun to think about if the Fashionista would eat well-balanced meals once she was out on her own. My mind wandered back to her Sweet 16 where I had spent several months compiling a birthday book. I wrote to all of our friends, neighbors and family members to ask if they would contribute a page to the birthday book. The end result included thoughts on life, inspirational poems, memories of my girl, among other lovely things. Four years later she still treasures her book. So I thought, "Why not do something similar, but in the form of a cookbook?" (Because you know how I like to put my own creative spin on other people's fantastic ideas. 🙂 So here is the cover of the Fashionista's cookbook: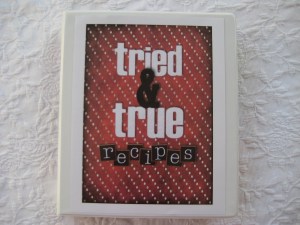 In the front pocket of the plain white binder, I included a sappy letter and a few recipes for life such as: Take 1 cup of kindness… The sections were placed in alphabetical order and each section was separated by a tab attached to an opaque cover sheet. (Which is why the word "appetizers" is softly muted.)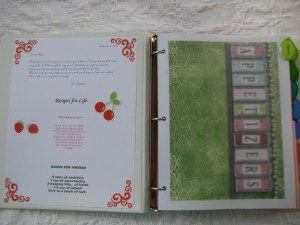 Of course, some sections were just more fun than others to work on…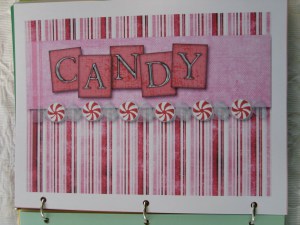 I took all of the recipes that were sent in and reformatted them in Microsoft word and glued the printed recipes to acid-free cardstock that was color coordinated to each section.