On Sunday morning I checked on Lil' Mama before leaving for church. She was perched on the side of her nest. I had not seen this behavior in her previously and suspected that her eggs had hatched. I then spied a small open beak. Two New Hummingbirds Have Arrived!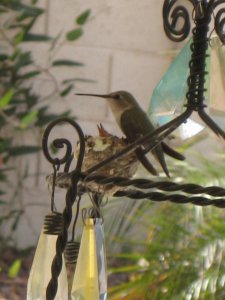 Two New Hummingbirds Have Arrived
After observing her feeding pattern for two days Mr. Decor was able to sneak out and take a quick shot of the new baby birds. The birds are about 3/4 of an inch long. They are completely adorable and possess a blind and bald face only a mother could love. They make no sounds even when hungry. This makes sense as I have never heard anything from Lil' Mama other than her wings. I placed an old bath mat on top of the table in the event one is pushed out so it would have a somewhat softer place to land.