I have begun getting our home ready for tomorrow's Almost Famous 70's Soiree. Although I didn't get to the gardening or the dusting I don't think anyone will notice now that this GREAT wallpaper is in my bathroom. Kidding. Wouldn't it give you stage fright? Shag Carpeting and Other Groovy Things.
Shag Carpeting and Other Groovy Things
Double tiered sh, er drapes, my mom's floral couch and of course shag carpeting. Yeah, baby! I have to admit that I like the chair and coffee table.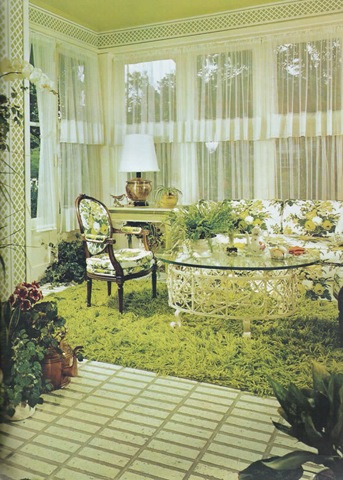 Welcome to the dark dungeon.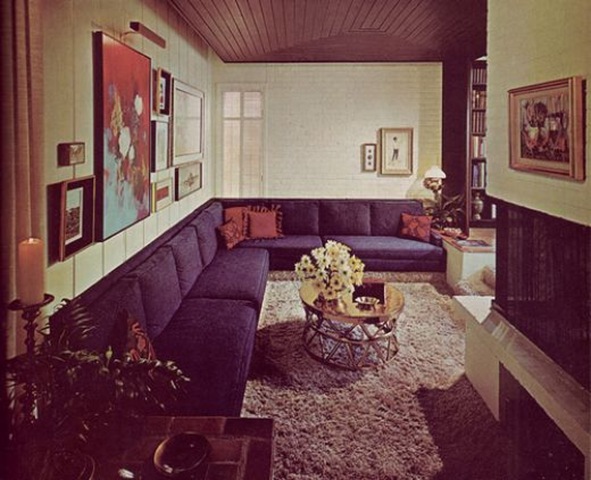 It's been a bit chilly in Phoenix. Thank goodness for delightful fireplaces like this. (My Grandma Mary had a yellow one.)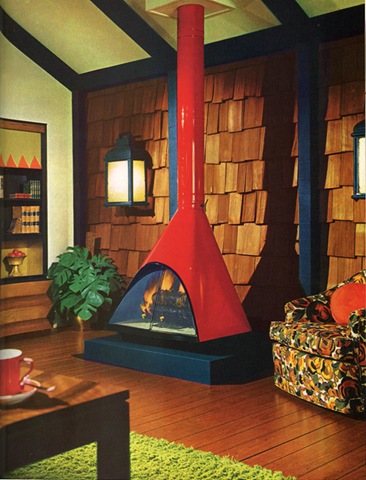 Nothing says chic like a sunken living room.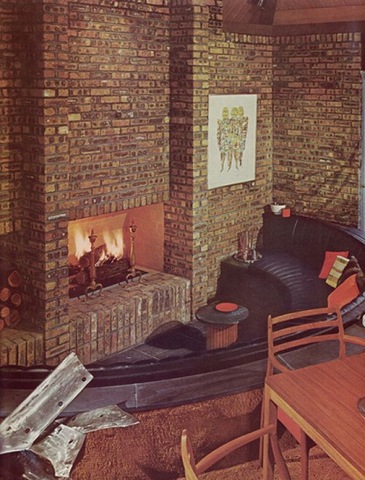 Fur daybeds, sea anemone-like glass tables,  and metallic blinds and wallpaper. How many more ways did this room go wrong?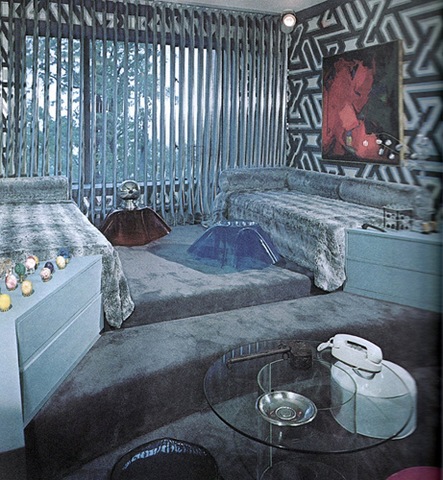 Proving the point that everything old is new again…Owl craze, yep, already been done.
This photo makes me happy. Probably because if you threw in a bit of lavender, that couch could have been my childhood bedspread and Papa Jack always let us eat on trays in front of the telly.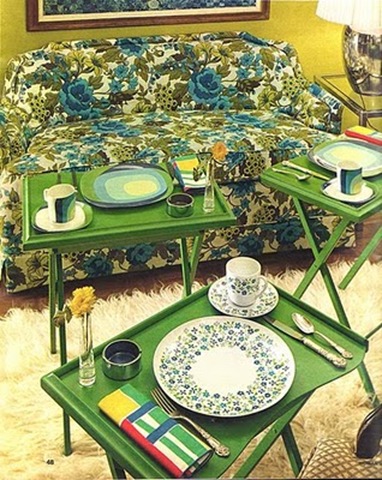 Sheer tiered drapes again, but read the tiny print. Outdoor furniture used indoors. And you thought Rachel Ashwell was responsible for that trend.  I am SO gonna glue fringe onto my patio table.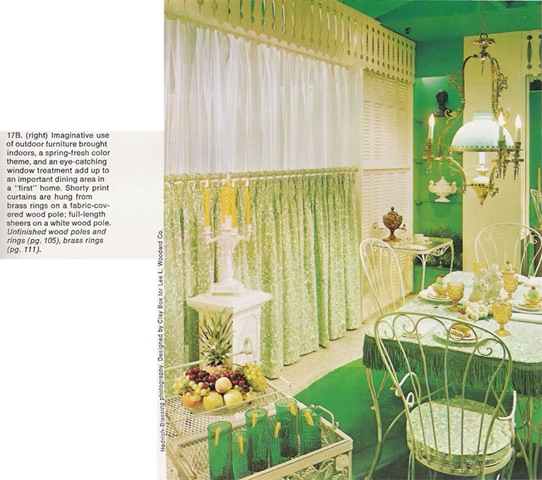 I am thinking of redoing Sweet Boy's room. Look, there is a desk big enough for his typewriter, I mean computer.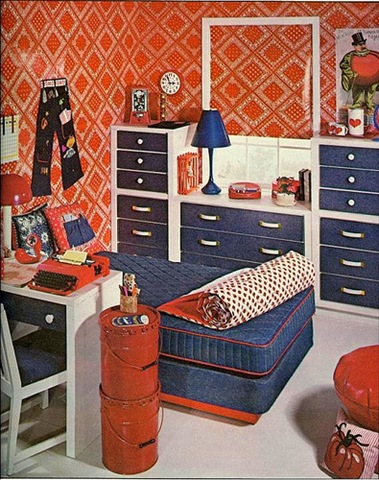 Let's wallpaper the ceiling in the guest room.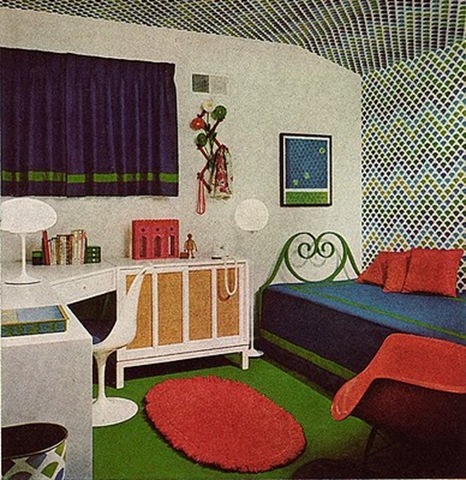 As well as the bed, and the bookcase.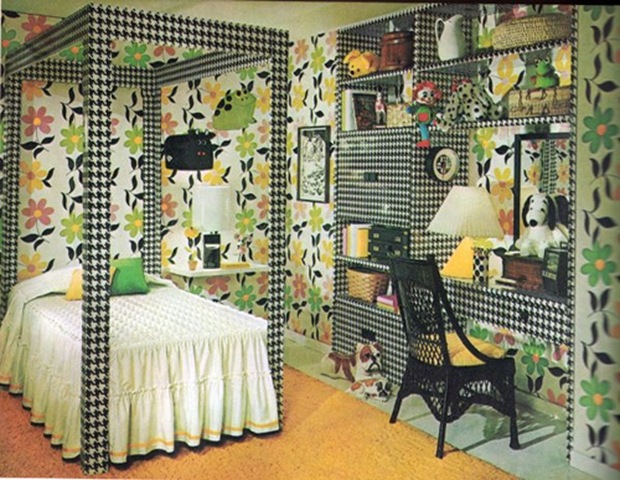 Where can I find a HUGE waterbed? (This is Rudi the dachshund's favorite photo. He would feel a bit like Hef sleeping in such accommodations at the foot of such a bed.)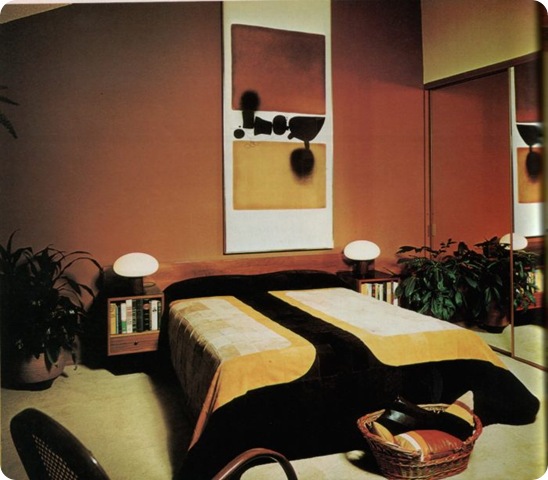 Now, this is my kind of craft area. A sewing area AND a place to hang my guns.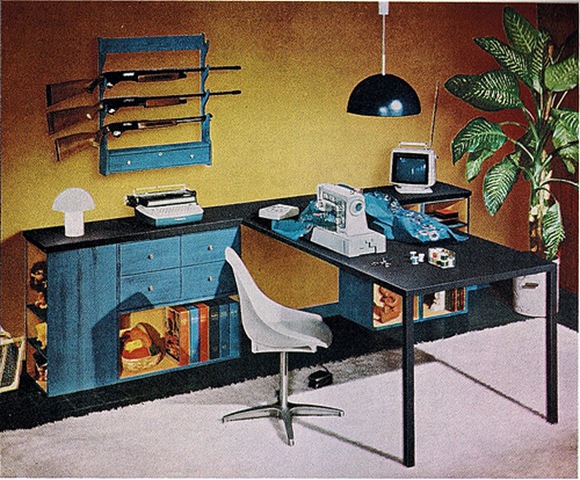 1970's Food
Every great party must have fantastic food. You too can have these great recipe cards for just $19.95. But wait! There's more.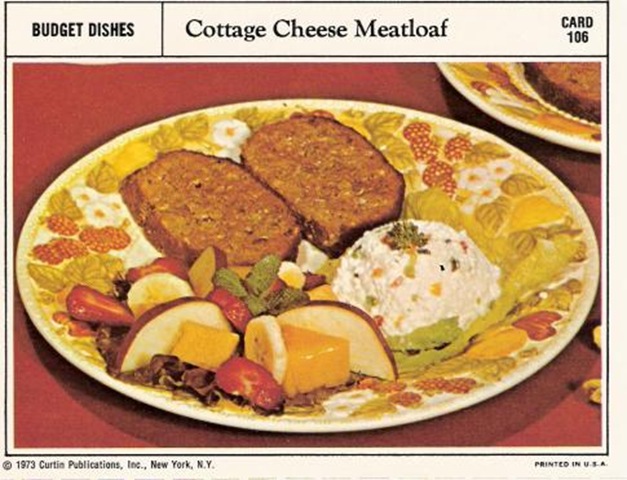 My mom collected these cards. I bet you are truly eager to try these two fabulous recipes.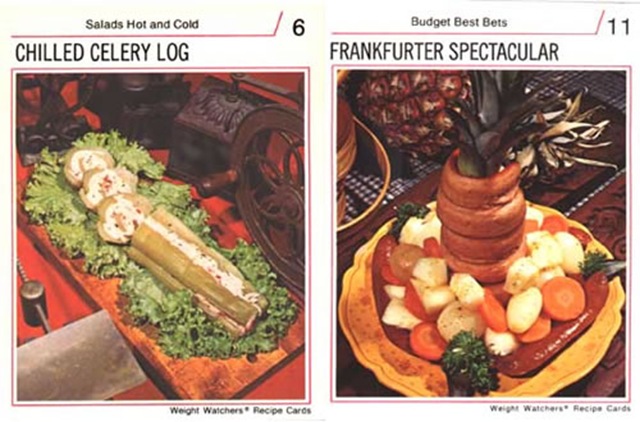 Nothing works better at controlling my weight given that I wouldn't eat a bite of this: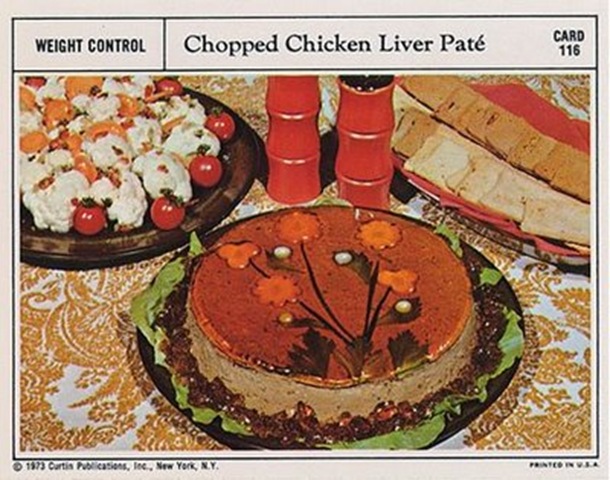 How about bananas wrapped in ham and smothered in cheese? Yum!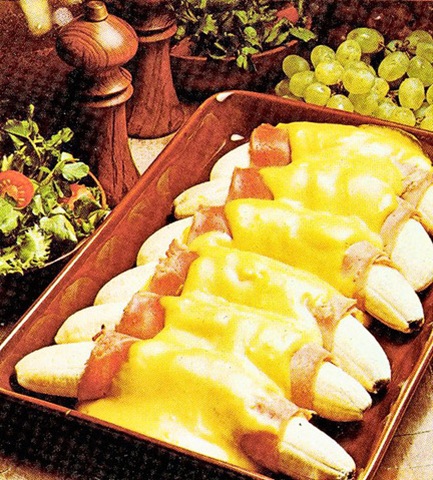 Now we're talkin'. We will have a huge punch bowl full of sangria, colorful party ware, and fabulous food.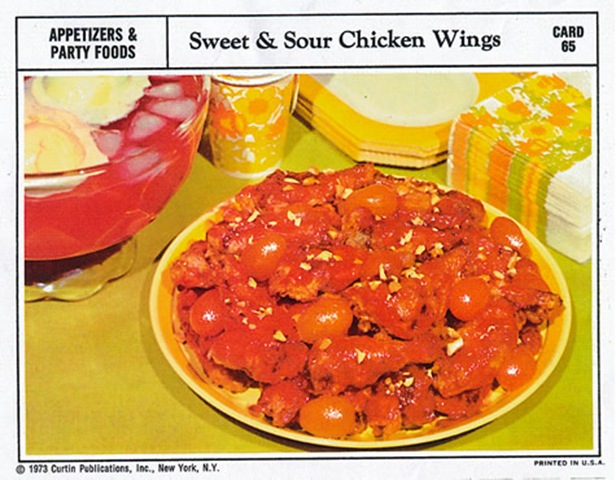 There will be fondue~cheese and chocolate, but not together.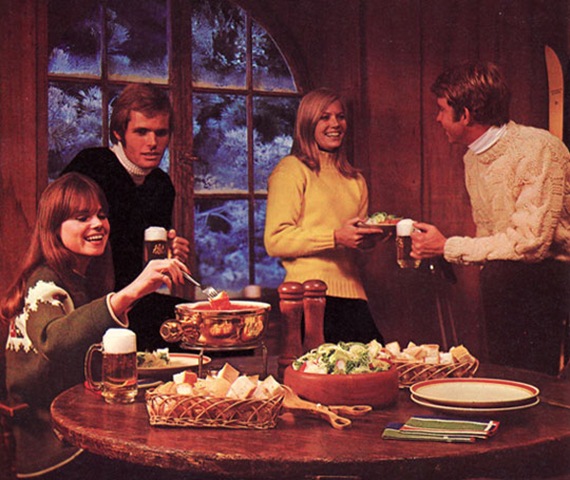 1970's Clothing
Now, what to wear. I might wrap a long scarf around my head ala, Rhoda. Hot pants, not so much anymore.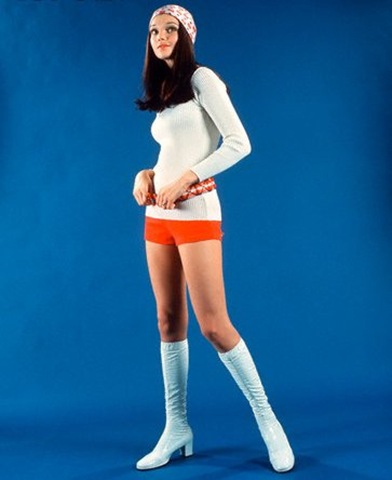 Ah, a pretty polyester jumpsuit. And it zips up!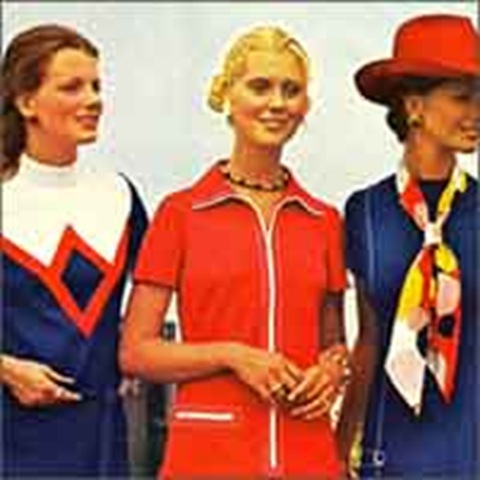 These groovy chicks look SO happy in their maxi dresses. It must be the pain of over plucking their brows.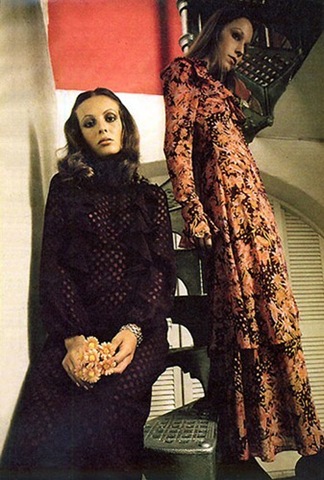 Here we go, this is more my style. Love the hat. I recently bought several 1970 issues of Seventeen magazine and these shoes really were all the rage.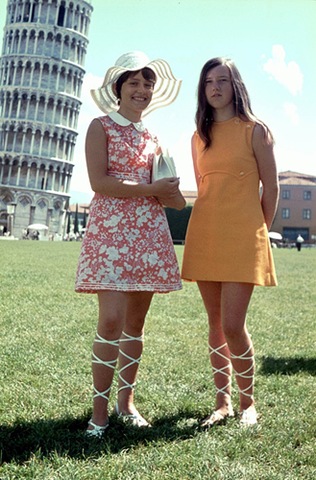 But one must admit that these are something else.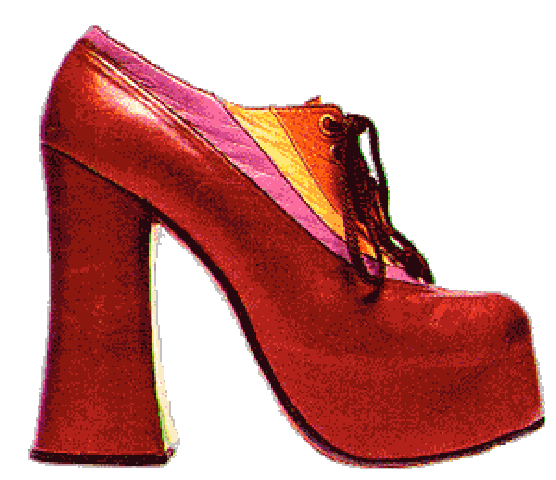 The shoes I really want are shown in this photo. Ya gotta dig the bathroom tile and the small fry trying to take a peek.
Think I can talk Sweet Boy into wearing the plaid jumpsuit? (Thanks to Plaid Stallions for finding this gem.)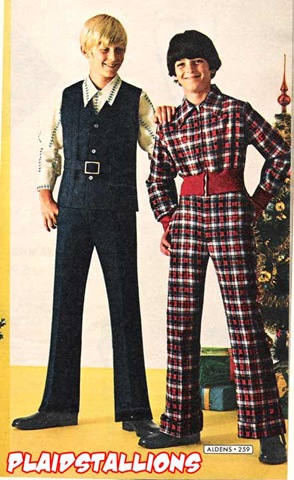 For some reason, Mr. Decor refuses to wear a poly leisure suit.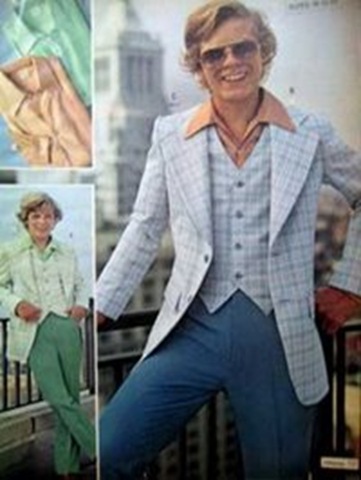 Or these groovy platforms.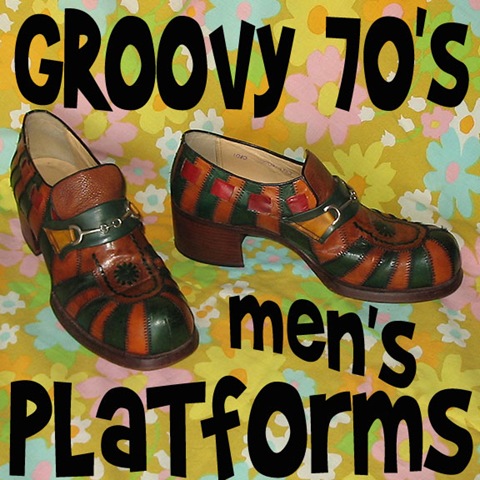 But I bet I could get him on board in wearing matching His and Hers. I mean look at how much fun these people are having!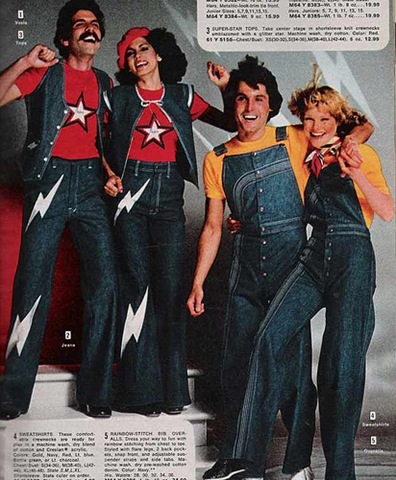 1970's Hair and Makeup Styles
There is also hair and makeup to consider. (Is Yardley make up even still made?)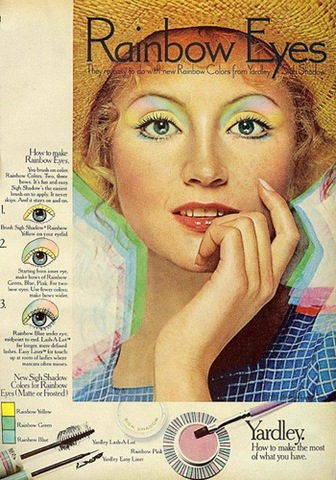 So come on over! I don't care how you get here. Be it by skateboard…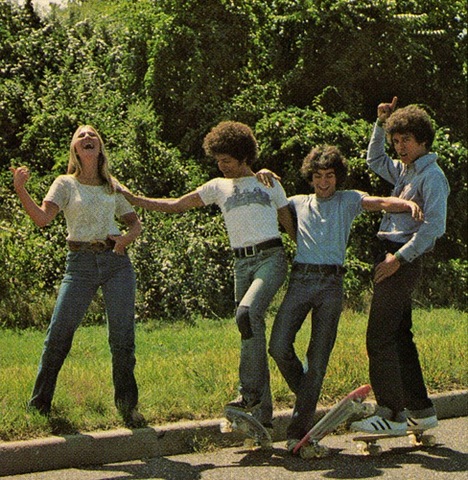 …or by lacing up your skates. (Thanks, White Fundude.)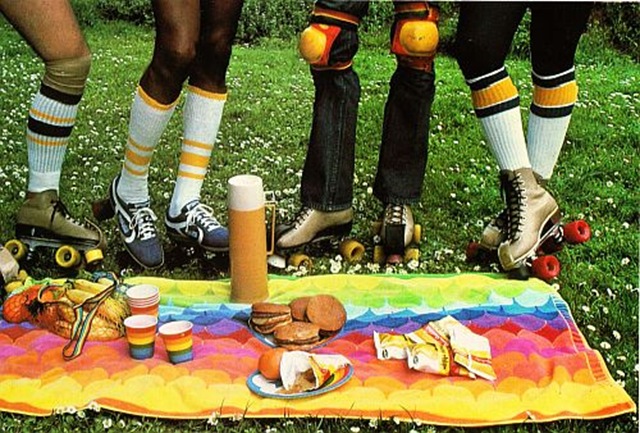 Heck, you could even hop on a tour bus. It is sure to be a truly psychedelic time.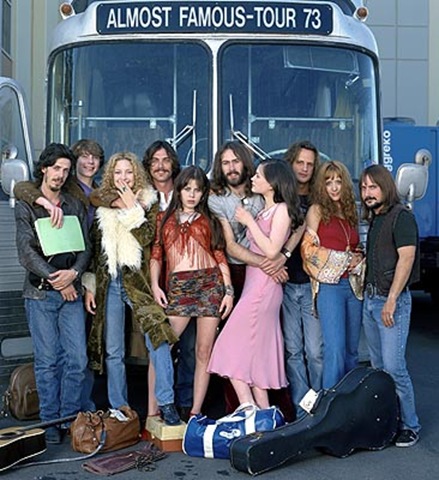 With a lot of groovy peeps.

But sorry, there will be NO "special brownies".
Laura