Friday Freebie My name is Laura and I'm a Ribbon A Holic. Yes, it's true. I have so much ribbon that if I laid it out end to end, I could probably reach China and back. Do you suffer from this affliction as well?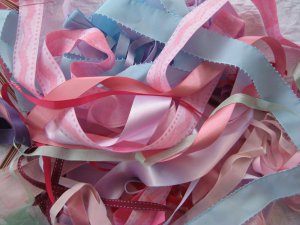 Friday Freebie My name is Laura and I'm a Ribbon A Holic
My daughter, the Fashionista, mentioned that she liked the prize ribbons that are all the rage right now. So I sat down at my sewing machine over the Christmas holiday and created this to pin on her stocking. She loved it.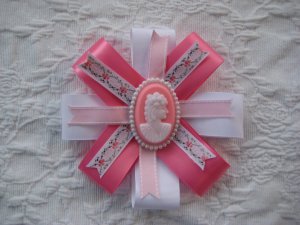 It also looked pretty cute pinned on a pillow.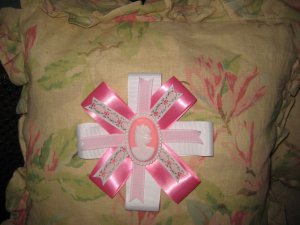 But this is how she ended up using it. Her book bag has never looked better.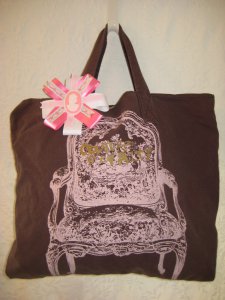 Later on, I was perusing blogs and came across the talented Elizabeth Holcombe. She is featured on page 25 of the March 2009 issue of Romantic Homes. She inspired me to add a few of the vintage charms, and bits & bobs that I use in my jewelry designs to create a corsage for my niece to wear at her upcoming baby shower.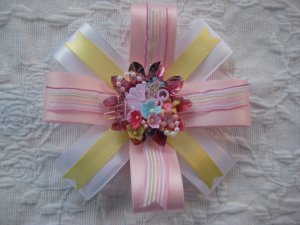 That led me to create a corsage for my other niece to wear to her bridal shower.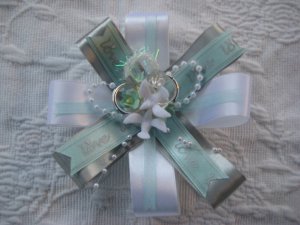 Then I remembered my sister in law Melody will soon be celebrating a birthday.
 Pink fluffy love.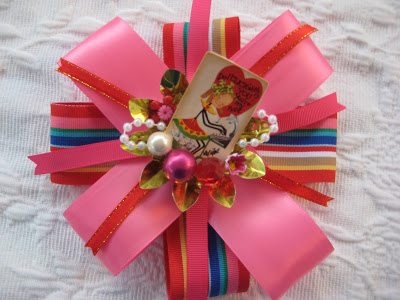 Hearts and flowers forever!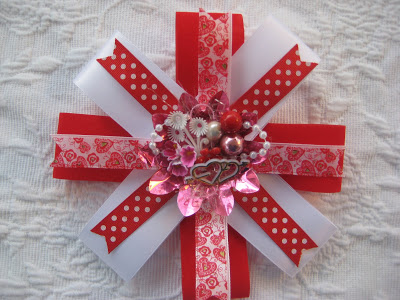 I wrapped a few up to give as gifts.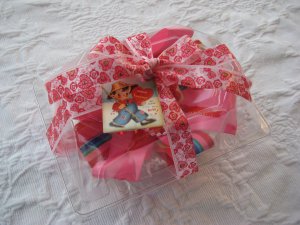 But there is a few leftover, along with some new Valentine jewelry in my Etsy shop.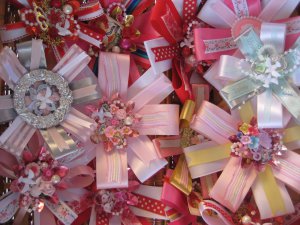 Now on to Friday Freebie!
I still have a lot of ribbons left. So I thought I'd share some Valentine colors with you. I have also included a small tray you can string ribbon through, lace doilies, some bits and bobs, and of course, chocolate, candy, and tea.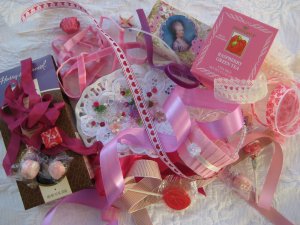 This contest is open to followers of this blog, also known as "Adorable People". Please leave me one comment.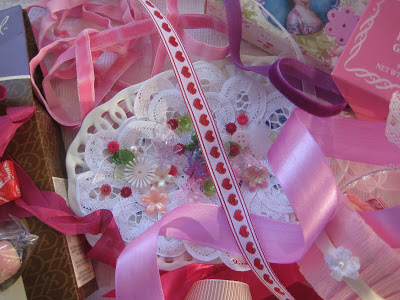 There is another contest open to everyone. Over at Bella Casa's blog, she is hosting an Etsy party. Yours truly donated a Vintage Valentine Lovers Necklace. You have until Friday evening to enter.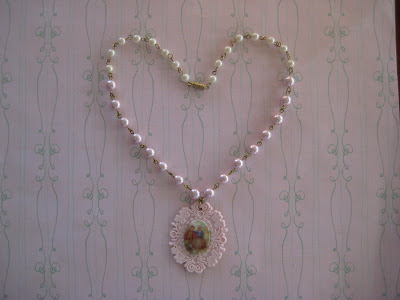 Good luck and much love!
Laura