The Gamble House was built in 1908 by brothers Charles S. Green and Henry M. Greene. It has been recognized as a true showcase representing the best of the Arts and Crafts movement in America. The Gamble House Exterior Arts and Crafts.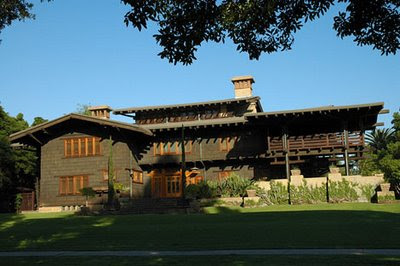 The founder of the Arts and Crafts movement was William Morris. Morris, born in England in 1834, created the Arts and Crafts movement in response to his dissatisfaction with mass-produced goods so prevalent in the Victorian Era. A true Renaissance man, he was a painter, poet, architect, as well as a furniture and textile designer.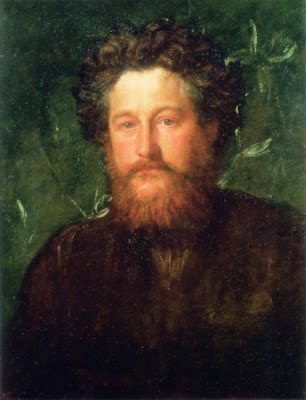 William Morris by George Frederic Watts, 1870
Many of Morris' theories about how one should live were brought to fruition when he created The Red House, built by Philip Webb in 1859. The home showcased paintings, wall-hangings, furniture and stained glass all of which would come to be associated with the Arts and Crafts style. Everything was created by hand. His work and those associated with Morris was showcased in 1862 at the International Exhibition. Within a few years, the style flourished.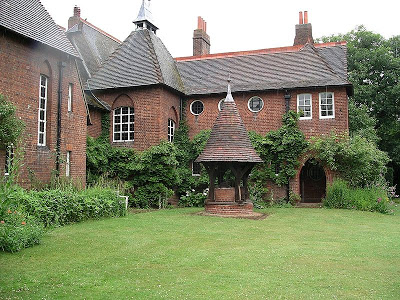 Henry Mather Greene went on his honeymoon to England, Scotland and Europe in 1899 and was greatly influenced by the Arts and Crafts movement. Fully embracing the style, he returned to P
asadena and Greene and Greene began to offer integrated design services for their clients. Meaning, they provided design and construction of the house and all of its interior appointments which included furniture and artwork.
While they designed many homes, the Gamble House remains their chief masterpiece.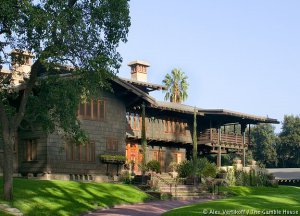 The home is located at 4 Westmoreland Place, a private road which runs parallel with Orange Grove Blvd. There are gates placed on either end of the road.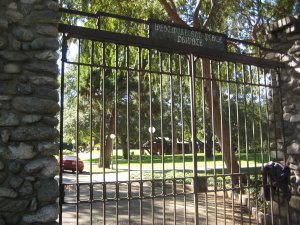 The house is an infusion of styles which include the Swiss Chalet as well as having a traditional Japanese influence.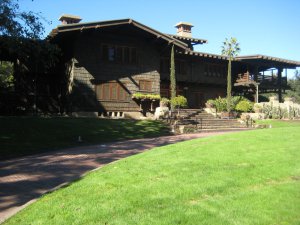 It has wide terraces and open sleeping porches. Broad overhanging eaves and cross ventilation keep the house quite cool.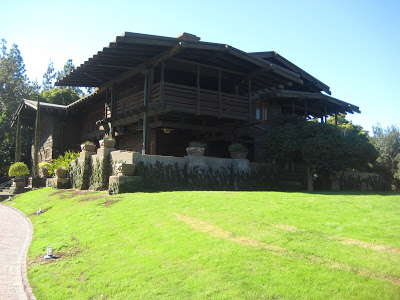 Here is a close up of the wooden split shakes that cover the exterior of the house as well as one of the many identical cement pots created specifically for the outdoor plantings.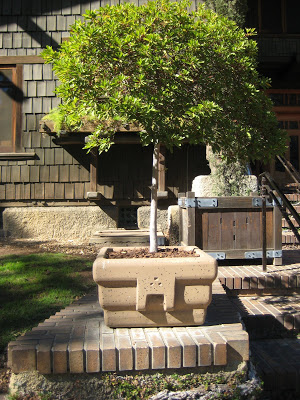 The front door is a symphony of wood and stained glass.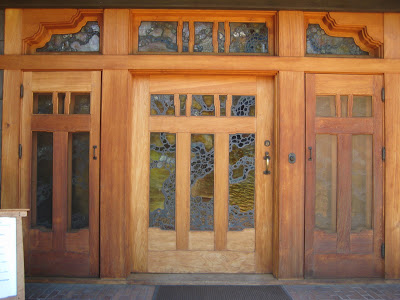 No mere tiles or brass numbers provide the address for this grand home. An exterior lantern features a wonderful number "4".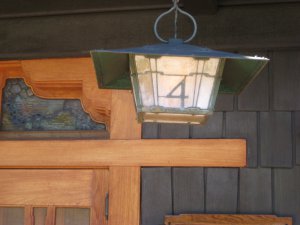 The backyard features a vast green lawn and a lovely pond filled with koi.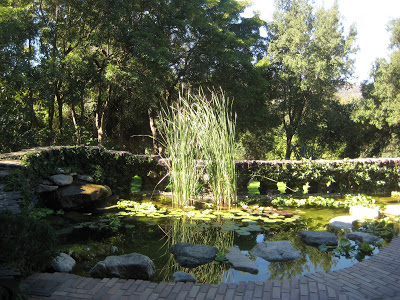 Lanterns dot the landscape throughout the property.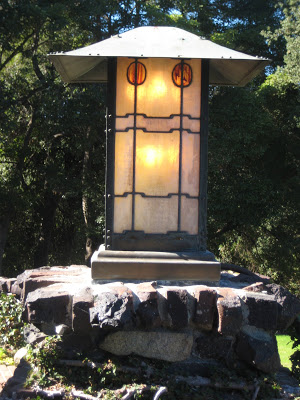 To the right of the home is a man's dream. A separate garage that features a massive built-in workbench, bathroom, and rear offices.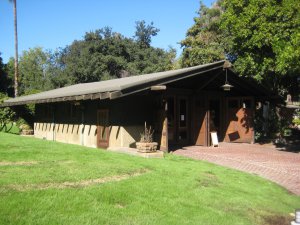 For those who love movie trivia, the garage scenes in "Back to the Future" were filmed here.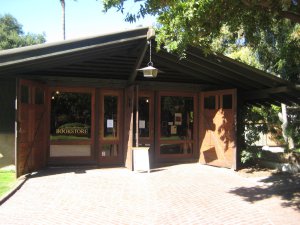 The Arts and Crafts bungalow style became popular throughout America when Sears and Roebuck, as well as Radford, offered Craftsman bungalow plans through the mail.
Bungalows themselves came in several styles: California, Craftsman, Tudor, Mission, Prairie, Foursquare and many others. A great website for further research is American Bungalow. 

Hallmarks of the style include:
 A low-pitched, gabled roof

Wide overhanging eaves

Exposed rafters

Tapered or square columns supporting roof or porch

Hand-crafted stone or woodwork (materials were often mixed throughout structure)

Wednesday's post on Arts and Crafts Interiors will look at how the Arts and Crafts movement influenced the interiors and furnishings of homes. 
Laura