I love pumpkins, gourds, pine cones, and leaves. Yes, I truly adore it all! Now that fall has officially arrived in Phoenix (it's only 82 today) I am ready for some Pumpkin Pizzazz.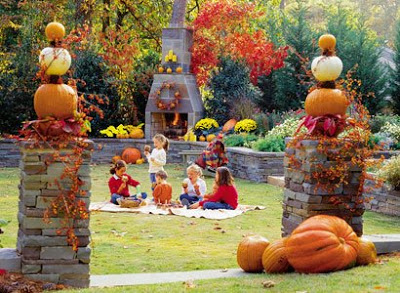 Pumpkin Pizzazz
For many of you, the cold has already begun to descend and your flowerbeds could use some jazzing up. One quick way to revive a tired flowerbed is to transform it into your own beautiful pumpkin patch.
Place several pumpkins and gourds among your remaining flowers and plants.

Add some vines either clipped or dried such as grapevine, wisteria, or honeysuckle.

Weave the vines around the pumpkins.

You can also add a string of white or orange lights for evening color.
This remains an all-time favorite pumpkin topiary image. It is from Southern Living. To create this look, find a terracotta dish with a low rim and fill it with quick dry cement. While the cement is still wet, place a piece of metal rebar into the center. Once the cement has totally dried you can then skewer the pumpkins onto the rebar and fill in any open spaces with pine cones and leaves.



I also love using pumpkins as vases.
Outdoors you can use carved

funkins

and silk flowers.
For a special dinner, use a real pumpkin or gourd and fill it with chrysanthemums and other lovely fall

florals

. You just carve off the top of the pumpkin and clean the inside seeds out. Mist the interior and place it in the refrigerator until an hour or two before your guests arrive. Once on the table, place the floral arrangement inside a glass vase or jar and tuck it into the carved out pumpkin.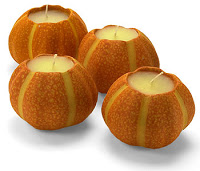 Mini pumpkins can also help set a festive table.
You can use them as a votive holder

Create place card holders by cutting a small slit into the stem. Take a leaf (real or paper) write the name of the guest on the leaf and place it into the cut stem. This can also double as a parting favor for your guest.

As pumpkins and gourds are edible, they are safe to serve soups, dips and other food items in on a buffet table.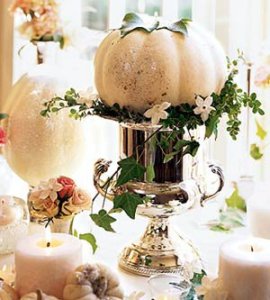 Remember to pull out your favorite dishes, pedestals, and trays for inexpensive holiday decorating with pumpkins and other fun fall favorites.