Do you love to create little Halloween Vignettes? Here are a few fun images to bring your creativity in from the pumpkin patch and into your home.
You can turn your home office into a truly fun place to work.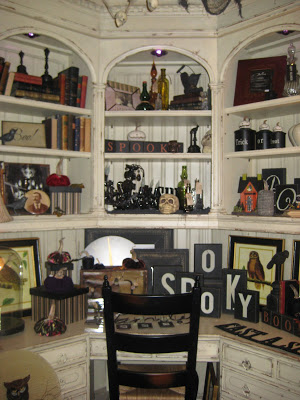 Halloween Vignettes
A close up of one of the shelves reveals someone who loves candy corn. Whoooooo adores the owl print?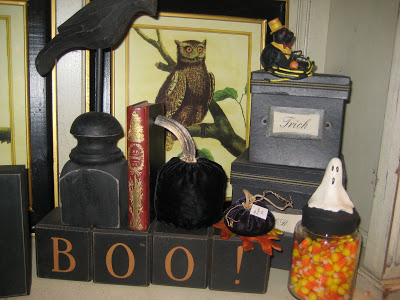 Another shelf features a plaid pumpkin. You can make this from the fabric of an old wool coat. Recycling at its cutest.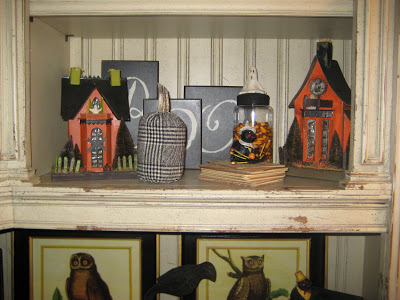 Anything looks better when placed on a pedestal. Try taking your candlesticks out and find a tiny pumpkin to place on top creating a mini pedestal effect. A large jar of colored candy would work well on a kitchen island.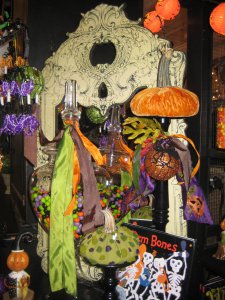 Lights, banners, and blocks…oh my!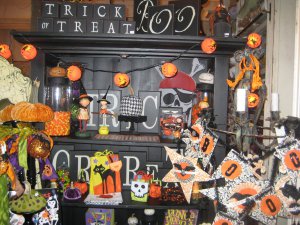 If you've recently switched over to a flat screen tv and still have an entertainment center, try placing it on a large wall and turning it into a mini library. The shelves can be filled with your favorite books and still more books can help fill the empty center. Add a few other goodies such as a lamp and a wee bit of boo.