In a post last week, I spoke about Spanish Colonial architecture and its origins. This week will focus on Spanish Colonial Interiors.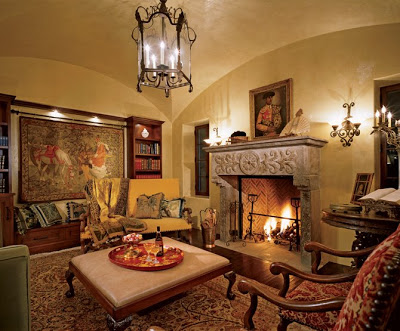 Spanish Colonial Interiors
Beginning in the 15th century, countries began to trade with one another by land and sea. Trade was amongst the highest between Italy, France, and Spain. This is the primary reason that the design styles of Tuscan, French Country and Spanish Colonial compliment one another quite well. Because the countries traded so easily amongst one another, each adapted their own styles in the similar materials.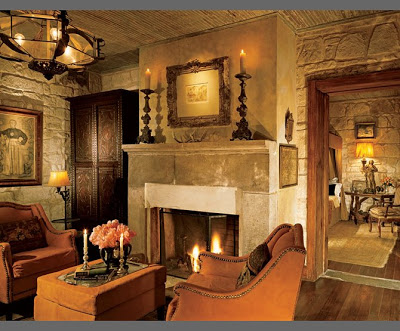 Spanish Colonial interiors can be quite elaborate or relatively simple in style. While the use of wrought iron is used quite prevalently, it does not appear harsh or cold as rugs, tapestries and warm colors help soften the metal.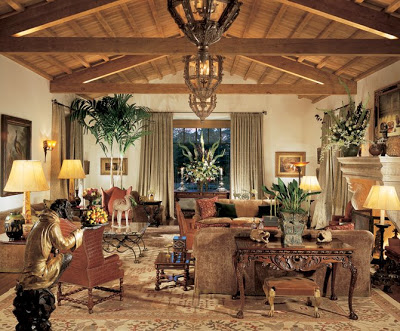 Spanish Colonial interiors can be quite elegant or extremely casual depending on furniture and accessory selection.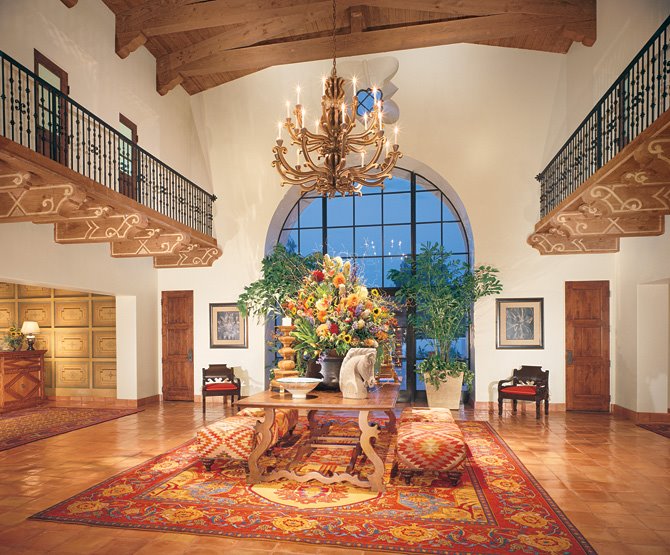 For elegant interiors, you will often find hand plastered walls in a rich cream or honey yellow color. Flooring will often be parquet, rich stone or beautiful tile. Beautiful, richly colored carpets are then layered on top of the floor. Heavily carved furniture made of dark wood, generally walnut, is used. The upholstery is often leather or rich velvets. Fireplaces are often a focal point. Tapestries and rich oil paintings cover the walls. Lighting is in the form of elaborate sconces and candelabras in wrought iron or brass.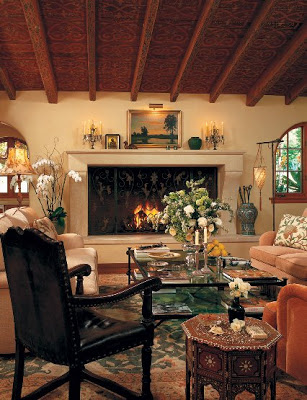 A casual feel can be obtained with flooring made of brickwork, tile or wood that is more rustic in appearance. Ceiling beams, while used in both formal and casual rooms, are generally more present in a casual atmosphere. Dark wood furniture is still used but in simpler styles. Leather upholstery is popular and often trimmed in nail heads. Generally, window treatments are not used, but shutters and simple panels work well with this style.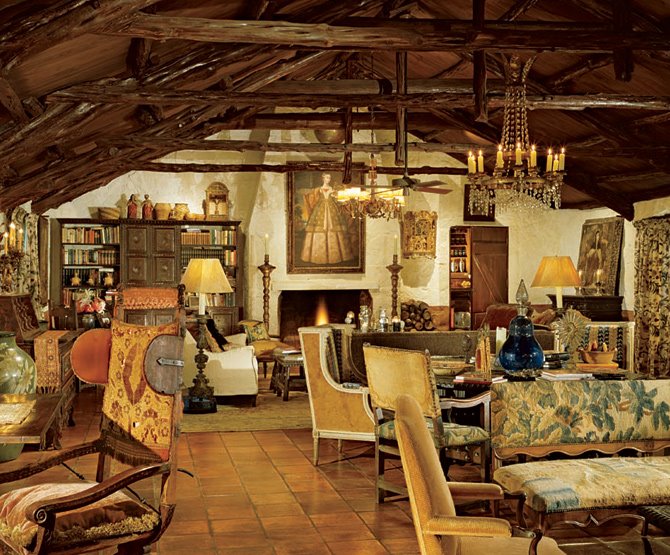 In more casual settings, plaster walls often feature colors of deep rich red, gold or blue.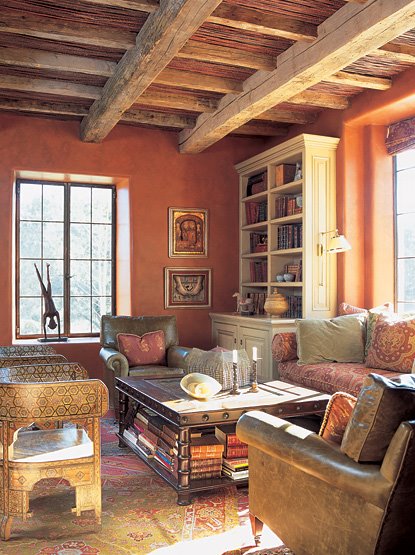 Architectural niches are often incorporated into the design of a room. They can be filled with religious icons, statuary, pottery or wrought iron pieces.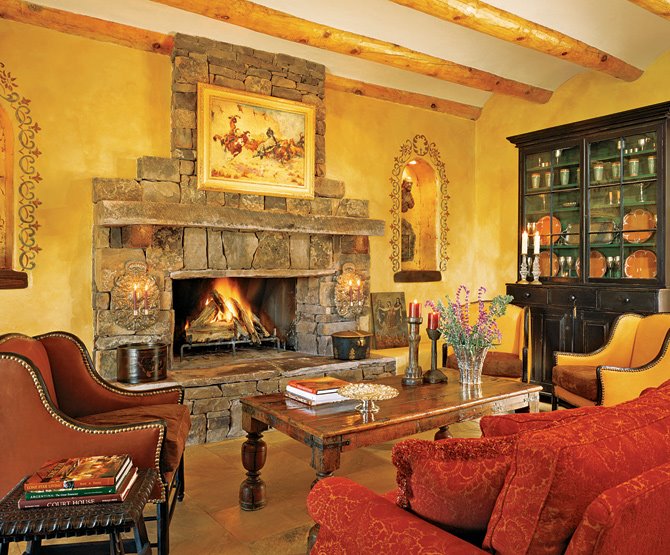 Bedrooms
Here is a bedroom showing a good use of color. Do you also see a Moorish influence?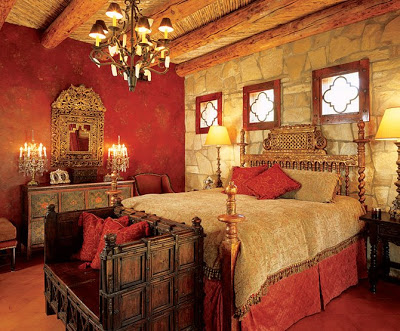 Beds will often feature a canopy. This style remains from a time when central heating was not available and fabric panels would be closed to keep out a draft.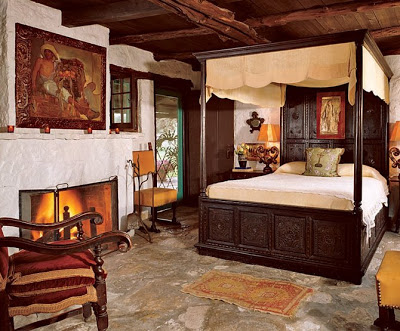 Bed linens are often simple matelasse, heavily embroidered cotton or silk, brocade, and in more recent years, rich chenille.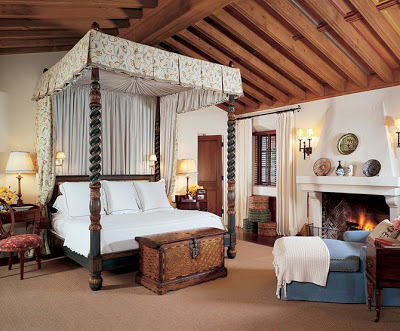 Here is a room featuring a magnificently wrought iron headboard that absolutely pops on a beautiful blue wall. This is the main focal point of the room as the rest of the furniture is fairly simple and more neutral colors are used.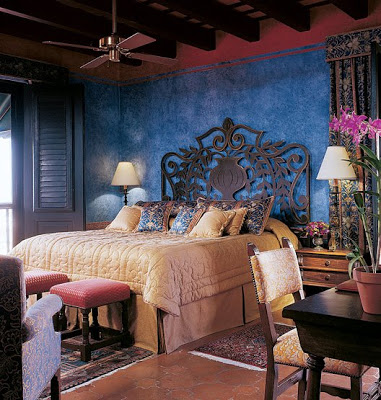 Dining Areas
In dining areas, you find quite a bit of candlelight, dark furniture, and rich upholstery.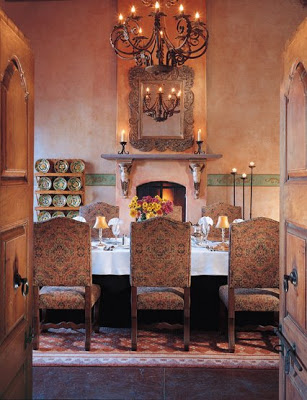 I love the combination of the rich buttery leather and the beautiful brocade that covers the dining chairs. I would perhaps add a lovely carpet to ground the grouping.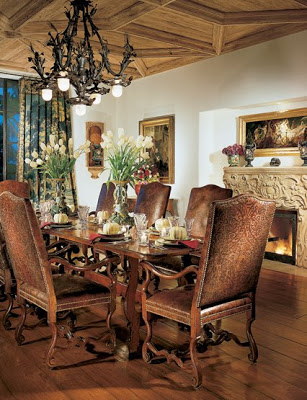 This is a simple, but warm space. Urns and pottery play a large role when accessorizing a Spanish Colonial home.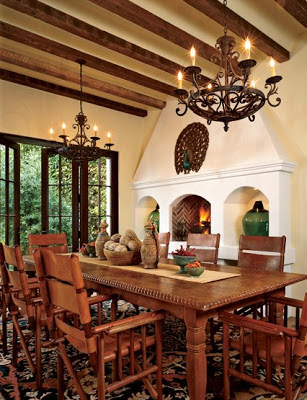 Kitchens
Kitchens will often feature bright colors. This kitchen features tile which is reminiscent of Azulejo tile which was introduced by Spain in the 15th century by the Moors who had learned the craft from the Persians. One can see the Arab influence in the glazed ceramic tiles that often feature interlocking geometric, curvilinear or floral motifs. I love how the Fiesta ware pottery pops against the white walls.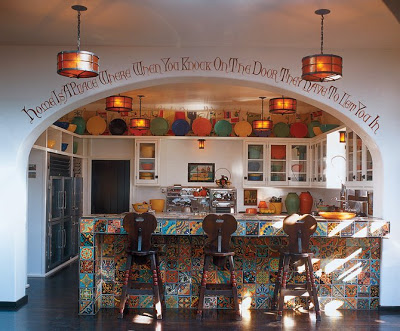 Copper is a metal that is often featured in Spanish colonial homes, particularly the kitchen through pots, pans, sinks and other hardware. The copper accents pair beautifully with the turquoise cabinets.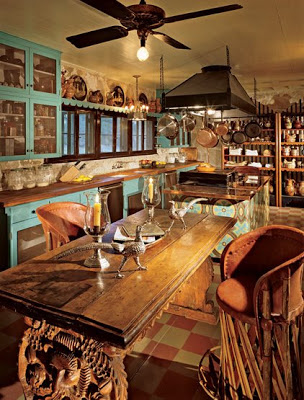 Accessories
Spanish accents can be brought into other areas of the home such as this wrought iron staircase and lighting, as well as the large tapestry adorning the wall.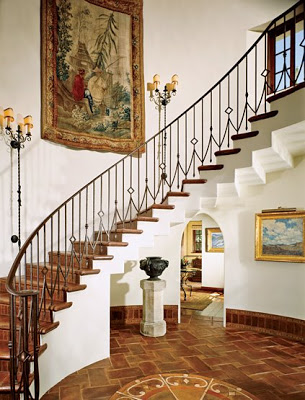 This fireplace is the perfect picture of coziness. Notice the dark wood cabinet which is beautifully carved, wrought iron candle holders and the iconic art above the mantle. To the right of the fireplace is a chair reminiscent of the Sella Curulis which is a chair with an "X" shaped base.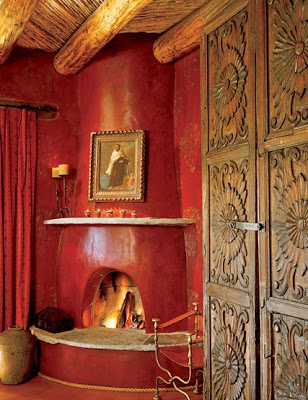 For accessories, this picture is a great example showing iconic art pieces, tapestry, stonework, and pottery, all of which would have been collected by a world traveler or trader. The crystal chandelier is a wee bit out of place, but I like how it elevates the more rustic pieces.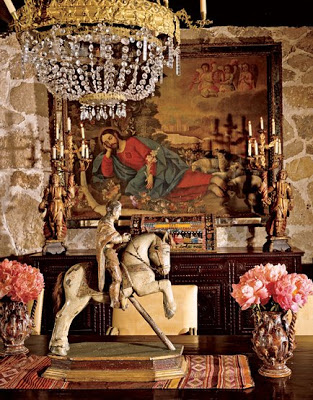 More iconic art, a beautiful mirror, and the chandelier reflected in it. The candelabra and candle holder collection is just perfection.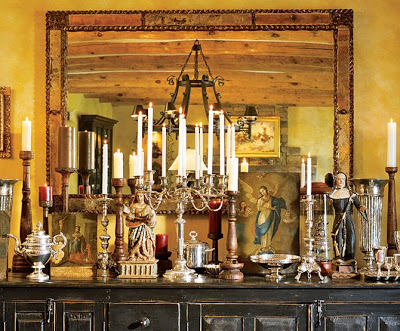 Outdoor Living Spaces
A popular concept in decorating is creating outdoor living spaces. To continue the feel of a Spanish Colonial home in the outdoors you can see how the elements of dark wood, copper, wrought iron and leather can work well in a covered outdoor space.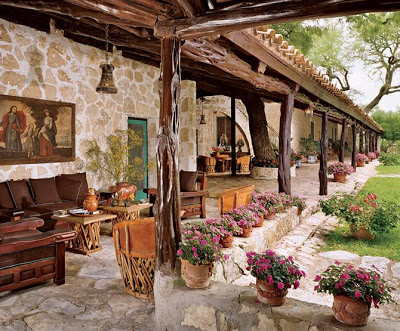 This photo leans more towards a Southwest design style, which has its origins from Spanish Colonial. You can see the influence through the pottery, rich color and metal.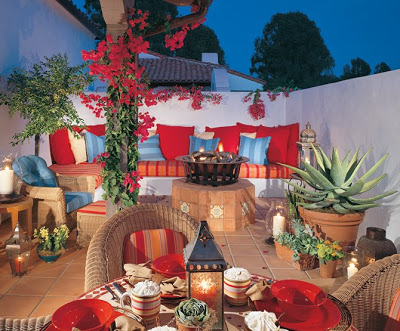 All images
What decorating style would you like to see featured next?
Laura