Sweet Boy turns seven today. It is not unusual for him to be dressed like this while watching Peter Pan. He loves the pirates. Argh Matey Join Me For A Pirate Party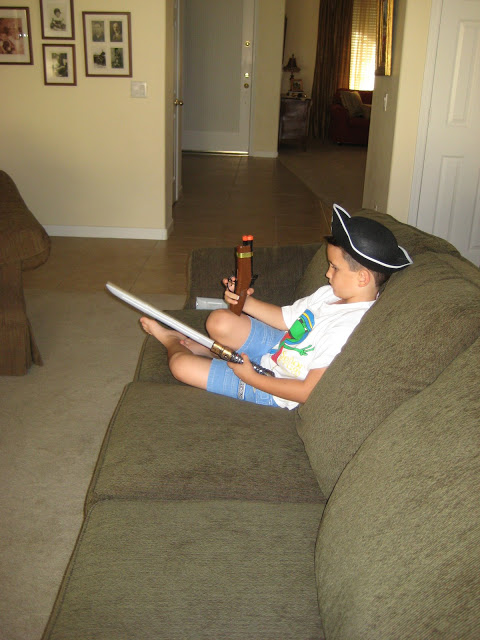 Argh Matey Join Me For A Pirate Party
When I found the following cards on clearance for $1 it shivered me timbers and a theme was born.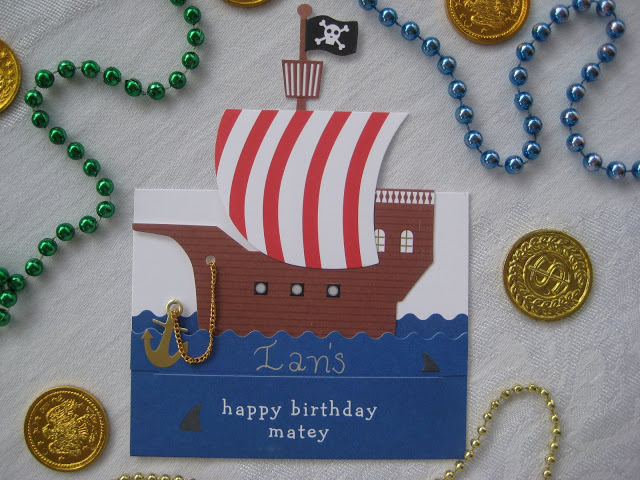 We had a lunch of boiled pirate fingers (hot dogs) out on the patio. The table was laden with jewels, shells and pirate paraphernalia.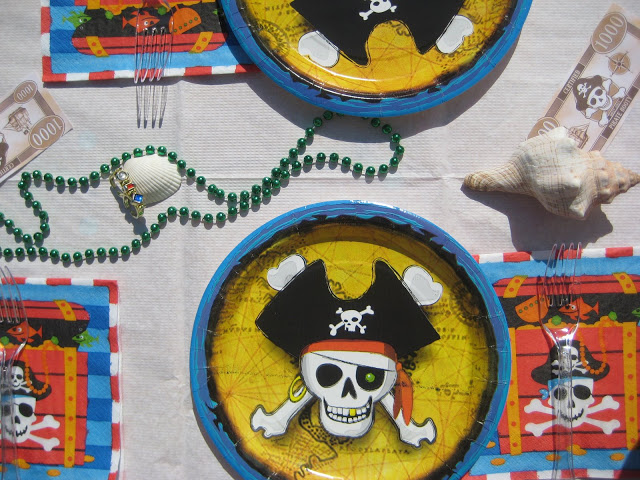 A truly motley crew.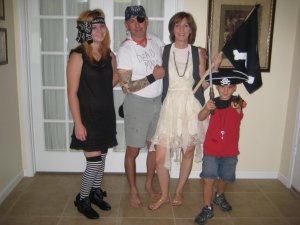 Fellow buccaneers saying "Argh!"

The Games
The first game was "place yer treasure on the chest". Each child had a lightweight gold piece with their initial on it. They were blindfolded and had to try and place the piece on the treasure chest.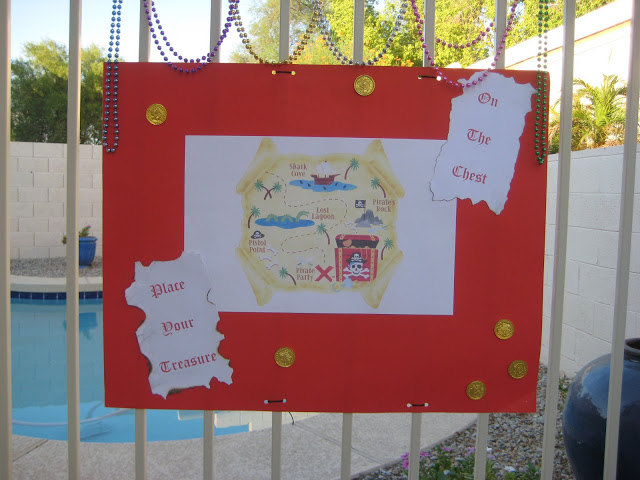 Walking the plank~blindfolded.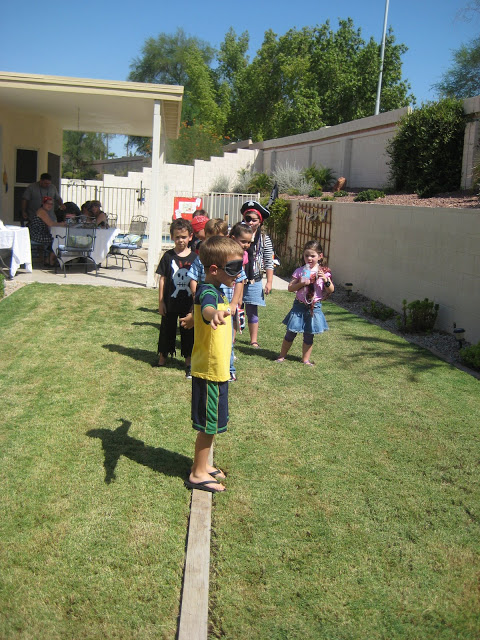 Cannonball toss~ each child had a partner. The water balloons felt good when they busted as it was 100 degrees.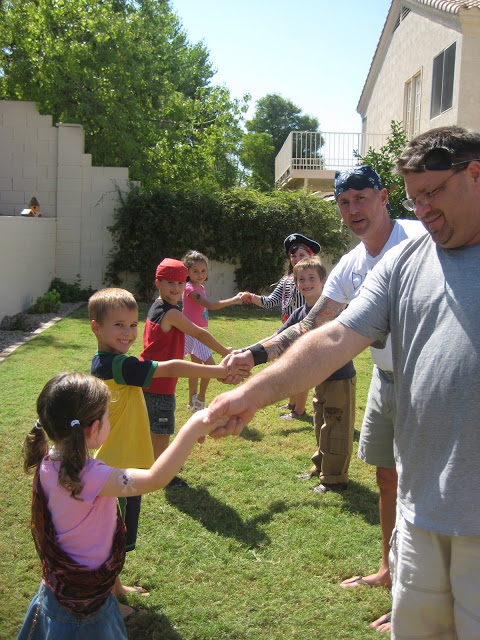 The highlight was the "treasure hunt". There was six clues total. This was "message in a bottle" found floating in the "forbidden cove" (pool). Don't you just love Mr. Decor's fashion savvy? His t-shirt reads: "Dead Man's Chest".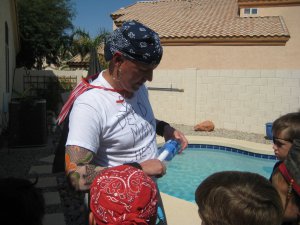 The booty. I would have painted the (styrofoam) chest gold, but Sweet boy's favorite color is red. There are upholstery tacks attached to it.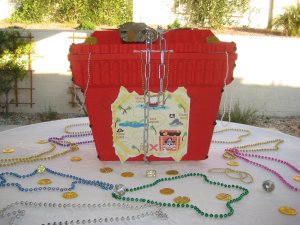 Inside were eye patches, spy glasses, beads, chocolate gold coins and other treasures.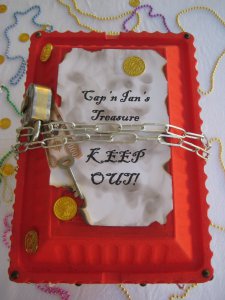 The Hilarious Cake
The cake was an attempt at a pirate ship complete with cookie cannons.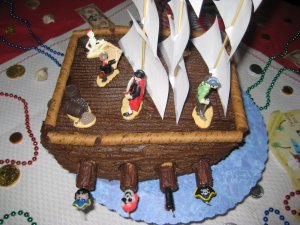 I cut out a round piece of scrapbooking paper with a water print to set on top of the cake plate.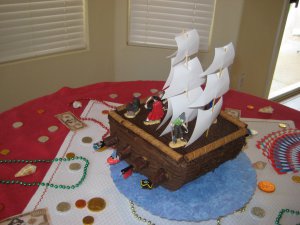 Here's a laugh. Early in the morning, Sweet Boy decided he wanted a ship that "had been in battle" and began hacking away at it. After I remembered it was HIS birthday, I quit yelling. 🙂 It did look kind of cool once the "cannons" were lit.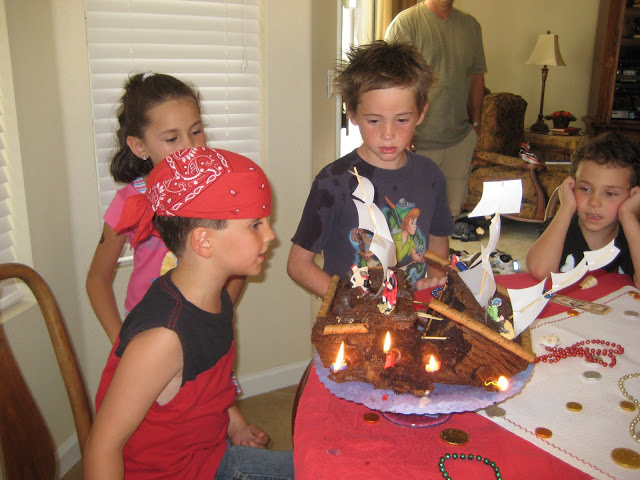 This is the part of the post that will show up later in the form of an email forward about pets who hate their owners.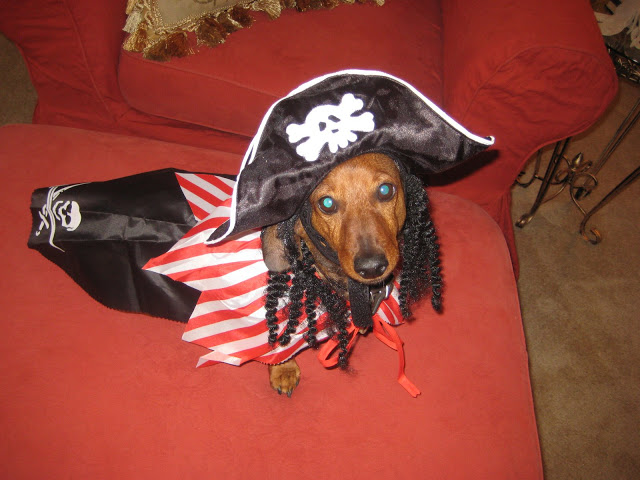 I found the cape at Savers and Auntie sent sweet Rudi the dreadlock hat. Before you call PETA, I did take off the outfit right after the pictures were taken.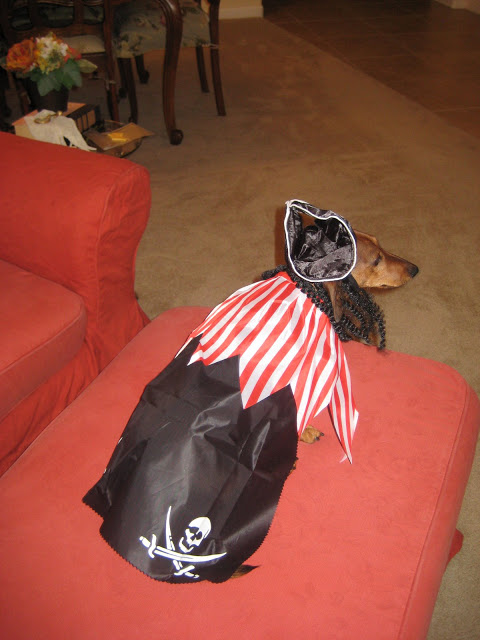 Thank you for joining in on the swashbuckling fun!
Laura