Yesterday I hosted a luncheon. The theme was "Come With Me to the Sea". It has been 110+ here in Phoenix so I thought that we could be transported to a cooler climate if only for an afternoon. Come With Me To The Sea. Here is my living room decked out in summer white slipcovers. (They will change to a Tuscan red in the fall.)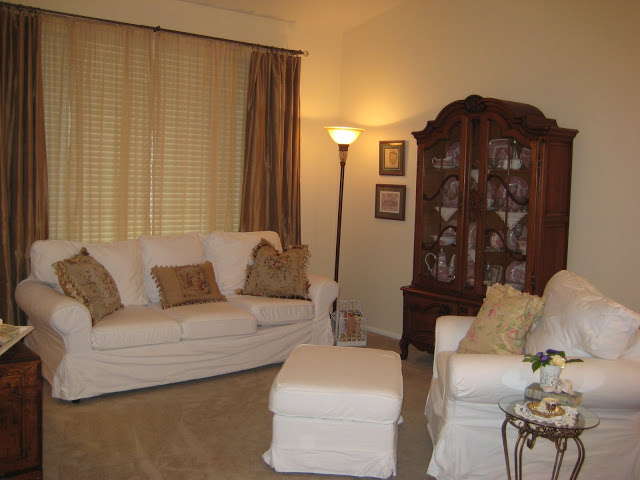 Come With Me To The Sea
To the left of the room, there is normally a small antique chest that my husband bought while living in England. It is currently being restored, so I moved in our antique Chinese chest and topped it with a tray that held a nautical vignette.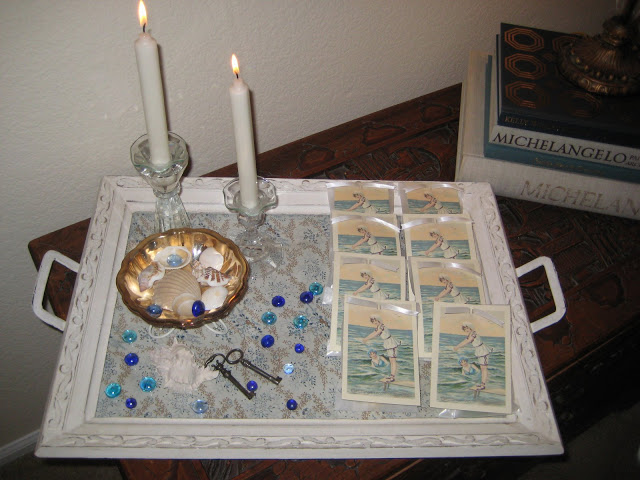 Here is a closeup of the goody bag I made for each guest. What did it contain? Saltwater taffy of course!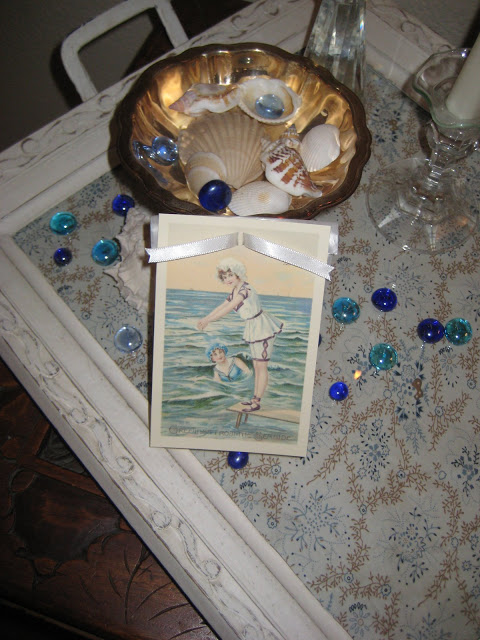 I do believe that love is in the details so even the little side table was dressed up with shells and shades of blue.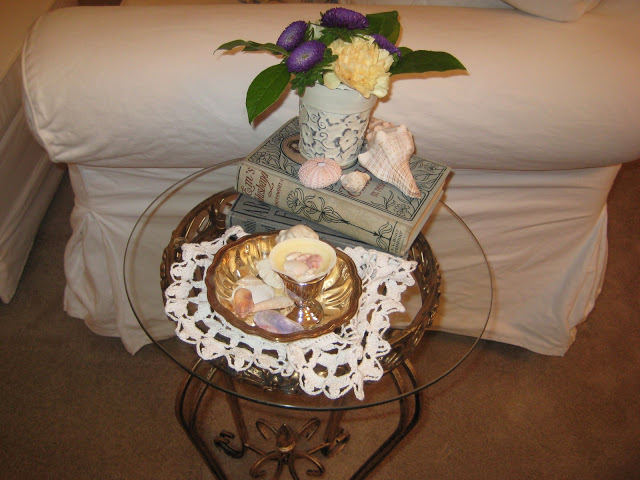 The table and buffet were decked out in various shades of white and blue. Don't you feel cooler just looking at it? (One guest broke her foot, so I left the head of the table open for her wheelchair.)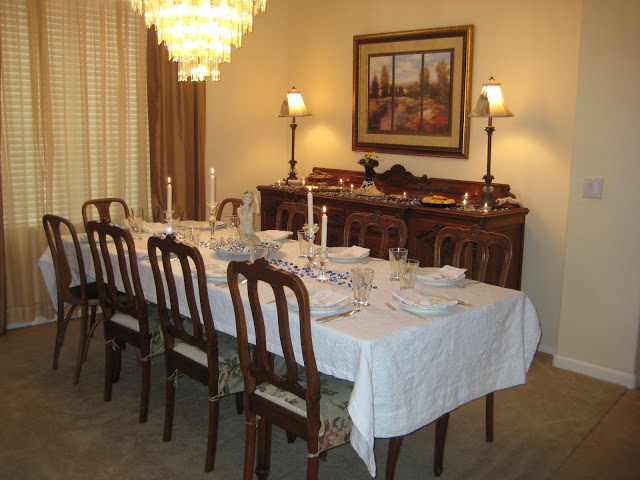 I had a different centerpiece planned, but on Wednesday an unexpected package arrived. It was from my husband's grandmother. She is downsizing and sent me this lovely vintage sea-maid that I have long admired for my upcoming birthday. Thank you, Grandma Joyce!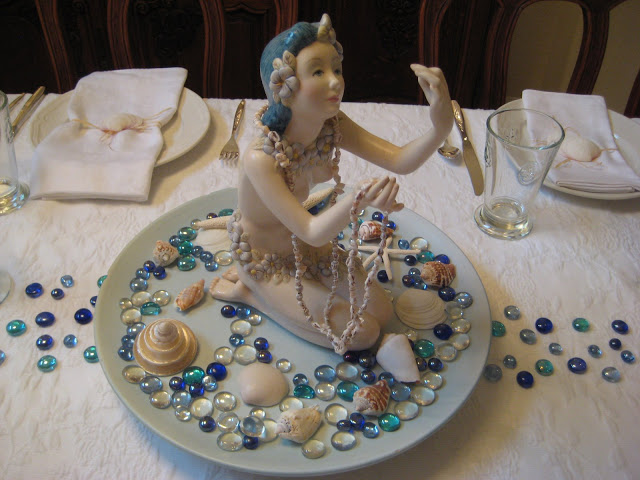 A close up of the buffet shows more treasures from the sea. I love the little shell-shaped candies, in the small glass bowl, but the cookies were oh so yummy!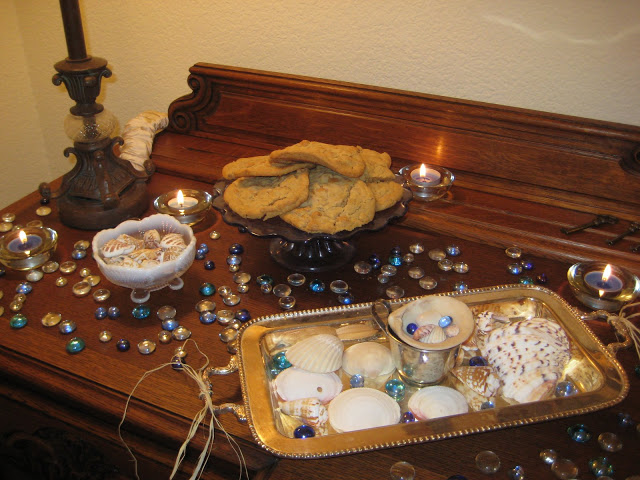 The Kitchen Area
Moving into the kitchen area I continued the theme but in a somewhat different color palette.
This little sea-maid is drinking from a shell. She moves around to various spots in our home. I found her at Marshalls for $7. I think she enjoyed her shell garland.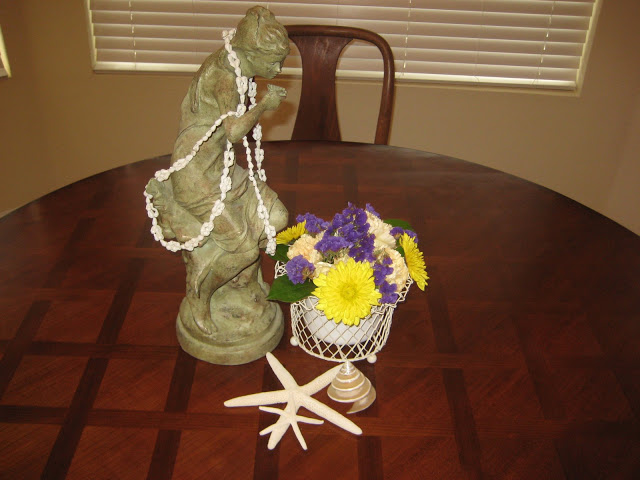 On the center island, I set out a few snacks that you might find on a boardwalk: peanuts, pretzels, etc. I also included a bit of small seaside decor.
TIP: In the background, you can somewhat see that I have all of my platters and utensils laid out so that when it is time for lunch I can quickly take items from the refrigerator and place them on the counter. This is a great time saver as you will not be scrambling to find what you need only to discover that it is in the dishwasher, dirty of course. An empty platter will also remind you to pull out everything and not to forget to put out a certain dish. (Yes, I've made that error more than once.)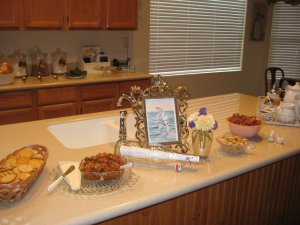 Another time-saving tip is to set up a drink area where guests can help themselves. I learned this lesson the hard way when I spent an entire evening doing nothing but refilling drinks. Shortly before this party started I also set out ice and seaworthy sodas alongside the lemonade, water, and iced tea.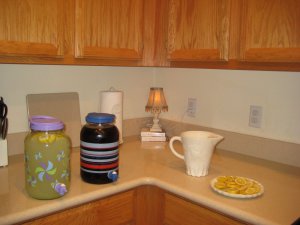 I didn't take a picture of the plates of food as I was having such fun. But the rest of the menu included shrimp po' boys, tuna salad, macaroni salad, sliced watermelon, and other yummy delights.
I hope you enjoyed your day at the seaside,
Laura