Curbside Creativity Inspired By Spray Paint. Once a month we have a bulk curbside pickup in our neighborhood. I'll admit that I stalk other peoples piles of trash. If I see something I like I usually knock on the door and ask if it is ok if I take it. I have never had anyone tell me "No". The up side is that my neighbors will now often ask, "Do you want this?" before they toss it. This is probably because they don't want to hear me talk about the benefits of Freecycle again. Hey, it's not easy being green.

Here is the loot from a recent dumpster dive, two camp chairs from the 1950's. Ah, they don't make 'em like this anymore. Mr. Decor and I love to entertain and we never have enough outdoor seating. So, a bit of spray paint ( a favorite tool of mine) and some leftover fabric from my daughter's curtains and voila!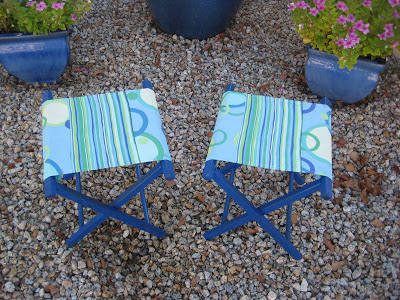 My daughter adores this Ung Drill frame from Ikea. For months I heard about how much she loved its shape and would ask if I could think of any way that she could use it in her decor.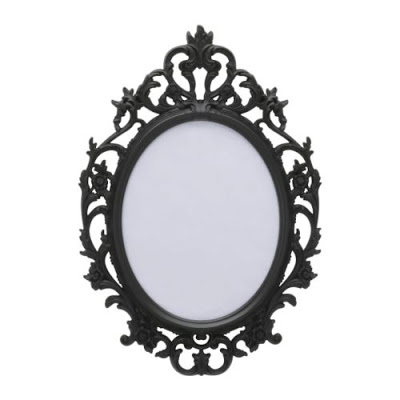 Given that her bedroom is very modern in style I began looking for her bathroom. It features a double sink that is topped by one very large mirror that I am not very fond of. OK, I'll be honest, I hate it. In general, I like to see more a decorative mirror over a bathroom sink. But even a decorator can't have everything. As moving is in our future, Mr. Decor would like to stay away from unnecessary expenditures.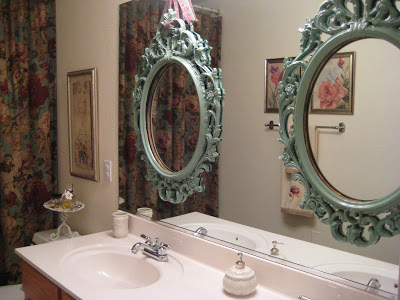 I decided that I would take the backing off and just use the frame itself over each sink. Of course, a brand new perfectly good mirror in black wasn't working for me, so I picked up a can of jade spray paint.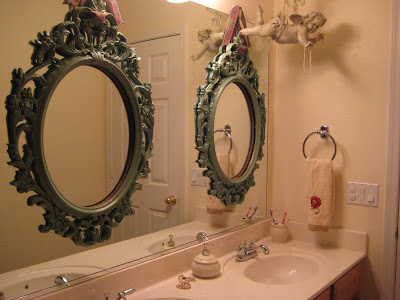 As I wanted an aged patina, I added a bit of stain once the paint was fully dry.
The interior of the frame was visible in the mirror so I covered it by adding some braided trim that I found at Hobby Lobby. It was originally white.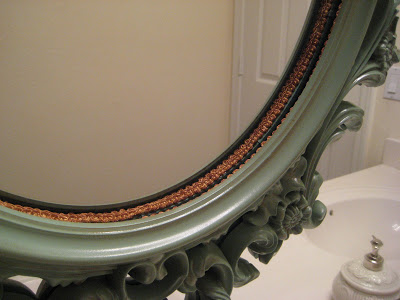 Nothing that a wee steeping in a bit of strong coffee can't change. As we don't drink coffee ourselves, this is 2 heaping spoonfuls of instant in one cup of boiling water. The trim sat for about 15 minutes and was line dried and then hot glued onto the mirror.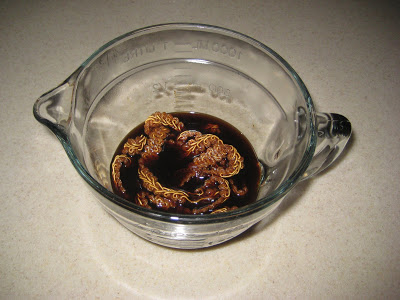 I recently purchased these two pictures online. The seller had excellent photography skills that masked that the frames were very beaten up.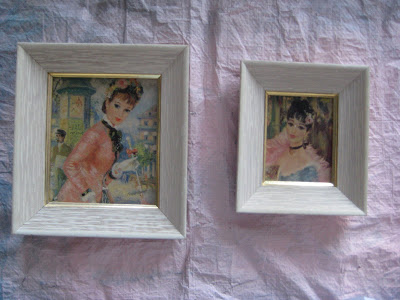 So, I taped off the front pictures, grabbed a can of aqua paint and went to town. I think it's an improvement.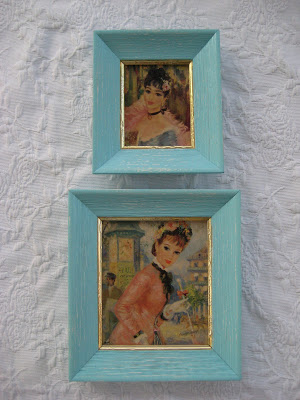 The close up shows that I distressed the frame with a bit of sandpaper. Now the dilemma is to sell or not to sell. (smile)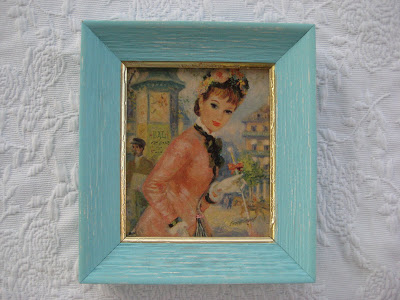 Here is my next victim… err project. It will soon be prairie green.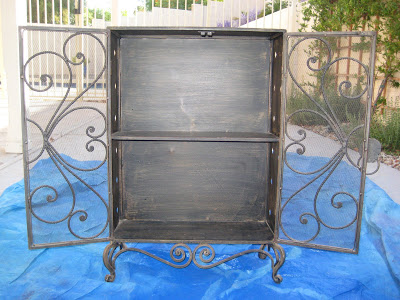 The cabinet was fairly dirty and dirt is your enemy when spray painting. Make sure your surfaces are clean and you'll also want to use a bit of sandpaper to smooth out any rough spots.
Ventilation and patience is the key. I use a huge tarp and either my (opened) garage or the back patio.
For those of you that live in humid areas, wait until the fall. Your paint will NEVER dry. Because it is so hot right now where I live, I get up at sunrise (5 am or so) and am able to get one to two coats on before it gets too hot and the paint won't set.
The key is several light coats for a smooth, even finish. Given my temperature restraints, the piece above will take about 3 days to be fully finished.
That's where the patience comes in.
Laura