Gold Flatware. This morning I sit here writing to you while drinking my tea out of the loveliest of cups. Yesterday our postman brought me a package from Miss Sandy of Quill Cottage. I had won her most recent giveaway. Can I tell you what joy and memories this brought to me?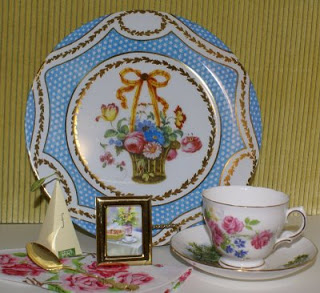 Gold Flatware
The package included a lovely plate with a Sevres porcelain image, and a delightful cup and saucer featuring a thatched roof cottage to remind me of my trips to England. There was also a small sweet picture that will get tucked into one of my many bookcases. My favorite, however, was the beautiful gold flatware teaspoon tucked into a vintage hanky. I truly feel like Queen Victoria herself this morning.
It is amazing how such small things can bring about warm memories. This one teaspoon that I received made me recall visits to an elderly neighbor when I was a little girl. Mrs. Thelma Gibson was quite the lady and loved to entertain. Even a visit by a little girl warranted putting out a tea set and tablecloth. These items I cannot specifically recall, but I do remember her flatware, it was gold.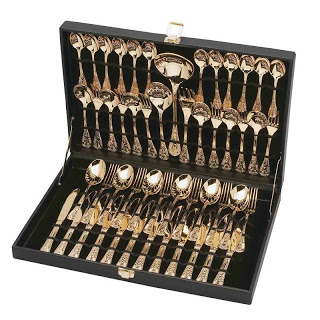 It was kept in a case similar to this. When one is eight years old there can be nothing finer to eat with than gold flatware. I imagined Mrs. Gibson to be very rich indeed. I spent many an afternoon in her parlor making small talk and thankfully learning etiquette from a professional. Yes, Mrs. Gibson was a true jewel who outshone even her gold flatware.
Sadly, she passed away over 15 years ago. She left me a

monstrous

dictionary which I still refer to on a weekly basis at least. I also received several books of poetry and quite a few literary classics to include Shakespeare, the Bronte sisters, and other less well-known authors. But in true Mrs. Gibson style, she also left me her copy of Emily Posts Book of Etiquette. I refer to it when composing special letters, and planning dinner parties,

specifically

on how to lay out the flatware.
Here are a few modern-day

selections

.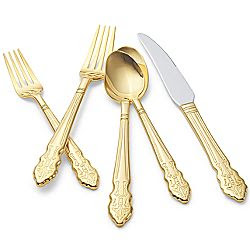 This is the Brandon pattern by Chris Madden. Mrs. Gibson would approve.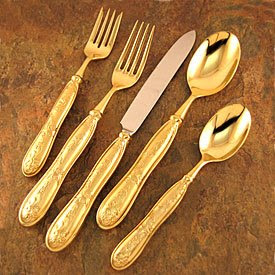 I think that Louis XIV would even love the Botticelli flatware.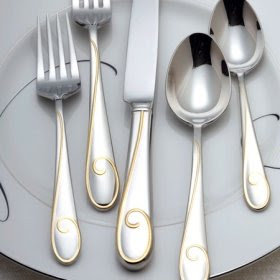 This swirling pattern by Waterford is a quiet kind of loveliness.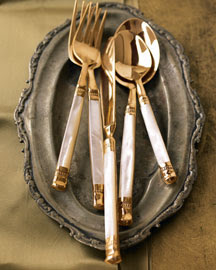 The mother of pearl flatware with gold accents is quite lovely.
Yes, I shall treasure my little gold teaspoon and the delicious memories that it stirred up in my heart.