The delightful Miss Sandy from Quill Cottage is hosting an "I remember Laura" Blog~A~Thon. If any of you are Laura Ingalls Wilder fans, this month-long event is not to be missed. Over the entire month of June, there will be an art swap consisting of four different projects. Each Monday will introduce a week-long feature of a special "Little House" memory. Today's feature is Antique Quilts.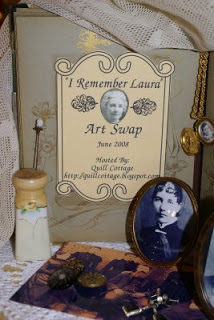 Antique Quilts
This week the "I remember Laura" Blog~ A~

Thon

is focusing on quilts. The history of quilting goes back to ancient Egyptian times. The piecing of fabric together was originally used for clothing.

Beginning

in the 15

th

century, whole cloth quilts such as 
solid color quilts 
(or the more popular

whitework

) were often traded among the wealthy in Europe and Asia.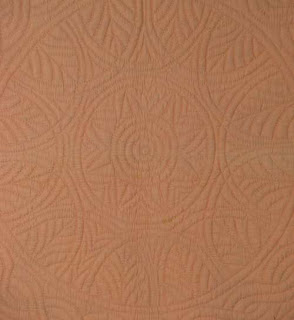 Broderie

Perse
Quilt making

as we know it today did not come into practice until the mid 19

th

century. Most Colonial housewives were occupied with spinning, weaving, and sewing to clothe their family. Quilt making was reserved for the wealthy who had a bit more leisure time. They specialized in a form of

quilt making

called

Broderie

Perse

. (French for Persian embroidery)
This was the applique of printed chintz flowers and other motifs onto a solid fabric. Chintz became available when a trade route from England to India was established. While early examples from the 1700's feature

florals

, later examples show the popular oriental influence as seen in this
Broderie

Perse

quilt
.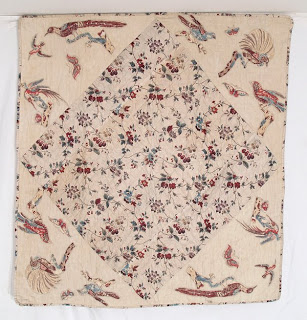 Kaleidoscope, Nine Patch, and

Log Cabin
The industrial revolution brought about a massive change in the

availability

of textiles. Women now did not need to spin their own cloth and commercial fabrics were financially affordable for most families. While some quilts were indeed made from the scraps leftover from other sewing projects, many quilts were made from fabric bought specifically for the quilt itself. At this time the block method was often used. Popular patterns were the Kaleidoscope, Nine Patch, and
Log Cabin quilts.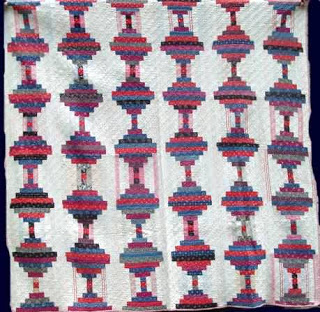 Patterns
Patterns were invented by everyday quilt makers and spread via friends, family and quilting bees. Quilt pattern books can be found as early as 1835, but became more common in the 1850's. Catalogs such as Sears and Wards offered patterns for a dime when the cloth was purchased from their company.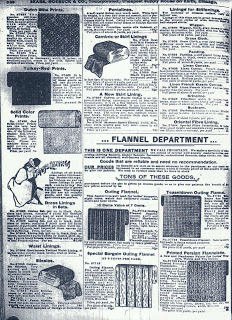 Pioneer women had more of a challenge obtaining fabric for quiltmaking. When preparing to move westward, the women packed necessary linens to last two to three years. Friends and family members were all too aware that they might never see one another again. Quilts were often given to those migrating west to serve as a reminder for those left behind. The quilt and quilt topper below were made by my great~great grandmother for my great~grandmother who herself moved westward.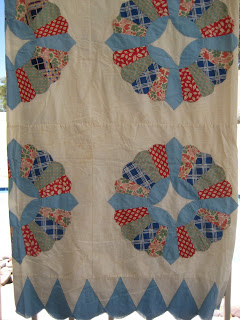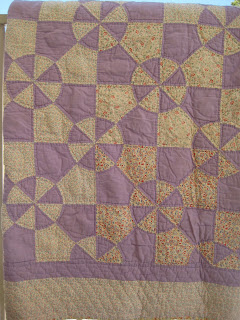 The Album Quilt
A favorite type of antique quilt is the album quilt which originated in Baltimore, Maryland. The album quilt contains pictorial images representing either the quilter or the intended recipient's life. The quilt below was made to celebrate the 21st birthday of David Crowl between 1845~1848 by David's female relatives.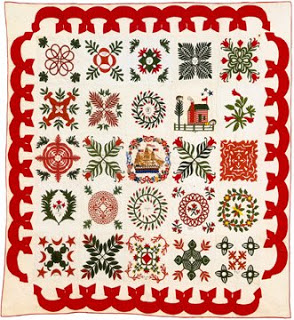 Victorian Crazy Quilt
Another favorite is the Victorian Crazy Quilt. This quilt's popularity occurred between 1876 ~1910. It originated from the asymmetrical oriental art that was featured and adored at the Centennial Exposition held in Philadelphia in 1876. The crazy quilt was actually meticulously planned out using the finest silks, satins, velvets, and brocades. Additions of embroidery and other stitching styles added to the intricate designs. Those of fewer means created crazy quilts using cotton calico's, wool and any fabric they could get their hands on.
Sadly, the antique quilts that used silk are rapidly deteriorating. Here is a

restored

example from
Stella Rubin.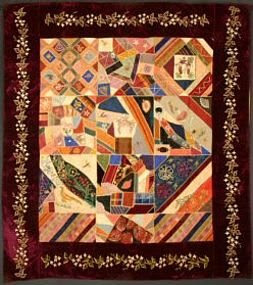 Today, prized quilts are still being created. Quilts such as Hawaiian, Tivaevae, and Ralli, as well as quilts made by the quilters of Gee's Bend, Alabama and the Amish, are highly sought after by collectors.
For those who are collectors, as well as the curious, an outdoor quilt show will be held the second Saturday in July in Sisters, Oregon.