Before the first Mother's Day is celebrated, a nursery is planned. Let's look at Sweet Baby Nurseries. I myself spent hours pouring over fabrics, cribs, and accessories before

settling

on a Daisy Kingdom bunny and floral pattern for my daughter and a primary colored sailboat theme for my son.
This is Jennifer Lopez's nursery that was done by
Petit

Tresor

in Los Angeles. It is so very beautiful and elegant.
Of course, the mom in me hopes that she'll be childproofing this gorgeous space soon. I also have to wonder if the twins will be allowed to have any type of markers or paints for fear of a new pattern being created on the

Bergere

chair.
Sweet Baby Nurseries
I love this nautical themed room by the fabulous Candice Olson.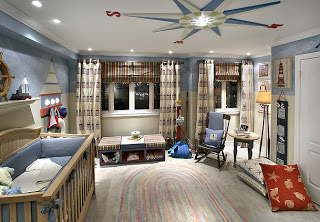 This room, also done by Ms. Olson, is perfect for the family that needs to have the space function as a nursery as well as a bedroom for an older child.
If your baby has their days and nights mixed up, a bed is always a much-appreciated piece of furniture for the tired parents.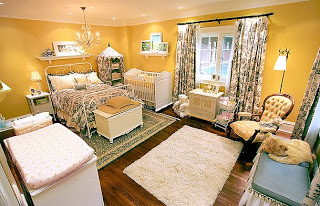 To much fun! Any baby would be

mesmerized

for hours with all the dots. This room can be found on

HGTV

.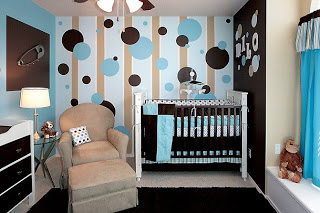 I love the color combination of pink and brown. The crystal chandelier adds a beautiful touch.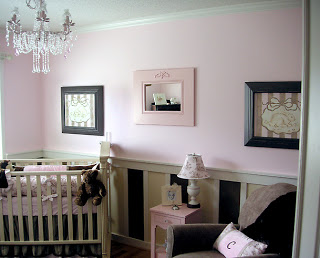 Don't you love the wallpaper Pottery Barn used in this nursery? If you had a steady hand and plenty of time you could recreate this look with paint.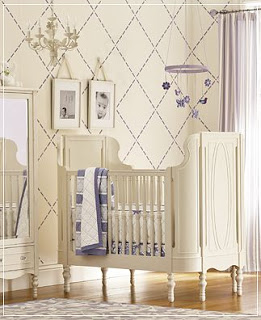 Other great sites to find inspirations for kids room are Better Homes and Gardens, The Land of Nod, Company Kids and Garnet Hill.
Laura