Memorial Day Part One. For many Americans Memorial Day represents a day off that is celebrated with a picnic. Although I enjoy a picnic as much as the next person, for myself it is a day of reflection, to truly remember those who have given the ultimate sacrifice in the name of freedom.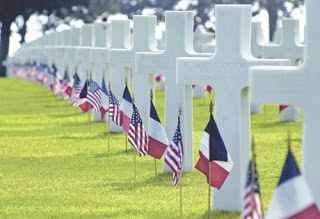 Memorial Day Part One
While we were stationed overseas, I visited the WWII allied cemetery at Souda Bay, Crete. This was my first realization that unlike our soldiers today whose remains are sent home, in past wars soldiers were buried near the ground in which they died.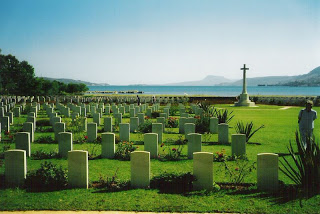 While standing there, looking at the sea of headstones, my eyes filled with tears at the thought of a parent never being able to visit their child's grave. It was at that moment I decided that every Memorial and Veteran's day that I spent in Europe I would represent those family members and visit an American cemetery to pay my respects to their sons and daughters.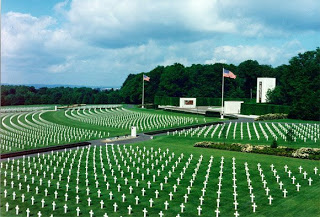 American Cemetery in Luxembourg
The next year found my family at the American Cemetery in Luxembourg. It contains the remains of 5, 076 American military members. The most famous of which is the General George S. Patton, Jr. gravesite.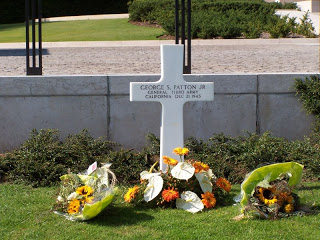 American Cemetery in St. Avold, France
My most memorable visit was to the American Cemetery in St. Avold, France on Veteran's Day 2000. As my family walked up the gravel drive to the entrance of the cemetery we were greeted by very elderly (80's and 90's) French citizens dressed in their Sunday best. Some had walkers, but those who could salute us and thanked us, as American's, for their freedom.
That image will stay with me until the day I die.
The St. Avold memorial contains the largest number of graves (10,489) of our WWII dead in Europe. Due to its vast size, I concentrated my efforts on the graves of unknown soldiers and visiting the section of family members who are buried together. The most heartbreaking headstone was of five brothers from the same family.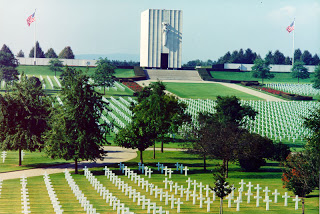 There are hundreds of American military cemeteries all over the world and I invite you to seek them out. At the very least, when the national anthem is played, take that time to observe these men and women in a manner befitting their sacrifice.
In Memory Of:
TSgt Jeff Armour, a father of three, laid to rest at Arlington National Cemetery.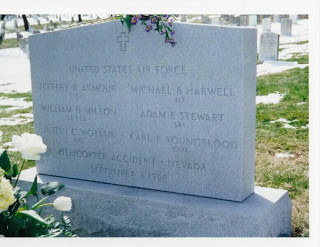 Maj. Troy L. Gilbert, the father of five, laid to rest at Arlington National Cemetery.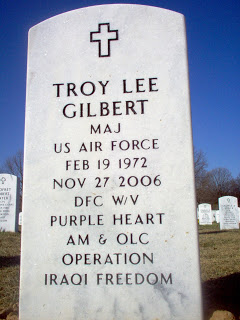 Courtney Edward Weissmueller, father of three, listed as Missing in Action while serving in the Vietnam War. An "In Memory" stone resides in Arlington National Cemetery and his name can also be found on the Vietnam Memorial, aka "the wall".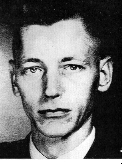 Thank you and may you rest in peace.