Divine Dressing Tables. I have always loved the idea of dressing tables. I am sure this stems from my love of old movies from the 1930's in which Hollywood embraced the Deco period to its fullest and always seemed to feature at least one starlet preparing for a night on the town.
This dressing table lives in the home of Annie Brahler. I wish it lived in mine. Don't you just love the Victorian bustle effect of the skirt?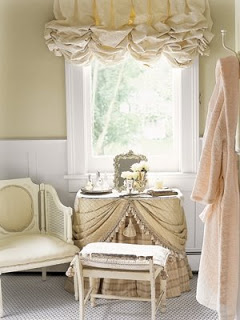 Divine Dressing Tables
This is a simple, yet a stunning look at a combination dressing table and desk. While the desk and chair are different finishes, it works because of their cool palette.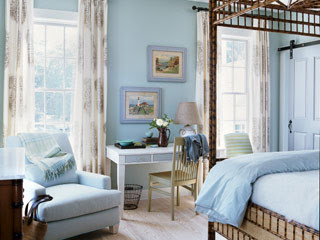 This vanity is fit for the eclectic world traveler. I see an Asian influence that marries well with a stool reminiscent of a Greek Klismos chair.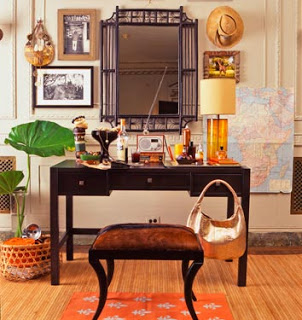 I love mirrored furniture and this table is no exception. Yet as a mom of a sticky 6-year old I am destined to admire it from afar. The owner has made the vanity all their own by additions of tassels, jewelry, and flowers.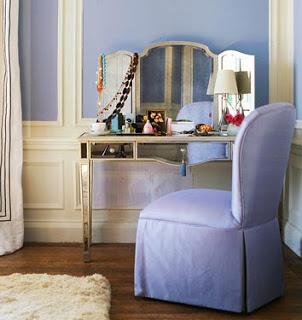 How To Create A Vanity Area When You're Short On Space
For many people, lack of space is an ongoing issue. I like the idea of a dressing table set up in a closet. I only wish my closet was half this size. Does anyone else wonder what is in the stacks of orange Hermes boxes?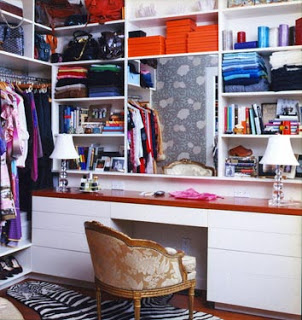 This is pure electric happiness. I imagine this individual as a young lady new to the city. She's perhaps on a budget given that a subway map is her choice of art, but it shows creativity. Isn't the yellow lucite chair fun?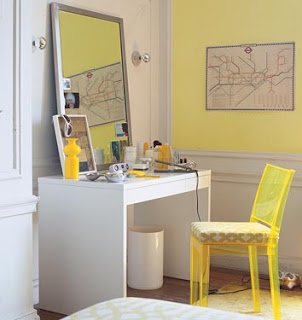 This area has my daughter written all over it. It is a small space, but full of character. The fun accents such as the kitchy cat, a border of photographs and a fantastic stool, by the brilliant Eero Saarinen, enliven the space.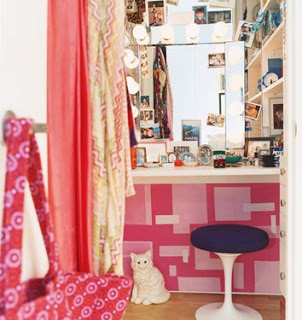 Another yummy mirrored table. The mirror above the vanity is just beautiful and the striped wall further creates a special focal point.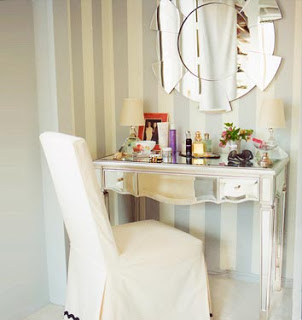 This dressing table is currently featured at the 2008 DC Design House. The entire room, created by Kelley Proxmire, is classic cool excellence. Perhaps when I par down my lipstick collection I too can create this look.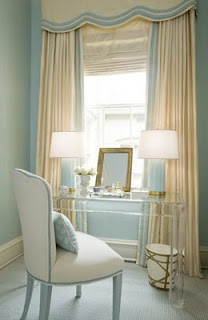 Saving my personal favorite for last is Catherine Golden's vanity. She was selected as Domino's 2008 amateur design winner. The Hollywood Regency vanity is one we often see at estate sales. By painting it white with silver accents, Ms. Golden modernized its appearance. Well done!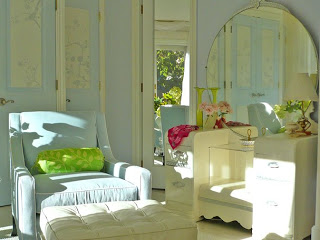 Do you have a vanity?
Laura
This week's quote:
"Ah! There's nothing like staying home for real comfort." ~ Jane Austin