The Whitaker~Augusta Auction Co. is holding an auction on May 9th and 10th in New Hope, PA. This famed auction house was also responsible for the Tasha Tudor auction that was featured in the November/December 2007 issue of Victoria. Let's enjoy Clothing As Art.
Clothing As Art
Some of you may be thinking, "This is a design blog, why is she featuring antique clothing?" First and foremost, I just love antique and vintage linens and clothing. Secondly, it is hard not to appreciate the intricate detailing and handwork that went into the clothing. I always come away inspired and wondering how I can incorporate a particular color or detail into a design.
My favorite piece is this shell pink silk reception gown from the 1880's. Wouldn't it make a wonderful color in a boudoir? Of course, the silly side of me must admit that I am a bit envious that women of this generation never had to ask, "Does this make my derriere look big?" Come on… smile.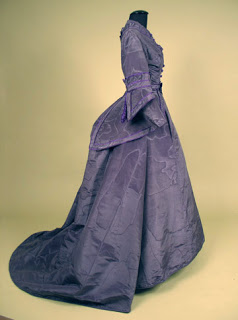 This moire gown from the 1860's has such beautiful pleating around the neck, I am thinking it would look nice on a drapery edge.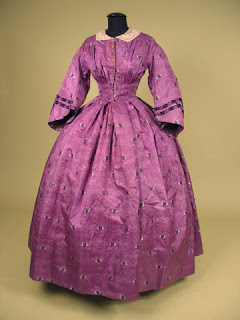 Such a lovely shade of orchid on this 1860's brocade gown. I can see it in a powder room.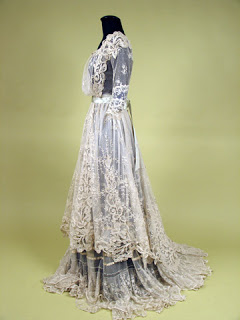 What yummy lace on this 1910 tea gown. I can never get enough of it. I am on a search to find a bed skirt that equals this.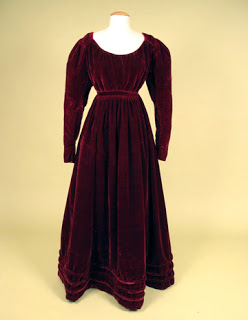 Let me say, "I would totally wear this gown from the 1820's at Christmas time." Those who know me are thinking, "Yep, she sure would." During the holidays, my front room tree is done in claret velvet. It is breathtakingly beautiful against ivory and white.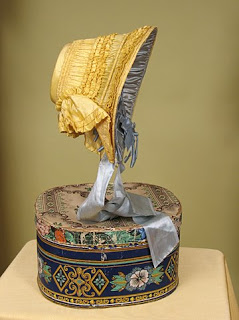 I shall never tire of pairing yellow with blue. Or the delicious cream color of this 1886 wedding gown.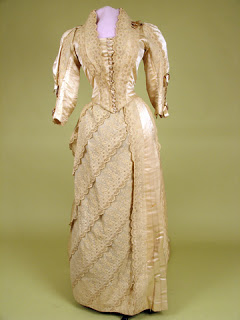 It is really a shame that the auction house didn't plan this sale to coincide with my upcoming July visit to Philadelphia. Perhaps they might be planning something equally lovely such as chiffon dresses from the 1920's.
Laura