I turned in a thesis paper and 6 final architectural drawings for this semester today! (Yipppeeee!) It feels so good to be finished, albeit temporarily. It was a tough semester but I was never to busy for art! The Next Jackson Pollock.
As you may know, many schools have had to discontinue art due to budget cuts. This saddens me deeply. As a girl, art period was always my favorite time of the day. I have no doubt that it contributed immensely to my chosen profession of interior design.
In Arizona, they have a program called Art Masterpiece which provides parents the opportunity to present art to their children's class. I didn't hesitate to volunteer.The biggest challenge for me is coming up with projects that are suitable for kindergartners. Our March lesson was on Jackson Pollock. I began the hour with a children's book on the artist. Then it was onto the art portion of the program.

The Next Jackson Pollock
This involved a large blank canvas, 6 bottles of paint and 24 kids. Yes, I was thinking, "Yikes!"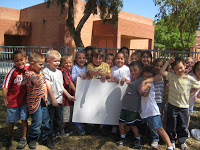 The kids were great about taking turns and encouraging one another. It was a great project, I think it turned out very Pollockesque.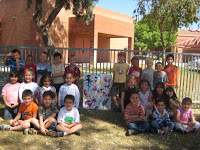 The masterpiece now hangs on a prominent wall in the school library.
I can't tell you how proud I am of these kids. I got a lump in my throat when I read the last two lines. (You can click on the photo to enlarge it.)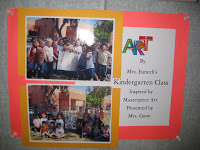 I can't wait for next week's lesson on Michelangelo.
Laura