Secrets About Slipcovers. When I see images of all white rooms filled with inviting looking furniture covered with washable slipcovers that feature such lovely dressmaker details my heart just sighs. Country Living Magazine regularly features such delectable eye candy.
Sigh…, love, sigh…, love, sigh…, love.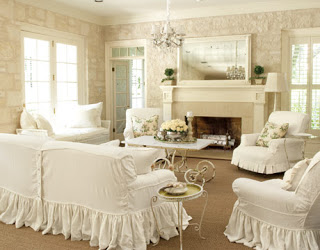 The living room above belongs to Lauren Ross. This decorator has four children. How is that possible? What is her secret?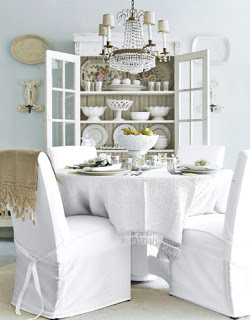 This blue and white palette is so soothing. But do people actually ever eat at this table?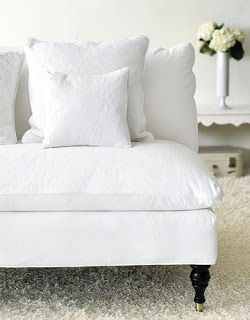 So cushy and inviting. Does the chair ever get sat in?
Secrets About Slipcovers
I now am going to admit a dirty little secret of mine. I have several sets of slipcovers for the furniture in my home. Some of the slipcovers are from a big blue box store and some are custom made.
There are basic rules with white slipcovered furniture. Eating and drinking should be done only in the breakfast or dining room. Yes, that includes the small bagel with raspberry jam. No jumping on the furniture. Particularly while wearing baseball cleats.
Yet even with these rules enforced, after about a week my slipcovers look like they have been used to dust an abandoned home. Children and dogs aside, the fact that we live in the dusty desert no doubt contributes to the dirt factor. The slipcovers need to be washed. Therein lies the problem. As a wife, mother, student, and owner of a decorating firm I don't have much free time. It is an all-day affair to clean the slipcovers. It begins with several loads of laundry, followed by hanging the slipcovers up outside. (Line drying helps control shrinkage and takes advantage of the sun's natural brightening power. )
Of course Rudi the dachshund likes to help out and bury himself in the storage ottoman that is momentarily torn apart. Ahhhh, how cute! Could you say "No!" to this?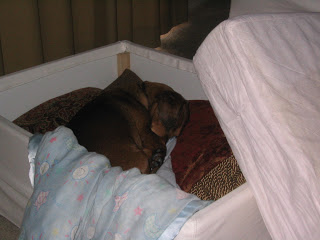 T
hen there is the "pleasure" of putting the clean slipcovers back onto the furniture. Imagine yourself trying to wiggle into a girdle that is two sizes too small.