I adore all things English. I am a true Anglophile. My husband was lucky enough to have lived in England in the early 90's. His darling aunt and uncle continue to reside in the village of Pirbright and our wonderful friends, the Malloy's, live in Godmanchester. Patrick Malloy is a wonderful chef and owns the restaurant Sweetings. It has been a London tradition for over 100 years and specializes in delicious seafood. Here is a recipe From the Hearth.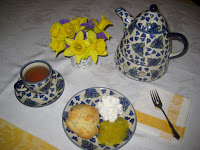 From the Hearth
While some abhor English cuisine, there is something to be said about the concept of afternoon tea. Having just survived midterms last week, I felt a celebration of some sort was in order and afternoon tea fit the bill. Noting that the Arizona citrus crop had left me with an abundance of lemons I decided I would make cream scones with lemon curd Saturday afternoon. Lemon curd is quite easy to make.
The Ingredients
1 cup of sugar

2 eggs slightly beaten

1/4 cup of freshly squeezed lemon juice
Place ingredients in a double boiler, mix well and place on low heat for 1 hour. Stir occasionally as the sugar does build up on the sides of the pot. As it cools it will thicken a bit.
The recipe yields about 1 cup of curd. Cover and refrigerate for up to one week. (It never lasts that long at our house.)
While I do own a collection of red

transferware

, which is quite English, I love the look of the bright yellow curd against the lovely blue of Polish pottery. I was lucky enough to purchase my tea set while living overseas, but you can often find pieces of Polish pottery offered in several pattern variations at Home Goods or

Marshall's

. It also is available online.